TLDR: The best small business accounting software is Quickbooks. In my previous consulting company, we used this and found it very effective. It reminded us to chase clients on invoices and also allowed us to manage billing precisely when we were contracting our employees out. You'll find that my positive sentiment is shared by many who have tried the software.

As a small business owner you don't want to break the bank managing your financial books.
In the past, SMEs would hire accountants to manage their payroll, taxes and general book keeping. You would be looking to spend at least $1,000 on legal fees, internal expenses and administrative overheads.
But there are alternatives and options you could use to lower these fees. Enter small business accounting software.
What Is Small Business Accounting Software?
Small business accounting software helps automate the process of profit calculation, client invoicing, inventory tracking and tax submissions.
This software is specifically designed to make it easy and intuitive for business owners to do their own book keeping even if they do not have accounting expertise.
Essentially, it replaces 90% of an accountant's job by identifying the repeatable processes and tasks usually done and packaging that as a software. It may lack the human touch, but if you are on a budget it is much more affordable.
Furthermore, most small business accounting software have support teams so if there is a more nuanced problem outside the protocols, you could always reach out to them to resolve it.
The market for these tools is growing and as such, it can be difficult to decide which is the best for you.
What Is The Best Accounting Software?
To answer this question, it's important to understand what stage your business is in. Smaller companies may prefer solutions such as Quickbooks which work well out of the box. If you are larger and want more customization then Tipalti is one you should check out.
I've analysed the accounting software marketplace based on these criteria:
User friendliness
Ease of tax submission
Quality of support
Depth of analytics
Document creation and generation
Let's get started.

Disclaimer: I may receive affiliate compensation for some of the links below. This is at no extra cost to you – you will be simply helping me put out more helpful content. Rest assured that I stand by these recommendations. You can read our full affiliate disclosure here in our privacy policy.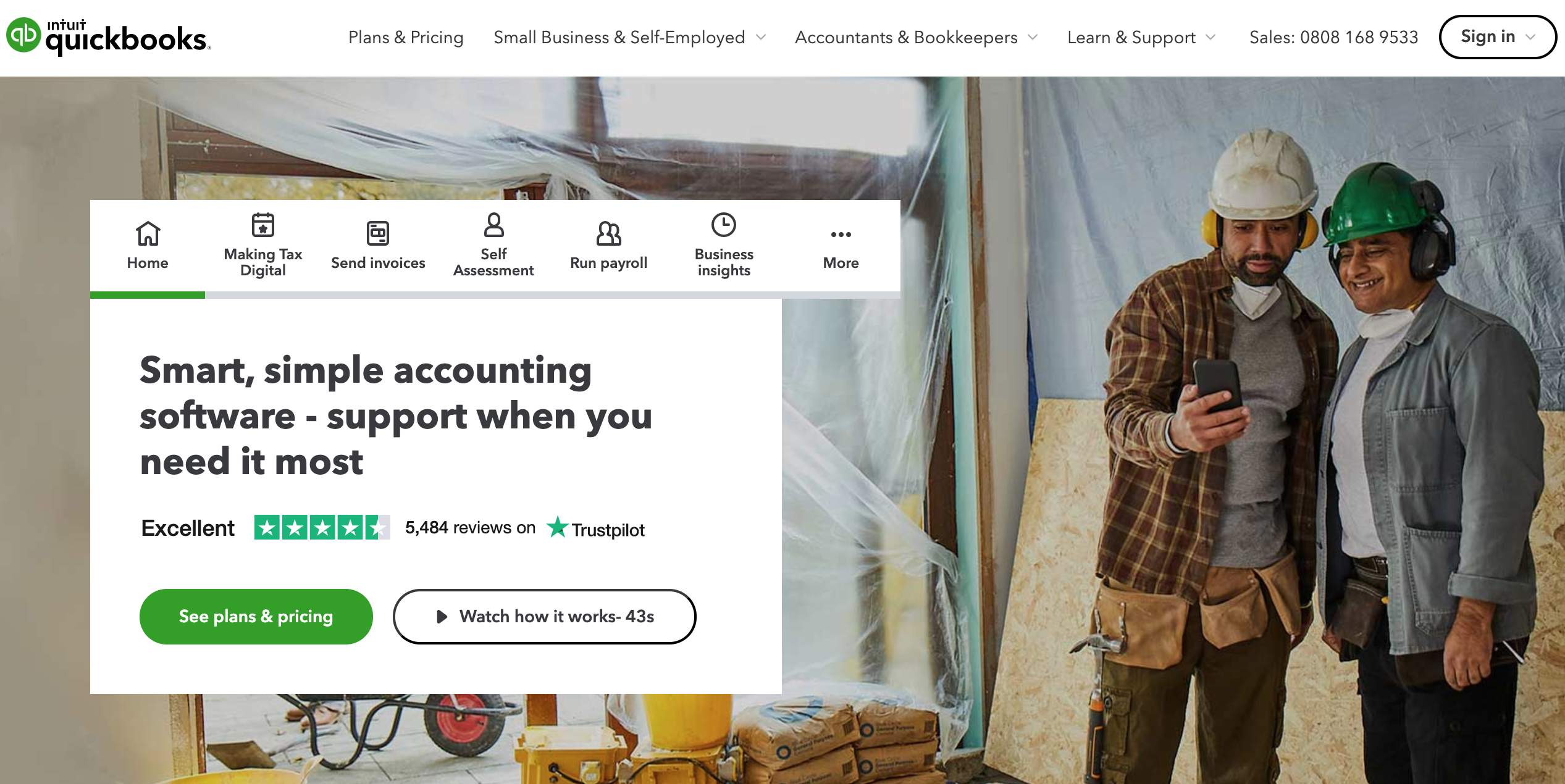 QuickBooks is a web-based accounting software with five tiers that scale with your business needs: Self-Employed, Simple Start, Essentials, Plus, and Advanced.
Each level adds new features that become more useful as your business grows larger.
For instance, Self-Employed tracks mileage, expenses, and quarterly taxes. Simple Start adds the ability for invoices and estimates. Essentials adds additional users, a timeclock feature, and the ability to schedule and pay bills, and so on.
At the Plus and Advanced levels, QuickBooks is capable of overseeing national businesses and comes pre-loaded with settings for dozens of specific types of companies.
QuickBooks can be linked to bank accounts and credit cards, to automatically track and categorize expenses.
Overall, it's an intuitive program that allows you to select and use the features you need, regardless of the size of your business.
Lower tiers are lightweight and quick and include the features that you'd reasonably need for a business with few or no employees. Higher tiers are comprehensive while still clean and direct.
Pros
It offers an easy to use interface
Widely used and compatible with other programs
Available on a wide range of devices, including mobile apps
Great for remote access
24/7 customer support included
Cons
It's expensive. As an online subscription, the higher tiers of QuickBooks can and will run you hundreds of dollars a year
It's not great for long-term documentation
Pricing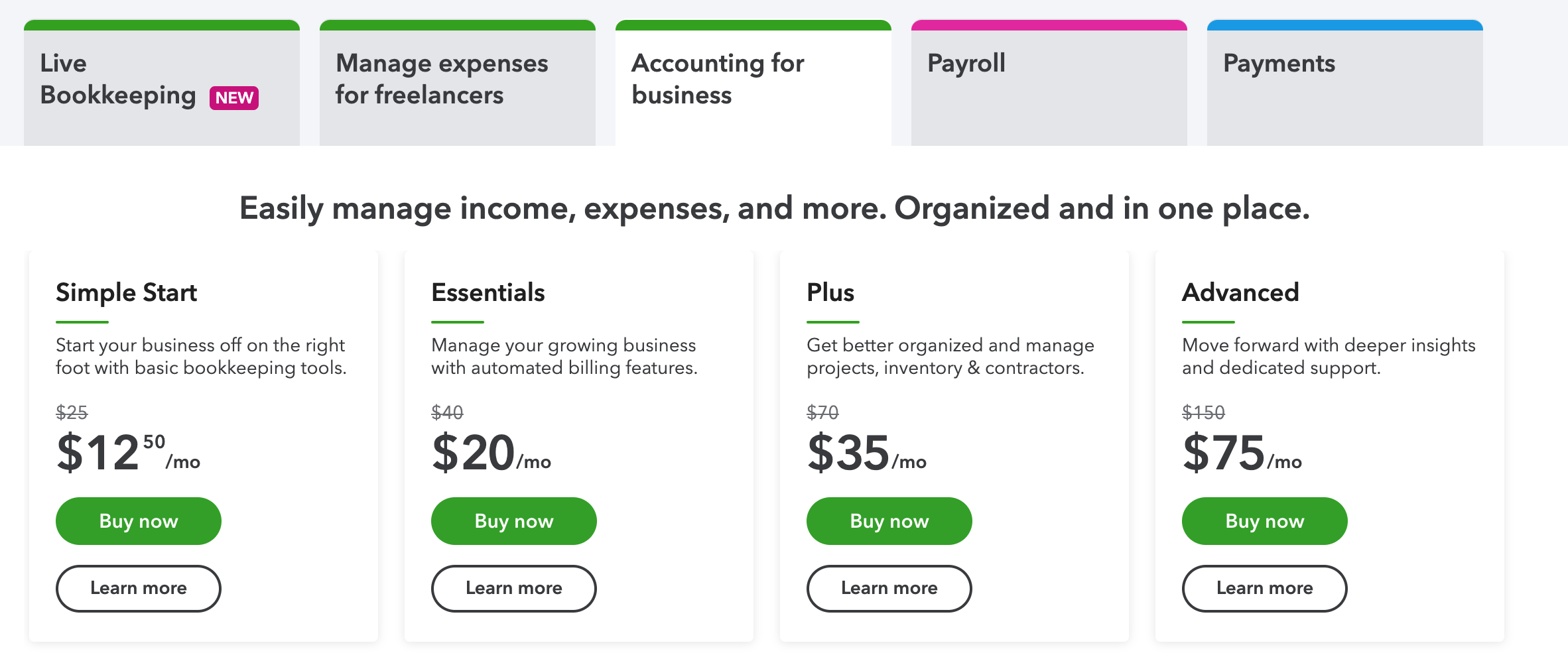 Quickbooks offers four different pricing tiers for small business accounting – Simple Start, Essentials, Plus and Advanced. These are priced at $12.50, $20, $35 and $75/month. If you are just a small business then go for the Essentials plan.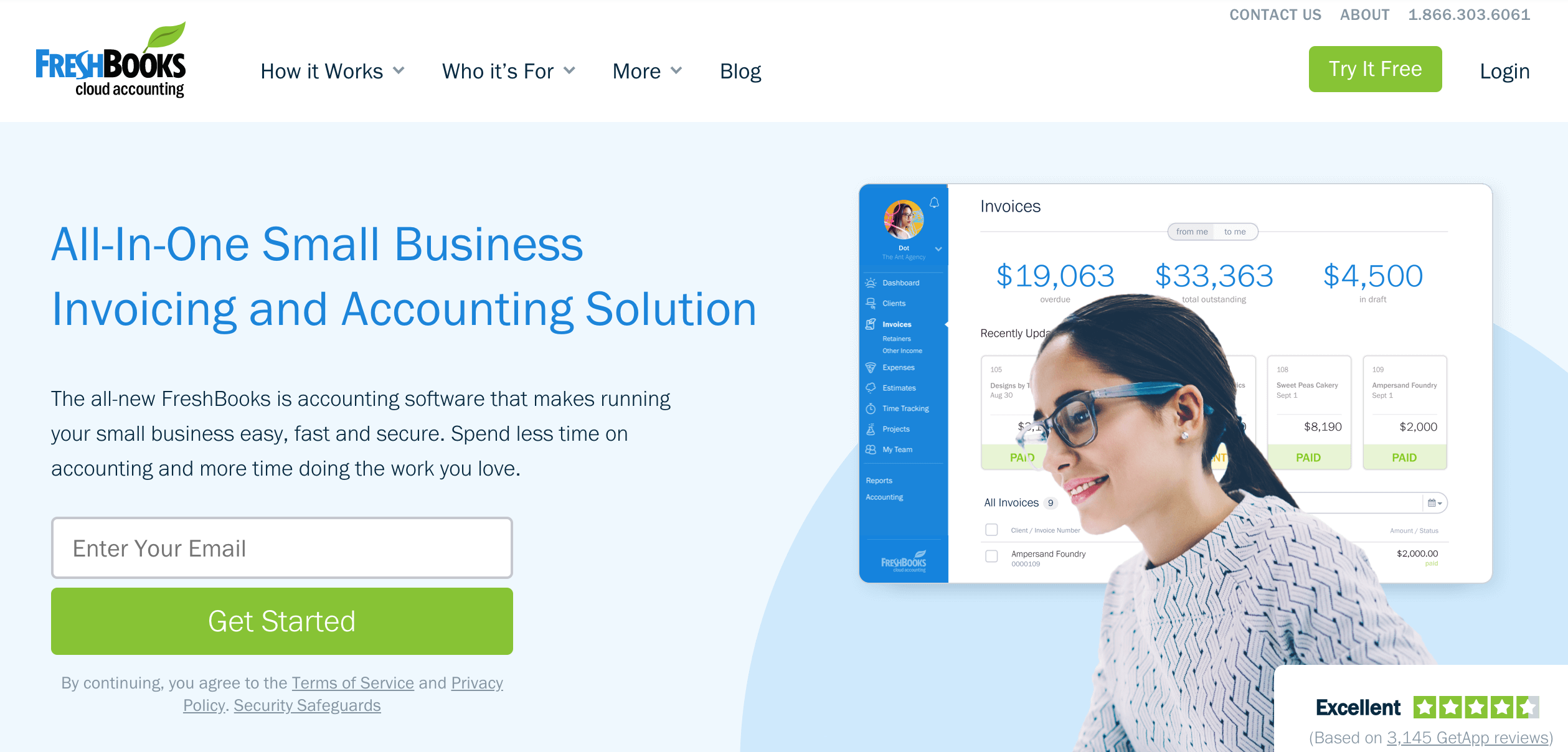 FreshBooks was built around its invoicing features, as is its pricing structure. This makes it the best fit for independent contractors, sole-proprietors, and other one-person businesses.
It is capable of supporting businesses with a small number of employees, so wanting or needing to grow your business in the future shouldn't stop you from using FreshBooks to start out.
Unlike some other options, FreshBooks includes all available accounting tools at all levels of its subscription. This can be a double-edged sword.
On the plus side, it means that you won't have to pay extra to get features like time management, bill-paying, and others. But if you have no need or desire for those features, you're not utilizing the full capabilities of the platform.
That's probably not a dealbreaker for most of you, but if you're busy running your own business, keeping things quick and simple is a must.
FreshBooks' pricing is based on how many clients you'll be billing.
Note, this is different from how many invoices you send; you can send multiple invoices to the same client without needing to upgrade your service. Instead, it's based on the number of active client accounts you'll need month to month.
Lite allows you to bill and keep files for up to 5 clients, Plus allows up to 50, Premium, will track and bill up to 500 clients.
If you need more than that, your business may be large enough to be better served by a different program, but you can also negotiate custom pricing with FreshBooks directly.
Pros
You get full access to all features at all tiers
Plenty of options for invoices, estimates, retainers, and time recording
Good for long term records of both clients and income
Cons
While you have options for your invoices, they're harder to customize and edit
It does not track quarterly taxes
Pricing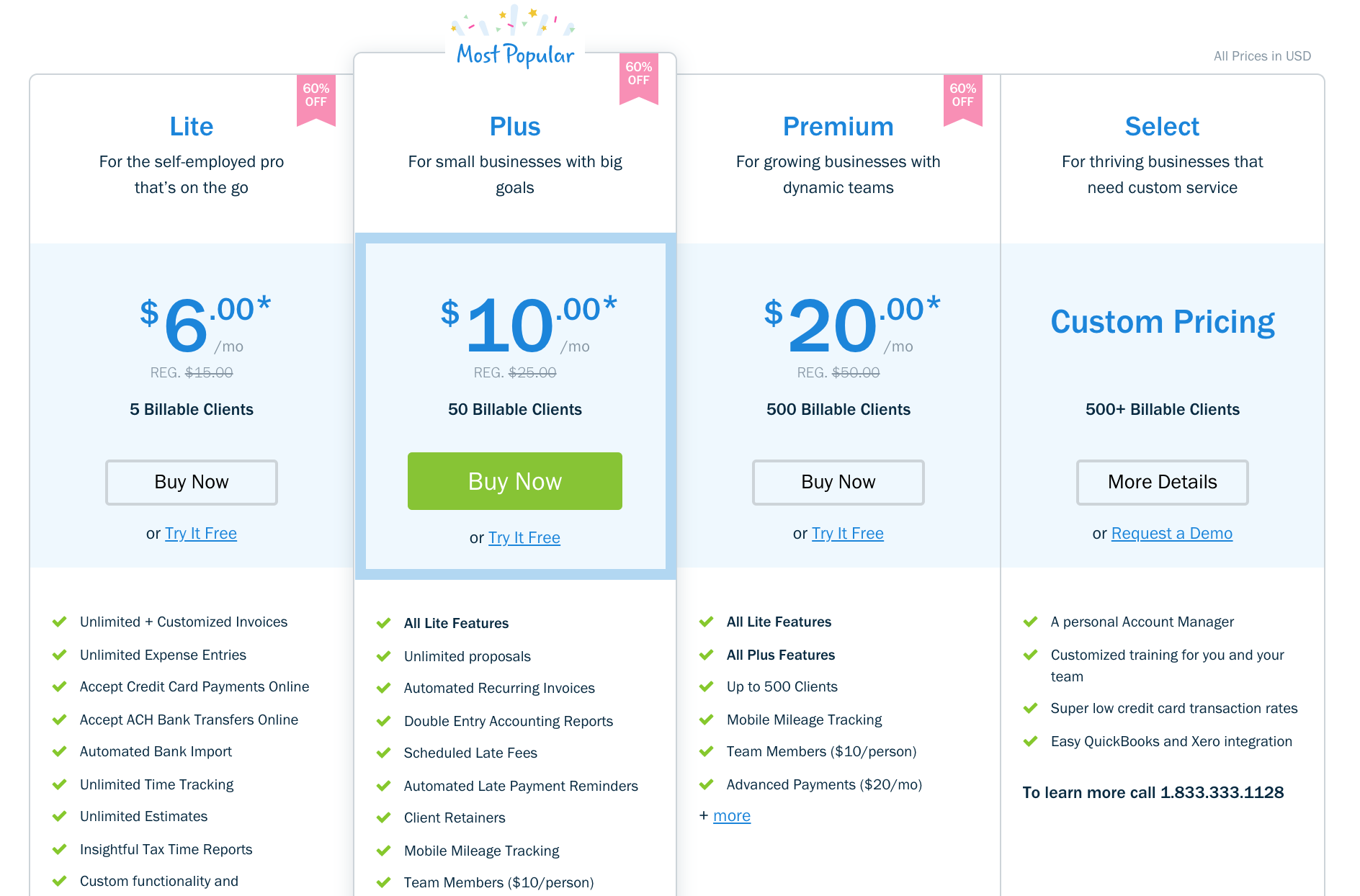 The Lite, Plus and Premium accounts are priced at $6, $10 and $20/month. They also have a Select tier which includes a personal account manager and customized training for your team. Their prices are very competitive for individuals/freelancers.
3. Webgility – Best For Ecommerce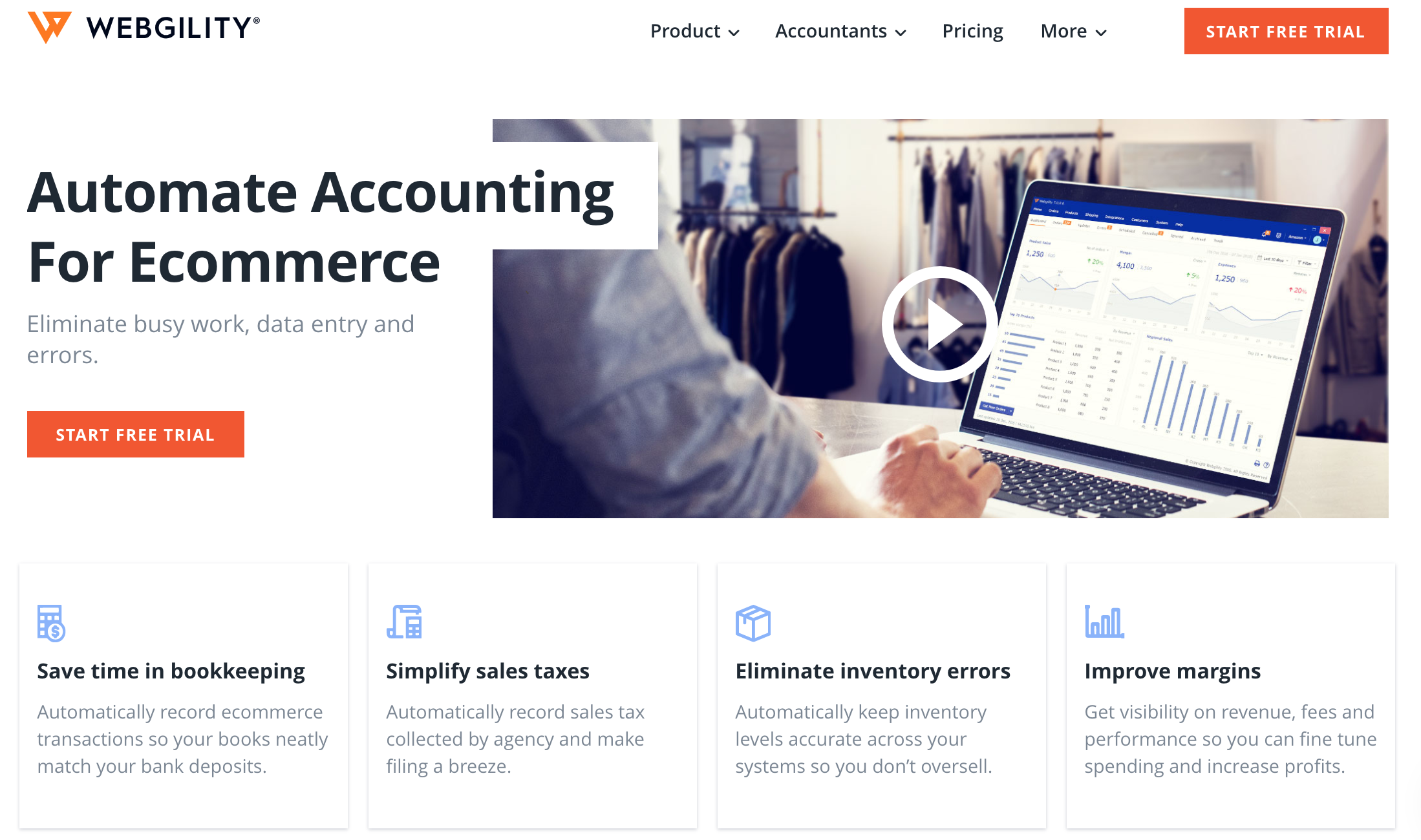 Webgility is a web-based program that tracks and syncs inventory, purchases, and customer information. It specializes in inventory management for multi-site retail and eCommerce businesses.
If you already have a core accounting software that you use and are looking for a supplement to help automate your inventory management and other aspects of your retail or eCommerce business, Webgility is a great fit.
Webgility will automatically track and record sales, including sales tax and multiple currencies. It can push promo codes and sales across multiple platforms.
Webgility will include a record of customer data, shopping trends, and payment methods.
Additionally, it will track and link your inventory reports (including returns), which is especially helpful if you're selling products across multiple platforms.
It also includes a range of predictive models, allowing you to order inventory and minimize back-orders and overstocking.
Not all of these features are available at all tiers of Webgility's service. The lower tiers include tracking and management for just one channel of sales.
If you want advanced analytics, inventory syncing, and the ability to automate your listings, you'll need to go for a higher tier.
Basically, if your business is at a point where it needs a program like Webgility at all, you probably need a higher tier.
Since it is intended as a supplemental program, Webgility is highly compatible. It integrates with QuickBooks and several other accounting programs. It can easily sync and export data. It can also link to various shipping carrier accounts.
Pros
Includes a wide range of highly accurate and detailed reporting options
24/7 customer support available
It's a reliable solution for automated eCommerce management
Cons
It's not a standalone program. You'll need a separate program for time management and other business expenses
It's expensive. The lowest tier (which is fairly limited in functionality) is $40 a month, and at the fully functional tiers, it's $200-$250
Pricing
Webgility has four tiers – Lite, Pro, Advanced and Premium. These cost $39, $79, $199 and $249/month respectively. Higher tiers allow you to integrate with more accounting software and also support more advanced ecommerce business models such as dropshipping.
4. Bench – Best Premier Package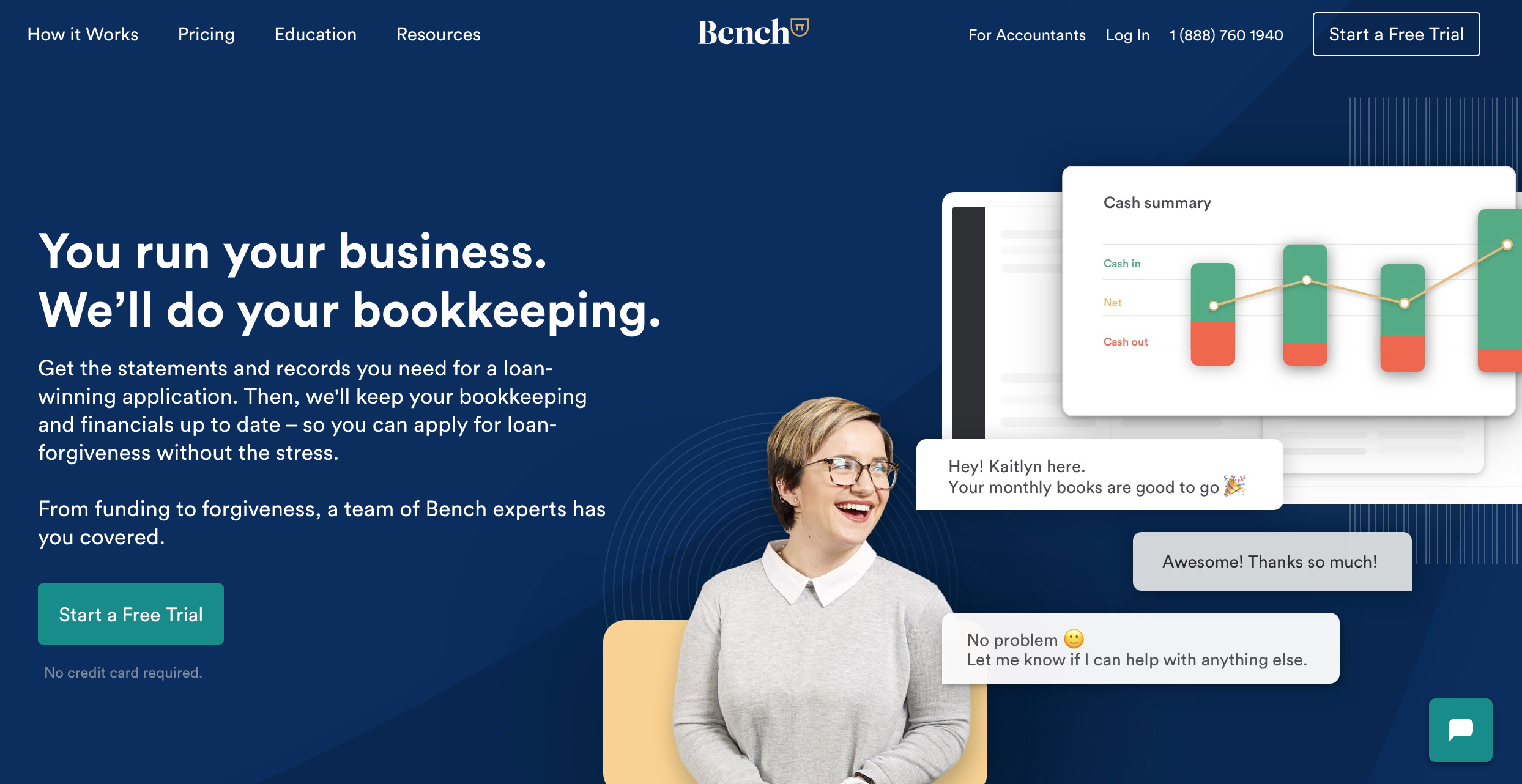 Where most of the other options on this list are programs that will help run and streamline your bookkeeping in house, Bench is a premium service that will assign a trained professional to your account.
Like most other services, Bench uses a tiered subscription model. In their case, it's based on your projected monthly expenses.
All tiers include the same services and range from $13 to $299 a month.
The program itself will track your expenses, and automatically report them to your assigned bookkeeper, who then categorizes them and generates monthly reports.
So you have the automatic recording that you'd get with other accounting software, but additionally, an offsite professional making sure everything is categorized correctly.
They'll also request any information that seems to be missing, and create reports that will give you more insight into your business.
They don't offer billing and invoicing services, but the service can be linked with a number of other services that do (like FreshBooks), as well as payment platforms like Stripe and Square.
Some of these services are official partnerships and have negotiated discounts for their services.
They can also help with loan applications, restructuring, and loan forgiveness.
Bench will automatically generate quarterly and annual tax reports. They offer an add-on service that handles tax-prep and filing on the same model as the core service.
Pros
It offers high levels of reporting and documentation
Professional handling of accounting without needing to hire a dedicated staff member
A dedicated professional will prepare reports and statements for loans and taxes
Support from an assigned professional, as well as technical support
Cons
It's expensive, and you don't get to choose the features and pricing
It doesn't do billing and payroll
There are some delays in reporting
The monthly reports are not fully customizable
Pricing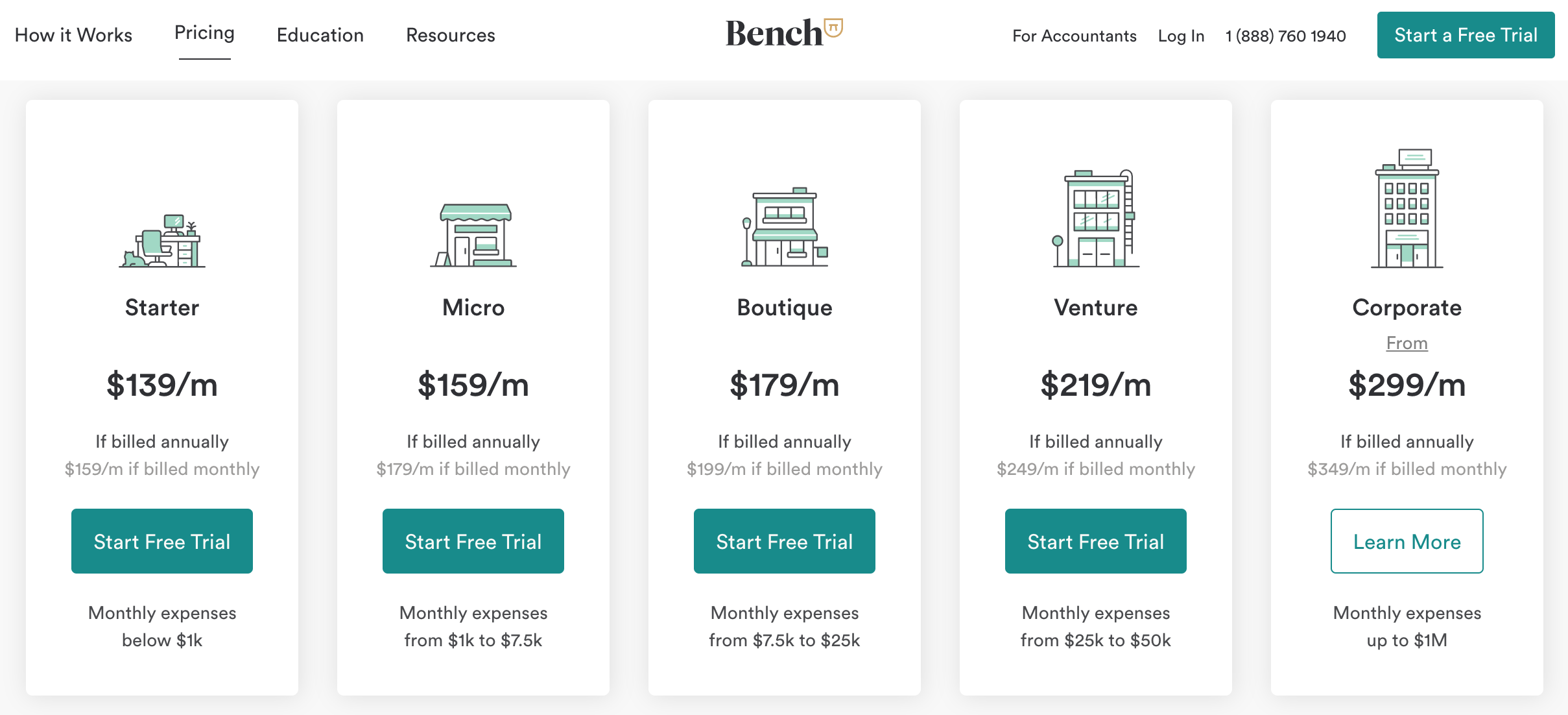 Bench has five different tiers ranging from $139 to $299/month depending on your businesses' monthly expenses. You can get addons such as specialized book keeping for an extra $100/month. This service is best used for businesses who want a more personalized approach to accounting and have a bigger budget to spend.
5. Quaderno – Best For Multi-Country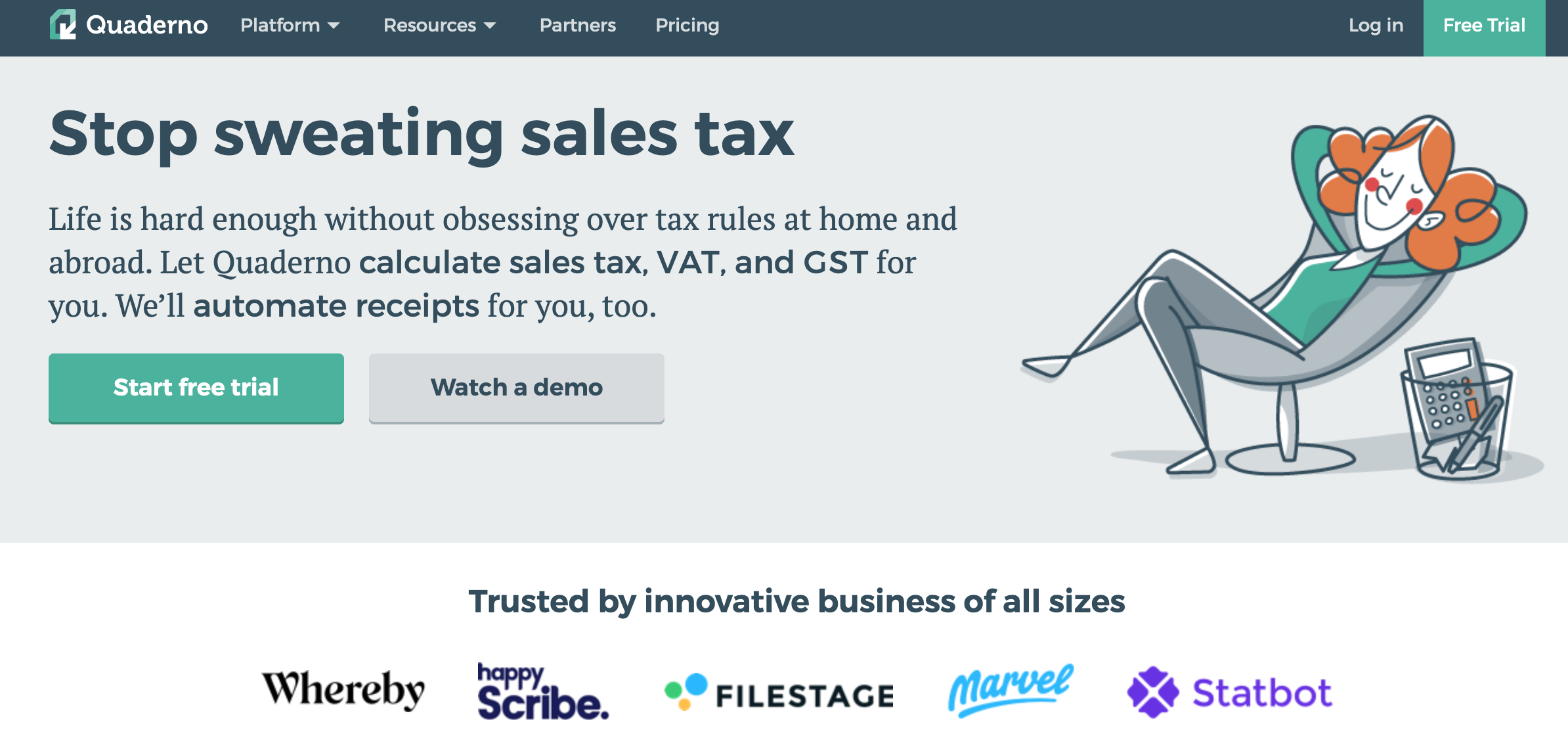 Quaderno is an add-on service for international online retailers.
It tracks and reports all invoices and payments through a wide number of retailers, and generates receipts for a wide range of platforms and currencies.
The biggest value it adds is in calculating and charging the various inter-state and international taxes that an international online business needs to deal with.
In doing so, it will track and generate any tax reports you need for quarterly or end-of-year filing.
As a supplemental program, Quaderno is highly integrated. It links with payment processors like Stripe, GoCardless, and Paypal, eCommerce platforms like Shopify, WooCommerce, and Amazon Fulfillment, and accounting software like QuickBooks.
The service allows you to activate coupon codes across the multiple platforms you may be using.
Quaderno tracks billing history and generates billing statements for your clients, and allows your clients to view and request their billing information and history on request.
It also provides a compliant solution for storing billing and payment information.
Quaderno uses a monthly tiered billing structure, based on the total number of transactions per month, with custom pricing options for users who need to perform more than 2,500 transactions a month.
All tiers include all available features.
Pros
It offers compliant billing and tax solutions for international markets
Receipts and invoices are streamlined across multiple countries and platforms
Highly compatible with related services and platforms
A safe way to avoid costly tax mistakes
Cons
It's expensive – their most popular package comes in at $100 a month
Not a standalone program – you'll need other services for the rest of your accounting needs
Pricing

They have five different offerings – these are based on the number of transactions per month. Their smallest package is the Hobby plan which starts at $29/month and allows 25 transactions per month.
From there, they have the Startup, Business, Growth and Enterprise offerings with price points of $49, $99 and $149/month respectively. The Enterprise offering requires you to contact them for a custom quote.
6. ZarMoney – Best Reporting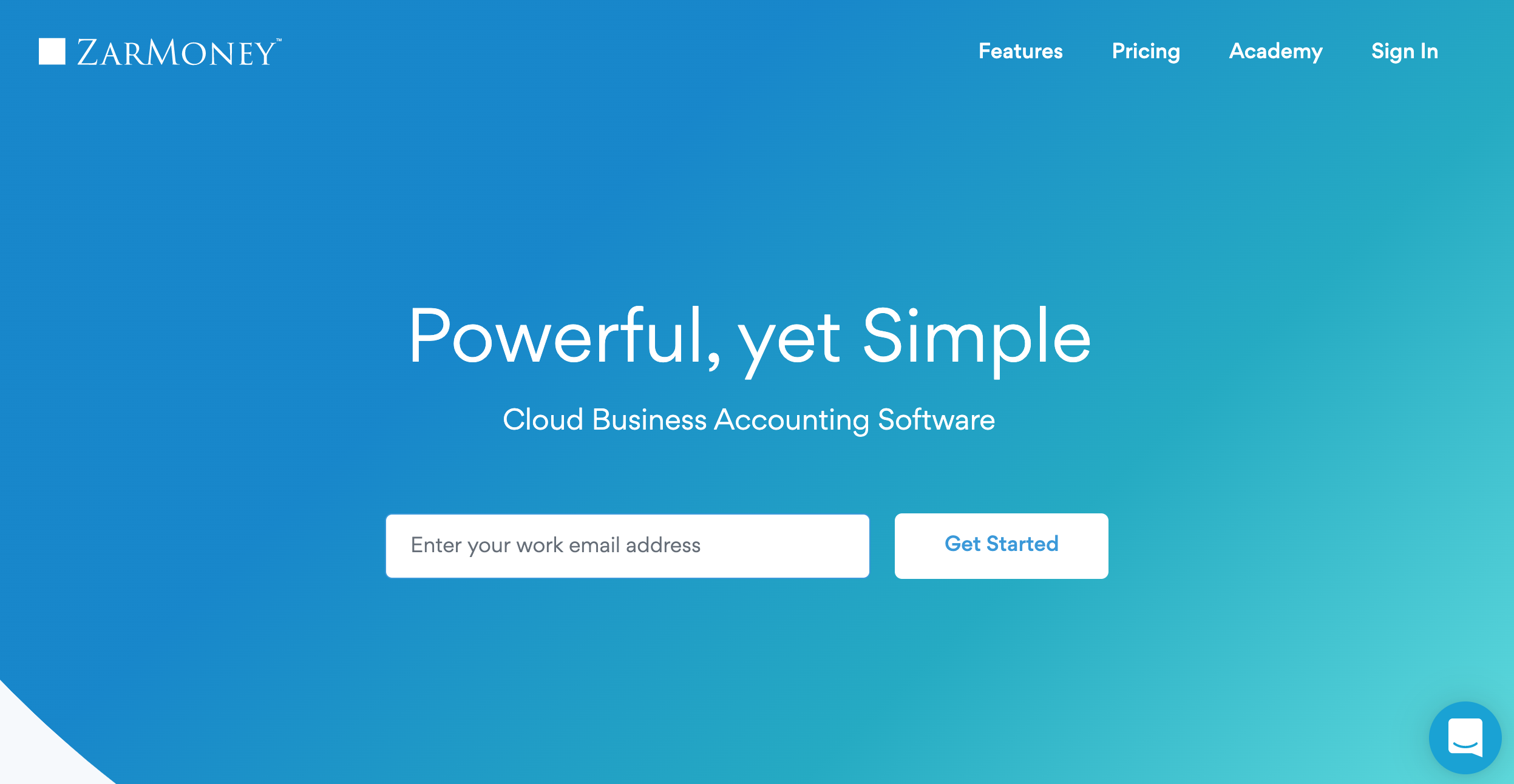 ZarMoney is a full-service online accounting service with a wide suite of services, considered to be an industry leader in accounts payable reporting and tracking.
It includes payment processing and a wide range of options for customer support, including order tracking and confirmation, invoices, and estimates.
It can track and categorize expenses, keeps records of receipts, and includes automatic bill payment, as well as the option to print checks for vendors and employees.
Your dashboard is fully customizable, so if you're not going to use the full scope of services that are included, you can filter through and create shortcuts for just the ones you will.
ZarMoney also includes a variety of inventory management tools, including support for multiple locations.
Unlike other services, ZarMoney's pricing model is based entirely on the number of users at $7 per user per month. This includes all features for all users.
For businesses requiring more than 30 users, the price point goes up and expanded support options are unlocked. Specifically adding a dedicated representative to assist with implementation and other concerns.
Where ZarMoney really shines is its reporting features. You can generate fully customizable reports on your income, costs, categorize your accounts by their standing, and more. It has built-in tools to generate 1099 tax reports for vendors and contractors.
You can also customize your dashboard to automatically generate specific reports that are useful day-to-day.
Pros
Comprehensive, customizable reports
Low price point for full access
Combines features that typically require multiple programs to access
24/7 support
Cons
It's a web-only service – there's no mobile or desktop app available
Some of the reports are not fully exportable
It doesn't link and generate tax reports for prep and filing
Pricing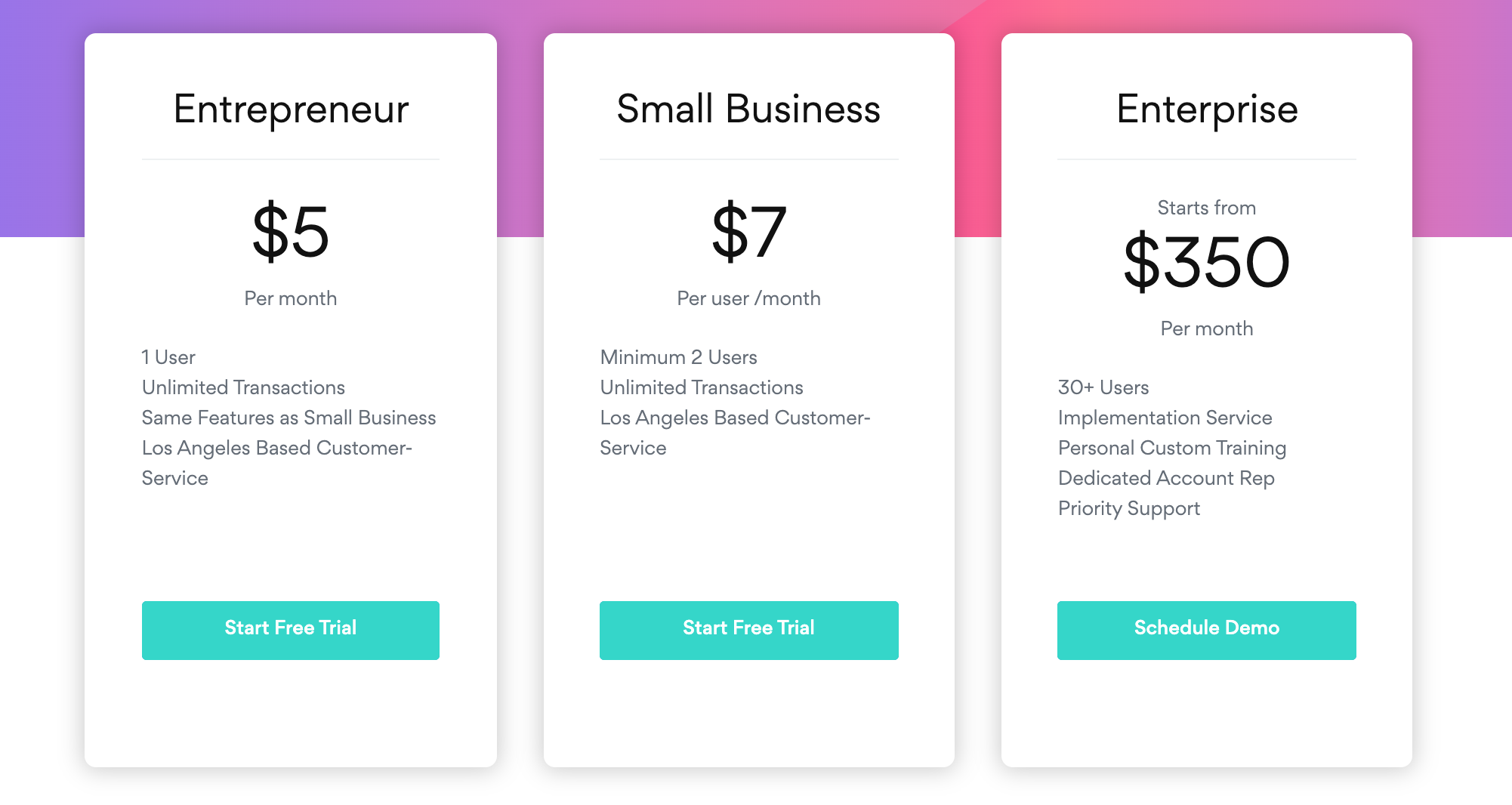 ZarMoney has three different tiers Entrepreneur, Small Business and Enterprise. These are priced at $5, $7 and $350/month. Each tier features unlimited transactions.
The only difference between Entrepreneur and Small business is the number of users allowed. The Enterprise tier provides customized training and an implementation service as well.
7. Tiplati – Best For Large Business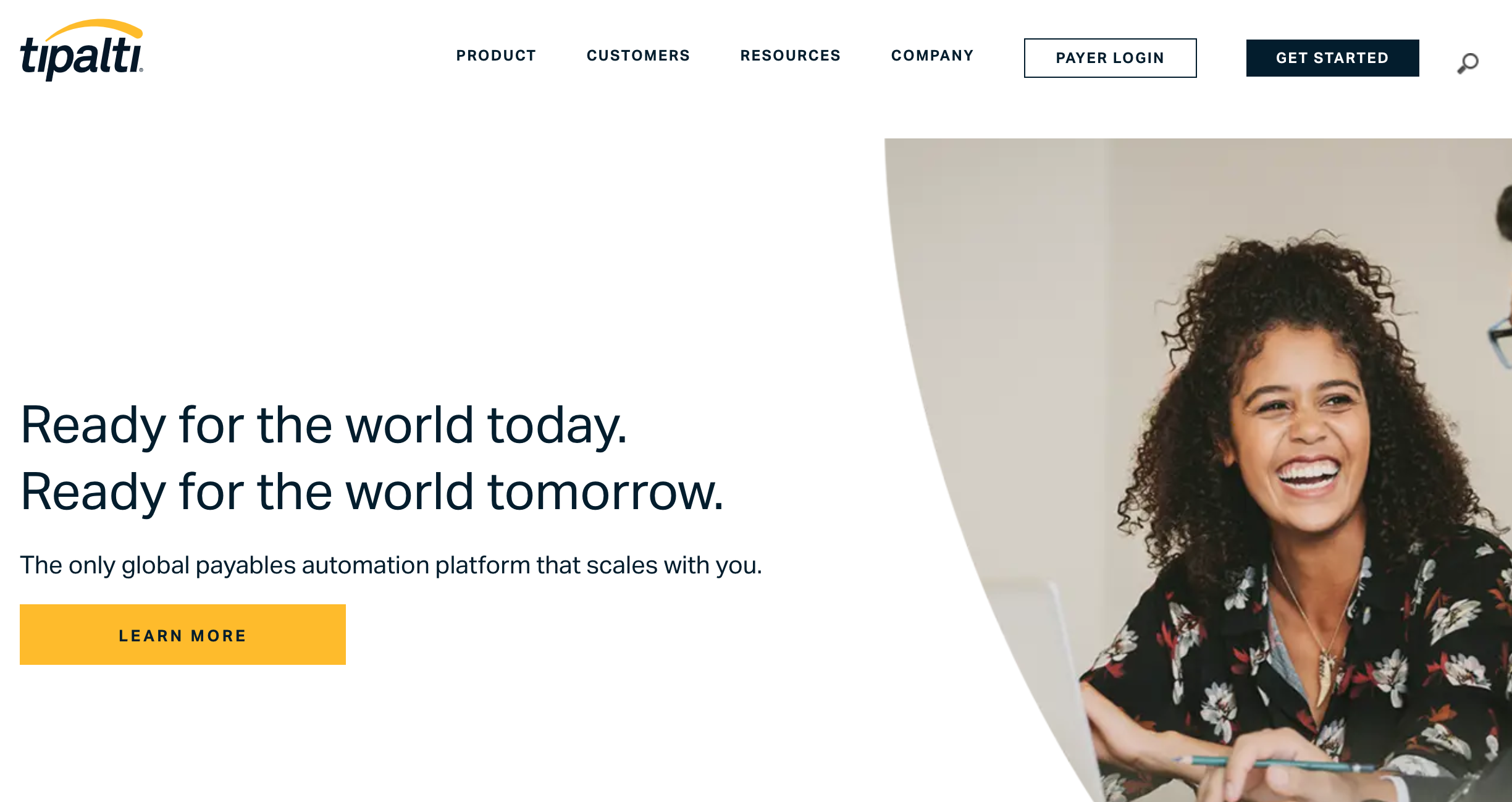 Tipalti is a payment processing and account payable software. It specializes in automating accounts payable and payments to vendors.
Tipalti is best suited for large, international companies or other companies that may have a significant number of vendors or contractors.
It can also provide crucial support for companies that are looking to scale up into international markets by automating the workload of tracking and processing payments.
As a supplemental service, Tipalti links with a large number of primary accounting programs, including QuickBooks. And of course, it links to payment accounts for the purpose of remitting payment.
It offers a variety of payment options, including wire transfer, ACH, and prepaid debit cards in over 190 local currencies. It can also print and send paper checks automatically.
Tipalti automatically generates 1099 tax reports, as well as calculates tax reports to ensure compliance with any applicable international tax laws.
Unlike other services on this list, Tipalti's pricing is on a per-transaction basis. As such it does not include a free trial.
Users have the option to deduct this fee, in full or in part, from either party's end of the transaction, or create rules for this decision on the basis of the payment form.
Pros
It automatically creates invoices
Payment processing is automatic
Full, automatic compliance with international tax and payment laws
The cost of service scales with usage
24/7 Live support
Cons
As an automated system, it can be slow to detect and report when payments have bounced
It's really only cost-effective if you're looking to avoid paying a team to provide the same service
Pricing

Tipalti offers two different pricing tiers – Express and Pro – these are priced at $299 and $477/month.
This is more on the higher end so look into this solution if you are a medium to large business looking to scale without increasing your administrative headcount.
8. FreeAgent – Best For UK Businesses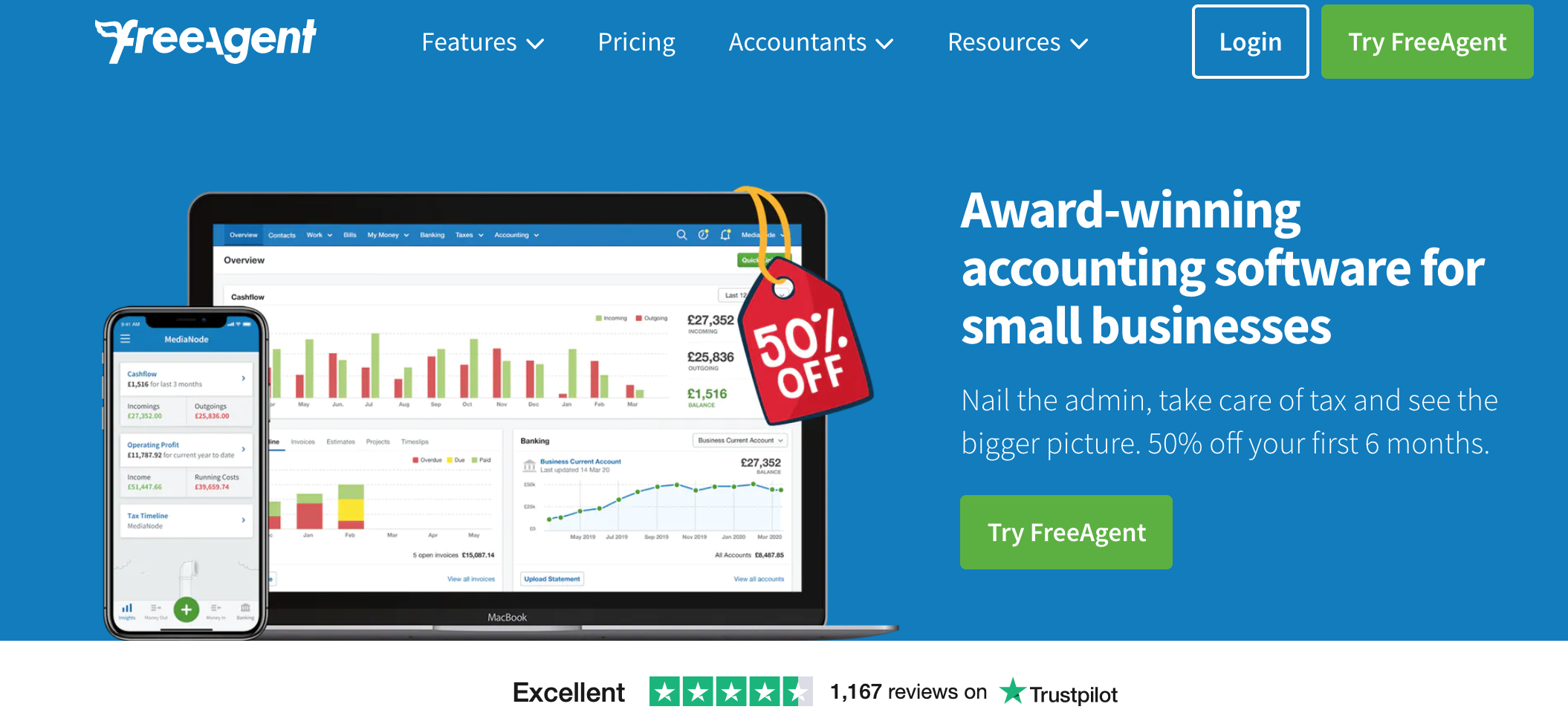 FreeAgent is a UK-based option for online accounting software. It describes itself as a comprehensive platform for small businesses and focuses specifically on service and contract based work.
As such, the primary purpose is tracking expenses, and generating invoices. FreeAgent allows invoices to be scheduled automatically, and reminders set for any that remain unpaid after set timeframes. It can also generate invoices in a variety of currencies.
It links to any bank or credit accounts relevant to your business to track income and expenses. It also allows receipts to be entered via snapshot, and either entered as an expense or attached to an invoice as an unbilled item.
FreeAgent automatically generates various reports and overviews of short and long-term finances and expenses, making it a great tool for at a glance tracking of your business's status.
In addition to customer and expense management, FreeAgent includes time tracking and management.
What sets FreeAgent apart is a specific focus on project by project reporting. The software will automatically generate snapshots of any ongoing projects, giving a summary of gross and net profit, expenses, and time spent on each project.
It can also easily export relevant information to quickly generate and file taxes.
Pros
UK based service that's suitable for international commerce
Low price point with no restrictions on features or use
The interface is clean and easy to use
Useful reports on core data are automatically generated
Award-winning support
Cons
The options for customization are limited
If you need a focus on inventory management, it may be too simplistic
It doesn't do payroll
Pricing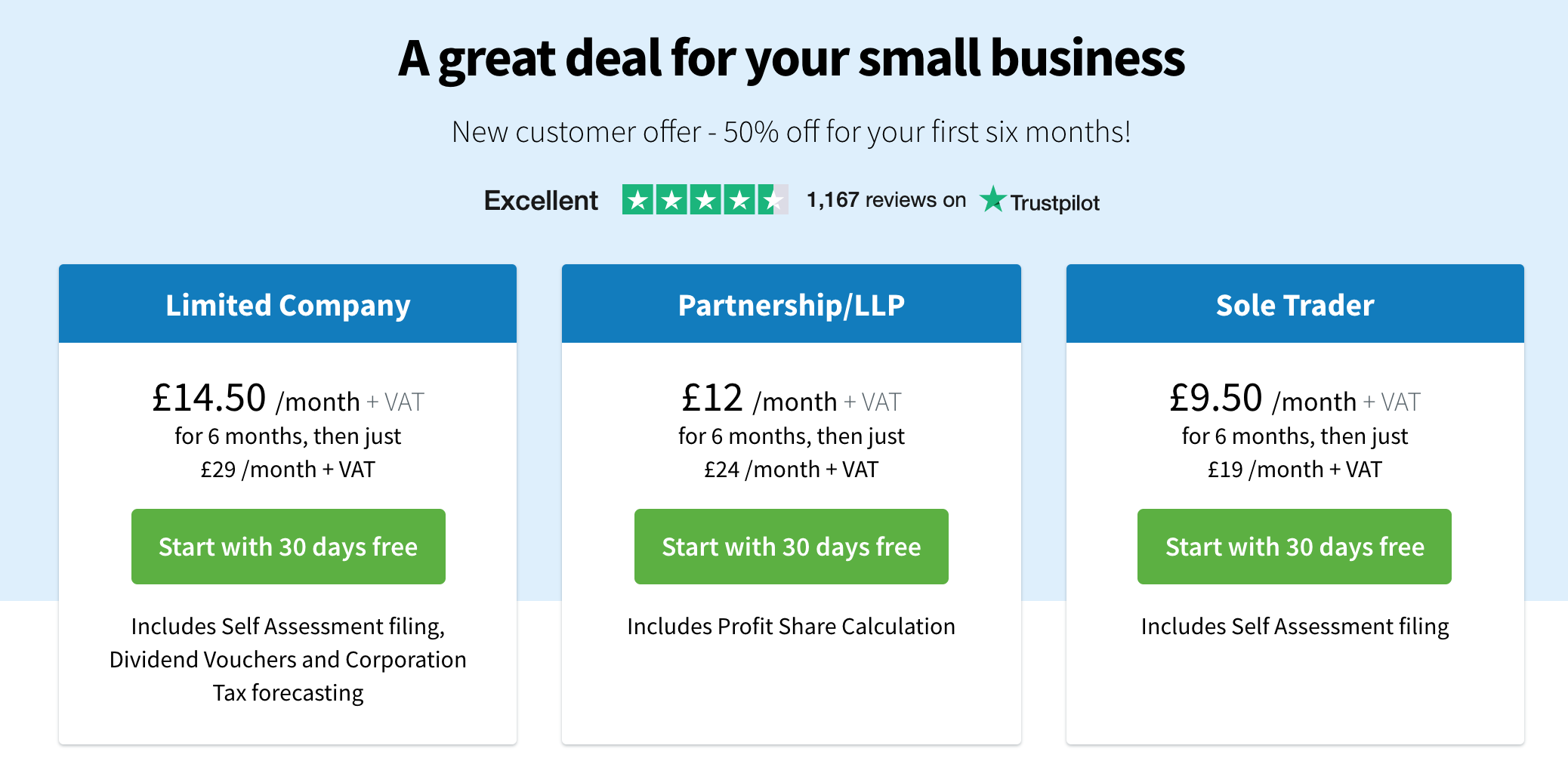 FreeAgent's subscription model depends on what legal entity your business name is – Sole Trader, partnership/LLP or Limited Company. These cost £9.5, £12 and £14.5/month respectively exclusive of VAT. The features differ greatly between each model since the tax requirements and submissions are different.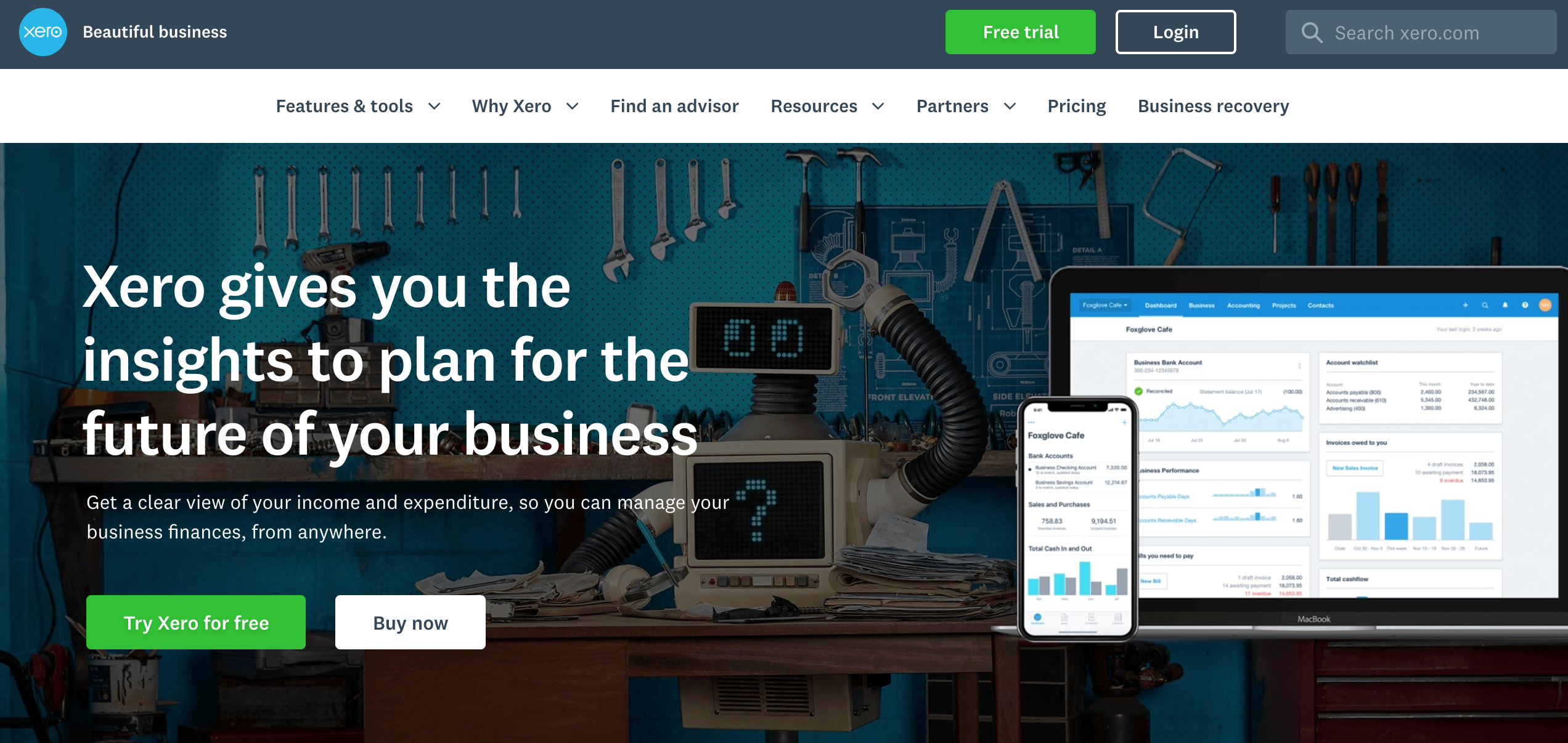 Xero is a web-based platform offering a suite of services targeted towards business on the small to medium spectrum.
Its invoicing features include the option to generate invoices automatically and schedule reminders and will protect your invoices with extra authentication.
Xero links to bank accounts, allows manual overrides and flags any inconsistencies between your account and the software.
Linking your bank account allows you to pay bills through the platform as well, either manually, or by scheduling them for automatic payment.
As a service for medium sized businesses, Xero includes support for payroll. While it does log project time, it does not include a timeclock feature.
While not being the only platform to offer such a service, Xero offers an edge with small and medium retail businesses by including inventory management tools in its total services.
Xero is based in New Zealand, so while it is fully available and functional in the US, it includes invoice support for multiple forms of currency and sales tax across all states and several countries.
Xero offers a tiered subscription service, with severe limitations on its lowest tier of service.
The Growing tier does not place a limit on the number of bills but doesn't track expenses or individual projects. To get the full use out of Xero, you'll need to go for the $60 a month Established tier.
Xero offers multi-platform access, including a mobile app, and integrates with a large number of other apps and services. It includes a dashboard with a variety of automatically generated reports to get an overview of your business.
Pros
Mobile app for Android and iPhone
Includes inventory and payroll
No limit to the number of users
Customizable reports and invoices
Cons
Some essential features are heavily limited by tier
Despite being targeted at medium business, it doesn't include a timeclock
Support is online only (no phone or chat support)
Pricing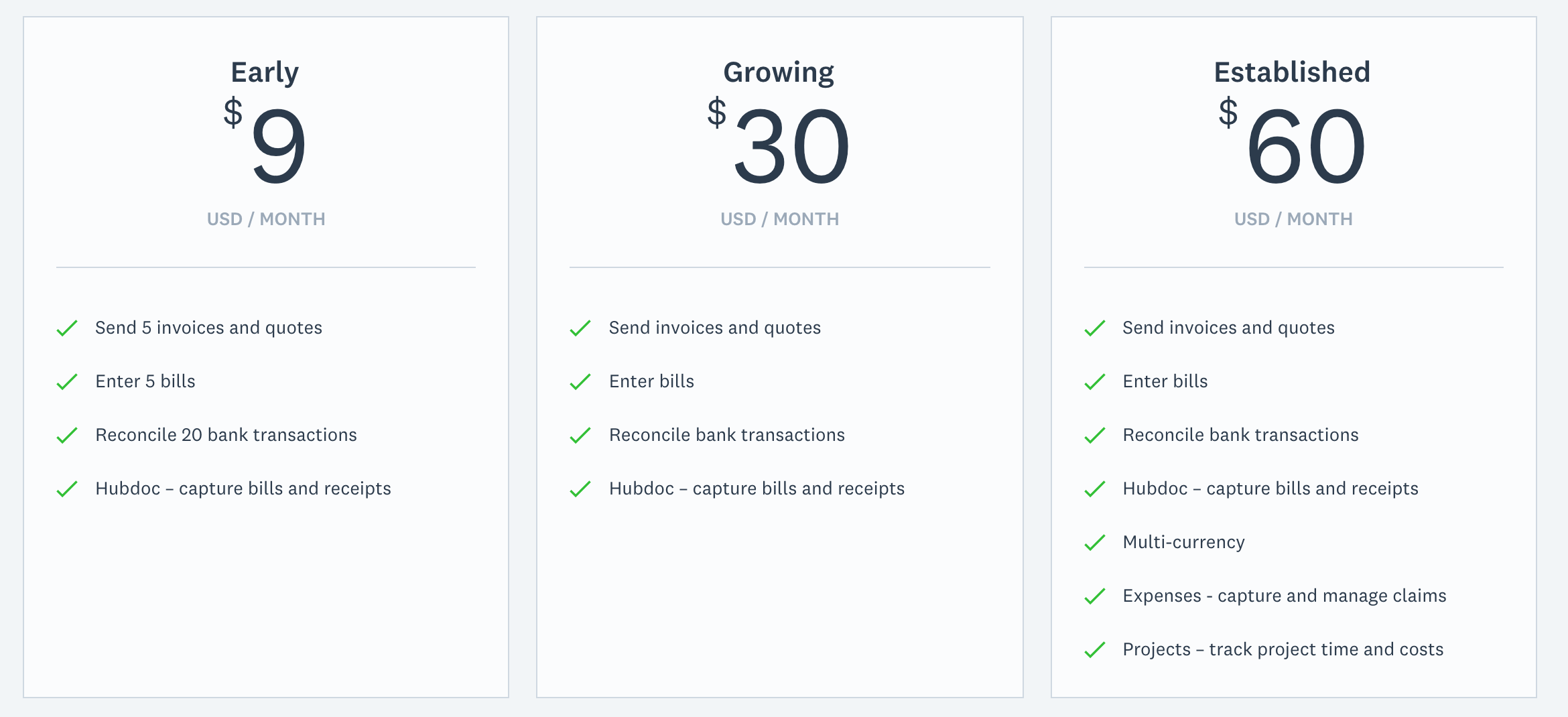 Xero offers three different tiers priced at $9, $30 and $60/month. The main difference between Early and Growing is that there is no cap on the number of bills, invoices and quotes on the Growing tier. The Established tier provides multi currency capability as well as expense and project tracking.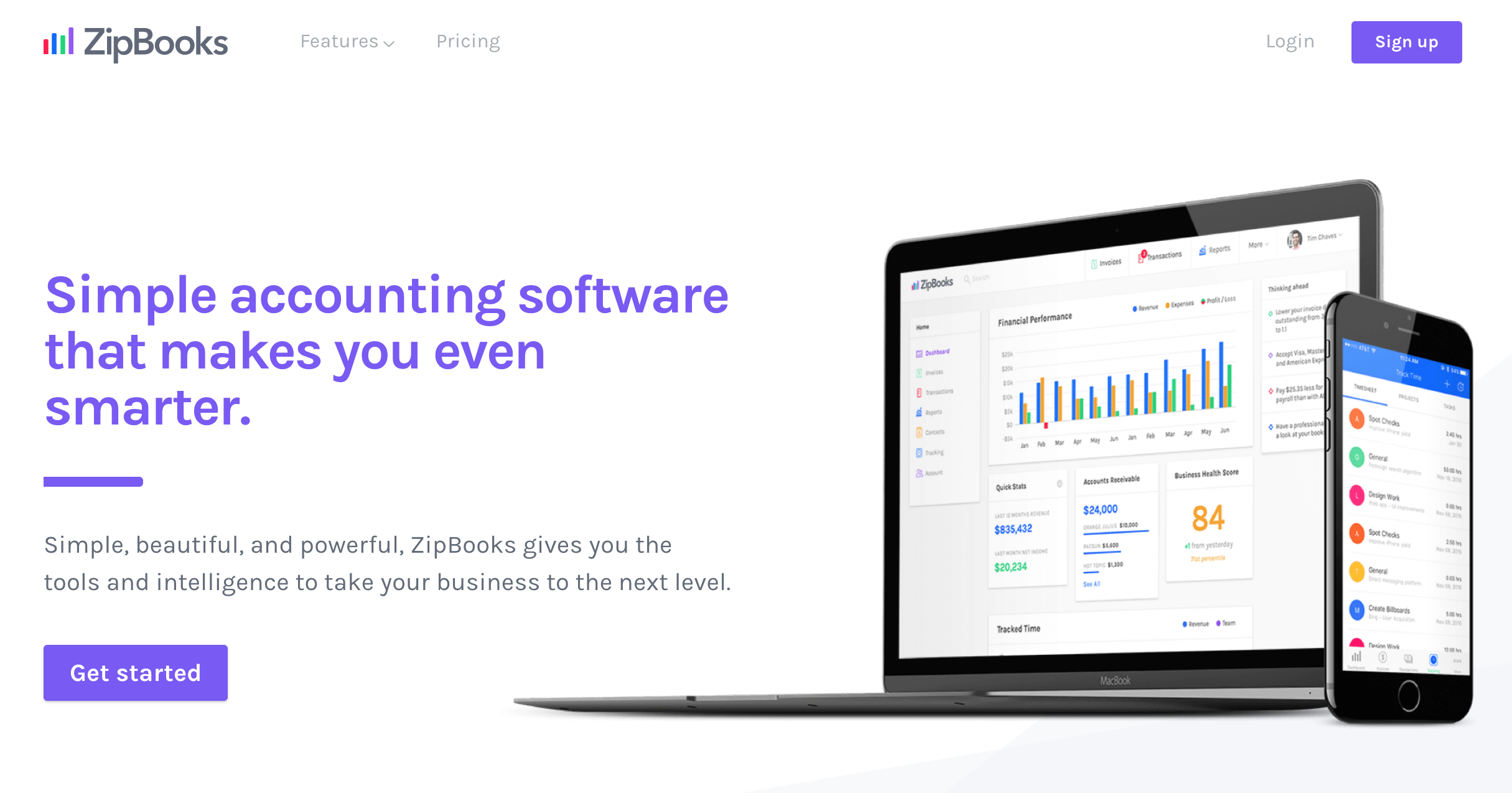 While many of the options on this list offer a free trial,
ZipBooks is one of a very small number of options to offer their base packages completely for free.
With their basic tier (called "Starter") you can generate custom invoices that can be paid with Square or Paypal, save basic customer and vendor information, and link one bank account to track income and expenses.
You can also manually enter receipts and expenses. As well as tracking 1099 reports, and logging other sales and VAT tax figures. The basic tier includes a company dashboard and some basic reporting features.
At the premium tiers, ZipBooks begins to add a variety of automated features. You can send automated invoices and reminders. It also allows you to record time at a custom hourly rate, and have it automatically added to the billing.
The Smarter and above tiers allow keeping notes on custom invoices and customer profiles. It also allows you to break down and track specific projects.
If you use multiple accounts (bank accounts, credit cards, etc) you'll need to go for one of the higher tiers to use ZipBooks effectively.
The premium tiers also allow for more in-depth reports, and for data to be exported. It also allows expenses, customers, and vendors to be broken down by category.
It does not, regardless of the tier purchased, include bill payment, payroll, or inventory management.
This makes it a less than perfect fit for medium-sized businesses, or retail businesses.
ZipBooks is available both on a web browser and as an iPhone app, both are lightweight intuitive platforms.
Pros
Free option available
Generates reports tracking internal productivity
24/7 support (at premium tiers)
Cons
Some features that you may consider essential are not included at the free tier
There is no support (at all) included in the free tier
No payroll or bill-paying
No inventory management
Pricing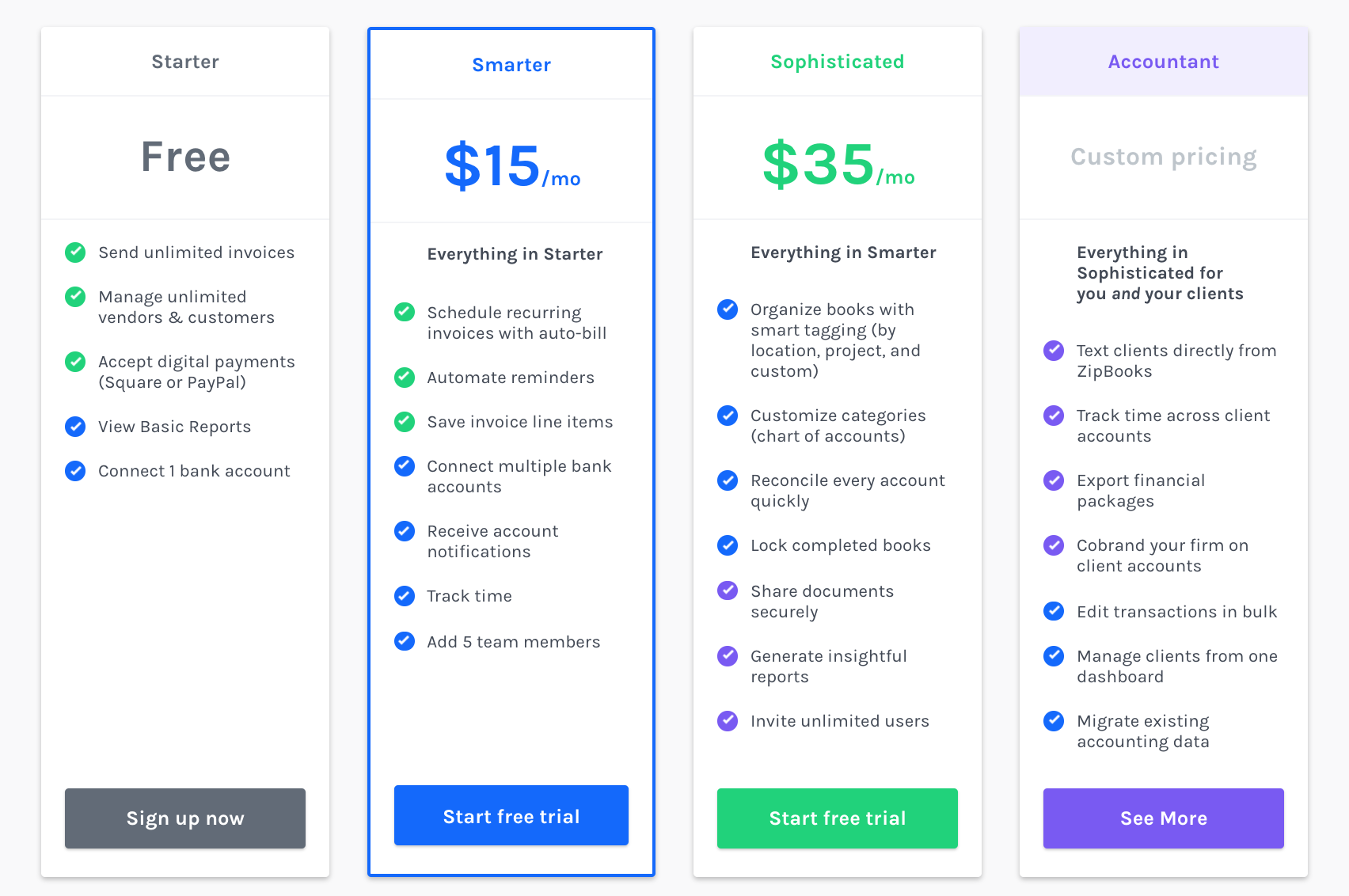 Zipbooks has a free tier which allows you to send unlimited invoices and manage as many vendors and customers as you want.
They then offer Smarter and Sophisticated tier packages which cost $15 and $35/month.
The Accountant tier provides you sophisticated features such as time tracking but you will need to inquire to get an exact price.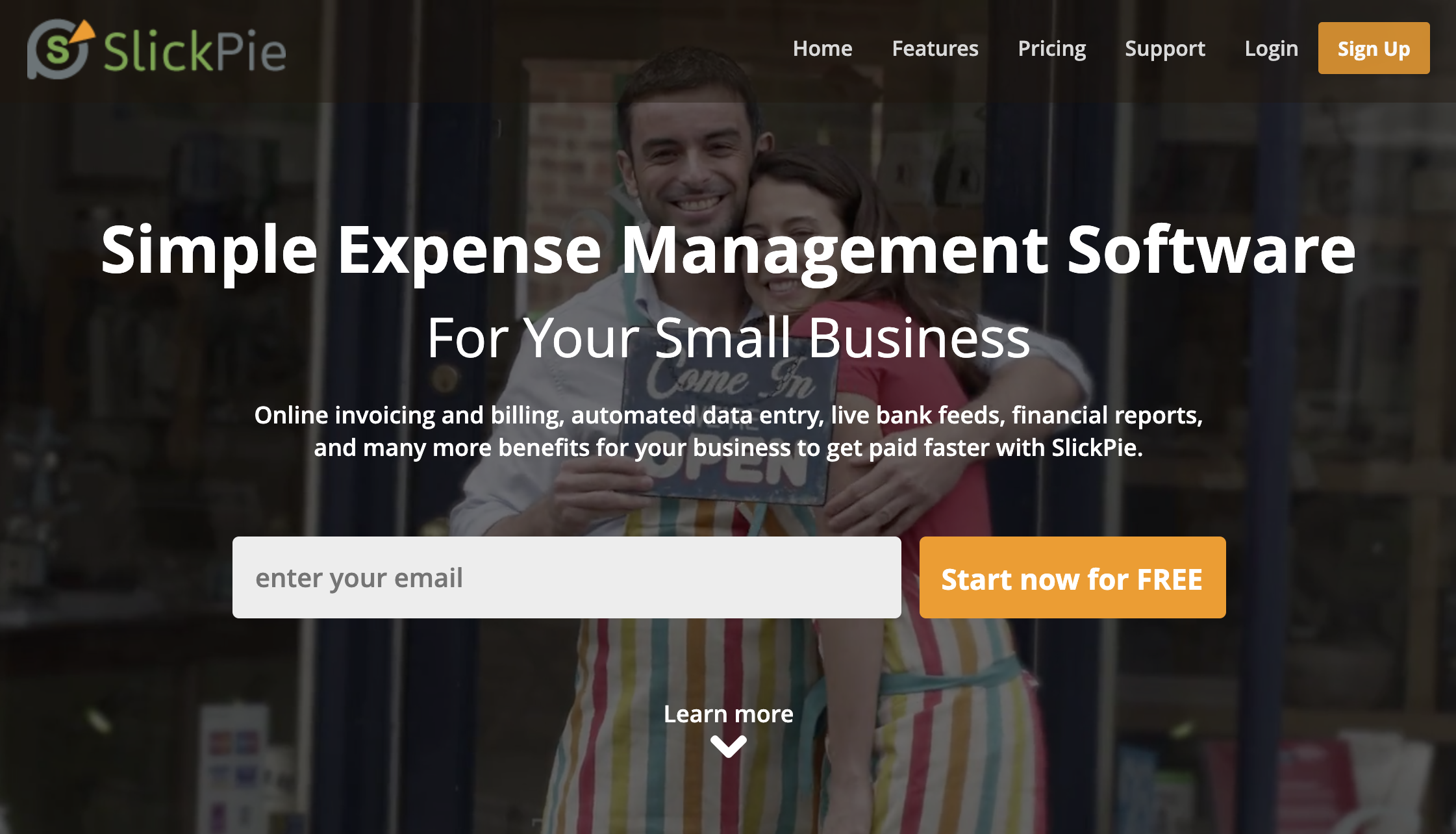 SlickPie is another free online option for small business accounting. It allows you to link bank accounts to track expenses and income, as well as automatically enter receipts.
It offers multi-currency support and will calculate and include sales tax. It allows invoices to be created and sent and allows automatic recurring invoices to be created. SlickPie also creates and tracks quotes and estimates.
SlickPie supports multiple payment gateways such as PayPal, Stripe and credit cards.
Using SlickPie you can create profiles for recurring vendors and companies. This is where the premium option comes in.
Unlike other free options, SlickPie makes all features of its service available to free and premium users.
The difference is the number of current and recurring accounts available to each user. The free version includes support for 10 customer profiles, the Pro option ($40 a month) allows for up to 50 customer profiles.
If you need more than 50 customer profiles, you're probably going to need another service altogether.
Both options include email support, but phone support is available with the premium tier.
SlickPie is available on both a web platform and a mobile app for both Android and iPhone. SlickPie does not include individual project tracking and management. It also does not include time tracking or payroll features.
Pros
Free option with full function
Available as a mobile app for Android and iPhone
Track and report tax information
Cons
It's missing features necessary for large businesses
The number of customer records is limited
Fewer linking options than other programs
No live support for free options
Pricing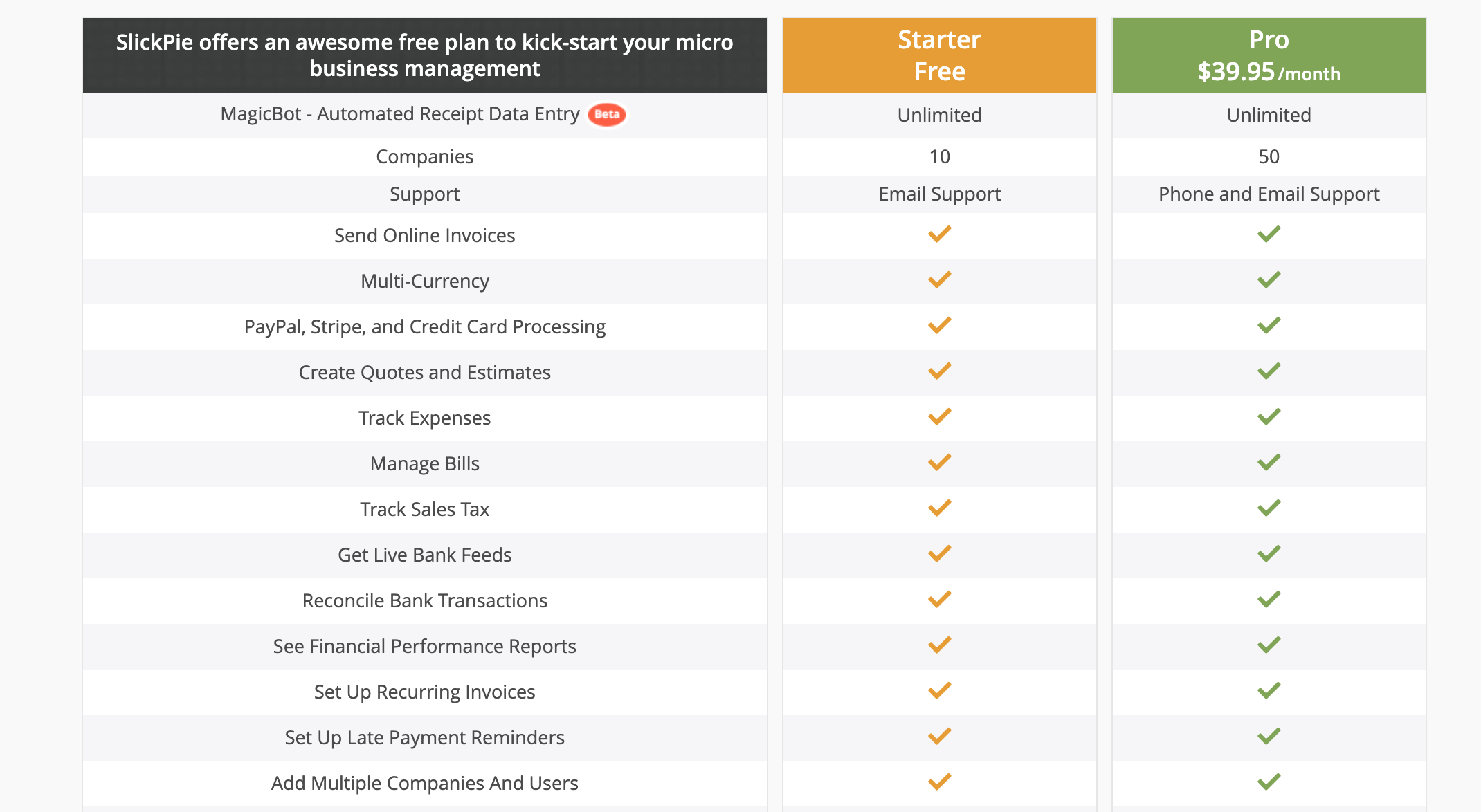 There are 2 pricing tiers – Starter and Pro. The Starter package is completely free and the Pro package costs $39.95/month. The only difference between these tiers is the the number of users you have – if it is less than 10 you can use Starter, if it is greater you can go for Pro.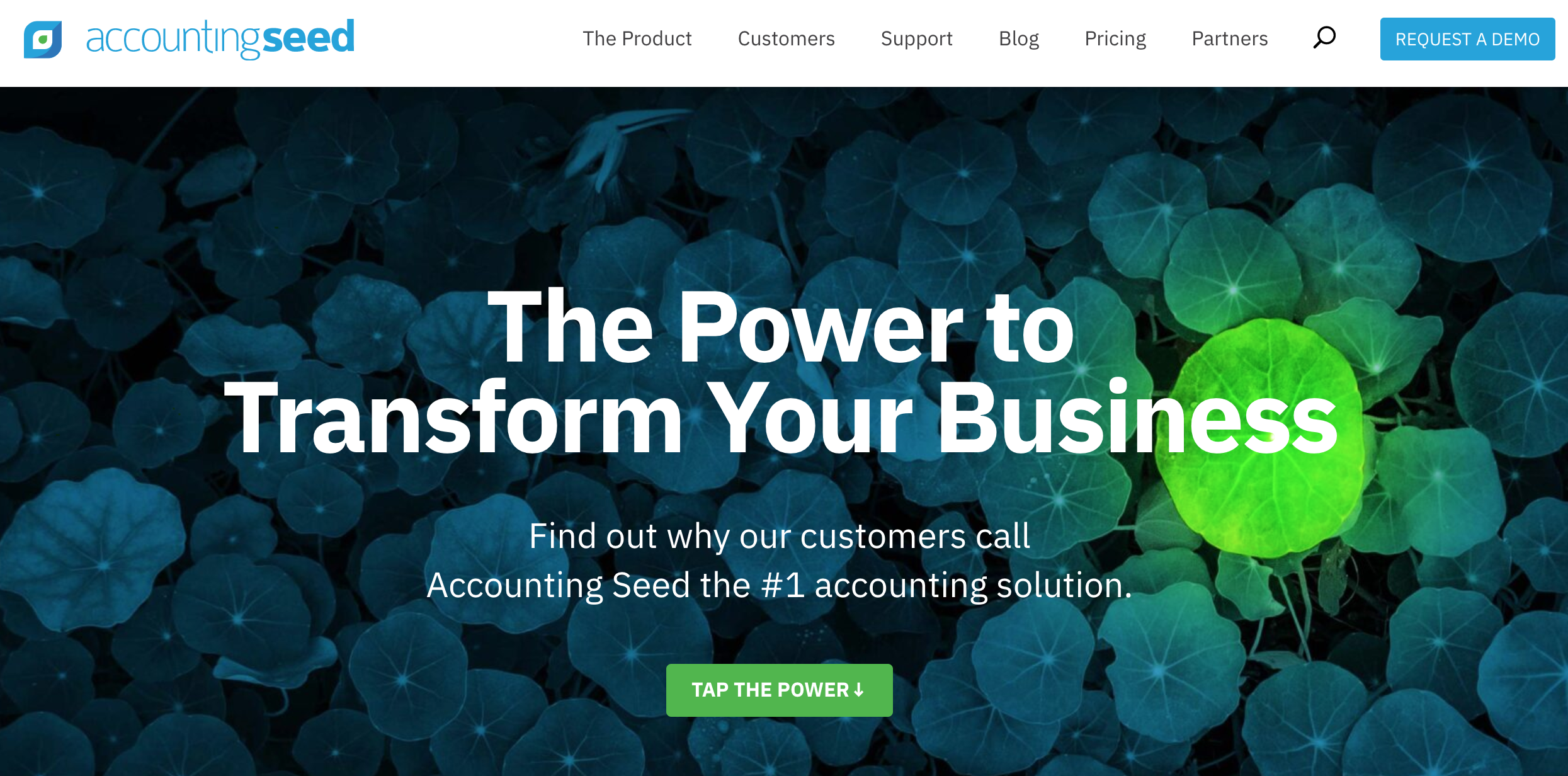 Accounting Seed bills itself as a solution for online accounting and ERP integration. So in addition to the expected stand-alone services, it can also link with and oversee other programs that you use to manage your business, most notably SalesForce.
Accounting Seed includes features to generate estimates and invoices. It also includes functions for automated invoices and recurring billing. These are both fully customizable.
You can use Accounting Seed to pay vendors and other bills, thanks to its ability to link with hundreds of banks and credit card providers.
Accounting Seed allows a great range of reporting and oversight to all aspects of your business. It can be used for inventory management, either on its own or as a supplement to your existing inventory tracking services.
While it does generate a large variety of reports, they can be difficult to customize. Fortunately, the data from those reports can be easily exported and formatted to your needs.
Most notably, Accounting Seed integrates with SalesForce, allowing you to use data to generate more complete reports, and get the most out of both products.
Accounting Seed is fully customizable, but as a result, needs to be set up and purchased through an Accounting Seed sales rep. That means their pricing model isn't directly available online but is typically upwards of $300 a month.
It can also mean that you might find yourself without useful features, and you'll need to come back and upgrade to add them. Some of the SalesForce integration may require upgrades to your SalesForce subscription, depending on what you're currently using.
Pros
Offers a high level of integration
Good for large businesses
Offers inventory management
Payroll management included
Cons
It's expensive – the most expensive option of this list, in fact
It's difficult to customize
It's not a good fit for small businesses
Not all of its core features are standard – be careful and specific when setting up
Pricing
Undisclosed on websites but I estimate it to be around $300/month. You will need to get an exact quote from to confirm this though.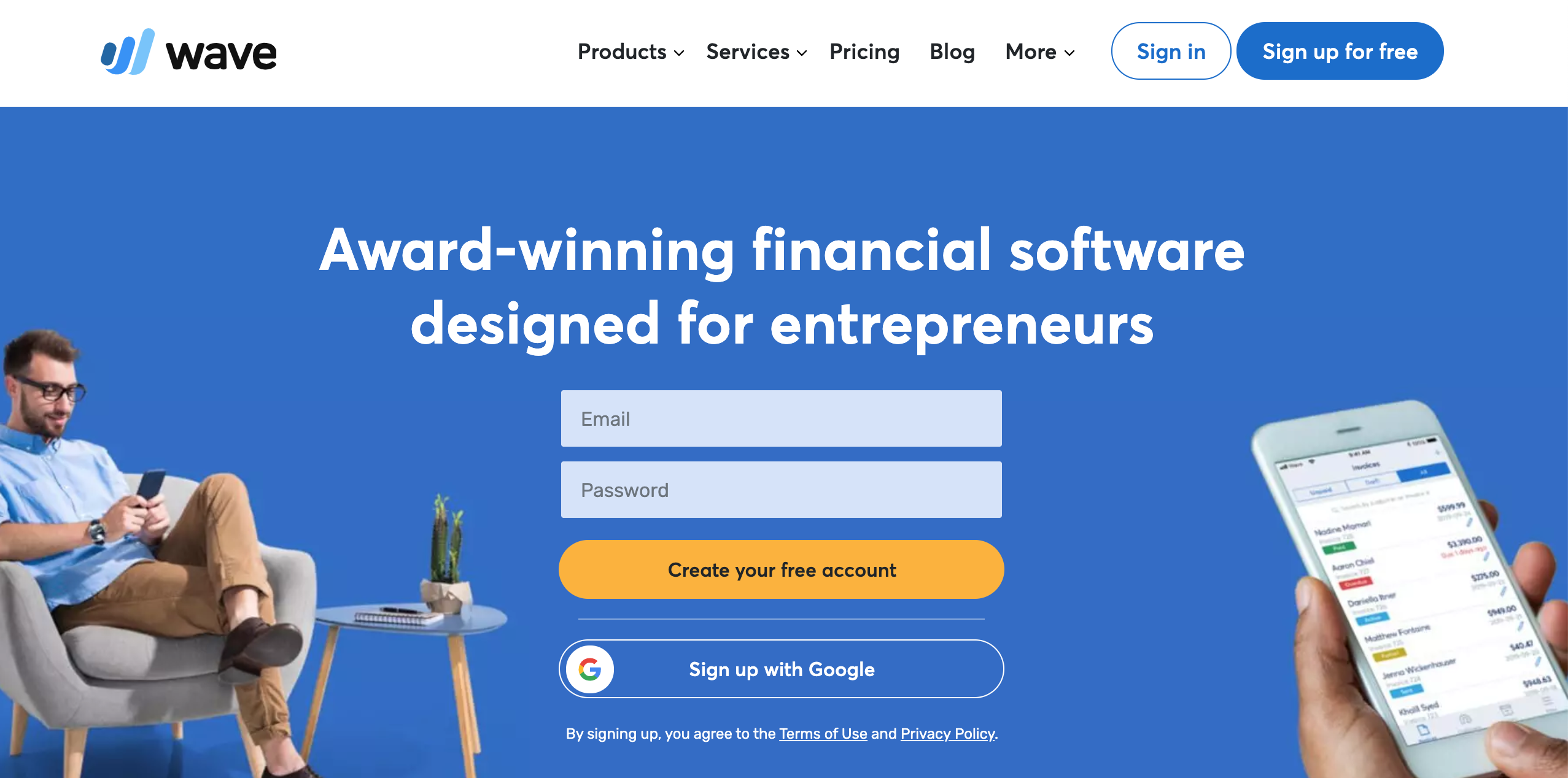 Wave is another cloud-based option that started out as a free service. The base package includes all available features but credit card processing and payroll.
Those features include the standard accounting options, like tracking income and expenses by linking your accounts. Unlike other free services, there's no limit to how many accounts you're allowed to link.
It also includes the ability to create custom invoices, and schedule automatic billing.
Invoices created and viewed through Wave will generate notifications when they're received, viewed, and paid, and can have scheduled reminders added to them.
Finally, Wave allows receipts to be scanned so they can be tracked and billed as expenses as part of the free suite of services.
For their premium option, Wave includes payment processing, taking a percentage of each transaction that varies depending on the type of payment.
For a monthly fee ($20-$35 depending on the state, plus a flat rate for each employee or contractor) it adds payroll support as well.
Wave does not include support for inventory management. That and the per-employee fee for payroll management make this a better fit for smaller businesses than large ones.
Pros
All core features included in the free bundle
Payroll and payment processing included with premium
Easy and accessible feature options
Cons
Not good for medium to large businesses
Payment processing takes a higher percentage than other industry options
Options for support are limited to online help tickets
Pricing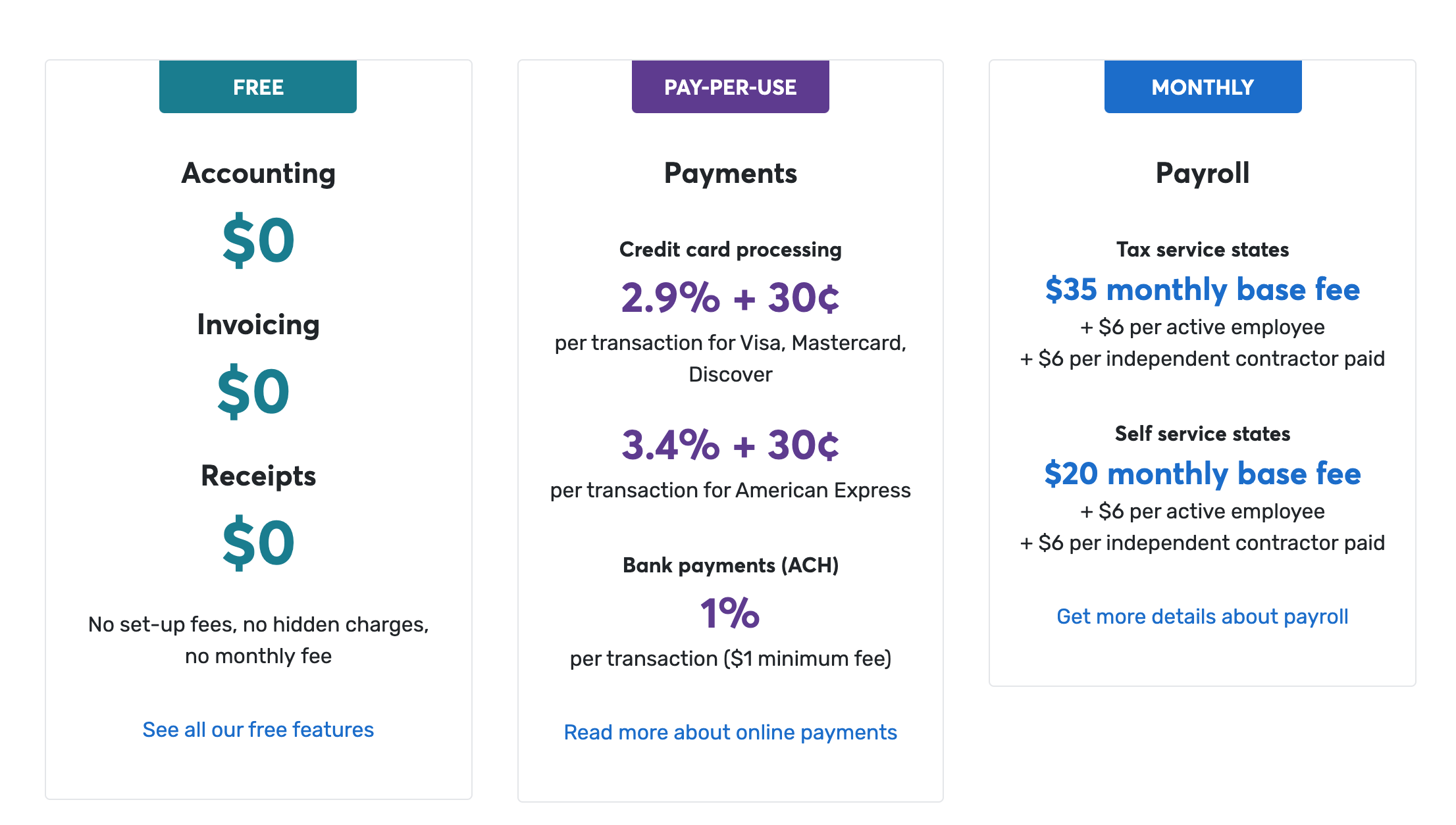 Wave provides free accounting, invoicing and receipts. There is a separate payment per use model. For those who want to manage payroll, there is a base fee of $35 plus $6 per active employee and independent contractor per month.
This pricing structure makes it ideal for freelancers who do not need payroll services.
What Are The Benefits Of Using Small Business Accounting Software?
There is no replacement for a dedicated accountant but small business accounting software does allow you to automate and manage some of the tasks done. Here is a list of benefits.
1. Protects Your Data
With data becoming more valuable, it is increasingly important to ensure that sensitive information is protected and encrypted.
This is especially true of financial and transaction data.
Luckily, the majority of small business accounting software use industry grade encryption to protect user data. QuickBooks and Tipalti use especially strong protocols.
2. Cashflow Management
When you keep your books on multiple spreadsheets and update them manually, it's very easy to miss a few transactions.
Proper small business accounting software allows you to consolidate all invoices and expenses in a single view.
This makes it much easier to manage your cashflow since you have a single source of truth that you can refer to, rather than multiple spreadsheets which may not have the most up to date information.
3. Process Automation
Accounting can be a highly manual process.
Luckily, most software allows you to automate key part such as client invoicing, reconciliation as well as tax returns.
Even if you are working with your own accountant, these automation features allow him/her to focus on more valuable and less mundane tasks.
It's a win win for both parties.
4. User Friendly Interface
Software such as FreshBooks was designed to be easy to use and easy to navigate, even for those without any accounting experience.
It doesn't take much to get up to speed with the software and usually there are free training videos to help.
Even if you do have employees who you want to outsource this to, they can be easily trained. This gives you time to focus on higher value activities.
5. Accuracy
You won't need to worry about dotting your i's and crossing your t's with accounting software.
The have in built tools completely eliminate human errors.
This is a great time saver and ensures that you can keep your books sharp and compliance on point.
6. Cost Cutting
Working in startups and small organizations often means that employees will need to work across a variety of different roles.
Furthermore, hiring a dedicated accounting specialist is often costly and only necessary once a business reaches a certain scale.
In scenarios like these, it is often better to pay for a monthly subscription for accounting software.
In the long run it is much cheaper than hiring someone.
It's also much easier to unsubscribe from a software service than it is to fire someone.
How Do You Use Small Business Accounting Software?
Accounting software has been designed for the layman and is generally quite easy to use. Good offerings will have video tutorials for easy onboarding. Here is a list of steps you can take to make the most of the software.
1. Process Invoices
With accounting software, it is easy to generate invoices, save it to your database and then share it your client.
Software such as QuickBooks even allows you to automatically track whether or not the money has been received in the bank account.
In order to generate the invoices you will need the following customer fields:
Customer Name
Customer Email
Billing Address
Terms
Invoice Date
Due Date
This an example of an invoice from QuickBooks: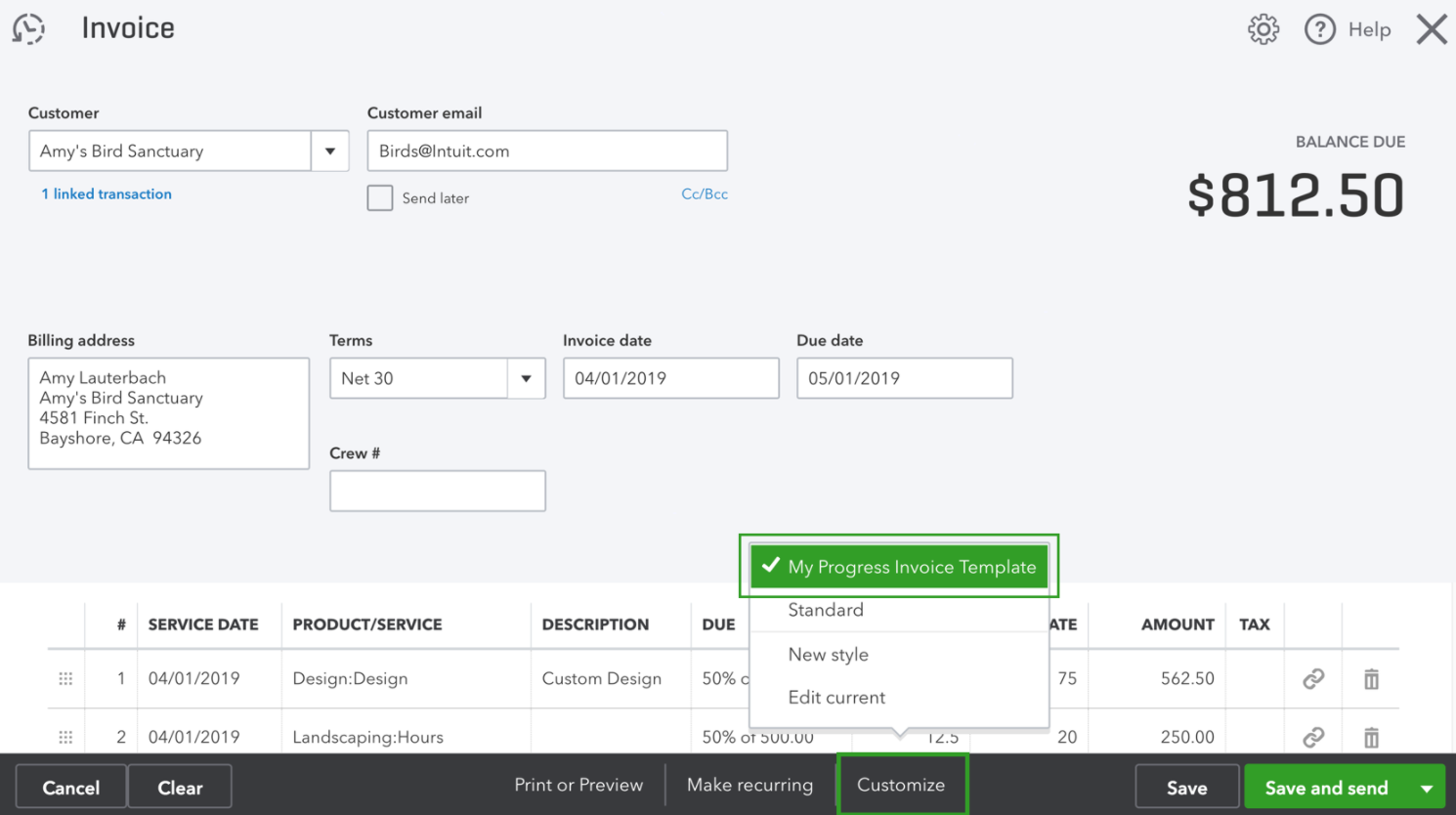 If you are being paid on a monthly retainer there is even an option to make the invoice recurring on a monthly basis. You are even alerted when the client does not pay you on time so you can send them a gentle reminder.
2. Manage Income, Expenses And Pay Vendors
After issuing invoices, it's important to manage the expense side of the business. You may need to pay certain vendors for their services.
This is easy to track and log in accounting software.
The software should give you a birds eye view of the cash in and cash out so that you can see if you are in a financially healthy position for the month.
3. Generate Financial Statements
All businesses big and small need to generate financial documents such as balance sheets, profit and loss statements, ledgers and bank reconciliation statements.
If you aren't an accounting expert, all of these can sound very intimidating and you would need to understand the intricacies of each document to produce them manually.
Luckily, accounting software enables you to do this with the click of a button. Simply select the time range that you want to analyse and the software can autogenerate all the necessary documents precisely and error free.
4. Submit Taxes To The IRS
Compliance with the IRS is probably the most important step of the accounting process. Timely submission of the Form 1096 and Form 1099 is important.
Missing deadlines and providing inaccurate information could lead to the suspension of your business license.
Accounting software makes this process seamless and you can push these documents to them with the click of a button.
Summary
I hope this list has given you more clarity and understanding on what accounting software is best. Granted, there is no one size fits all, but by understanding your business requirements you can narrow down the set of choices.
In my opinion, the top picks are:
QuickBooks – Small business accounting
FreshBooks – Freelancers
Webgility – Ecommerce
If you are serious, I recommend test driving the software.
In the worst-case scenario, almost all these apps are available on a month-to-month basis and don't require a cancellation fee. So you don't have anything to lose.
What is your favorite software? Share your thoughts in the comments below.