TLDR: The best project management software is Wrike. It has integrations with over 400 different third party apps and is trusted by big brands such as Google, AirBnB, Siemens, Dell and Estee Lauder.
Since the global COVID pandemic, corporations big and small had to find ways to adapt and collaborate remotely.
Without a physical office, managers need to ensure that their employees are working as effectively and efficiently as possible.
But how would this be done without micromanagement?

The solution is project management software.
Whether it's receiving punctual updates from your remote workers or efficiently compartmentalizing every aspect of your ongoing project, project management software is key in this digital world.
Project management software eases the workload of the project lead and keeps all team members on task and accountable.
Good software provides a clear birds eye view of the overall progress and allows managers to identify bottlenecks quickly and easily.
What Is Project Management Software?
Project management software is a tool designed to help plan, organize and manage resources to reach a specific end goal.
Good software allows project leads to:
Delegate tasks to members of the team
Quickly and easily bring new team members up to speed
Schedule meetings
Allocate resources
Keep track of expenses and budget
Compartmentalize every aspect of the project online
Allow file sharing between team members
Promote a higher degree of productivity
Ease their own workload and reduce their stress levels
Typically, you will be using project management software on your desktop or laptop, but many companies have mobile apps for their software as well.
What Are The Pricing Options For Project Management Software?
Regarding the costs of use, this varies depending on the company.
Plenty of project management software will have free versions of their software available for you to try out or use permanently.
Others will have free trial offers of their premium services.

Generally, there are three pricing plans that you will commonly come across:

Premium: This provides full access to a software's features and capabilities. This is great for any individual who just wants to stay on task and be as organized as possible. Premium plans are typically $10 a month.

Business: Business is the next step up and is typically the ideal choice for small business owners and startup companies. Expect to pay around $25 a month for a Business plan

Enterprise: Enterprise is for the Major League businesses only. Most Enterprise plans require you to call the company to nail down every detail on the plan and specify needs for the project.
Prices depend on the company you choose and how much you ask for. Enterprise is the most expensive plan, but also comes with the most bells and whistles and highest security measures.

What Is The Best Project Management Software?
Today, we will be going over the best project management software. We have taken numerous factors into consideration during our selection process including:
Pricing
Accessibility
User-friendliness
Overall performance
Integrations with third party apps
You can go over the pros and cons yourself and see which project management software is the best for you and your team.
For your convenience, we have singled out software that we believe are best for specific tasks.

Most project management software can be considered general software, but some software is specially tailored to specific niches and industries, which is something that you will want to take into consideration when choosing a software for your own team and project.

Without further ado, let's begin.

Disclosure: I will receive an affiliate commission if you do decide to purchase any of the software from the links below. However, these are the project management software I recommend. You can read our affiliate disclosure here in our privacy policy.
1. Wrike – Best Overall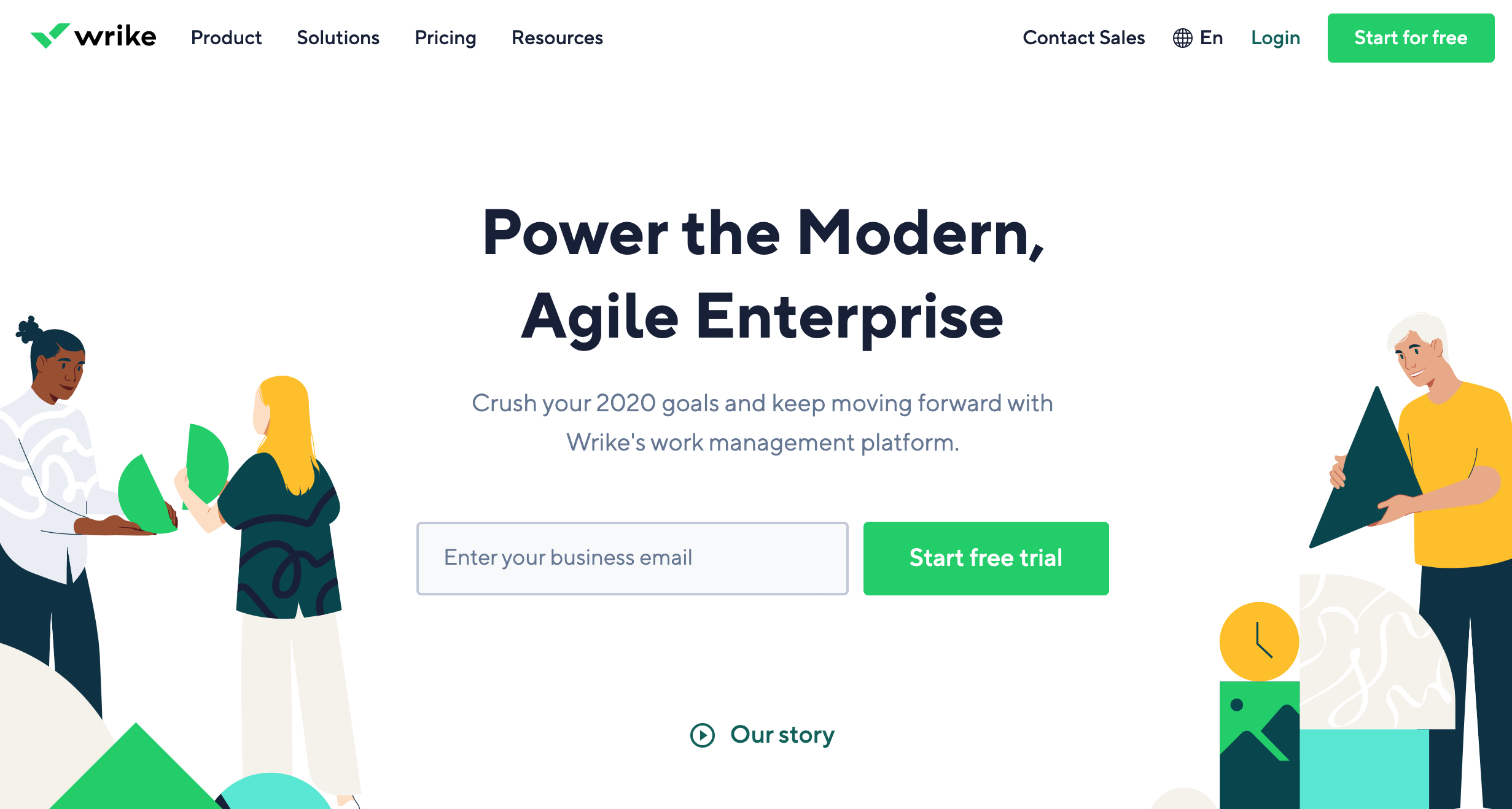 Wrike is a Software-as-a-Service product with a simplistic and easy to navigate user interface.
Designed for project management and team collaboration, Wrike offers up a high level of customization which allows users to tailor their experience to their specific needs.

Users can also choose between pre-made templates to get up and going right away.
Wrike is very user-friendly, especially for those who aren't the best at navigating technology but need to keep up with the times.

Tools available include time-tracking, Gantt charts, a dashboard with a built-in Inbox for immediate updates and notifications, and at-risk project viewing.
Wrike also has additional features, known as "Wrike for Marketers" and "Wrike for Marketers Performance," which are useful for the management of marketing workflows.

Key Features
Enterprise-level encryption software is also top of the line
Available on both Android and iOS
Integrations with over 400 apps, including widely used apps and software, such as Gmail, Dropbox, and Microsoft Office
Available in 10 different languages: English, French, German, Italian, Japanese, Portuguese (Brazilian), Russian, Simplified Chinese, Korean, and Spanish
Integration with Tableau for next level visualizations
Pros
Easy to onboard team members
Predict and prevent delays
Software makes team members more proactive and accountable
Automations
24/7 live chat, email and phone support
Pricing

Wrike offers a 14-day free trial for interested users, and there is also a free version of the software.
The free version is adequate enough and primarily restricts the number of team members that can use it for any given project and storage. It's a good choice for those with small projects who are on a tight budget.

Price plans include a $9.80 user/month plan for Professional and a $24.80 user/month plan for Business.

Anyone interested in an Enterprise plan will have to call Wrike to set it up. Wrike for Marketers and Wrike for Professional Services plans also require calling. Prices will vary.

Try Wrike
2. Monday.com – Best for Large Organizations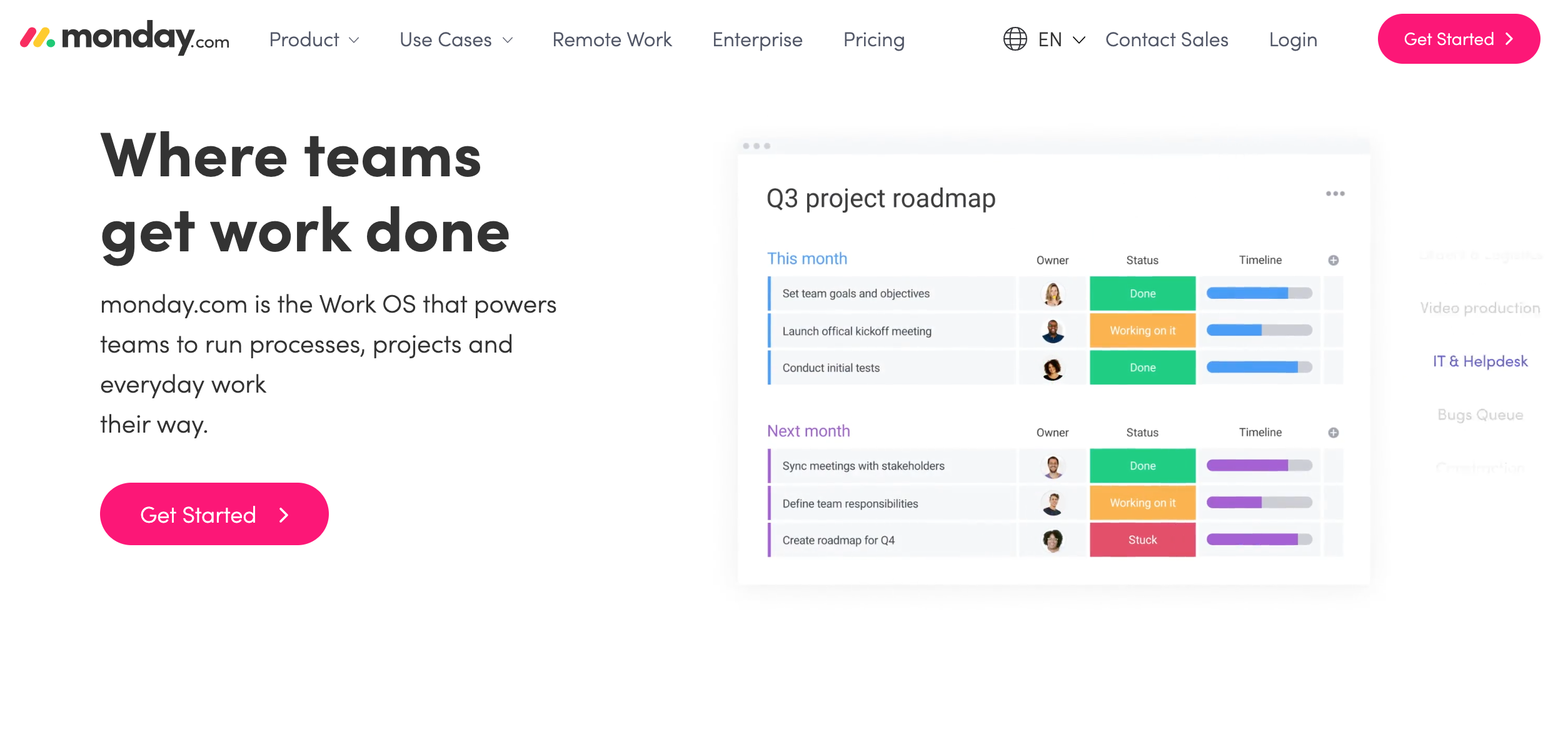 Starting off as an internal tool for Wix.com and formerly known as daPulse, Monday.com has become one of the most widely-used project management tools on the planet.
More than 100,000 organizations use Monday.com, and for a good reason
Monday.com has a bright and color-coordinated interface which makes differentiating tasks very easy.
It provides you and your team with a virtual work hub to congregate in, which makes communication swift and effortless.

A large number of templates makes it easy for project leads to set things up quickly, though Monday.com can be a little tricky for the less technically-inclined to get used to in the beginning.

Charts for timeline visualization, numerous resource management tools, progress graphs, and more make Monday.com one of the most versatile on the market.

Monday.com also gives you the ability to automate some of the more routine work that takes place in the project, allowing you to focus on the tasks that require more attention and precision from users.

A healthy amount of integration allows you to use Monday.com in with apps and software like Jira, Zoom, and Slack.
Key Features
Mobile app is available on Android and iOS
Desktop apps for Windows and Mac
Multi language capability (English, Dutch, German, French and much more)
Integrations with many apps (Excel, Outlook, Jira, Slack ect.)
Highly customizable workflow
Pros
Even the most basic plan offers unlimited free viewers, which is great if you need to keep someone who isn't on the team up to speed on how the project is going.
One-on-one training offered at all tiers
Sophistication of platform allows you to handle complex projects with ease
Free trial period for software
24/7 support
Cons
More technical in terms of setup than Wrike
Price is relatively high compared to other solutions on the market
Pricing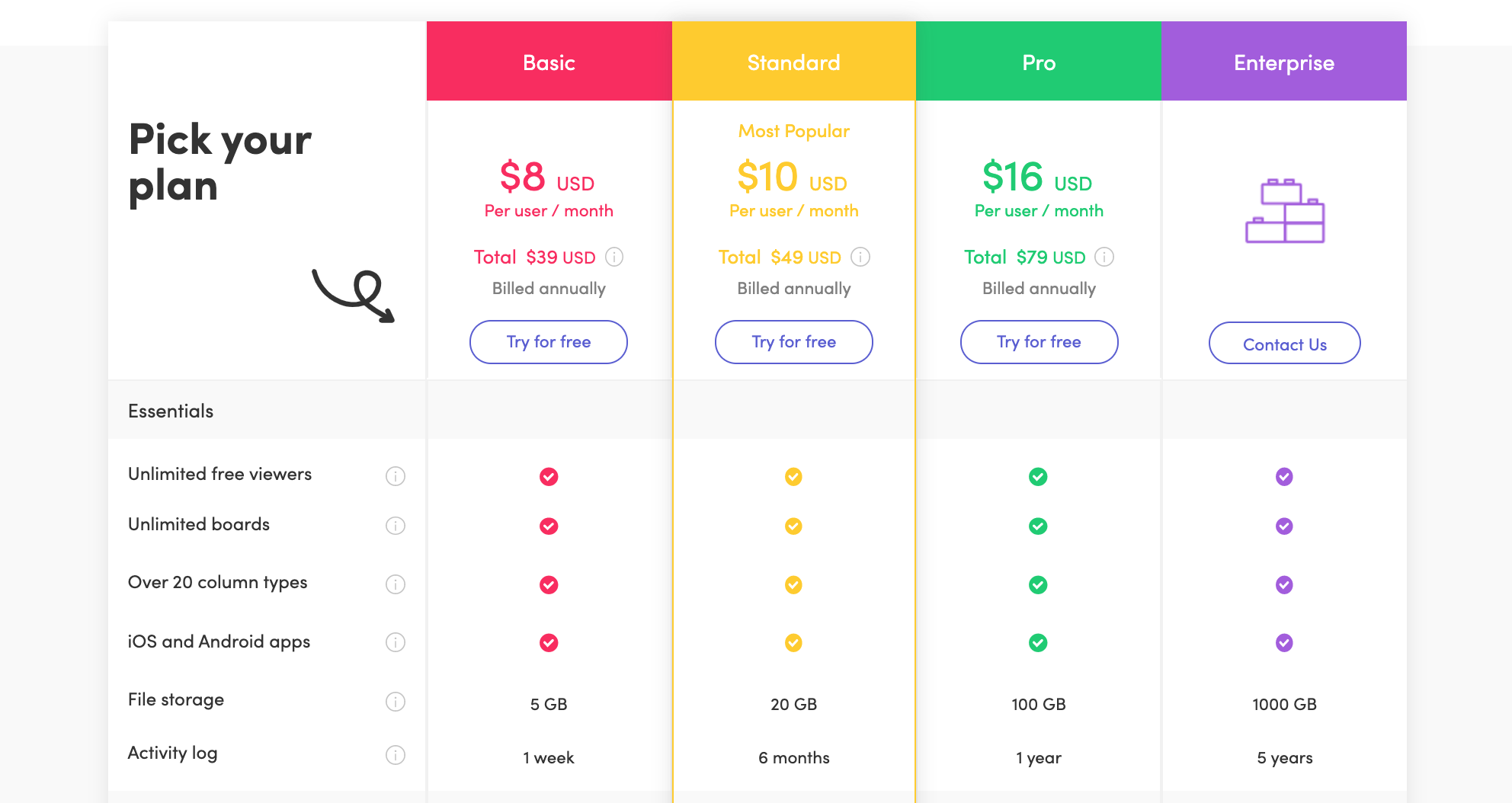 Monday.com is unfortunately one of the more expensive project management software on the market.
You can currently save 18% by making an annual deal over monthly, but it's still going to set you back a considerable amount.

Basic, Standard, and Pro plans for each users costs $8/month, $10/month, and $16/month, respectively. The price is multiplied per user so this can get quite costly with a large team.

For Enterprise plans of Basic, Standard, and Pro plans with 50 or more users, you will need to call Monday.com to get a quote.

A 14-day free trial is available.

Try Monday.com
3. Teamwork – Best for Customizability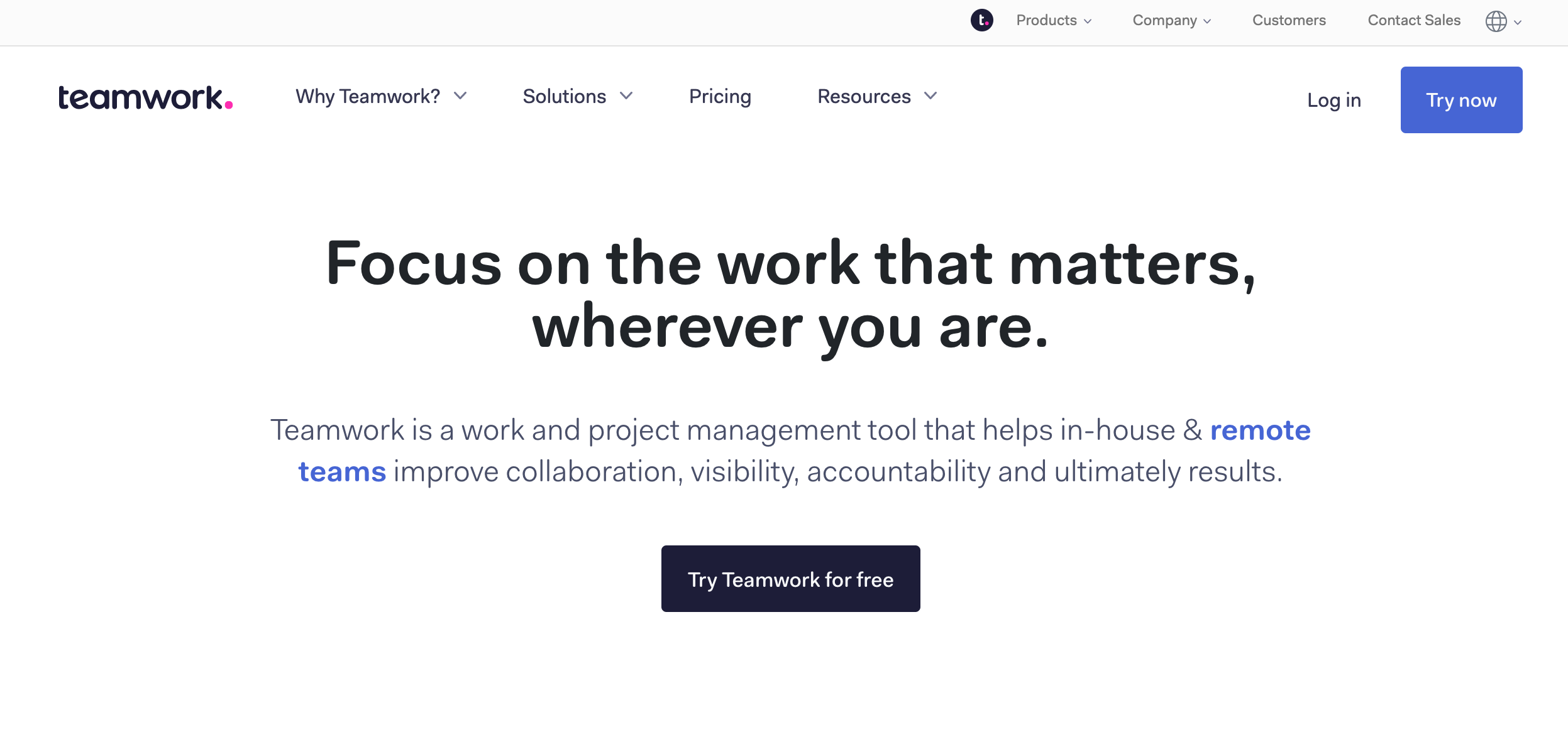 Available on desktop, Android, and iOS, Teamwork's design is relatively simplistic, while also being robust in options.
It comes with a wide variety of templates, including ones for event marketing campaigning, website development, software implementation, and bug tracking. Integration options with software like Slack, Google Drive, and Microsoft Office are available.

It offers Kanban board views as well as Gantt charts for your viewing experience.
There is a useful Teamwork Timer app to keep track of time during your project, and billable time logs to instantly send out invoices for your expenses.
Teamwork has a Risk Register feature that allows you and your team members to see all the risks associated with the project.
The workload and task history features allow you to see who's doing what, who's overloaded with work, and who can help pick up the slack.
Your Dashboard can be personalized to your liking and allows you to prioritize objectives.
Key Features
"Teamwork Timer" app to track how long your employees are working
Chat functionality
Timesheet based invoicing
Nested task creation
Client portal for project segmentation
Portfolio feature lets you see all projects from a birds eye view
Pros
Free tier included in offering
Kanban-style board
Integration with popular CRM solutions such as Hubspot
Reliable and responsive support
Cons
Clunky interface that looks dated
Tricky for a novice to use
Pricing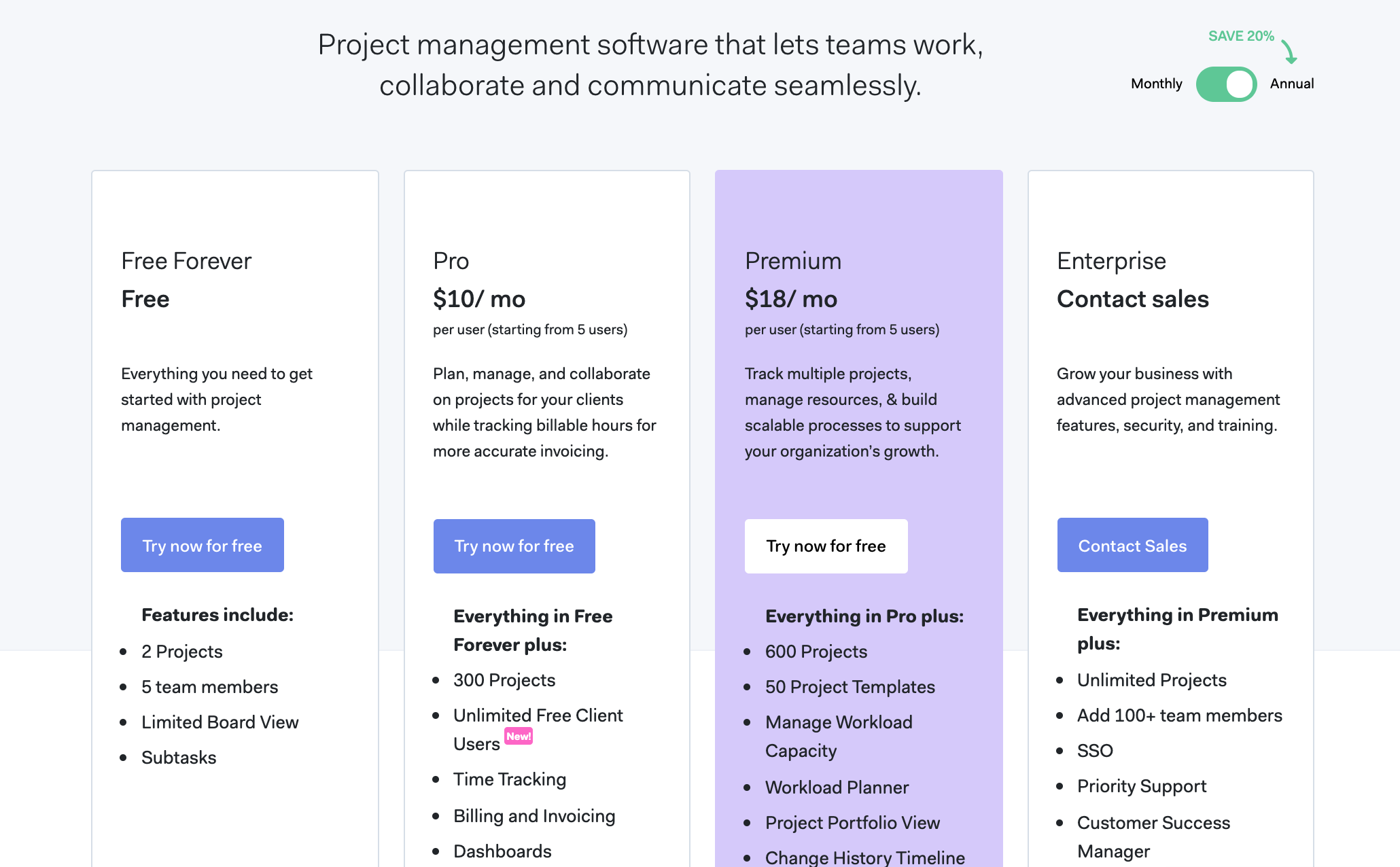 Teamwork wins big when it comes to value and is probably the best bang for your buck.

There is a free version that allows for 5 users, though this version is significantly more limited than the free versions of other project management software.

Pro plans start for $10 a month starting at 5 users, and Premium plans with 5 users start at $18 a month. Both plans allow for unlimited free Client users and allow for 300 and 600 projects, respectively.

Enterprise plans need to be called in so you can receive a quote. You can try out all their plans for free to see if any are right for your team.

Try Teamwork
4. Backlog – Best for Software Developers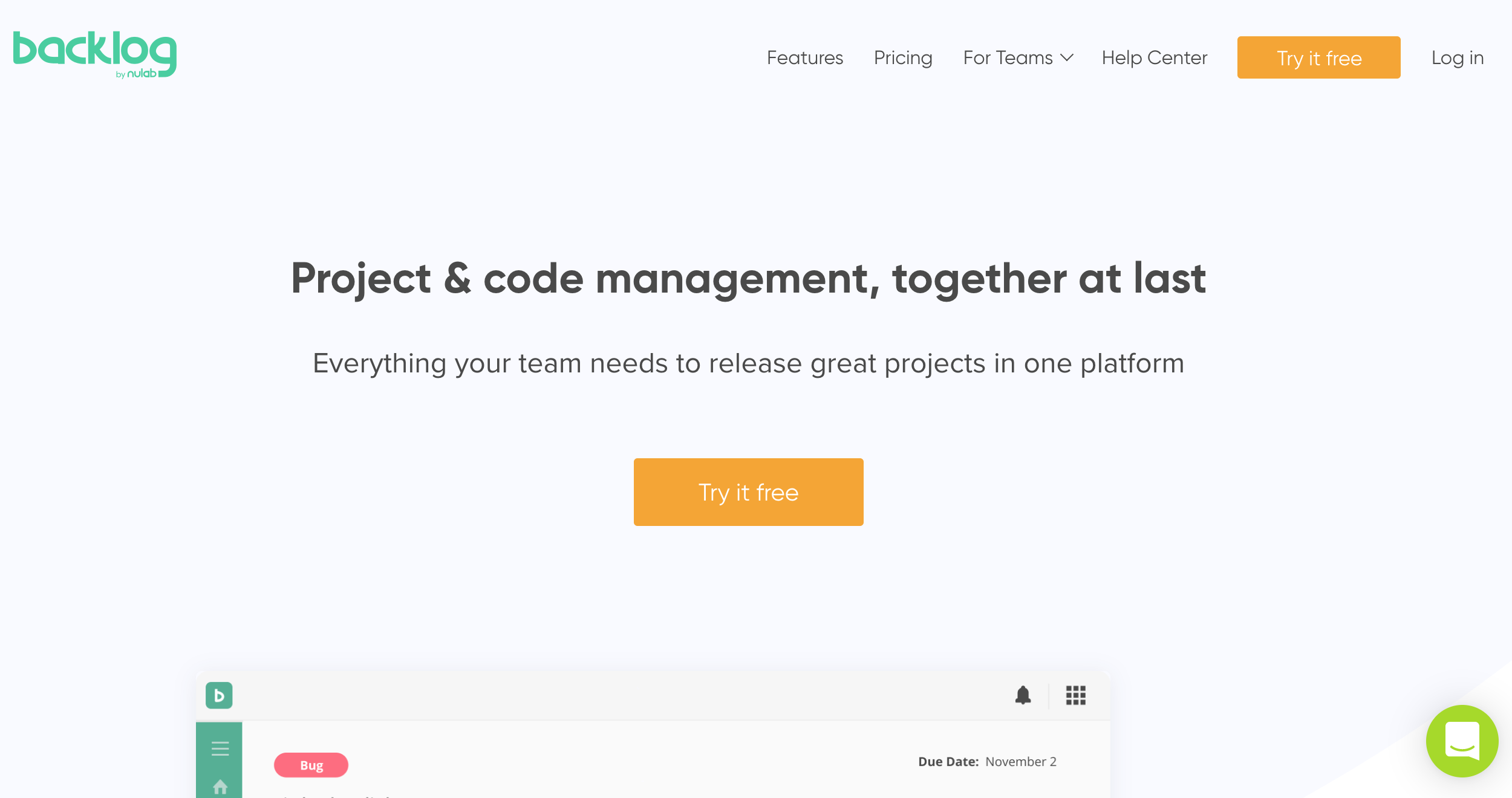 Backlog combines typical project management, with bug and issue tracking, as well as easy code sharing, which makes it the best choice for software developers and coders.
Backlog has full integration with the commonly used GitHub and SVN, which allows for easy private repository setup and access.
You will be able to instantly share any coding projects with your colleagues and receive critique and suggestions for improvement on them.

The user interface is simple to navigate and uncluttered with excessive graphs or features. This gives it a high level of accessibility for team members and clients. Backlog also offers a live navigation demo to assist anyone new to Backlog.

The standard Gantt charts, Kanban-style boards, custom fields and burn charts are all present here. Backlog has above average security measures and features IP Address Control to further control who can see your projects and who can't.

Backlog apps are available on both iOS and Android, and any data that you currently have on Jira and/or Redmine can be seamlessly transferred to Backlog via a step-by-step guide.
Key Features
SVN and Git repository integration
Android and iOS app
Bug tracking tools
Custom workflow management
Resource management with Kanban board and Gantt chart
Pros
Push notifications for bugs and errors
Drag and drop file attachments
Code collaboration
Wiki building tool to centralize knowledge
Task hierarchies to identify dependencies
Cons
Free tier only includes 1 project
Storage space under Starter tier is too low (<1GB)
Visuals could be improved
Pricing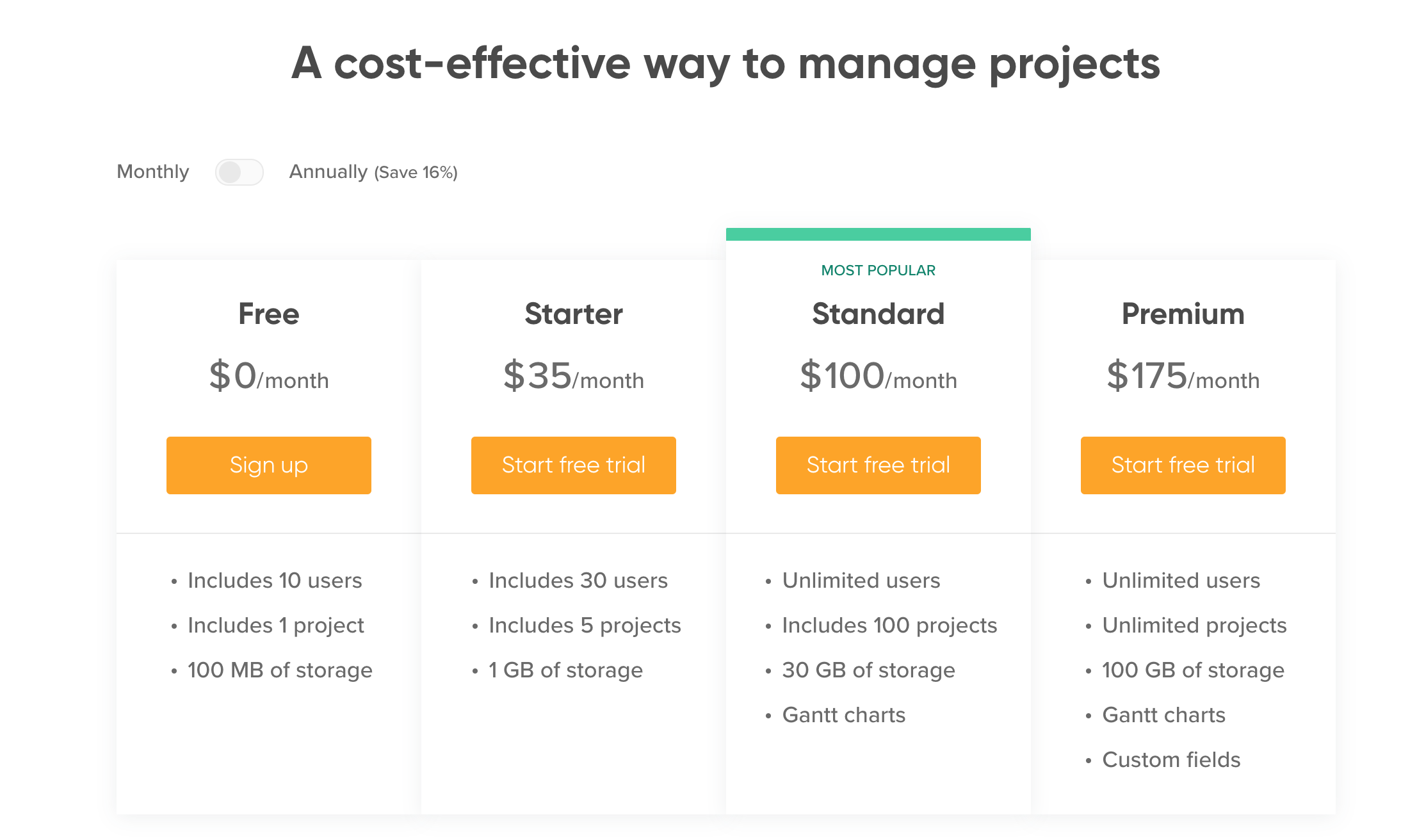 Backlog's free plan is one of the weakest on the list offering a mere 100MB of storage space. Unlike the free versions of other software on this list that small groups can make do with, Backlog's free version is purely for testing the wares.

Their Starter plan is similarly disappointing. It allows for up to 30 users, but only has 1GB of storage space. At $35/month, this plan is not worth investing in either.

The Standard plan is their most popular one and allows for unlimited users and 30GB of storage for $100/month.

Premium plans start at $175/month with unlimited users and 100GB of storage so with a large team this is well worth the investment, and Enterprise plans require a quote.

Backlog is one of the more expensive project management software, and is tailored towards software development, so only make this investment if you are in this or a closely related field.

Try Backlog
5. ClickUp – Most User Friendly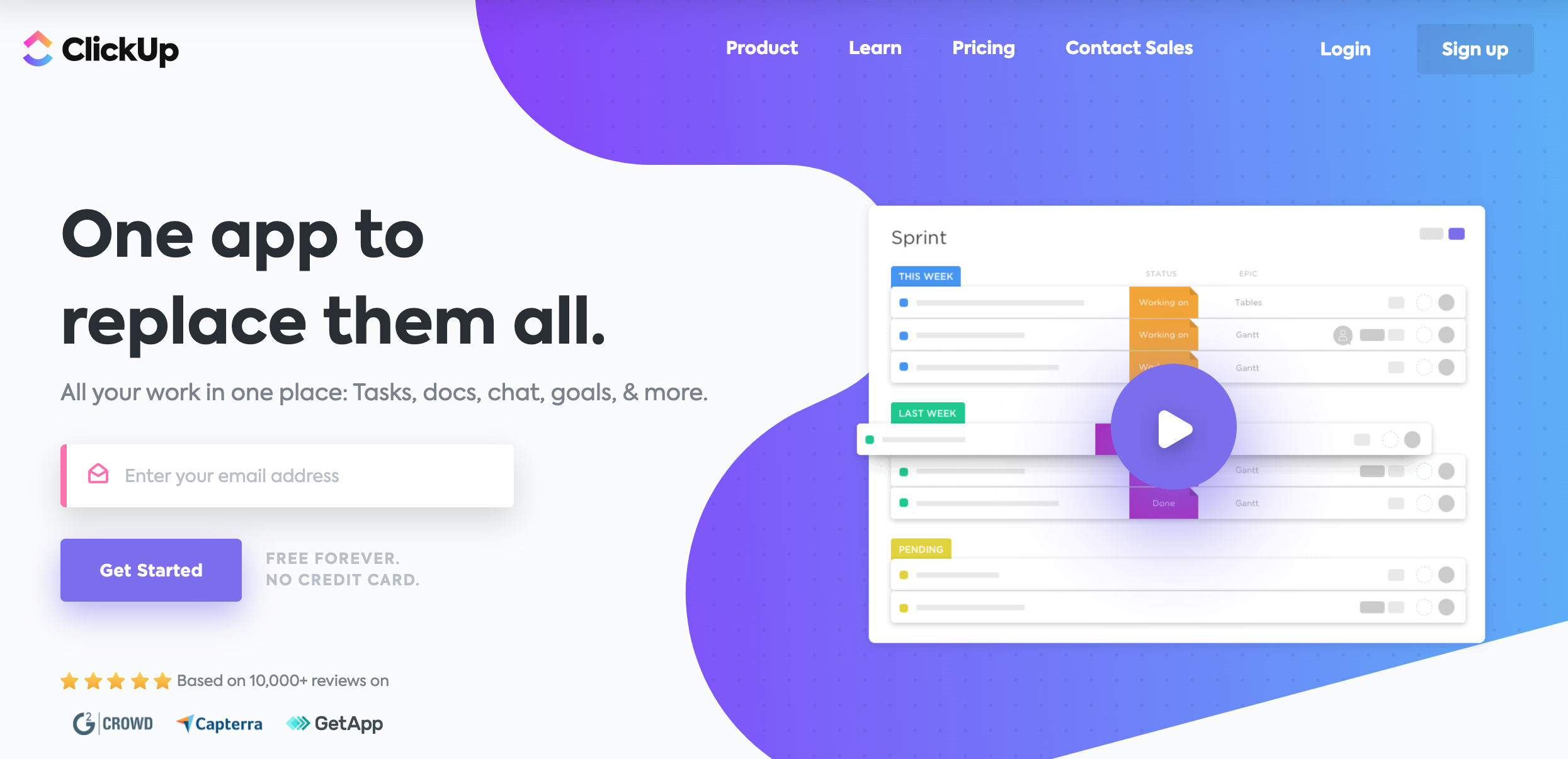 For businesses that need to juggle multiple projects and solve problems efficiently, ClickUp is a one-stop-shop.
It has tools to help team members organize tasks, docs, timelines, reminders, chats, and more.
ClickUp is used by more than 100,000 teams, including some well-known names: Netflix, Google, Nike, Airbnb, Uber, Ubisoft – the list goes on.
You can customize ClickUp almost any way you want, including how you view it and organize the task boards.
ClickUp can also tell you which team members are working on a given task, as well as which projects are in progress, review, completed, or any other stage of the process.

It's easy to move your existing data to ClickUp thanks to their automatic import feature that migrates your data in minutes.
ClickUp is designed to optimize time and task management and collaboration between teams. It offers these features for free, with the option to upgrade to more comprehensive plans.
Key Features
Integrations with Google Drive, Dropbox, Slack, and more
Variety of workspace templates to choose from
Goal and time-tracking
Task organization
Automatic imports
Task prioritization
Pros
Cloud-based system allows you to access your ClickUp data from anywhere
User support is available 24/7
Very customer focussed support team
Clean and intuitive dashboard view
Freemium plan
Cons
Difficult to move tasks between buckets in bulk
Limitations for saving views on lower tier plans
Pricing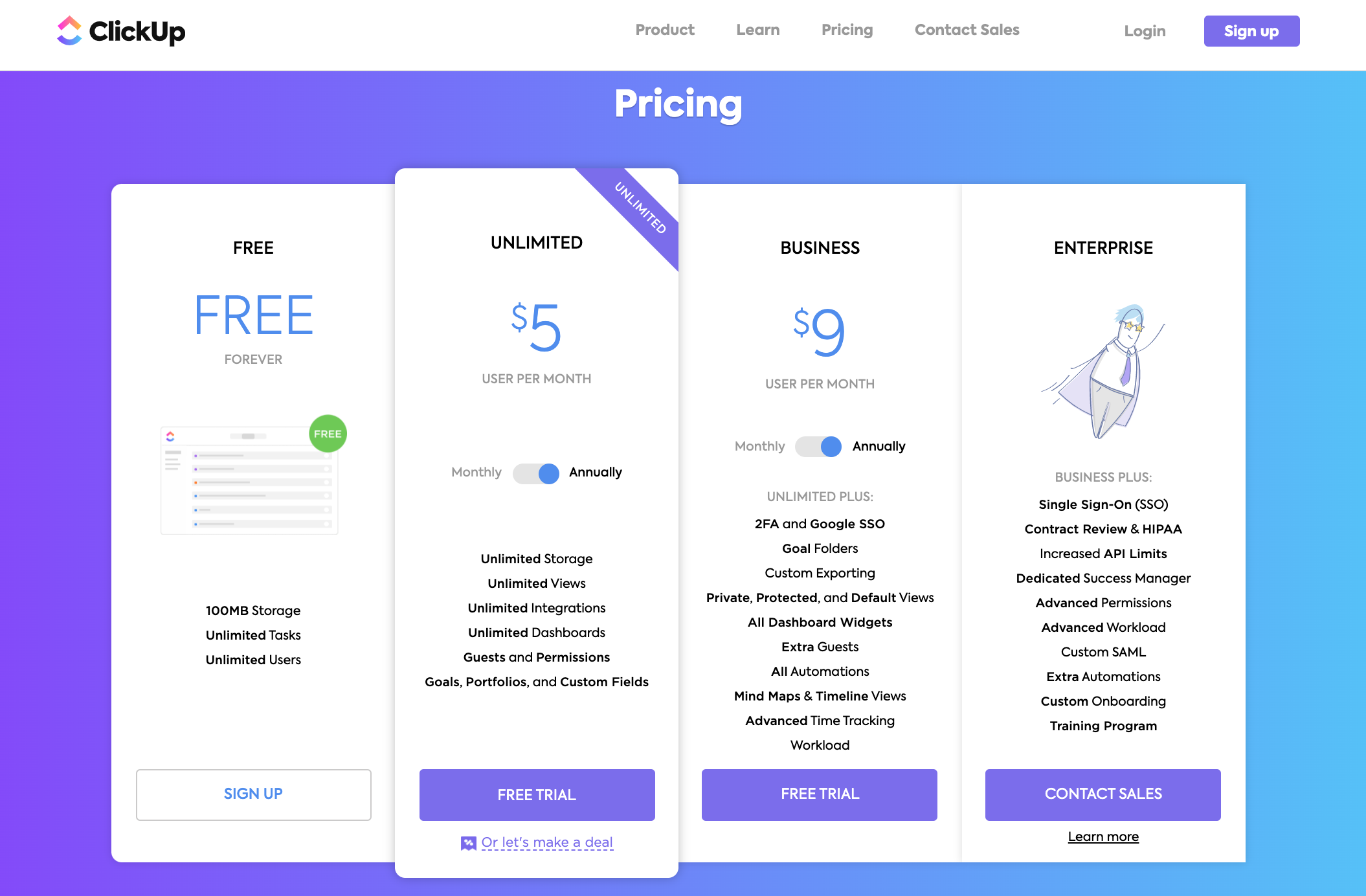 The "freemium" Free Forever plan gives you 100MB of storage with no limit on the number of tasks or users, and it costs nothing—forever, just as the name suggests.
If you wish to upgrade to the Unlimited plan, it costs $5 per user per month, or you have the option to "make a deal" and tell ClickUp how much you're willing to pay per person each month and how many people are on your team. Then they'll work with you to create a customized Unlimited plan.

The Business plan is $9 per user per month, and there is also an Enterprise plan that's tailored for larger teams.

Try ClickUp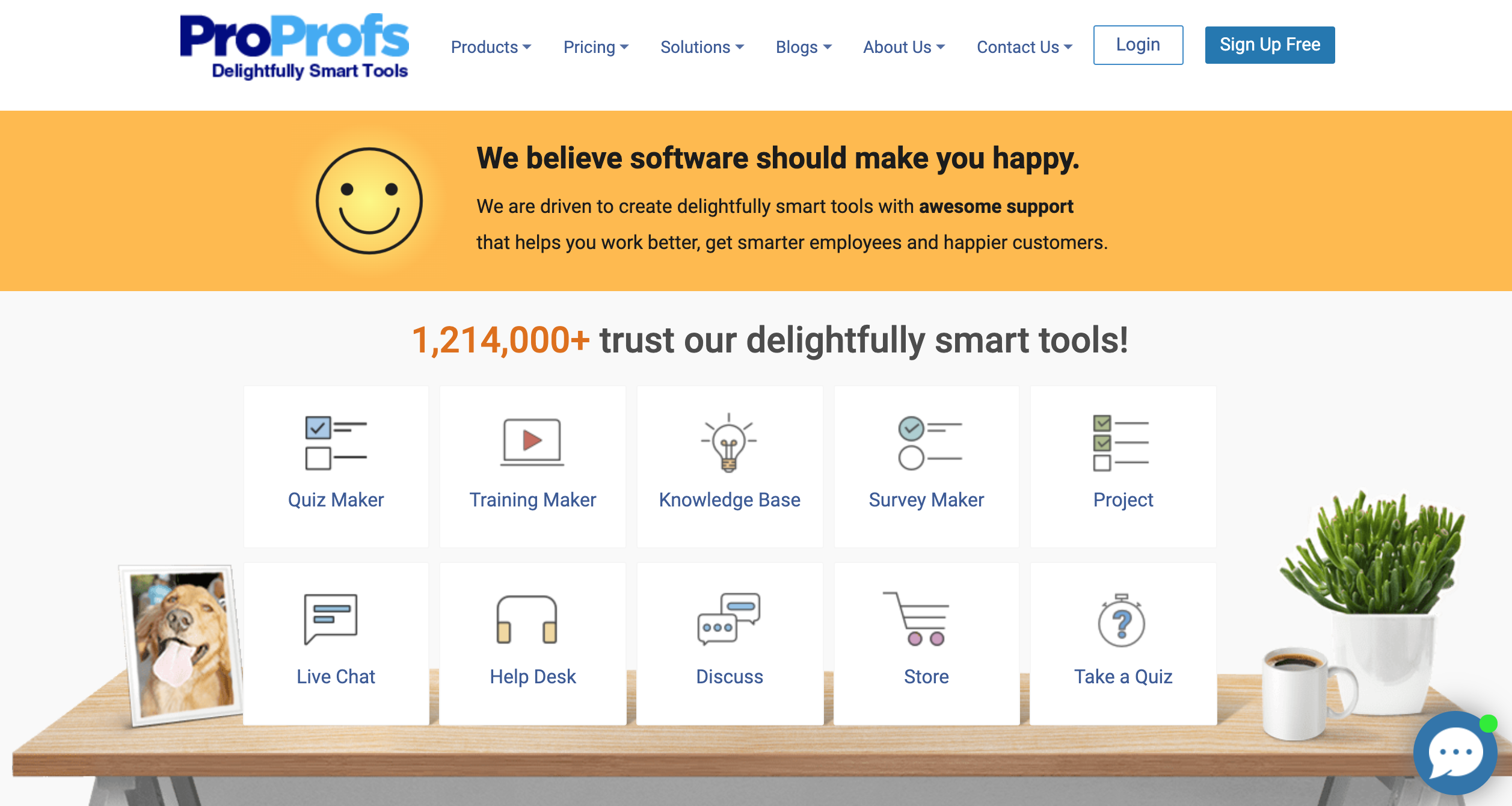 ProProfs Project keeps it simple while making sure every team is in the loop. It keeps track of important events and alerts you when they are here, so you don't miss anything, even if you're working remotely.
ProProfs Project facilitates collaboration and feedback between both internal and external teams, as well as tracking milestones and the latest developments so everyone is on the same page.
The Task Dependency tool allows you to move and customize dates for deliverables and tasks with just one click.
ProProfs Project also makes setting deadlines for tasks and monitoring their progress easy, even if you're traveling; you can view timelines on your phone.

With this tool, you can assign team members to the appropriate tasks, create recurring tasks, and break down your progress into comprehensive project completion reports.

ProProfs Project also offers budget management and breakdowns, as well as the option to manage expenditures in specific areas.

You can get timely invoices and follow-ups with clients and vendors and create financial summaries that make it easy to view and track where the money is going.
Billing is secure and integrations and file-sharing are made simple.
Key Features
Visualize task dependencies
Time and goal tracking
Gannt charts
API & single sign on
White label platform
Easily break down tasks into subtasks
Pros
15 day free trial on any of their plans
Integrated client billing
Milestone tracking
List and calendar view on all plans
Unlimited projects on Premium tier
Auto import of external documents
Cons
Not very user friendly
Most features only accessible on Premium tier
Pricing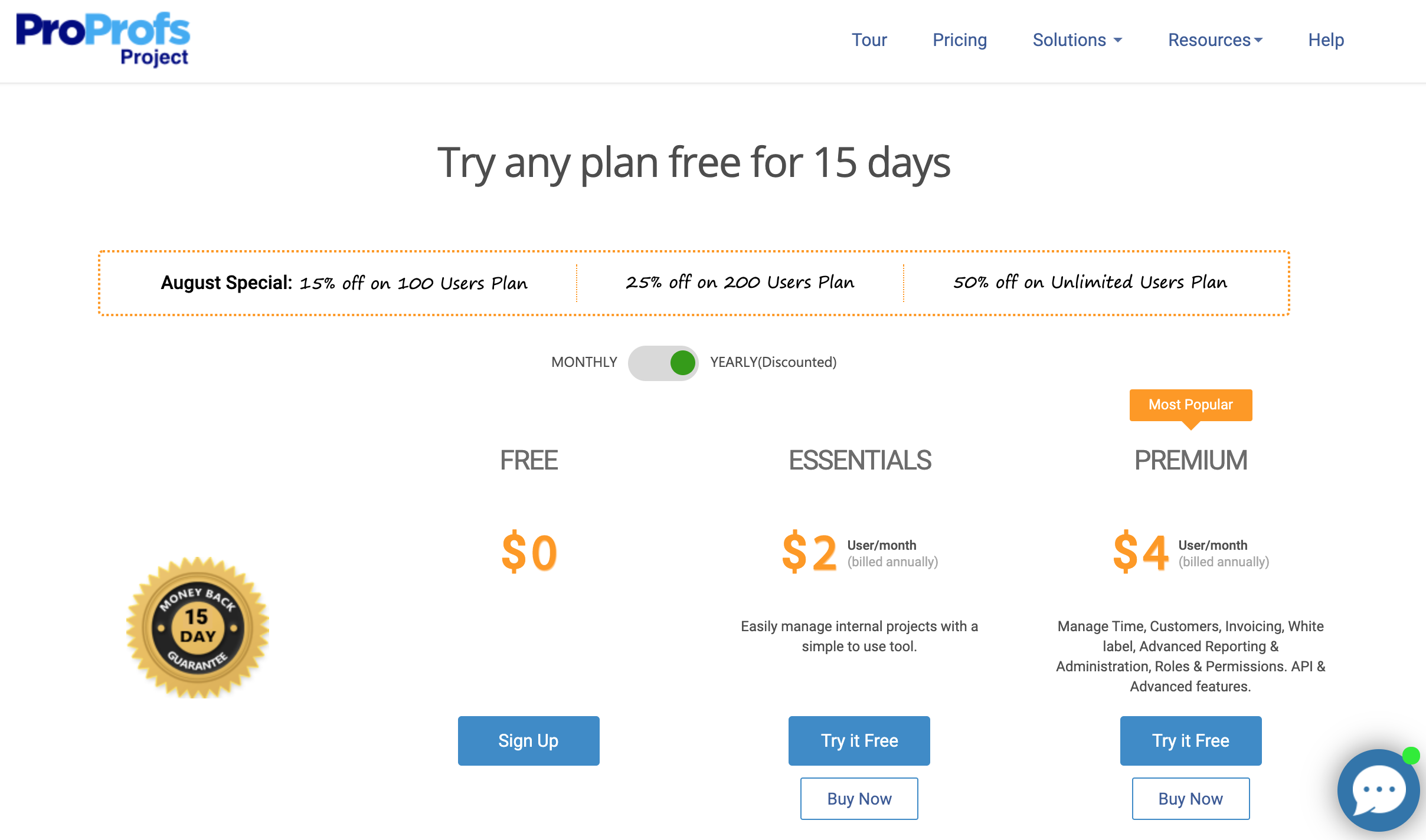 There are three pricing models:

The Free plan gives up to 1 users the ability to work on 3 projects.

The Essentials plan allows 50 projects for $2/month/person with a minimum of 5 people.

The Premium plan costs $4/month/person and allows you to white label the platform with your branding.

Try ProProfs Project
Asana is a SaaS-based project management software that's gaining in popularity.
It runs on Windows, Android, iOS, and Linux, and features multilingual capabilities in Spanish, Portuguese, French, and German.
Asana offers over 100 integrations, including (but not limited to) Gmail, Google Driver, Outlook, OneLogin, and Zapier.
There are many viewing options, such as list view, calendar view, and board view that can be customized to suit your needs.

Asana allows you to access and update your data simply with a RESTFUL API. There are more than 50 templates for you to pick from, and you can enable Focus Mode and create a My Tasks list to help you stay organized.

Tracking critical project metrics is easy with Asana's custom fields, and this system sends you automatic emails with updates.

Asana makes it simple to share information and files with your team members in real time and manage your projects efficiently with visualization and prioritization tools.
Its interface is easy to use and features task lists you can utilize throughout the entire project.
You can also customize it how you want with the ability to use third-party API modifications.

For all its simplicity of use, Asana can be challenging when assigning project tasks. If you or a team member needs user support, the only option is via email, as the company does not offer live customer service through the phone or chat.
Key Features
50 workflow templates to choose from
Keep track of critical metrics with custom fields
Auto updates via email
External data upload via CSV
Task dependancy management
Pros
Interface is user friendly
Project management tools centred around agile methodology
Real time updates with file sharing
Easy to customise via third party API
Prioritization of work
Cons
Support is only via email
No live phone or chat customer service
Task assignment is not as intuitive as other platforms
Pricing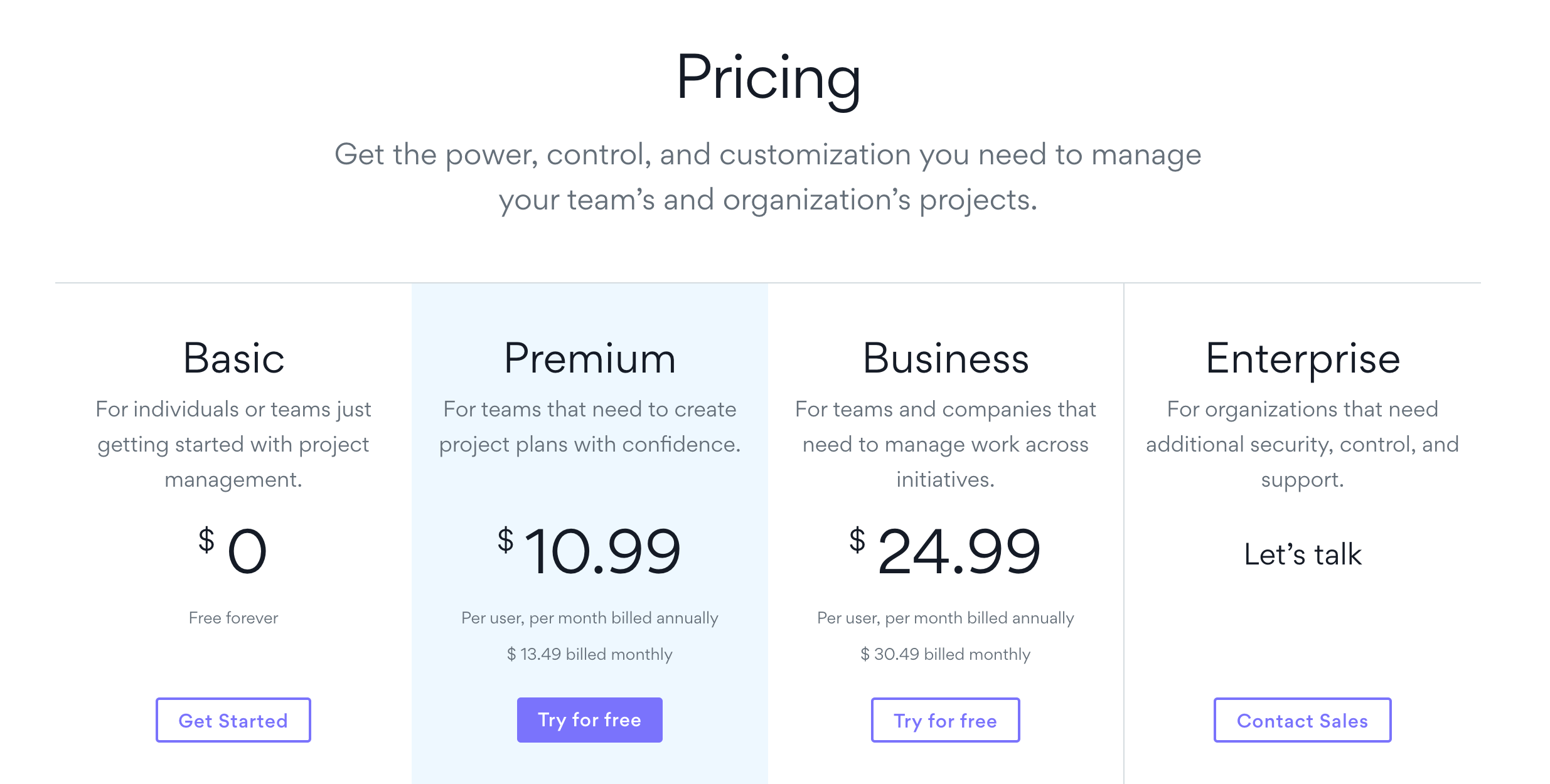 The Basic plan is free to use with limited features. It's best for individuals or teams that are beginners at project management, who don't need many advanced features.

The Premium plan is $10.99 per user per month when billed annually, or $13.49 per user per month when billed monthly.

The Business plan follows the same model, costing $24.99 per user per month, billed annually. A monthly Business plan costs $30.49 per user per month.

To access the Enterprise plan you will need to call them and talk about your specific organization's needs.

Try Asana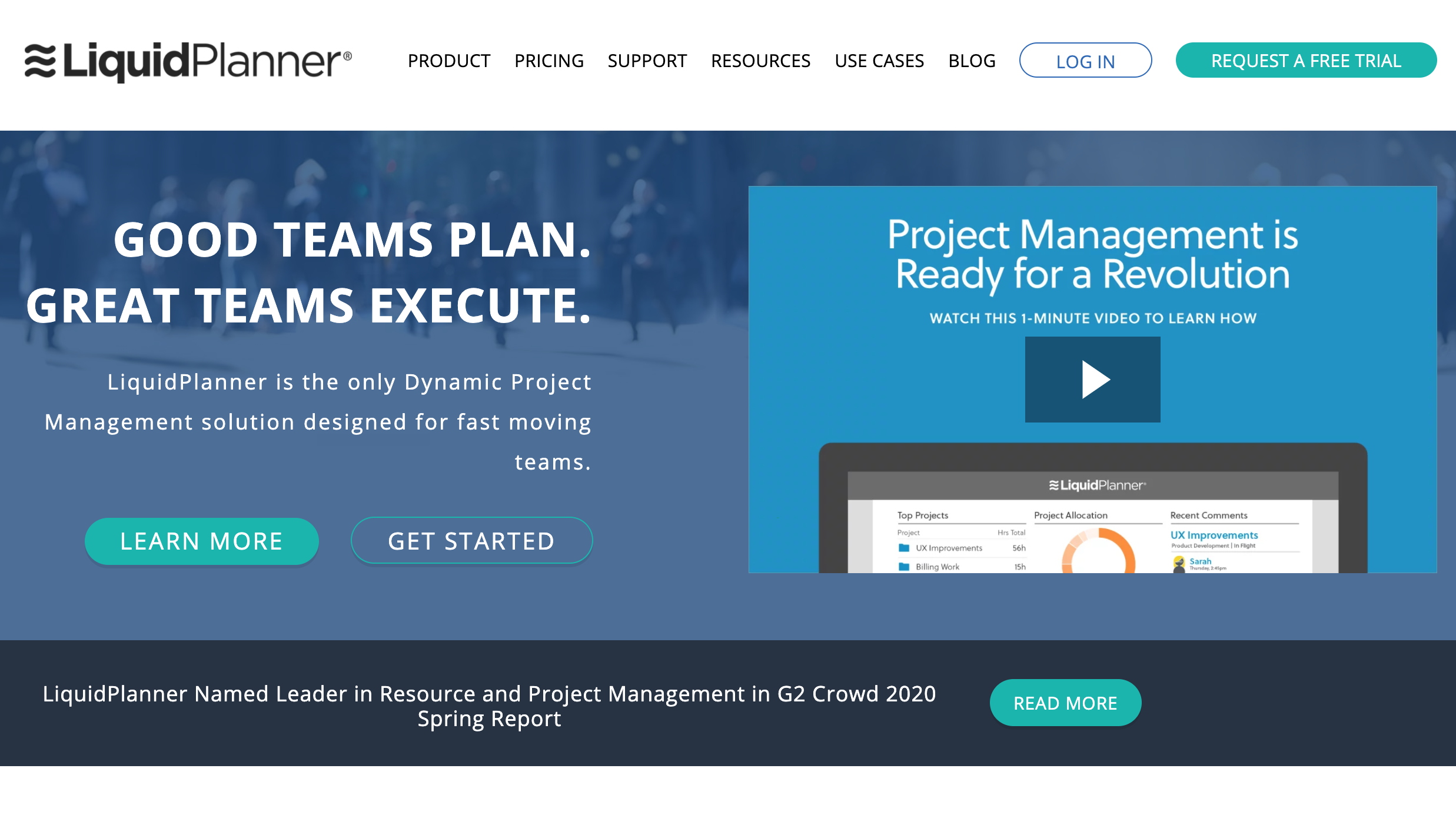 LiquidPlanner offers some of the best features of any project management software. It is on the more advanced side so it will be more difficult to get up and running.
There are the usual tools that allow you to organize and track projects, such as prioritization and integration modules.
In addition, LiquidPlanner has as a helpdesk style problem tracker and a tool for managing resources. They also boast of being the only automated scheduling and forecasting solution on the market.
LiquidPlanner allows you to stay on top of things with tools that help you plan, prioritize, and track hundreds of projects at once.
It also can tell you how changes to one project will impact other project timelines and resources to minimize the risk of unwanted surprises.

Reporting and integration tools are built into LiquidPlanner, as well as support that allows you to build automated connections with other tools to increase efficiency.
With this software, you can assign tasks to individuals or groups and LiquidPlanner will automatically analyze the impact of these additional tasks on the recipients' performance.
This helps you more accurately estimate timelines and deliverables.

LiquidPlanner's comprehensive complexity makes it a better tool for large teams and organizations than individuals and smaller groups.
Because of its complexity, it takes time to complete tutorials, set up, and learn how best to utilize all its features—much more time than many other project management softwares.
Key Features
Automated resource allocation
Project cost estimation
Project and task level prioritization
Stakeholder dashboard view
Uncertainty management
Pros
Timeline estimation
Advance user permissions
Fantastic customer service
Cons
High monthly cost
Outdated user interface
Steep learning curve
Pricing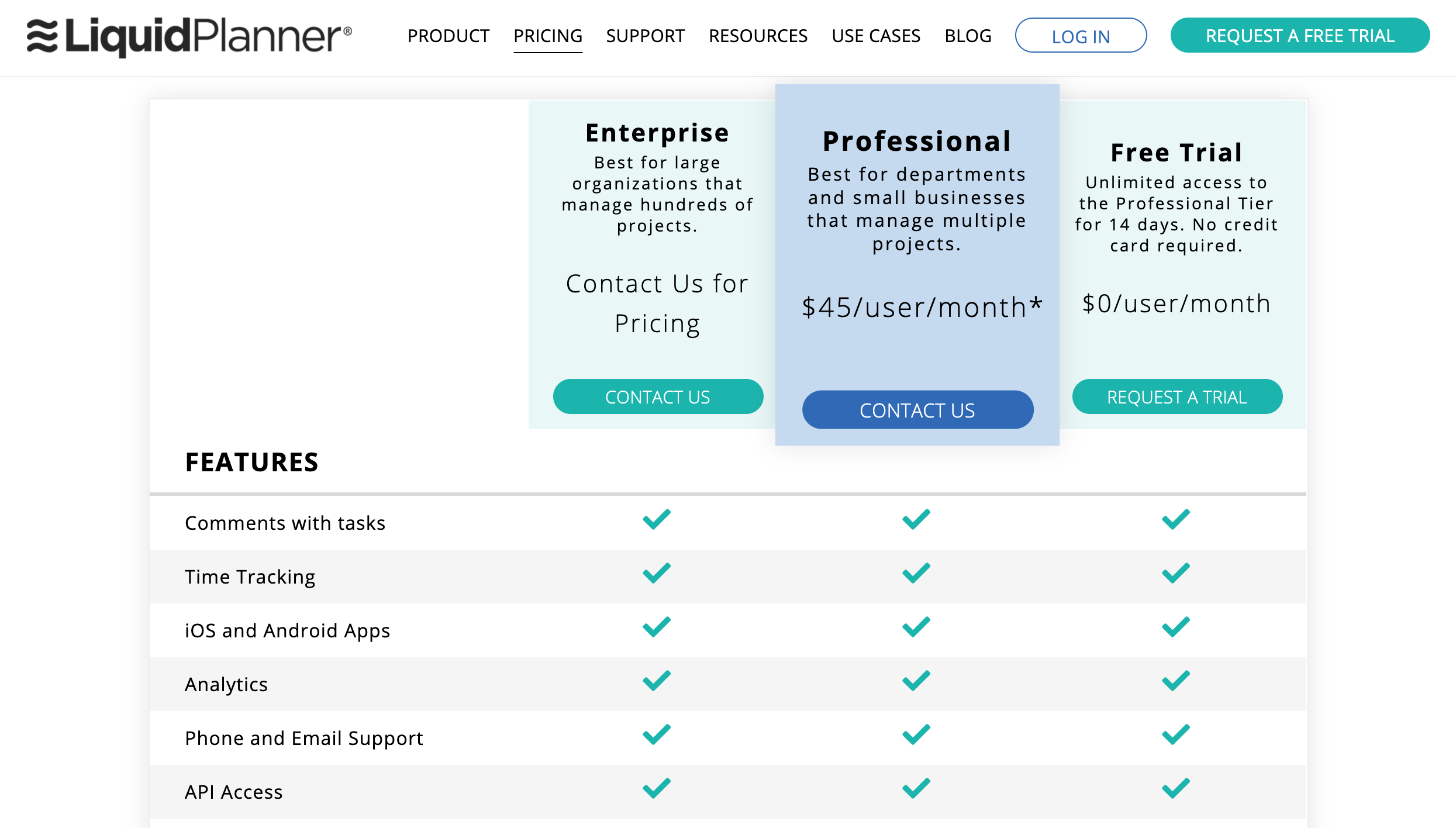 There is no free plan for LiquidPlanner, but you can sign up for a free, two-week trial of its Professional Tier plan, which is $45 per user per month and has a five-user minimum, good for small businesses and departments that need to manage multiple projects.

For larger organizations with hundreds of projects and more complex needs, LiquidPlanner offers an Enterprise plan that is tailored individually and priced based on a quote.

Try LiquidPlanner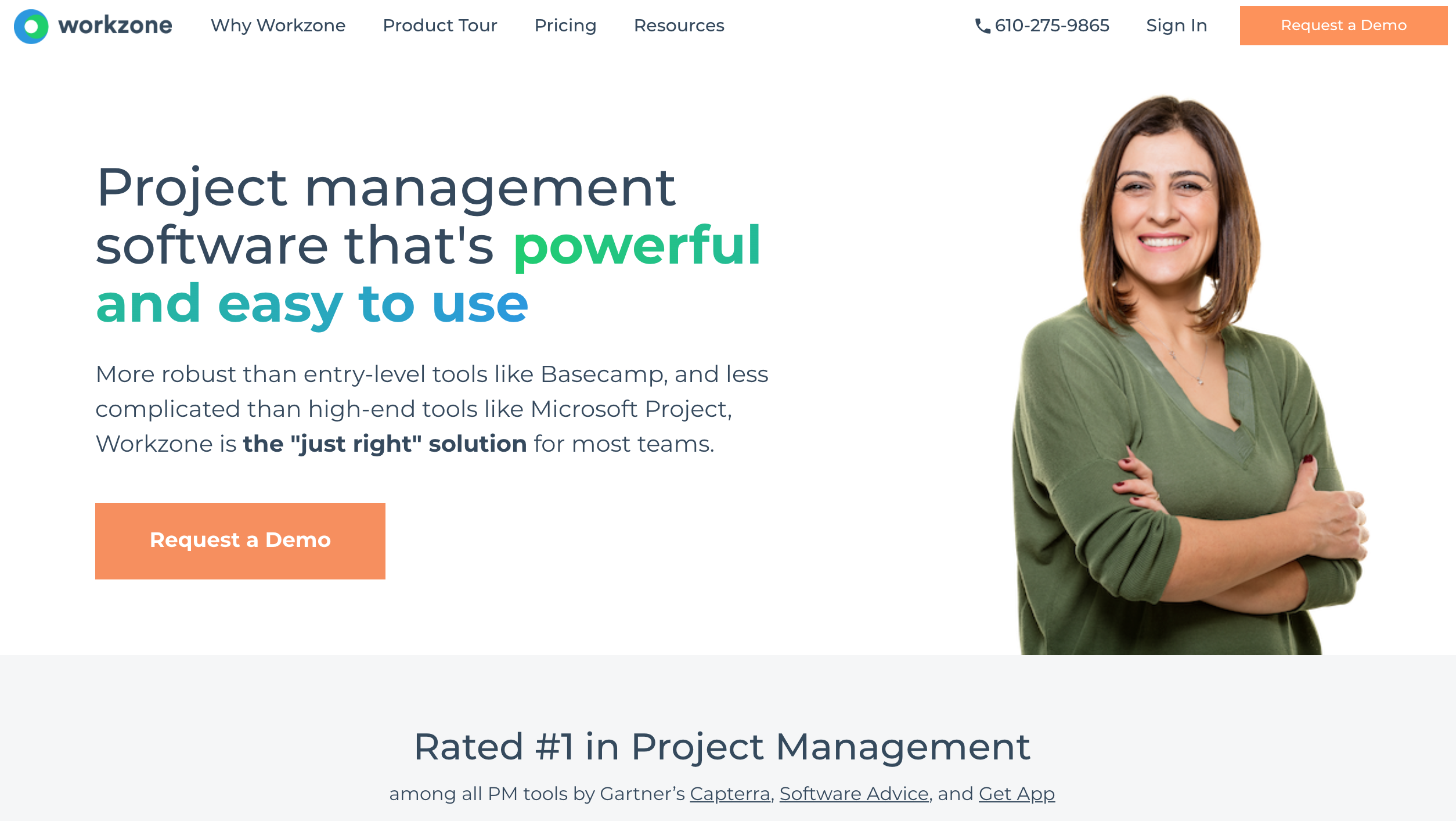 With Workzone, you can create custom branding for your business that allows you to display logos or signatures. It is designed to facilitate collaboration between teams and businesses.
There are many templates to choose from, as well as tools to help you manage documents, budgets, expenses, and portfolios.
Workzone allows you to create a to-do list that stays updated in real time, and it offers easy integration with cloud storage software like Google, Dropbox, Tableau, and more.
Reporting on projects is made simple as well, with pre-built or customized reports that you can easily export.

User support is available 24/7 via phone or email to help you navigate any issues you encounter.
If you have certain business requirements that require you to create external accounts, you can do this as well.

However, Workzone is lacking in its time management features, and it does not allow users to create a portal for external users or clients.
It can also be challenging to get the hang of in the beginning, requiring some commitment to learning the interface and all the system's features.
Key Features
Variety of configurable templates
Integration with Google, Tableau and Dropbox
Customized project reports
Intuitive document management
To-do lists
Expense and budget management
Pros
Customer/non-team dashboard view
Handle multiple clients with ease
24/7 email and phone support
Unlimited training and support for all plans
Cons
Challenging for beginners
Time keeping functionality can be improved
Pricing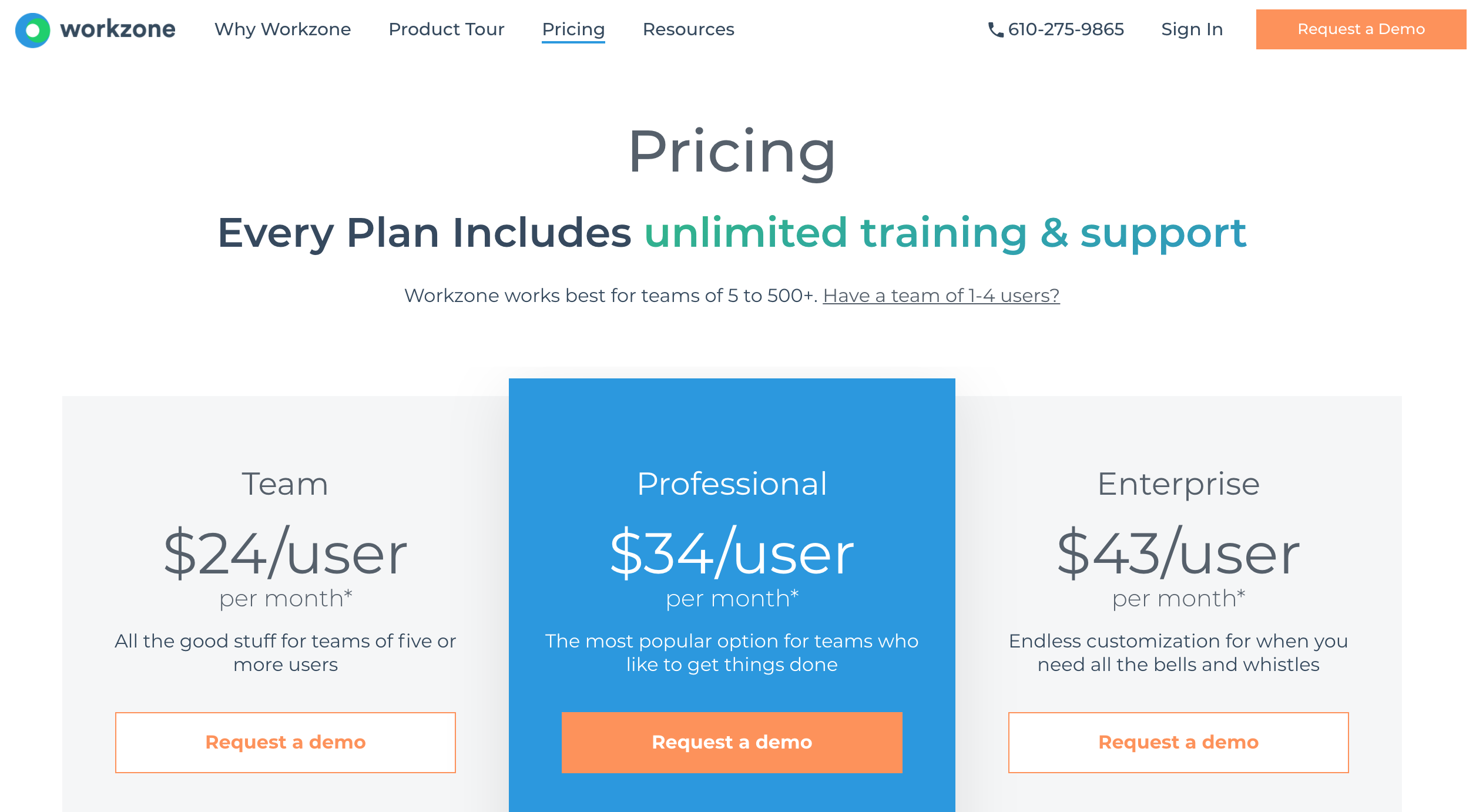 Each Workzone plan features unlimited training and support and they offer three tiers:

Team: The Team plan is designed for teams of five or more people and costs $24/person/month.

Professional: The Professional Tier is their most popular plan and offers features that allow teams to accomplish more. It is priced at $34/person/month.

Enterprise: The Enterprise plan offers endless customization for teams who need to get the most out of their project management software and is priced at $43/person/month.

Try Workzone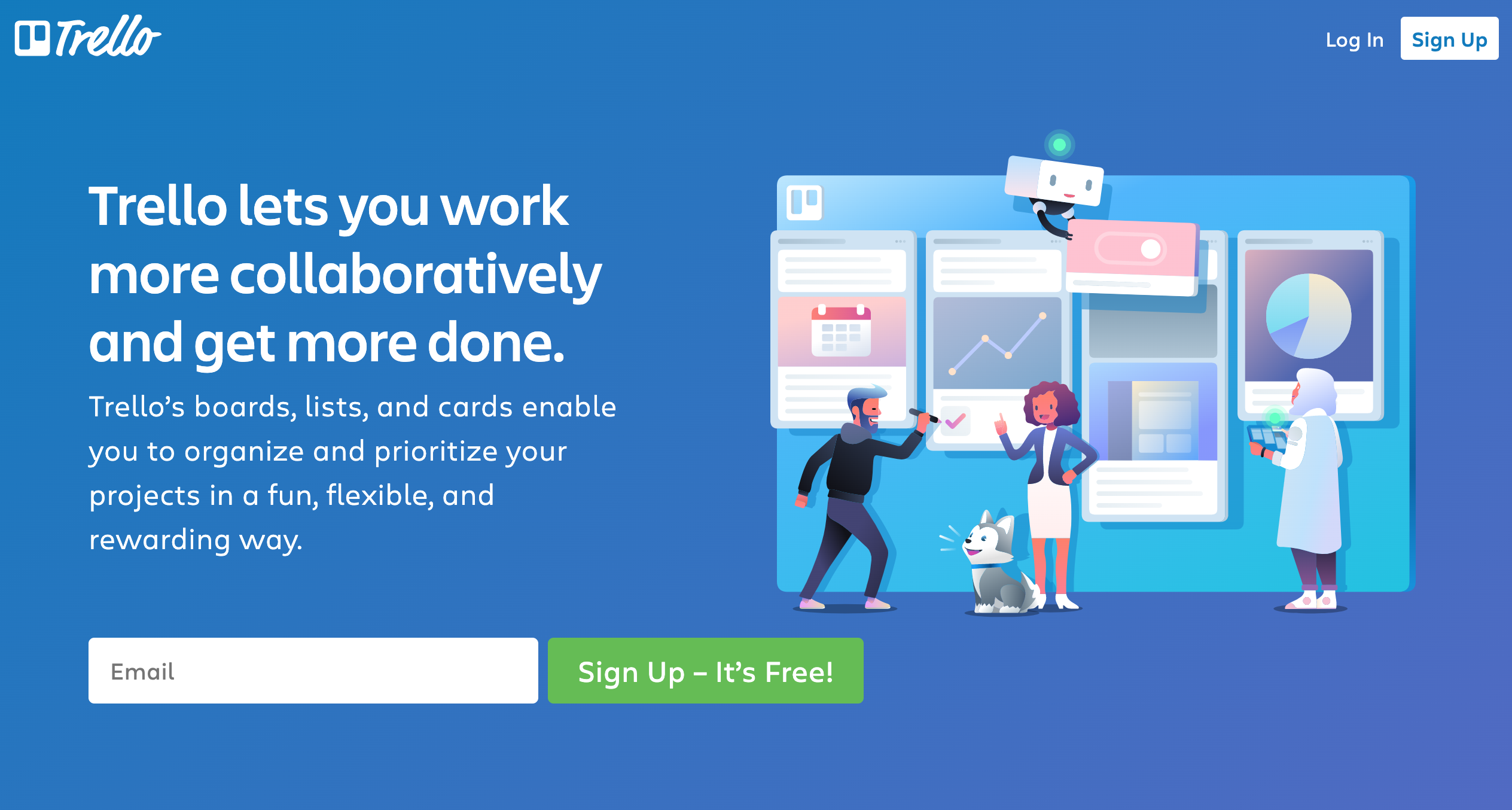 Trello is one of the most popular free project management solutions on the web. Trello stores all your data in the cloud so you can access it from anywhere.

Its primary focus is list-making to help you organize tasks. It's a flexible software that allows easy collaboration on projects between team members.
It has a drag-and-drop feature and a voting feature, which allows team members to decide which direction to take in real time.
Trello has integrations with multiple third-party apps, such as Evernote, Zapier, Zoho, and more.
Users can create an unlimited number of boards, cards, and lists to organize and manage their workloads easily.

The power-up feature also gives users the power to edit the content on each board and add different integrations as needed.
There are also checklists, inline editing, and attachments that help streamline collaboration efforts.

In addition, Trello sends you regular alerts and updates on project deadlines. You can sync your Trello account on all your devices, including mobile in both Android and iOS.
This user-friendly software is highly customizable to meet your team's needs on a given project.

The Kanban-style boards are easy to use and organize, and users can sync collaboration tools with Slack to make everything run smoother.
Key Features
Easy drag and drop feature
Regular updates
Email alerts on deadlines
Voting feature
Unlimited boards on all plans
Pros
Multi-device sync
User friendly
Intuitive interface
Arguably cheapest project management app on the market
iOS and Android apps
Cons
No phone support
Not as sophisticated as other PM platforms
Lack of other views such as timeline
No separate portal for clients
Pricing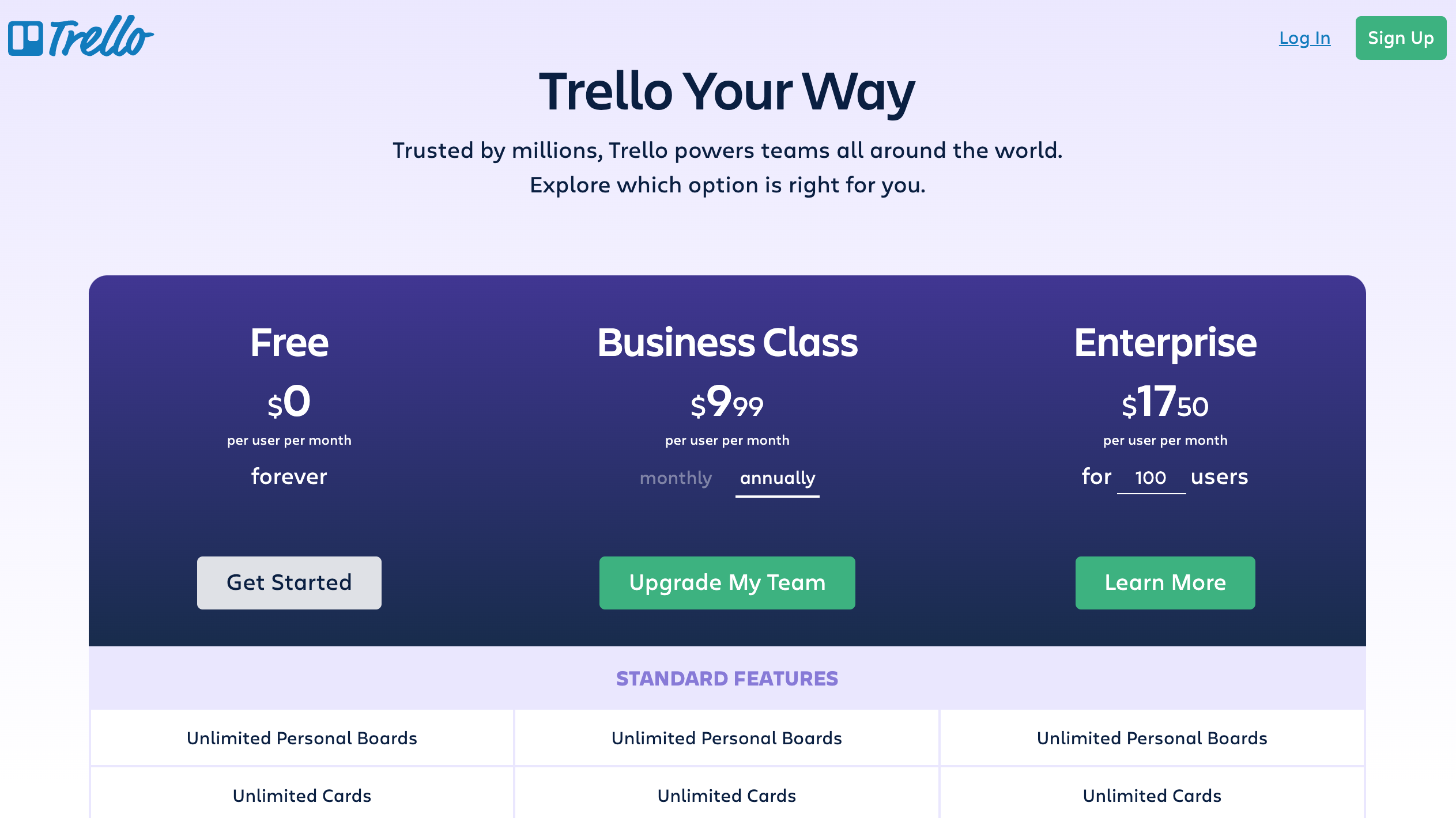 Trello's plans are among the most affordable, as far as project management systems go.

The Free Tier is a good place for teams to start, with 10MB of storage per file attachment and unlimited lists, cards, and boards.

The Business Class plan costs $9.99 per user per month when billed annually.

The Trello website allows you to view quote estimates for the Enterprise plan based on the number of users needed. An Enterprise plan with 100 users, for example, costs $17.50 per user per month.

Try Trello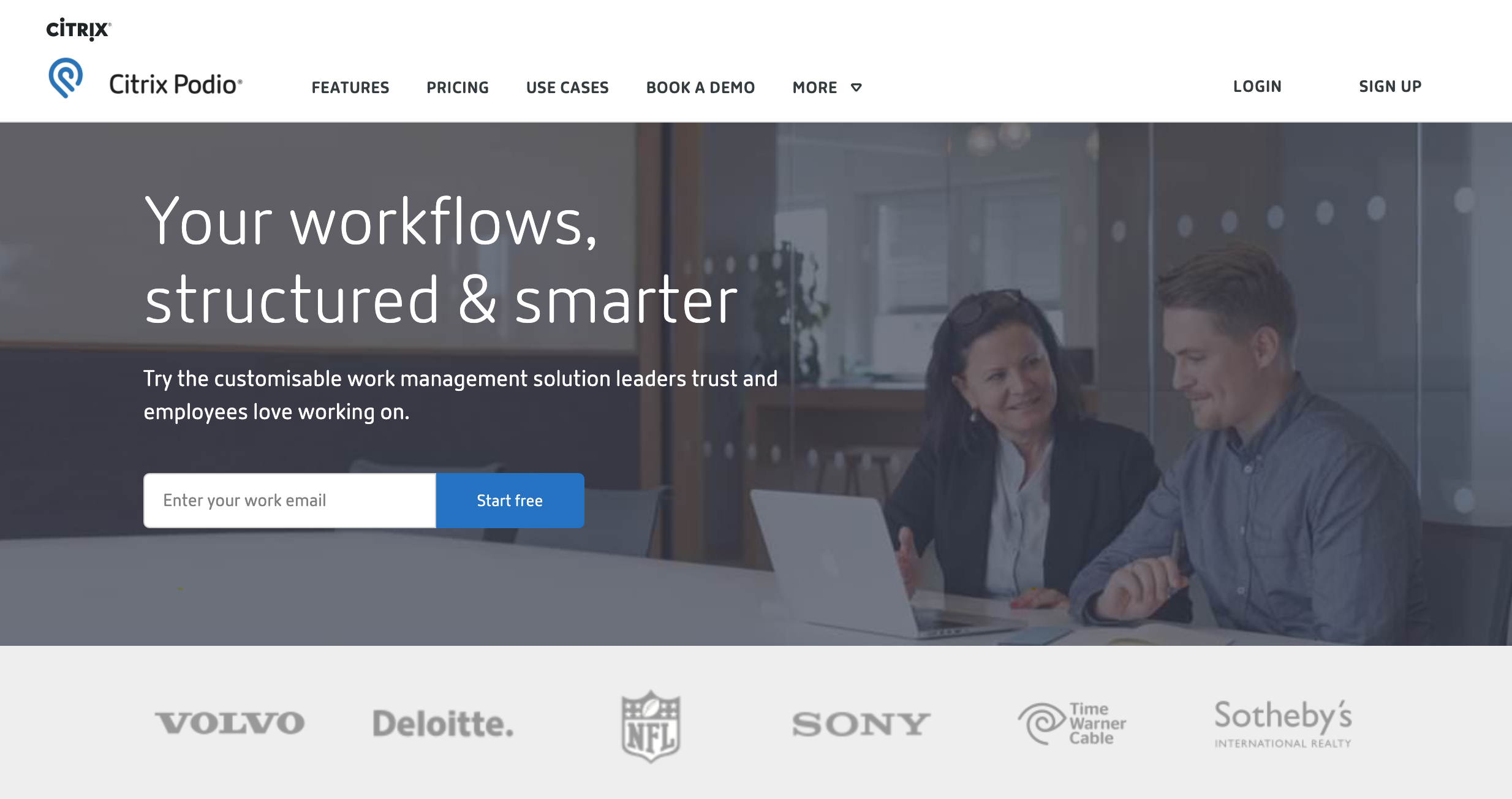 This web-based, powerful, holistic, user-friendly software offers reporting and filtering options that allow you to automate sales pipeline and budget tracking for your projects.

Its "if this, then that" logic helps users maintain their workflow and stay efficient.
Podio offers integrations with multiple third-party apps, including Dropbox, OneDrive, Google Drive, and more.
This system features AES 256-bit encryption for storing your data and is SSL certified, so you can be confident you're working in a secure environment.
Podio offers comprehensive features to help users with task management, creating calendars for personal and professional use.
It facilitates effective communication through chat, instant messaging, audio and video calls, etc.

Podio's interface is intuitive and user-friendly to minimize confusion that slows down productivity.
Users can customize it however they want, and if there's an issue, Podio's customer support is highly regarded.
There are video tutorials offered as well to help new users learn the tools and features easily.

Even users of the free tier plan have unlimited storage with this software and access to powerful templates.
Key Features
AES 256-bit encryption
One Drive, Google Drive and Dropbox integrations
Task management features
Separation of personal and workspace calendars
Pros
Unlimited storage for all versions
Video tutorials
Easily customized
Affordable in comparison to other platforms
Cons
Offers a limited number of tracking options
Customer support cannot be reached via phone or email
Lacks markup tools
Users cannot archive information
Pricing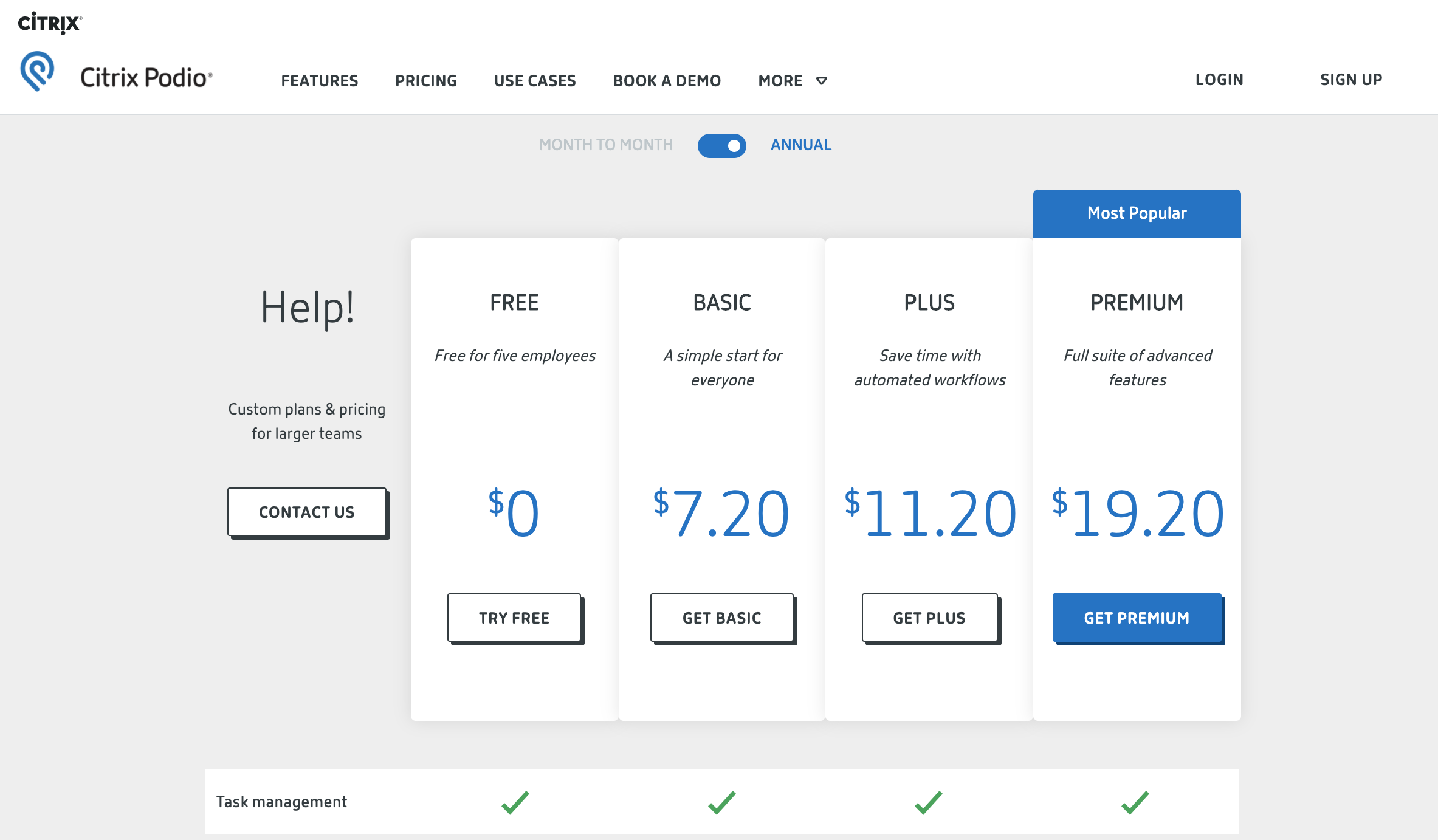 Podio is among the most affordable project management software, with a great plan available for no cost to teams of five or fewer.

The Basic plan costs $7.20 per month and the Plus plan costs $11.20 per month, offering automated workflows.

The Premium plan gives users access to all of Podio's features for $19.20 per month, and for larger teams, there's an option to create a custom plan.

Try Podio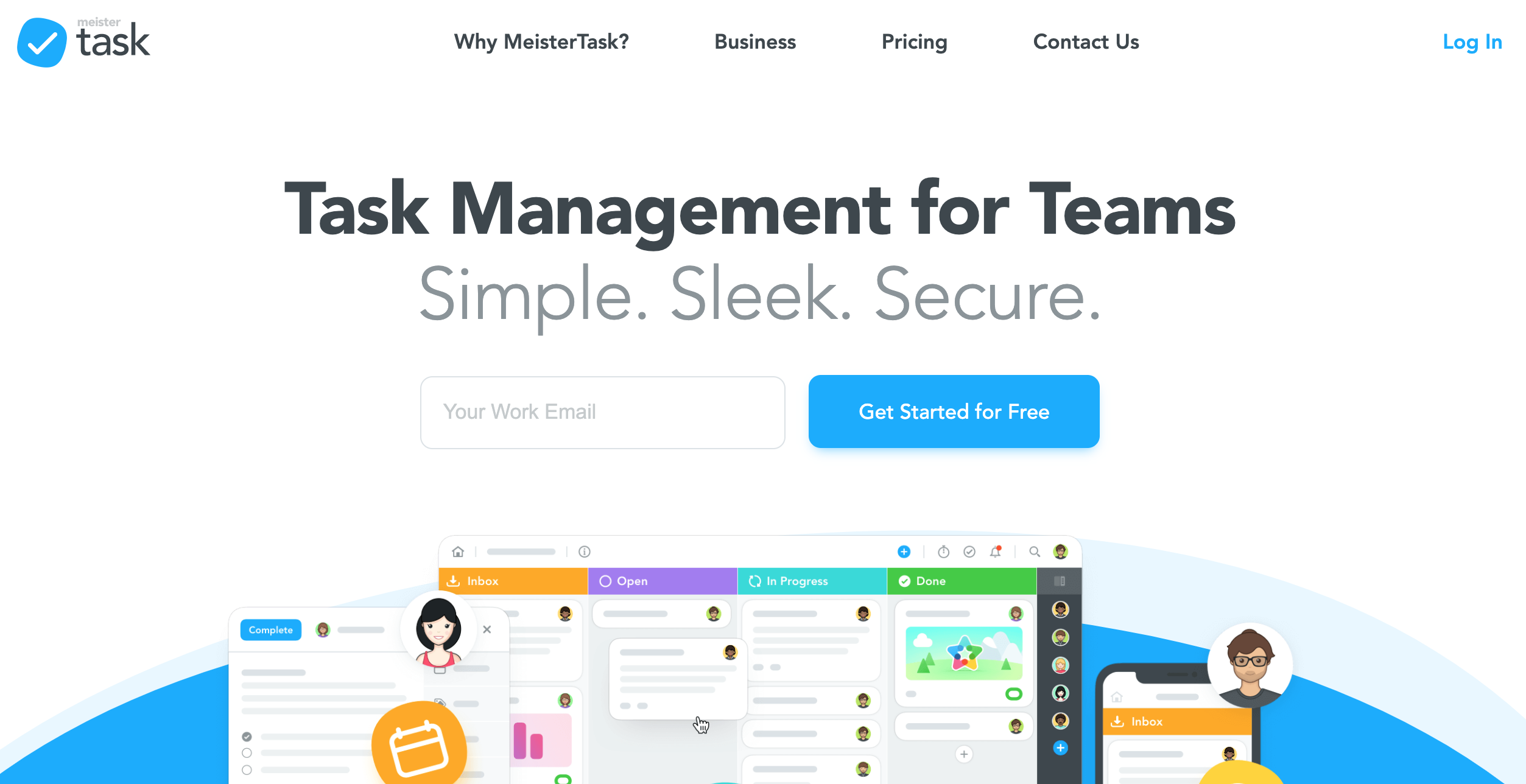 MeisterTask's aesthetic design is customizable to fit your project organization and management needs.
This software is completely web-based, so you don't have to download or manually update anything.
The Kanban-style interface and boards are easy to use to manage tasks and stay on top of to-do lists.
MeisterTask is compatible with both Android and iOS mobile devices, so you can check up on projects while you're on the go.
Users receive a personal URL that subscribes to their tasks, schedules, and other tools in the system.
MeisterTask is secure and provides integration with a multitude of popular apps, such as Dropbox, Gmail, GitHub, Zendesk, and more.
You can also directly import information from other project management applications like Wunderlist, Asana, and Trello.

There are many built-in features that make this system easy to use and intuitive.
These include the time tracker and the ability to create and divide checklists into sub-lists, which help you tackle projects in more manageable chunks.
MeisterTask also makes it easy to manage your project portfolios. You can create recurring tasks and customize the system to fit your needs.

The automated features are efficient and help streamline collaboration efforts with predefined workflow.
There are also many video tutorials that help users learn how to make the most of MeisterTask.
Key Features
Safe and secure data transmission protocols
Sophisticated time tracking
Subscribe to schedules and tasks with personal URL
Data import from third party apps
iOS and Android compatiblity
Pros
Clean interface
Easy to set up recurring tasks
Dashboards are highly customizable
Workflow templates
Cons
Lack of a native reminder feature
Limited customer support via phone, which is only offered with certain plans
Challenging to locate subtasks
Not compatible with Linux
Pricing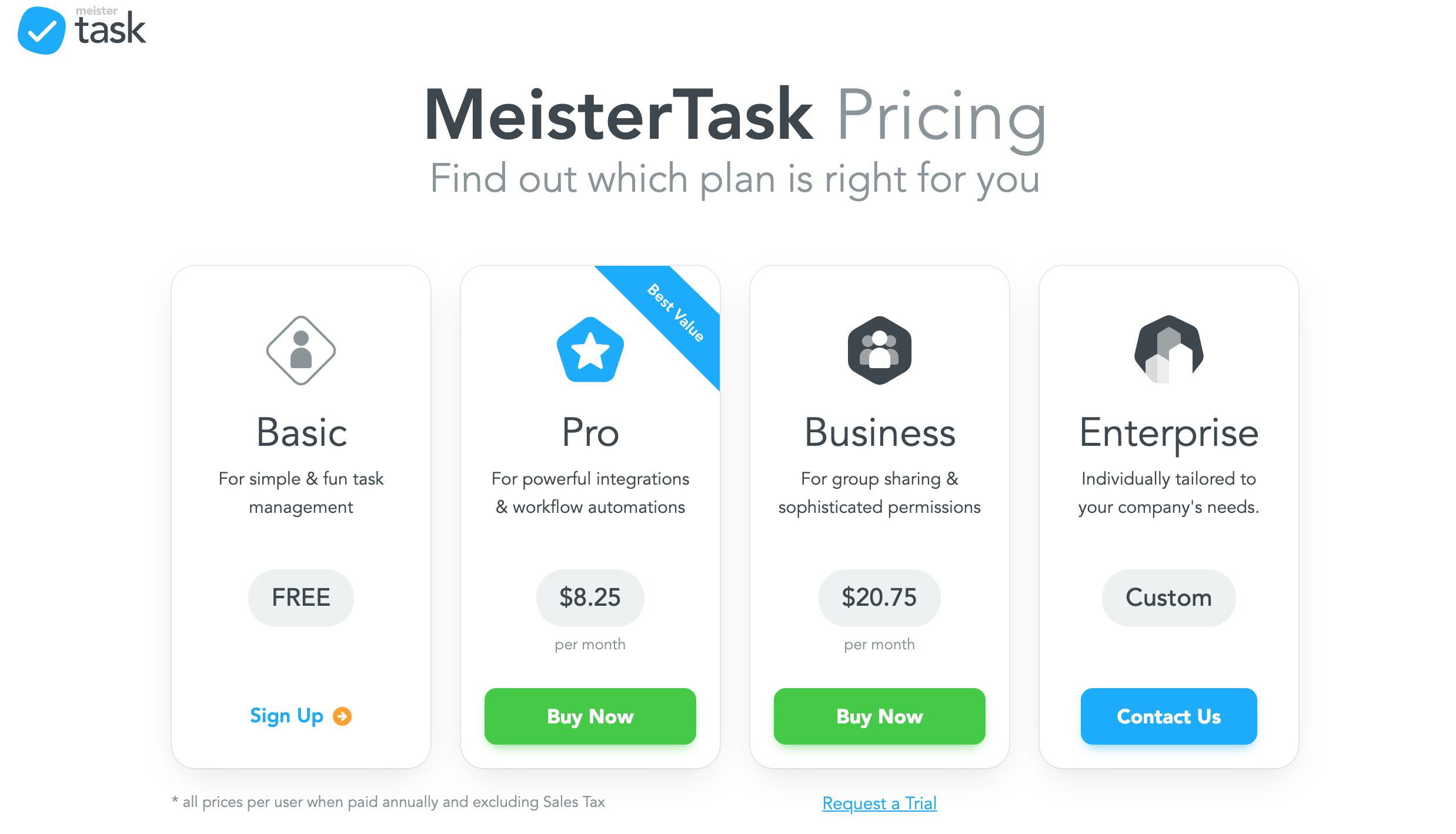 The Basic Tier plan starts at no cost to you and offers a simple way to manage tasks.

Paid plans start at $8.25 per user per month for the Pro Tier, which gives you the most bang for your buck.

The Business plan is $20.75 per user per month, and the Enterprise plan is quote-based and tailor-made to fit your organization's project management needs.

Try MeisterTask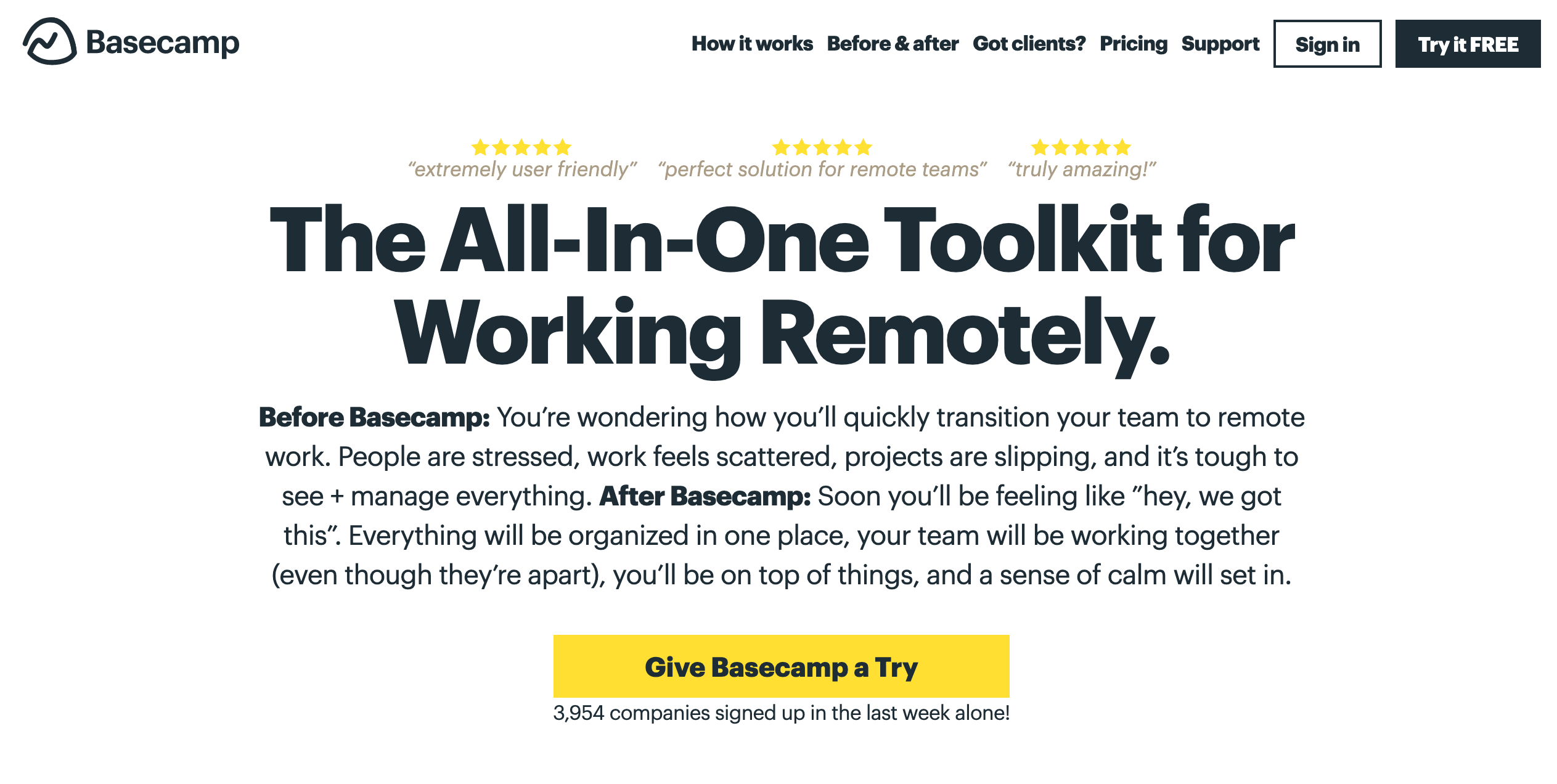 BaseCamp is a cloud-based project management software and offers a single place for all your organization needs, so you don't have to download additional software.
With BaseCamp, users can break projects into smaller parts to boost focus and efficiency.
The message board feature allows you to pitch ideas and post announcements for your whole team to see.
There is also a chat tool where you can send messages to individuals or groups directly.

BaseCamp allows you to schedule efficiently with a project-based calendar system.
Sharing files, documents, and spreadsheets between users is easy, and clients can access the system through a third-party portal.
Use BaseCamp to make to-do lists and schedule notifications to keep you on track to meet deadlines. Users can also choose from a wide range of project templates to fit their needs.

There's a built-in file management tool for each project you're working on, and BaseCamp offers integrations with Zapier, Pleexy, TaskClone, and more applications.
Use the Klipfolio feature to see all your business metrics on one dashboard. BaseCamp is highly customizable and facilitates collaboration between teams.
It's compatible with Mac, Windows, iOS, and Android devices.

BaseCamp offers extensive tutorials so users can learn all there is to know about the software.
Key Features
Easy scheduling
Calendar system
Variety of project templates
Visualize all important metrics on a single dashboard with Klipfolio
Individual and group chat functionality
Pros
Cross platform compatibility (Android, iOS, Windows, Mac)
In-depth tutorials for learning about BaseCamp
Dashboards can be customized
Collaboration tools to improve communication between different units
Cons
No phone support
Some users may worry about data security since it's entirely cloud based
Pricing
The paid plans do not charge based on the number of users, and you can try out any plan free for 30 days.

The freemium BaseCamp Personal plan is a good introduction to the platform and offers standard features.

BaseCamp Business costs $99 per month and comes with unlimited projects and users, as well as VIP customer support.

Try BaseCamp

While this project management software is nowhere near new to the scene, it still ranks among the best.
It's best suited for large organizations with hundreds of complex projects, due to its steep learning curve and more expensive pricing.
For users who can dedicate the time, money, and expertise, Microsoft Project is an excellent and comprehensive tool.

This software has a similar appearance to other MS Office applications, but there are not many built-in hints or tutorials.
This can challenge new Microsoft Project users as they learn to navigate the system.
After this initial learning curve, though, you may truly appreciate the complexity of the tool and its features.
There is a pre-built reporting feature in Microsoft Project, as well as customizable reports, all of which can be exported easily and efficiently to MS PowerPoint.
An area where Project is lacking is in integration capabilities, as there are limited options beyond the Microsoft applications.
Key Features
Gantt charts
Calendar views
Flexible dashboards
Deadline visualization
Pros
Excellent support
Transition between different views easily
Manage multiple projects simultaneously
Export capabilities to Excel and PowerPoint
Cons
Lacks integration capabilities
No built in hints
Pricing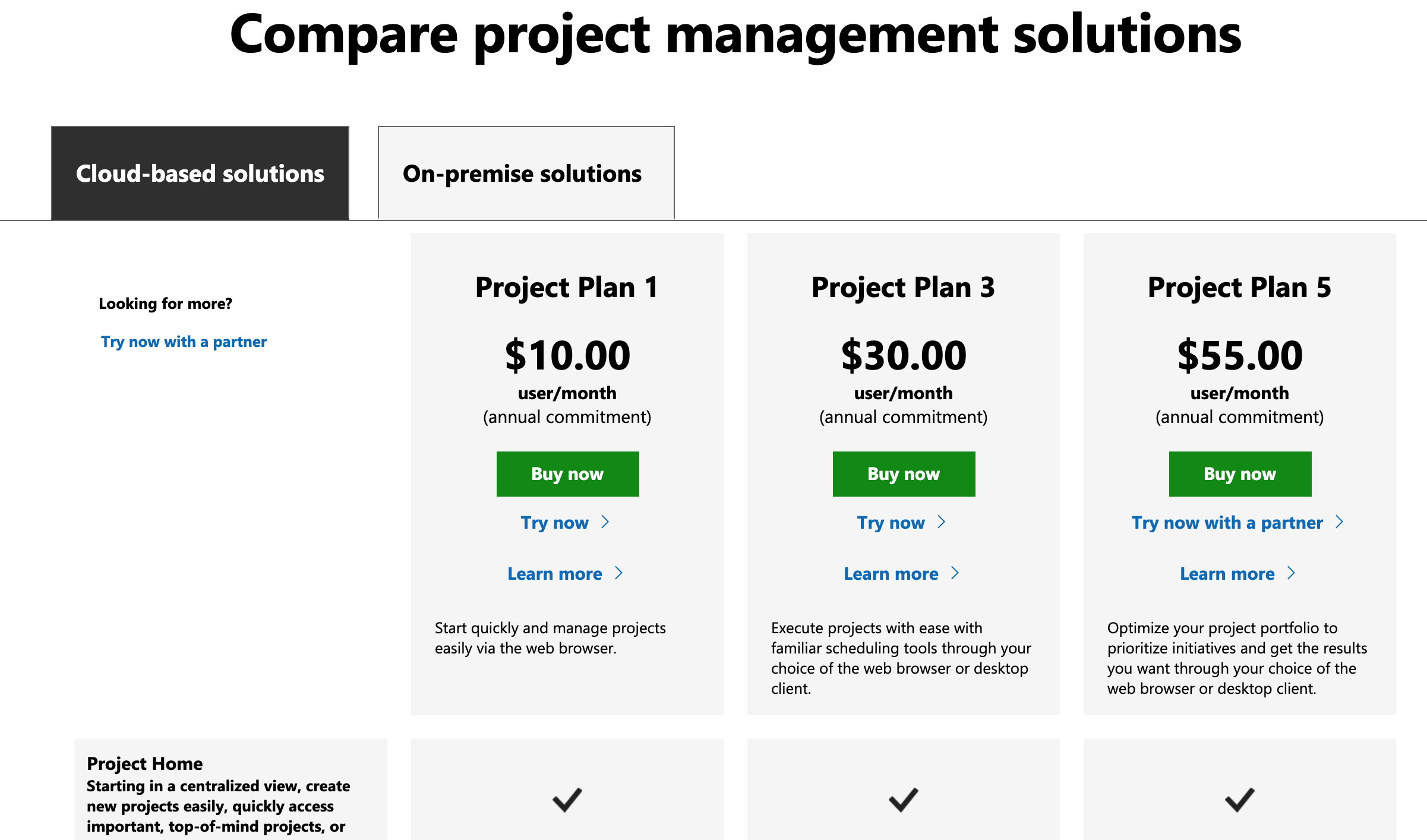 There are three cloud-based plans and three on-premise plans.

The cloud-based Project Plans 1, 3, and 5 are an annual commitment of $10 per user per month, $30 per user per month, and $55 per user per month, respectively.

The on-premise plans don't feature collaboration tools or other advanced features. Project Standard 2019 can be purchased for $620, Project Professional 2019 costs $1,030, and the Project Server plan is customizable to your organization's needs.

Try Microsoft Project

ProofHub offers tools to help teams finish projects on time and efficiently, holding team members accountable for the work assigned to them.
This system is entirely cloud-based, making collaboration and remote work easy.
The built-in proofing tool allows users to share, preview, review, and give feedback on documents and information.
Gantt charts help you visualize team progress, change views, and export information.

ProofHub offers integration with Google Drive, Outlook, and Dropbox. Its Kanban-style boards make it easy to self-manage and visualize tasks.
ProofHub's white label feature allows users to add the company logo, colors, or theme, and there are multiple project templates to choose from.
This software is available in English, French, Spanish, Portuguese, German, and Polish so collaboration can reach across language barriers.

ProofHub's chat feature allows you to send individual or group messages to team members, and security protocols keep all your data safe.
You can also review multiple files at the same time and manage all your milestones and events with the calendar tool.

With high customizability and detailed tutorials, ProofHub is easy to use and adjust so it works for you.
Key Features
Simultaneous file revision
Multiple language capability
Expertly designed templates
Cloud based
Switch between Kanban and Calendar views easily
Pros
Free trial (30 days)
Customizable hotkeys to speed up workflow
Reminders through calendar feature
Extensive tutorials
Cons
Doesn't offer phone support for users with questions or concerns
Certain features may also be challenging to use or understand at first
Room for improvement with the software's features for workflow and requirement management
Pricing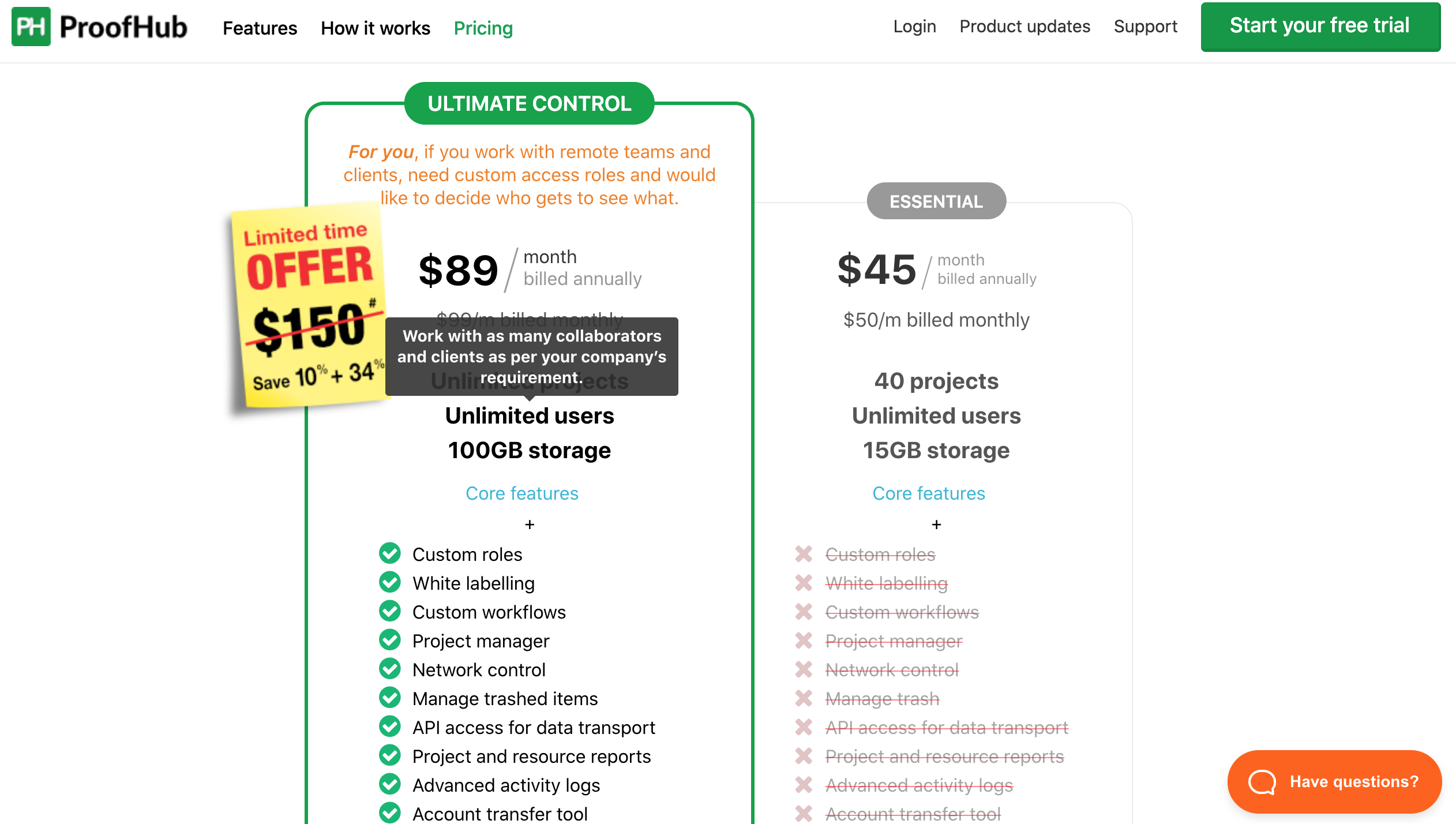 The Essential plan starts at $45 per month when billed annually and $50 per month when billed monthly.

Users who want access to all of ProofHub's features can get the Ultimate Control plan for $89 per month, billed annually, or $99 per month, billed monthly.

You can try out either plan with a free, 30-day trial.

Try ProofHub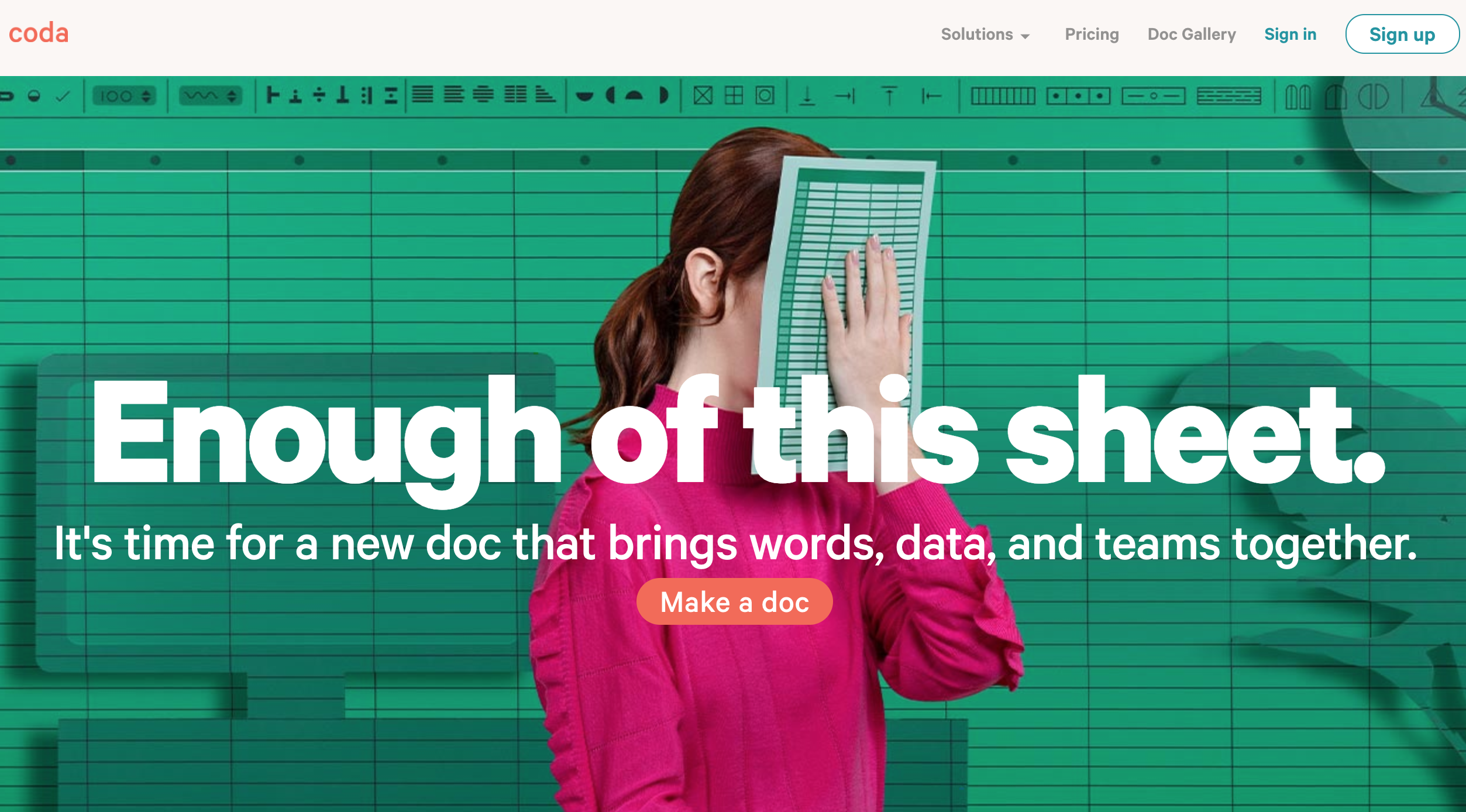 Coda has redefined the document to create a single canvas that teams can use for their docs and spreadsheets, as well as powerful tools and templates to make project management simple.
This system's version of integrations are called Packs, which connect your Coda doc to the apps you use daily, allowing you to view live data and send automatic updates.
Lots of well-known teams use Coda, including Spotify, Uber, DoorDash, The New York Times, and more.
The software is compatible with iOS and Android and has customizable views to allow every team member to view their interface the way they want to.

Coda's tools are easy to use and affordable.
Viewing, commenting, editing, and collaboration features on existing docs is always free, so you don't have to pay for a plan for every team member.
The only paid-for feature is the ability to create a doc, and the price varies depending on the number of doc makers on a team and the tier you purchase.
Key Features
Very flexible compared to other alternatives like Notion
Unlimited editors and viewers on all plans
No need to switch between different softwares
Integrations with third party apps via Packs
Pros
Connect data across different sheets
Engaged developer community
Tutorials are excellent
Cons
Quite pricey
Limited doc size on free plan so you will probably need to upgrade
Pricing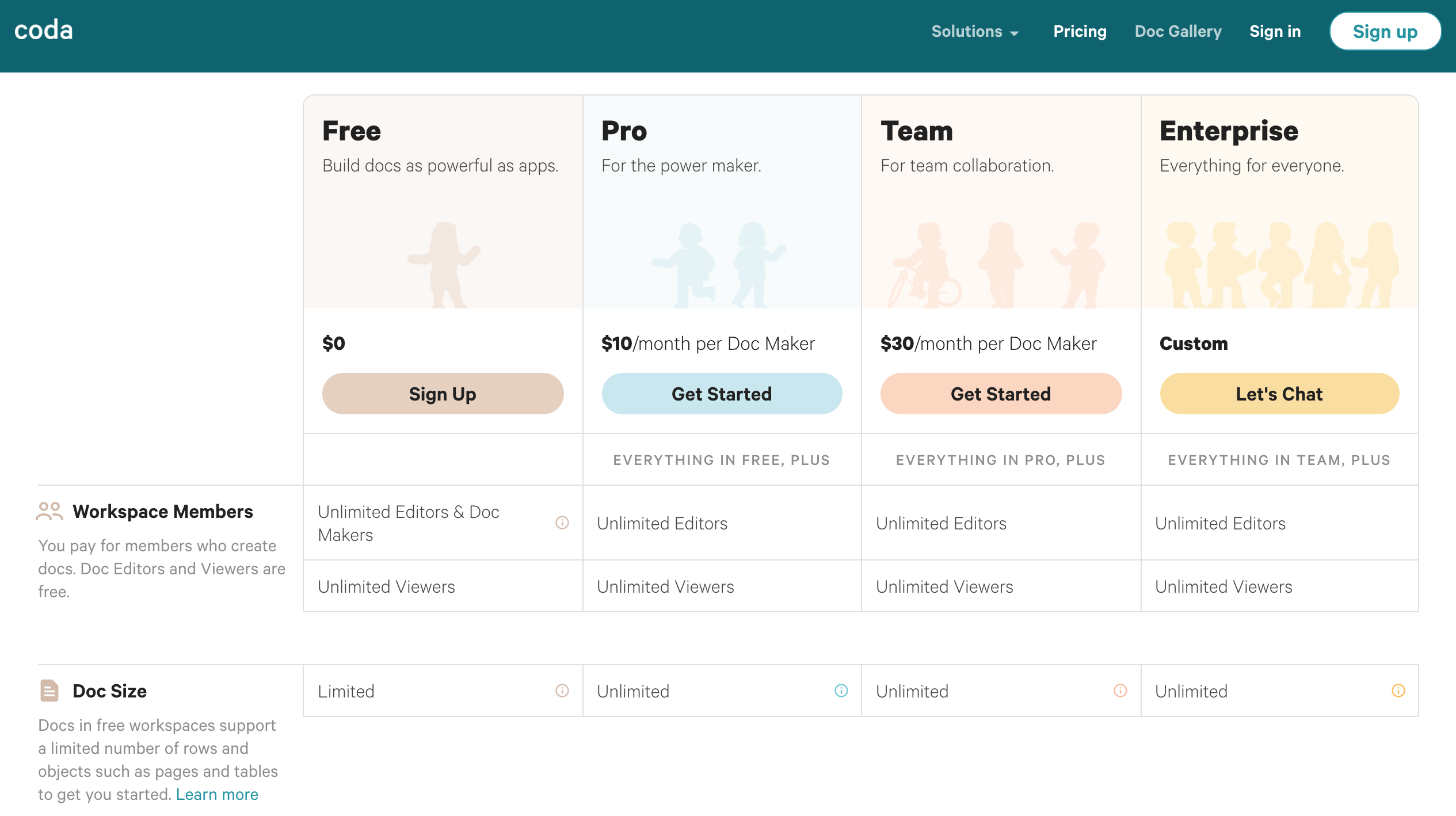 There is a free plan with limited features for newcomers to Coda to try out.

The Pro plan is $10 per doc maker per month.

The Team Tier plan costs $30 per doc maker per month, and the Enterprise plan is a custom tier that gives you access to all features at a price that makes sense for your team.

Try Coda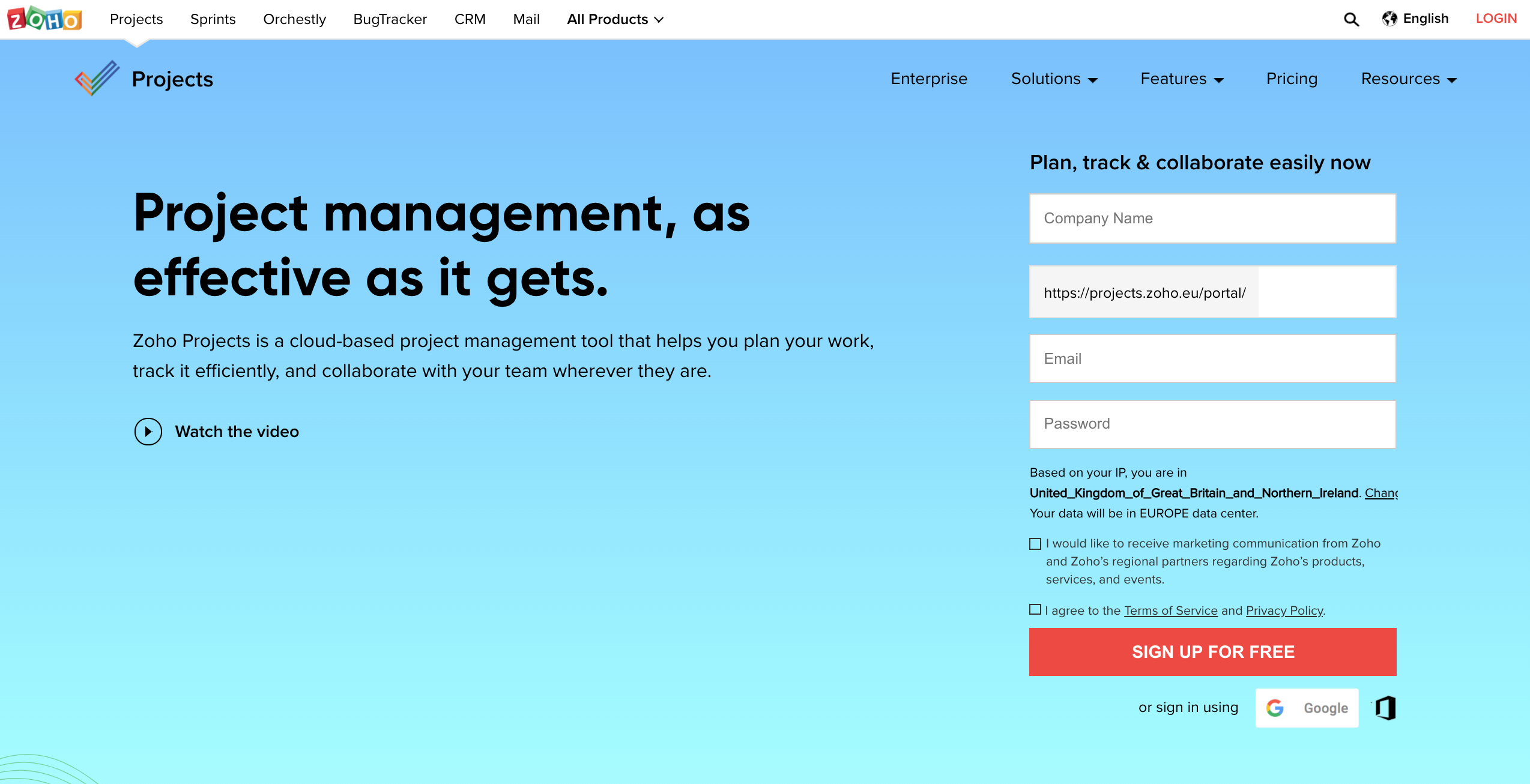 Zoho Projects is one of the many tools offered with Zoho's Office Suite.
Management is divided into four categories of issue management, task management, time management, and cost management.
You can submit bugs and automate numerous mundane project tasks like emails and notifications.
Zoho Projects comes with Service Level Agreement automation, which allows you to set rules and parameters for a service that you or a team member is slated to provide.
This system will give you a heads up if it detects any failure to adhere to the agreement you set, and can automatically reassign the unfinished task to an available and capable worker.

Projects utilize Kanban boards complete with Gantt charts, resource utilization tools, and Zoho Analytics.
Zoho Analytics provides your dashboard with a comprehensive compilation of milestones and tasks that are open, closed, overdue, and budget versus actual cost graphs.
Key Features
Task management
Task automation
Time tracking
Issue tracking and SLA
Integrations
Pros
Enterprise level services without the need to call
SLA allows you to auto allocate unfinished work easily
Mobile app allows you to keep track of project anywhere
Timesheets helps you track productivity of employeees
Cons
Pricing not competitive in comparison to other offerings in market
Standard package only has 10 projects
Pricing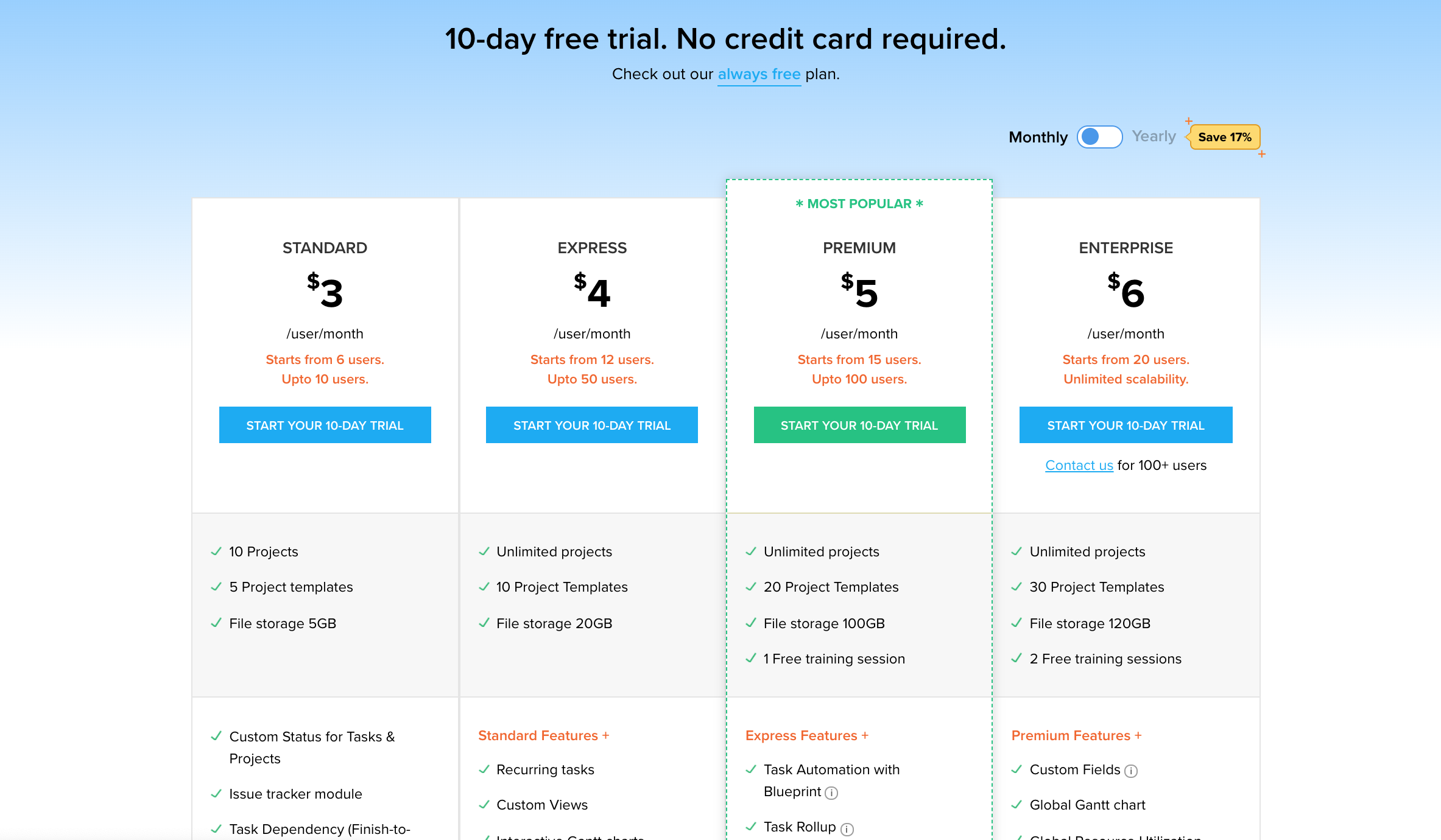 Zoho's free software, as well as their pricing plans, are more hit and miss than other software on this list.
Their free version ranks near the bottom with very limited access to features and storage. Their plans have 10-day free trials, which aren't as good as the 14-day and 30-day free trials of competitors.

Standard, Express, Premium, and Enterprise plans start at $3, $4, $5, and $6 per user, per month respectively.

Standard plans start at 6 users, Express at 12, Premium at 15, and Enterprise at 20.
Zoho is one of the few project management software companies to offer Enterprise-level service without the need for calling to get a quote (Though quotes are required at 100 or more users).

Standard is too limited, with only 10 projects and 5GB of file storage available, so you would only go for higher tiers if you are serious about PM software.

Try Zoho
How Do You Use Project Management Software?
1. Confirm the project that you will be working on, and finalize the details
Once you have been given the green light on a project, you will need to analyze the objectives, map out a timeline and expected completion date, and begin the process of prioritizing tasks.
Identify tasks that you will be doing yourself and tasks that you will need to designate to team members.

Take into consideration every variable you can think of, including your budget, expected and unexpected costs, holidays, overtime pay, status reports/quarterly updates, etc.
The point of project management software is to take everything you have and place it in one organized digital space, so don't leave anything out.
2. Select your team members
After you have hashed out the details of your project, begin the process of selecting your team members.
Select who is best for the job and specific tasks and begin to inform them of their expected duties.

Take into consideration remote working and differing time zones when assigning tasks to your team members.
Ensure that no one is waiting on anyone to finish a task before they can begin on theirs, to ensure a fluid working process for everyone.
Get their availabilities and make adjustments to your roadmap accordingly.
3. Choose a project management software and your appropriate plan
Be sure to select the project management software that is right for you, your team, and your project.
You will need to factor in things like budget, how technologically-inclined your team members are or aren't (If the latter, pick a software with an easy-to-navigate interface), and how many team members that you have or will expect to have.

If you have a lot of mundane tasks that you want you and your team members to minimize time consumption on, select a software with a high level of automation functionality.
4. Operate with a better-safe-than-sorry mindset
Project management software is supposed to make the daunting process of managing a project as smooth as possible.
The last thing you need is an email in the morning from a team member informing you that the team has run out of storage space.

Do you think a plan that only allows for 10 users is inadequate? Buy a plan that allows for more users. Do you think that 30 GB of storage might not be enough for your project? Buy a plan that allows for more storage space.

Don't break your budget, but don't skimp out when selecting your plan either. This software is going to be doing the heavy lifting, so make sure it can handle the task.
5. Get yourself and your team members used to the software's interface
Since you will be in intimate relations with your chosen project management software for the foreseeable future, it is important that you and your teammates know how to use it.

Provide company resources and/or third-party materials to your team members to ensure that they have a good grasp on the software.
This will ensure that everyone is able to work as efficiently as possible.
If necessary, spend an entire day with your team mastering interface navigation and making sure everyone is on the same page.
6. Set up your project
After everyone is comfortable with the software, the next step is laying out the project for everyone to see.
Lay out the tasks, set up workloads, cost management steps like invoice submissions, the works.

Put everything in the appropriate tab to keep the dashboard uncluttered and so that your team members can focus on their specific designated tasks.

Make sure everyone knows what they're doing and make yourself available for any questions or clarifications.
7. Set up due dates and task prioritization
After everyone knows what their assigned job is, break down each respective job into tasks by level of priority.
There's no point in painting parts of the car without first creating a functional car, so make sure everything is being done in order and in a timely fashion.

Also be sure to inform the team members that are performing the most important tasks how important said tasks are, and list said team members in accordance with the workload.

It's crucial that your teammates know how much weight they are carrying in the project.
8. Setup an 'Up to Speed' folder
Are you heading this project on the behalf of someone else, a boss, or a client? Do you expect new team members to be joining your team sometime down the line?

For everyone's benefit, have an 'Up to Speed' folder set up so that you have something ready when asked how progress is going or if new blood joins the team four weeks in.
It's impossible for a newcomer to take a look at an expansive dashboard and take it all in (especially a client).

Provide a resource that gives them a sufficient status update on how things are going so far.
9. Create contingency plans for the unexpected
Plans unfortunately have a tendency to not go the way that you expected or hoped.
Some things just can't be helped, so it's important to be ready for them to ensure that you are not blindsided.

Team members may have to take an unexpected leave of absence for a family emergency or get seriously ill. Some may just up and quit. Are you prepared for this? Would you be able to have someone immediately come fill in for them?

Create strict due dates for milestones and set up automated warning/notifications for when/if a team member's productivity begins to decline.
Set up notifications to let you know when certain tasks aren't being worked on.

You can't always be perfect, but you can always be prepared (To a degree).
10. All work and no play spells bad results for projects
As much as carrying out a project to perfection is the ideal goal, keep in mind that we are all human.
Provide your team members with healthy and constructive criticism, but don't patronize them.

If you suspect a team member may be overworked, see if anyone can help with the load.
Burnout will kill a project quickly.
Take breaks when they are needed and when they are earned. Happy workers are productive workers, and more productivity equals better results. Never forget that.
Summary
The world is digitizing at a rapid pace. To keep up with the times, it is best to get familiarized with the latest technologies to boost productivity.
Project management software is essential and it is important that you select the right tool for the job.
While you are asleep, your software will still be working overtime for you and keeping everyone on task.
The learning curve to mastering a new project management software can seem a little daunting at first, but the effort is well worth it.
The positives of project management software are too high in number to count.

The success or failure of a project could be the difference between you moving up the ladder in your industry and you having to look for another job or career.
Project management software will vastly increase the chances of your project being completed efficiently and successfully, so make sure that you have one at your disposal.

I hope this guide has given you more clarity on what project management software is best for you.
Have I missed anything? Please comment below if so.