TLDR: Thinkific is the best online course platform. Beyond just providing the technology to host course content, they go one step further and provide data analytics capabilities such as student engagement metrics. They also provide tools such as affiliate marketing and email advertising so you can more easily promote your course.
Thanks to COVID-19, remote working is fast becoming the new norm of our society.
Likewise, remote learning is also following suit fuelled by our transition from the industrial to the knowledge economy.
In fact, the eLearning market is expected to shoot over $375 billion by 2026.
Why not capitalize on your own knowledge and learn how to sell courses?
It might seem daunting trying to set up your own website, record audio and video content, manage course sales and subscriptions.
Luckily, there is a specific class of software that helps with this exact issue. The good thing is – you don't need to be a techie in order to host your own online course.
Enter online course platforms.
What Is An Online Course Platform?
Online course platforms allow you to host your course content and charge students without the need of making a specialized website from scratch.
These platforms are a type of Learning Management System (LMS) that act as a digital portal for students to engage with your material without seeing you in person.
Online course platforms provide the closest possible digital analogue to the in person classroom experience – you provide students with text, PDF, audio and video files to learn.
They can follow along using the platform to take their own notes, complete tasks and even take exams.
Online course platforms are best suited for the solo content creator as they provide an optimized web experience to the end users.
Furthermore, content creators can edit the design of the course page, create custom completion certificates and even use marketing funnels to convert potential students.
Content is also easy to upload and edit and you can charge a set fee for each student to take your course.
This way online course platforms do the "heavy lifting" of course administration – allowing you to focus on producing quality content instead of designing and managing a custom website.
Disclaimer: I may receive affiliate compensation for some of the links below. This is at no extra cost to you – you will be simply helping me put out more helpful content. Rest assured that I stand by these online course platform recommendations. You can read our full affiliate disclosure here in our privacy policy.
What Is The Best Online Course Platform?
The best online course platforms make both the teacher's and student's life easier by providing a platform that allows effortless teaching and learning on both ends.
For the teacher, we would look at:
Ease of administering course material
Content upload
Platform stability and robustness
Marketing features
User friendliness
Design customization options
For the student it would be:
Ability to track performance
Note taking features
Offline viewing capability
Test taking
Certifications
Community quality and classroom interaction
In this article, we cover standalone platforms.
However, if you are looking to start a blog and run a paid membership on the site then you may need to consider plugins specific to your platform (e.g. with WordPress you would need to look at plugins like WooCommerce Subscriptions).
But, I've been talking enough – let's get to the list.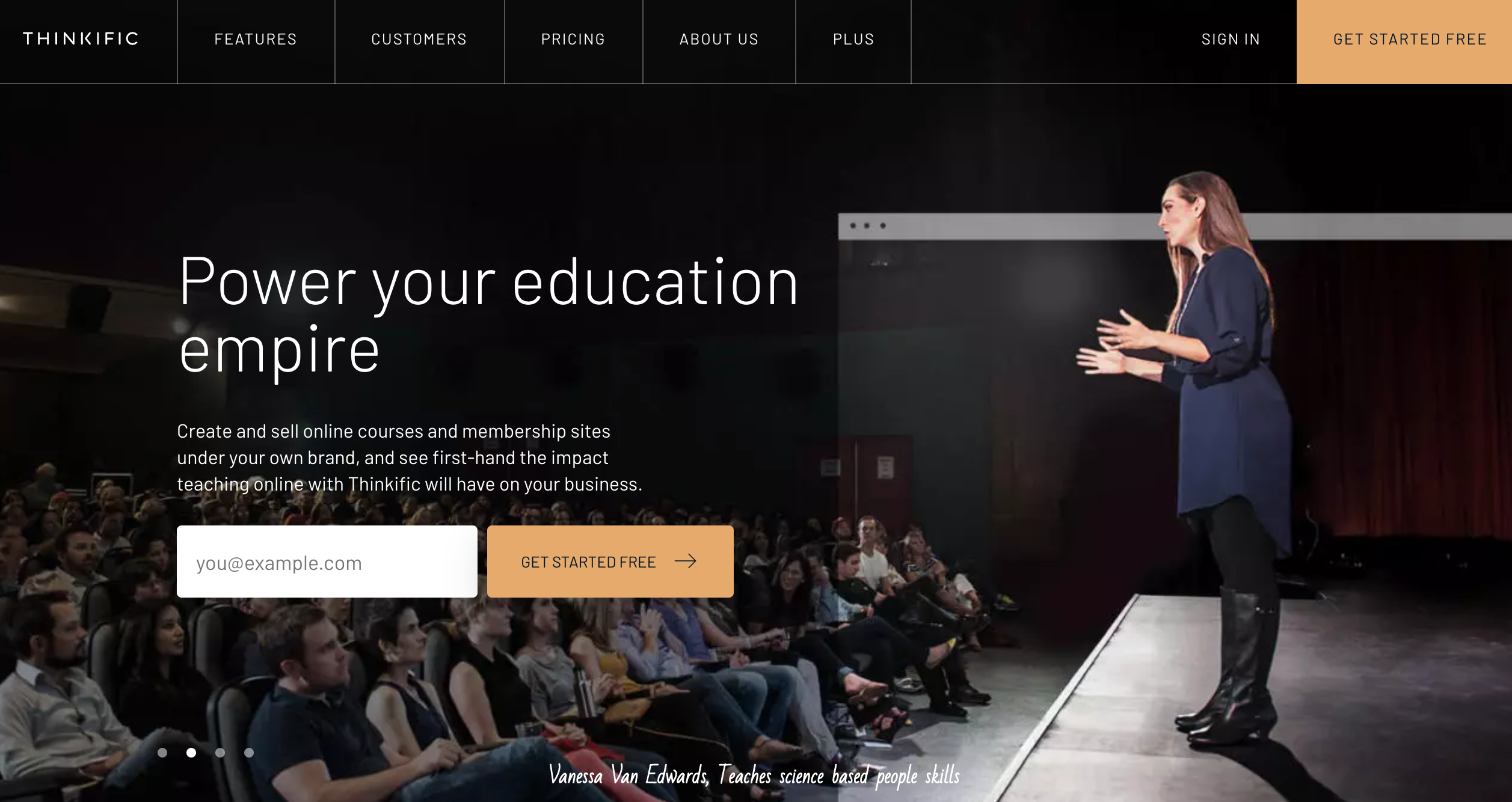 Thinkific is a single platform that integrates an intuitive course-creation program with tools to market and sell your courses.
Its status as a full service, easy-to-use course creation program is what makes it the top pick on this list.
Thinkific allows you to create your own courses by adding, creating or ordering your own content and then uploading your course to a Thinkific hosted site.
These sites are chosen from a large number of templates suitable for the nature and intent of your course. This site includes a custom domain name, for easy access and promotion.
Additionally, you can promote and sell your site and related courses through its full suite of business services. This includes email advertising, affiliate marketing, and comprehensive data tracking.
Thinkific enables the processing of all major credit cards and over 100 currencies.
It also offers ongoing support for you and your students. You can build and track milestones, offer interactive reminders and incentivize students to progress.
Key Features
Custom course creation
Pre-made site templates for a variety of course types
A full suite of business and marketing tools
Secure connection for personal and course data
Integrate with over 1500 apps, programs, and sites
24/7 support
Pros
Highly customizable
No transaction fees
Unlimited students
Variety of payment options for students
Cons
There's no course marketplace, and no sales funnel tools, meaning all sales and marketing must be directly between you and your potential consumers.
Pricing
Thinkific is unique in that it offers a free tier for its services, which includes a limited number of courses and core hosting and course functions.
The Basic and Pro tiers ($49/month and $99/month respectively) add extra marketing and administrative options.
A Premier plan targeted at large enterprises is also available for $499/month. All plans are discounted 20% for annual enrolment.
Learnworlds leads with a highly flexible interface for creating your course and the related site.
Rather than creating your course and uploading it to a premade site template, Learnworlds gives you control over the look and feel of your site, and of course the curriculum you upload to it.
Once you've established the look and branding of your site, you create your courses by uploading your content to Learnworlds pre-made course templates.
This can include transcribed videos, PDFs, ebooks, and numerous other options for downloads and attachments.
Your course can also include a range of quizzes, tests, and assignments scheduled and tracked through Learnworld's interface.
Their platform also includes social network features, which allow users to connect, compare, and display certifications.
Learnworlds offers a white-label experience for your site and app, while still fully hosting your content.
Their platform also enables lead capture and affiliate marketing, and their purchasing platform includes the option for bundles, subscriptions, and discounts, as well as credit card processing for multiple currencies.
Key Features
Create a custom, white-label site with little to no coding
Interactive video platform adds questions, links, transcription, and more
Students can highlight and take notes directly on the website
Built-in social network
A full suite of eCommerce services, including marketing and analytics
Top rated support
Pros
High levels of customization and interaction for video lessons
Online classroom communities
Flexibility extends to student functions
Cons
Limits on course customization
Some issues with checkout
Pricing
At the Starter level, Learnworlds is $29/month with a $5 transaction fee.
Upgrading to the Pro Trainer ($99/month) and Learning Center ($299/month) tiers remove these transaction fees.
You also get the option to add free courses as well as eCommerce and analytics tools.
Learnworlds offers a free trial and annual discounts. High volume and corporate tiers are also available and can be negotiated with Learnworlds directly.
3. Teachable – Most User Friendly
Teachable offers a straightforward course creation platform, which uses a dashboard to walk you through the selection and customization of your course templates, site themes, and more.
Adding course content is equally simple.
Teachable uses a drag and drop interface, with prompts and tutorials at every step.
This makes it the most user-friendly option overall, and an especially good choice for beginners.
Teachable includes full hosting of your site, and all videos and related data for your courses.
The hosted videos are playable on a wide range of devices, with adjustable video quality and playback speed.
Teachable also includes built-in email, as well as integration with most major email providers making communication with students simple and direct.
In addition to an easy walkthrough of course creation, Teachable's dashboard provides analytics of your income, student progress, and other important metrics.
Furthermore, it includes tools for marketing and promoting your content, like simple coupon codes, affiliate codes, and course bundles.
Key Features
Simple, intuitive dashboard
Walkthroughs for every step of the course creation process
Unlimited students
Site and video hosting
Pros
Beginner-friendly interface
Features not as heavily limited by price compared to other options
More in-depth insights available if desired
Cons
Not as customizable
Course creation starts from the beginning every time
Pricing
Unlike many competitors, most of Teachable's eCommerce features are available at the $39/month Basic level.
The Basic level also charges a 5% transaction fee on each purchase.
Upgrading to the $119/month Pro plan removes this, adds analytics capabilities, and provides more in-depth testing for your students, as well as certification options.
The $299/month Business plan allows mass imports and enrollments of students and a greater range of customization and support options. Annual discounts are available on all tiers.
4. Podia – Best For Digital Downloads
Podia bills itself as an all in one digital storefront, making it the best option if you're looking to supplement your online course offerings with webinars and digital downloads.
They also enable you to put a significant focus on memberships, with different prices and offerings for different membership tiers.
Rather than being a simple subscription (which they also offer) membership tiers can include extra products, access to special groups and mailing lists, and more.
Overall, it focuses on simplicity of use, so it allows for easy uploading and sorting of files.
This allows you to turn them into online courses with a few simple, guided steps. The same is true for their site creation and hosting features.
Podia walks you through some simple presets and adjustments to create a site that is fully hosted for you as part of your membership. This simplicity comes at the price of customization.
Where Podia excels is in its support for downloadable content.
It allows the creation, formatting, and hosting of a wide range of file formats, from images and audio recordings to PDFs and ebooks and many options in between.
These can be sold from your site or offered as supplements to courses.
Key Features
Course and site creation
Digital download store for ebooks and relevant materials
Creation of membership tiers that will sort posts and other releases
Schedule and host webinars
Pros
Easy-to-use interface
Storefront for downloadable materials
Allows link to purchase on external sites
Cons
Minimal customization options
No quizzes, tests, or certification
No mobile app
Pricing
Podia offers two pricing tiers, Mover at $39/month, and Shaker at $79/month.
Mover includes course and site creation, the downloadable store, unlimited users and courses, and no transaction fees.
Shaker adds some analytics and eCommerce tools, and more importantly, the membership feature discussed previously. Annual discounts and a 14 day free trial are available.
5. Ruzuku – Best For Code-Free Setup
Ruzuku is hands down the simplest option for getting started on course creation.
They offer a simple and direct platform for creating your course that includes text, video, and audio content, as well as a site to host your content.
Where other services might require some basic coding knowledge to create your course, and especially your site, Ruzuku has all these options built in and uses a carefully crafted tutorial to walk you through the creation process.
Ruzuku does not place any limits on the number of courses or students that you host on their service at any time.
There are also no limits on video and other content.
This works both ways, meaning you can prompt for video or audio responses to quizzes or discussion prompts.
In addition to being an easy set-up, Ruzuku is also an industry leader in customer support.
Both you and your students have 24/7 access to their support team through multiple channels.
Key Features
Easy set up for course and landing page creation
Comprehensive 24/7 support
Accept payment through PayPal and Stripe with no transaction fees
Variable options for payment and delivery
Unlimited courses and students at all levels
Pros
Extremely simple set-up
No restriction of courses or users at lower tiers
Cons
More expensive than comparable options
Limited customization options
Pricing
Ruzuku's basic tier, called Bootstrapper, is $99/month for unlimited hosting of courses, content, and students. At this price point, it is quite limiting as you cannot use webinars and teleconferences. Moreover, it does not include support for quizzes, usually considered essential for an online course.
The Up-And-Comer tier adds those features as well as subscription and payment options for $149/month.
Their final tier, University, starts at $199/month and adds support for multiple instructors and administrators, as well as a custom domain name and a dedicated account rep.
6. Kajabi – Best Premium Platform
Kajabi focuses on being an end-to-end premium solution for education professionals.
Best suited for large-scale operations, it offers course creation, as well as full site hosting. It also has the ability to run a blog and automates some key marketing functions.
Their course creation offers templates that range from mini courses and refresher training to full courses and coaching.
Each template allows the addition of multiple videos or other files and offers an intuitive platform for sorting and ordering them to create your course.
These templates also come preloaded with themes that will change the appearance and feel of your course depending on your intended purpose.
Kajabi allows you to create variable pricing for your courses, as well as offer subscriptions and coupons/discounts.
Their service can also automate emails, sales funnels, and other marketing and promotional tools.
It's eCommerce features place it firmly above other options for those professionals who need a high volume of users.
Key Features
Intuitive interface for creating a wide range of courses
Full suite of eCommerce and marketing services
Automated marketing functions
Create a custom site with a blog and a unique domain name
In-depth analytics
Mobile app support
Pros
Includes sales and marketing features not common for the industry
Highly customizable
High level of automation
Cons
High starting price, even higher to get some core features
Doesn't calculate sales tax or VAT
Difficult to integrate with other services/platforms
Pricing
Kajabi starts at $149/month for their basic option. This plan includes one administrator login and up to three courses.
The next tier, Growth, is $199/month, allows 15 courses and expands the automation, support, and marketing functions.
They also have a Pro option that allows you to list up to 100 courses and hosts up to three unique sites on their service for $399/month. They offer a 20% discount for annual subscription, and a 14 day free trial.
CourseCraft distinguishes itself with it's simple and clean interface.
The course creator itself uses a simple step-by-step process to add video, text, and images, with no limits on size or duration.
It also allows lesson collaboration, allowing colleagues or guest presenters to use the same simple editing functions.
Using CourseCraft you can schedule your courses for delayed release, or create private, hidden courses.
There are no limits to the number of courses you can create or host using the service.
CourseCraft allows for a high level of student feedback and interaction. This includes comments in addition to the expected quizzes and tests.
CourseCraft interface's also offers tracking of individual student and course-wide statistics.
Their platform also allows you to integrate your CourseCraft courses with your existing blog or website, and replace the CourseCraft logo and branding with your own custom company name and logo.
You can also sell additional materials and related services as part of your course.
Key Features
Clean, easy-to-use interface
Simple integration with existing platforms
Unlimited courses
Payment processing through Stripe and PayPal
Email and chat support
Pros
Simple, attractive interface
Free option available
Premium tiers are still very reasonably priced
Cons
Does not include a custom site/hosting
Limited support options
Some tiers include hefty transaction fees
The free tier puts some limits on video length, file size, and number of participants
Pricing
CourseCraft is one of the few options that offers a free tier, or at least one without a monthly payment. It does still charge a 9% transaction fee. With the free option, you have full access to scheduling, analytics, and website and mailing list integration.
Upgrading to the Club tier costs $29/month, but reduces the transaction fee to 5% and adds quizzes. It also unlocks custom branding, unlimited video hosting, and unlimited participants in your courses.
The $59/month Society tier removes the transaction fee entirely and unlocks affiliate and collaborator programs.
8. WizIQ – Best for Virtual Classrooms
WizIQ is designed for interactivity and to simulate a physical classroom as closely as possible.
It allows you to create online courses, using it's guided templates to create interactive text and video courses.
It includes a cloud-based library, allowing content to be added and shared across courses more easily than some other options.
Where WizIQ shines is in its functions as a live, remote classroom.
WizIQ classrooms can be accessed live through a browser or mobile app. These sessions can include live video and audio interaction with the class, in addition to quizzes and polls.
WizIQ can automate attendance and monitoring of these live class sessions. It can also record them to be reviewed later, or used as a lesson.
WizIQ offers a range of testing and analytical tools.
These features can monitor the completion of online, premade courses, as well as the engagement and effectiveness of live classroom sessions.
In both instances, it can help you point out areas where individual students may be falling behind, or where your course or classroom is not being managed effectively.
Key Features
Course creation
Live interactive classrooms, including whiteboard, chat, and document sharing
Tests and quizzes
Automated enrollment, attendance, and monitoring
Credit card processing through Stripe, no transaction fees
Pros
Best option for live, interactive classrooms
Accessible online without downloads or installs
Automation of several reporting and monitoring features
Cons
No set price
Limits on recording and note-taking ability
Pricing
WizIQ offers a free 14 day trial.
After the trial ends, there is a monthly subscription that varies depending on the features used and the number of participants.
The base price for this subscription is $25/month, but needs to be discussed and confirmed with a WizIQ rep before activation.
9. LearnDash – Best For Large Organizations
LearnDash is a course creation service that functions as a plugin to WordPress.
It allows you to create and sell content, schedule the release of multi-part lessons, and monitor and engage with your students.
It also enables automated interaction for quizzes, follow-ups, and other tracking and engagement tools.
LearnDash is focused on offering multiple courses to a large group of students, making it popular with large companies and several universities.
It can create groups to be overseen by users of the site without needing to grant them full administrative access. Your course content can be locked by prerequisites, such as the completion of other courses or equivalency tests.
LearnDash allows the creation of paid content for selling your courses, or free content for students or employees to use the course as a training tool or supplement to classroom education.
It's tools allow you to track and manage the access of users individually, as a group, or with automatic tracking and termination rules.
Key Features
Easy platform for creating and selling courses
Variety of purchase options, including: single purchase, subscription, bundles
Automated and manual tools for the administration of a large user base
Compatible with all desktop and mobile devices
eCommerce tools and tracking
Pros
Powerful tool for organizations with a large user base
High level of integration with other programs
Reliable, professional-grade hosting and support
Cons
It's a WordPress add-on requiring more customization and integration than a one-step options.
Focus on automation and delegation makes it more difficult for you to interact directly with individual students.
Pricing
LearnDash bills annually, with a 30 day money-back guarantee.
The Basic option at $159/year includes all core functions and 1 site license.
Upgrading to Plus or Pro ($189 and $329 a year, respectively) increases the number of site licenses and adds a feature called ProPanel – a more comprehensive analytics tool (a bump up from basic reporting).
10. Academy of Mine – Best White Label Solution
Academy of Mine is a full-service course creation and hosting service.
It allows multiple types of courses, including video, slideshow, text, and interactive HTML. All of these options can be fully created and hosted on their service.
These courses can include tests, quizzes, evaluations, and surveys as well as live interaction with your student base.
Academy of Mine is exclusively white-label, meaning that all the branding for your course and site will be yours, and will at no point reference their service.
This includes a custom domain for your site and payment processing that links and bills directly to your accounts.
They offer comprehensive eCommerce and analytics tools that allow you to market and sell to individual users.
They also include support and scheduling for large groups, including sorting users into groups, and controlling what those groups see and have access to.
Key Features
All-in-one course creating and hosting
White label branding
Unlimited courses and users
Highly customizable and interactive experience
In-depth eCommerce and analytics tools
Integration with other sites and services
Live and pre-recorded webinars
24/7 support with a dedicated account manager
Pros
Great for large groups and organizations
Highly customizable
Great onboarding, support, and troubleshooting
Cons
Some issues with exporting reports and data
Steep learning curve (though membership includes support)
Very expensive, simply not an option for small users
Pricing
Academy of Mine can only be purchased by scheduling a demo with their sales team, who will then discuss the features you need and build a package on that basis.
This package starts at $9,997 a year, and can be higher depending on the support and eCommerce tools you need.
What Is An Online Learning Platform?
Online learning platforms flip the perspective – in this scenario – you are the student instead of the teacher.
These are subtly different from online course platforms in that online learning platforms typically have a captive audience of keen learners.
So as a teacher, the commissions and potential earnings you get are potentially lower per student but your audience reach is much larger.
This means that if you have a course that resonates particularly well with a certain audience, you can get free marketing because your course will be pushed up.
On the other hand, higher competition means that you could find it harder to reach students organically.
As a student, you get the brunt of the benefits.
Typically, you would pay a monthly subscription fee and then enjoy access to all the courses.
You have access to as much content as is available on the platform and this model really favors the student over the teacher.
As a result, if you are serious about teaching then I recommend you select one of the platforms above.
But if you are serious about learning select one of the platforms below.
This way you get the best of both worlds.
What Is The Best Online Learning Platform?
The best online learning platforms typically have a large and wide variety of courses of a high quality. Some such as PluralSight have a specific niche focus (e.g. tech) whereas others are more generic (e.g. SkillShare).
The platform you choose for learning depends on what you want to learn and to what depth. Here are my picks:
SkillShare is an online learning site that hosts video lectures on a variety of topics, as while as providing supplemental materials and community discussion.
SkillShare's current focus is on "creative" skills, like writing, animation, photography, and web design but other topics like lifestyle and business lectures are still available.
The exact style of the classes can vary. Some are just direct lectures, others are broken up into smaller pieces, often punctuated by quizzes, assignments, or other interactive features.
Courses may be created by Skillshare to highlight their partners, brands and industry experts. These are typically high-quality productions referred to as SkillShare Originals.
It also offers user-generated courses that may not have the same production values, but are reviewed and held to specific standards by SkillShare auditors.
The videos are easy to follow and broken down into digestible chunks.
Overall SkillShare is an easy way to expand your skill base or just gain more insight into topics that interest you.
Key Features
Video lectures of a variety of topics, mostly related creative business ventures
Original content created by SkillShare partners and endorsed experts
Community generated content
Assignments and interaction may be available from course creators
Supplemental materials and downloads available
Pros
Courses audited for quality and accuracy
Low barriers for course creation offer insight from a range of sources
Topics for a range of relevant interests
Cons
Feedback from course creators is not guaranteed
Community interaction not always helpful
Pricing
Skillshare offers a free membership, supported by ads on the site and between videos.
It also offers a premium version at $19/month or $99/year. The premium option removes all ads and allows videos to be downloaded to a mobile device for offline watching.
It also offers a Teams membership, for $99/year per person and allows courses to be shared and recommended to your team.
2. Shaw Academy – Best For Professional Development
Shaw Academy provides courses that focus specifically on business development.
This includes topics like marketing, finance, business analytics, web design, and technology.
It also includes some lifestyle and personal development classes, such as health and beauty.
All courses are created by professionals that have been sought out and verified by Shaw Academy.
Shaw Academy offers flexible learning options, and does not put any restrictions on the number of courses you take, but recommends one course at a time at the pace of two lessons per week.
Each course will include quizzes and assignments and offers assessment and certification at the completion of each course.
Courses can be paused, and you can seek help from the educators who created them.
Overall, Shaw Academy offers a comprehensive yet flexible approach to developing professional skills for users at any skill level or degree of interest.
Key Features
Courses created and run by certified professionals
Variable engagement and commitment levels
Interactive lesson plans that include quizzes and assignments
Certification and assessments available
Videos and recordings also available offline
Pros
First course available as a free trial
Professional quality training
Take classes and assessments around your schedule
No limit to the number of courses you take
Cons
Some issues with billing and support
A bit more expensive than other options
Pricing
Shaw Academy offers a free course as a trial period. Depending on your scheduling, this means, practically speaking, that anywhere from your first 1 to 4 weeks are free. After the trial period, Shaw Academy is $49.99/month.
3. Khan Academy – Best Free Learning Platform
Khan Academy is a non-profit education platform founded by financial analyst Salman Khan and is meant to assist and supplement a conventional classroom education for students at all levels.
Their course content caters to students from pre-K all the way to AP courses and even 100-level college courses.
Courses are further broken down by subject, focusing most heavily on math and science, but including courses on reading, arts and humanities. Their site also includes SAT and LSAT test prep.
These courses primarily take the form of short video lectures but also include quizzes, recommended reading, and interactive assignments.
The founder himself teaches many of the mathematics and economics courses, while accredited experts have been allocated to lead courses on science, history, and the arts.
As mentioned above, Khan Academy is completely free and does not require an account to use.
The advantage to creating an account is the ability to keep track of progress, come back to the same lessons without starting over, and earn badges for course completion, quiz scores, and more.
Key Features
Easy to follow video courses supplement classroom education
Suitable for all age levels, with changes to accessibility and activities for each grade
Wide range of topics
Multilingual course options available
Test prep for both AP classes and college entry
Pros
Completely free
No account required (but advantages exist for having one)
Multilingual support
Accessible options suited for each age group
Cons
Doesn't include support for more interactive subjects, like music or foreign languages.
Pricing
Khan Academy is a non-profit organization, and its courses are offered free of charge, and without obligation. There is a donation page if you choose to make a recurring or one time donation.
LinkedIn Learning (formerly Lynda.com) is an online learning platform for professional skills and development.
It offers courses in creative pursuits like web design and photography, as well as technical skills like coding.
As the name would suggest, LinkedIn Learning is a subsidiary of LinkedIn, and allows you to note your use, completion, and mastery of various courses on your LinkedIn profile.
The courses themselves are a combination of video, reading, and interactive quizzes and assignments, exactly what you would expect from a professional development course provider. They're broken down into three categories.
"Business" focuses on business and management techniques, and the use of administrative software.
"Technology" is for coding and technical skills.
"Creative" teaches some basic design skills, and mastery of programs like Photoshop, AutoCAD, and more.
Their interface is simple and professional, exactly what you would expect from LinkedIn. It also uses LinkedIn's social features to make the learning process more interactive, both between you and the teacher, as well as students on the same courses.
Key Features
Over 16,000 courses in a variety of topics
Enrollment bundles available for individuals, as well as businesses, higher education, and government agencies
Integrates with your LinkedIn profile to highlight course completion and areas of study
Interactive reinforcement and engagement, including quizzes, live Q&A, and assignments
Downloadable content for offline viewing
Pros
Professional courses
Clean interface
Large and constantly growing library of courses on many business-related topics
Highlight your self-improvement to potential employers
Cons
Accreditation and certification not included
Limited options for intermediate and advanced courses
The interface feels a bit stark
Pricing
LinkedIn Learning offers a free, one month trial, after which is it $29.99/month, reduced to $19.99/month if prepaying for an annual membership.
They also offer a variety of subscription models for organizations, which includes custom pricing to be set up with a live representative.
5. Pluralsight – Best For Intermediate Coding & Tech
Pluralsight is a platform best suited for expanding either your individual tech knowledge and skills or those of your organization.
It offers recorded video lessons on a wide range of topics, as well as interactive support and learning opportunities.
As would be appropriate for one of the largest tech teaching and training platforms, it provides an in-depth, comprehensive look at each topic it covers.
Pluralsight is best for people with some tech experience and encourages new users to take a brief assessment to establish their proficiency on a topic so they can begin their course at an appropriate level.
Its in-depth style also makes it an excellent choice for experts and those with high proficiency in one area to pick up a new skill or discipline without feeling like the course it too simple or patronizing.
Key Features
Expert level courses from over 1500 course creators
Interactive modules, including coding exercises
Video lessons include note-taking and follow-along exercises
Certification in IT, coding languages, cybersecurity, and more
Assessment quizzes to provide courses targeted at your skill level
Downloadable content for offline learning
Pros
Suitable experts and industry professionals
Teaches skills you can build a career on
Refresh and sharpen skills, without pointless repetition
Hands-on approach to learning
Courses updated as technology changes
Cons
While it does include basic courses, Pluralsight assumes a certain level of familiarity with tech and IT, making it more difficult for beginners
Some topics are harder to break into smaller pieces, and require more significant chunks of time to process
Pricing
Pluralsight starts at $29/month, or $299/year. This includes access to all courses, as well as the skill assessment tools, and suggested course plans to focus on specific set of skills.
Their $449/year Premium option unlocks exams and certification. They also offer membership bundles for teams within your organization or your entire enterprise.
6. Codecademy – Best For Beginner Coding & Tech
Codecademy is a beginner-oriented option for learning to code, focusing especially on the creation of websites, and coding languages like Javascript.
Codeacademy is unique among online course platforms in that it does not include any video instruction.
This makes it easier to learn at your own pace, and review portions of a lesson you may be struggling with.
Codecademy offers suggestions and recommendations for course paths, depending on your interest and desired end goal.
These can include anything from creating specific functions for a website to entire coding languages.
If you prefer, you can opt to view its full catalog of hundreds of course options.
Their interactive exercises include executing basic functions, up to creating a functional website.
Overall, it's simple features and fun, engaging learning style make it the best option for beginning coders.
While the basic tier is free, premium options include live support and a personalized lesson plan.
Key Features
Interactive text lessons
Live coding practice
Lessons for website creation and specific coding languages
Building block approach to coding languages and website creation
Dedicated forums to get support from educators and fellow students
Pros
The most beginner-friendly coding courses online
Test your code in real-time
Personalized lesson paths
Live help and support available
Free option for membership
Cons
Not as in-depth as other coding courses
No video lessons, making it less friendly for younger students or people with a more visual learning style
No professional certification
Pricing
The base package for Codecademy is free. This includes access to its full course library and all of the assignments and practice work.
A Pro version is available for $19.99/month with a 14 day free trial and unlocks members-only content, like real-world practice, live feedback, and custom course creation.
They also offer a Teams package, allowing you to purchase these benefits for your organization, purchased at a custom rate from a Codecademy representative.
7. Coursera – Best Content Depth & Quality
Coursera is an online course aggregator that collects video and online courses from across a wide range of existing and accredited education sources.
This includes real-life universities, not just community colleges, but Ivy League schools like Yale, as well as elite institutions like the Museum of Modern Art.
Coursera offers, by a wide margin, the largest range and depth of topics in online course providers.
Using Coursera, you can audit ongoing classes, or take a self-guided study of its many pre-recorded options.
Most of its courses include forums lead by a TA or the educator themselves, to encourage discussion and further exploration of the topic.
Some of these options may be more perfunctory than what you'd find at a premium online education provider as Coursera is more interested in providing access to these educational opportunities than replacing or augmenting them.
That said, some of their courses do offer certificates of completion that can be displayed on job board profiles like LinkedIn, or in some rare cases, even count as a course credit at the hosting institution.
Key Features
Audit or participate in college-level classes from a large number of institutions, including Ivy League colleges
Hundreds of courses on a wide range of topics
Live or pre-recorded course options
Guided discussion forums
Pros
Access to unique and high-quality education programs
Certification available
Online forums try to replicate the social aspects of coursework
Cons
Assessment and feedback are limited, and course completion usually does not offer meaningful certification
Information on some tech related courses may not be kept up to date
Pricing
Coursera is priced on a course-by-course basis. Auditing some courses are completely free. Others range from $29 per course to $99 per course, depending on the length of the course and other factors. These premium courses do include certificates of completion.
8. EdX – Best Online University Education
edX is a non-profit initiative created through a joint effort by MIT and Harvard. Since its founding, it has added courses from not just these institutions, but other nationally and internationally accredited universities.
This includes courses from Berkely, Georgetown, Cornell Darthmouth, Hong Kong Polytechnic, and fifty others.
The courses offered through edX focus primarily on science and technology, but courses on the humanities as well as business and economics are available as well.
All told there are almost 3000 courses, the majority of which are from edX's founding schools: MIT and Harvard.
These courses can be audited for free, regardless of the timeframe and nature of the course.
While edX technically does not have a premium option, it does require a donation to the service to receive a certificate of completion for the course. This certification doesn't count as course credit or offer any other form of official accreditation but can be posted to LinkedIn or job board profiles.
Each course includes a dedicated discussion page, which allows interaction with other students, and well as teachers and administrators.
Key Features
Over 2800 courses
Courses from almost 60 nationally ranked and accredited universities
Monitored discussion forums for class participation
Option to participate in a timed or self-led course
Option for "honors certificates" that verify completion of the course
Video recordings with transcription
Pros
High-quality courses from well-known universities
Feedback and assessment of course work.
Free auditing of all courses
Cons
Course selection and assessment outside science and technical courses is limited
Completion does not count as course credit
Pricing
Membership and auditing of courses is free, as edX is a non-profit enterprise. To get a certificate of completion edX requests a donation, basically a processing fee, to receive that certificate.
9. Alison – Best For Digital Diplomas
Alison was one of the earliest platforms offering online learning courses and still excels today, both in terms of the quality and number of its course options.
Like many similar options, its main focus is on workplace skills and professional improvement.
It offers over 1000 course options, on topics that range from mental health and mindfulness to customer service and human resources.
All of their courses include an online diploma, available at the point of completion that certifies the completion of a course and mastery of its contents.
This does not function as an objective and external certification, but many employers recognize the skill courses provided by Alison as part of their hiring process.
Depending on the topic, courses can take anywhere from a few hours to several days, depending on the content covered. You can pause and resume courses at any point.
Key Features
Over 1500 courses on a variety of professional improvement topics
Courses available in multiple languages
Interactive assignments
Quizzes and assessments
Online diploma and certification available at completion on the course
Pros
An established name – in business since 2007
Proven track record of 2.5 million graduates
Free courses with no membership fees
Many courses on a wide range of topics
Cons
Not optimized for mobile
While the courses are free, diplomas and certifications are not. This may be an unpleasant surprise to the inattentive
Course description is limited to title only
Pricing
Alison's core services are free. With your free account, you have access to all of Alison's courses, course assessments, and tools that track and record your progress.
The free version is supported by ads and a "freemium" model for diploma and certificate purchases.
A premium monthly option is available for about $9.50/month (Alison is an Irish company, so its pricing is in Euros). The premium option removes ads and offers discounts on diplomas and certificates.
Course certificates start at about $25 (21 euro) for a digital copy and increase for printed and framed options.
Diplomas certifying the completion of a series of courses or an entire learning path range from $76 (65 euro) to $250 (215 euro).
How Do I Create And Sell An Online Course?
When creating an online course it's always best to start with the end in mind. Ask yourself:
What do I want my students to achieve after going through the course?
If I were a student, what would I teach myself to get to where I am today and how?
What does success look like to my students?
What makes my course different from the other ones that I see?
Of course, you don't need to have definitive answers to each of those questions, but having an idea of the promises and outcomes that you will provide to your students is important.
The first part is researching what topic you want to teach your students.
If you have an interest or idea, browse forums such as Reddit and Quora. See what questions people are asking and see if there is anything on the market that can solve that. If there isn't – maybe there is a chance for you to create a course around it.
Once you have decided the topic of your course, you should create a learning path.
This stages the learning journey and provides the students with a clear end goal as well as milestones by which they can measure their success against.
Doing this will ensure that your students are active and engaged with your material. Here are the steps to creating an online course.
1. Identify What You Want To Teach
Probably the most important aspect is identifying what you want to teach. You will need to figure out three different things – curriculum, teaching and assessment.
Source: ClassTeaching
Ideally what you should teach should be aligned with your passions.
Student's can easily tell if a teacher is disengaged with the material.
So the sweet spot would be something that you are passionate about and something that is in demand as well.
You could choose to go for very broad niches such as self improvement – but think about how competitive the space is.
Could you really compete with professionals who have been doing it their whole lives like Tony Robbins?
Sure this niche pays well but you also need a lot of experience and expertise to get your audience to trust you.
Instead, think about something more niche but also trending.
For example, succulent plants (cacti, aloe vera, ect.) are increasing in popularity and there isn't any major authority out there that teaches how best to care for succulents.
You could create a series of video tutorials on how to take care of popular succulent species.
This is much less competitive than self improvement.
2. Find Out The Cost Of Developing The Course
The next step is figuring out the cost of producing online course content.
It's estimated that if you wanted to outsource everything, 1 hour of production ready e-learning content could cost between $8,150-$36,205 to produce.
This includes project and content managers, course owners, content marketers as well as graphic designers and subject matter experts.
Source: RacoonGang
However, we can opt for a much cheaper but more time intensive option – producing everything ourselves.
To do this we would need quality hardware – a high definition webcam, clear microphone and precise video editing software.
These are typically one time costs and with these you can create a course for under $300.
We can also leverage the online course platform tools we previously mentioned – you would pay a monthly or yearly fee but in return you don't need to worry about setting up your website, domain hosting, marketing analytics ect.
3. Select The Best Hardware And Software
You are only as good as your tools.
No matter how insightful your content is – you will always find yourself coming short if your audio or video quality is subpar.
This doesn't mean that you need need to shell out on the most expensive equipment but you do need to select quality equipment to do the job.
You are after all replacing an in-person analogue experience with an online, virtual course. The quality of your production needs to reflect the quality of your teaching.
Source: Reddit
1. Microphone
Bad audio is often easier to detect than bad video.
If there's one thing that you don't want to compromise it's audio quality.
If you want the best possible audio you should go for a condenser mic with an audio interface.
However, for ease of use, I recommend USB microphones – these strike a balance between quality and convenience.
Plus, you don't need to be an audio engineer to configure this. Just plug and play.
My top pick for USB microphone is the Rode NT-USB Mic.
I also recommend getting accessories such as a pop filter to reduce the effect of plosive sounds as well as acoustic panels in your room to reduce the amount of echo.
2. Webcam
Good video quality is a must nowadays.
If you look at online courses produced nowadays, you'll notice that they have very clear video footage.
A laptop camera typically does not suffice for the job.
If you are on a budget, you could use your phone to record the video. If you have an iPhone, you could try EpocCam. If you are on an Android, you could try IP Webcam.
On the higher end you could opt for DLSR camcorders.
A good middle ground that is convenient and hassle free would be a USB WebCam.
This is what I would recommend for those who are just starting out. You get good quality at an affordable price.
I find that the Logitech C920 gets the job done without breaking the bank.
3. Video Editing Software
After recording the audio and video, you need software to put everything together. Editing allows you to elevate your footage from good to great.
I recommend going for Adobe Premier Pro.
If you are on a Mac you could also use Final Cut Pro X. If you want to do some deeper research – I've compiled a list here of the best video editing software.
4. Lighting
If you want to make your tutorial shine, you need some good lighting (pun intended).
The recommended configuration is three point lighting – this involves two lights on the left and right and one light on the back of the instructor.
You'll need to research what the best configuration is for your setup and camera.
5. Screen Recording Software
Teaching a more technical course often requires you to share what you are doing on screen.
To make it easy for the students, it's best to use dedicated screen recording software and then upload these onto your video editing software.
I recommend using Camtasia.
6. Headphones
The final part of the puzzle is good headphones.
Many overlook this but using good headphones is important to ensure that your audio is as accurate as possible.
Good headphones will allow you to pick up small errors in the editing process and allow you to fine tune the recording as much as possible.
You can't go wrong with the Audio Technica M50X.
4. Deliver Quality Content
Prioritizing content quality and depth should be at the top of your list.
Creating this type of content isn't just about dumping everything you know about a subject into a course.
It's about managing the pace and fluidity of your knowledge – packaging it into something digestible that clarifies rather than confuses your student.
Being a good teacher is more often an art than a science.
It takes practice but a prerequisite is creating an engaged audience.
You can use tools such as quizzes, interactive worksheets, PDFs and forums to facilitate this engagement.
Be sure to also simplify the content as much as you can without losing the detail.
After all – perfection is achieved, not when there is nothing more to add, but when there is nothing left to take away.
5. Niche Down And State Your Value Proposition
With knowledge being commoditized thanks to the internet – it's important that you understand your unique selling point (USP).
Instead of creating course on social media marketing, you could create a course on B2B lead generation using Google PPC Ads.
Notice how it is much more focussed. We can elevate this thinking to the value proposition level.
Instead of saying – I will teach you how to get more followers on social media.
You can make it more concrete – I will help you get your first paying client within 6 months using Google PPC Ads.
Not only does it sound like a more compelling proposition, but it is also more measurable.
Diversify only when you have exhausted your key topic and explored it in as much depth as possible.
But in general – the more specific the better.
6. Learn How To Market Your Course
Creating the course is just half the battle – the other half is learning how to market it.
The first thing you need is a dedicated website that showcases your expertise.
Often it is good to have a blog where you actively post and publish so you can gain recognition and authority within the niche.
Ensure that this content is also SEO optimized.
Once you have high quality blog content on your site you can create a LinkedIn or Facebook Page to engage with your followers.
You can also use channels such as Instagram or Twitter to talk about your course. Being consistent with your updates is key here.
If you are on the more advanced side, you can even consider using paid advertising (such as Google PPC) to promote your course.
This way you can get sales immediately without having to grow an online following.
7. Create Brand Consistency
It's important to make sure your brand is consistent across all your channels.
You want to make sure your logo is on all of your assets and images so that they are not stolen.
You also want to make sure that your colors and visuals are consistent across LinkedIn, Facebook, Twitter.
These may seem like small things but they impact how your brand is perceived.
You should also be comfortable being the face of the brand and showcase your unique personality through your videos.
Don't try to copy anyone, just be yourself.
8. Underpromise And Overdeliver
One of the easiest way to make your students happy is underpromise but over deliver.
This isn't just in terms of content but also in terms of the overall learning experience.
One thing you might want to do is throw in a free 30 minute consultation only once they have reached the end of the course.
You could also drip feed content to them every week over the course of two months and then include this consultation at the end (only if they have watched every single video or done all the exercises).
This way you get to speak with the most engaged students and provide them personalized guidance without sacrificing too much of your own time.
9. Understand Your Audience
The job isn't done once you have paid students going through your course.
You can optimize your lead generation efforts by using tools such as Google Analytics.
You can also use the Facebook Pixel to retarget any visitors who came to your site but did not choose to purchase your course.
This way you can acquire customers at a much lower cost than if they were a cold audience.
On the course administration end, you can use the online course platform to track where your students get stuck and troubleshoot the issue.
It could be that you aren't going into enough depth on a specific focus area.
This feedback allows you to improve your course content and enhance the overall experience.
10. Find A Platform That Fits Your Budget
The platform you choose should be flexible and fit within your budget.
You should weigh the pros and cons carefully before choosing.
It's best to understand in detail what exactly you need to produce the course before subscribing to a specific platform – this way you don't waste time or money.
11. Don't Be Shy To Reach Out To Customer Support
As is the case with all software, we will eventually face technical issues that are just beyond our pay grade.
In scenarios like this, you shouldn't be shy to reach out to customer support.
Most online course platforms have excellent customer service – you are after all paying a monthly/yearly subscription and can cancel anytime.
It's in their interest to keep you happy so make full use of their suite of services. If you are paying, you want to make your money's worth.
What Are The Most Popular Courses?
If you want to create your own course, it's important to understand the lay of the land.
What are people interested in? What courses would people actually pay for? What are the most popular courses?
Luckily, the Online Course Report has come up with a list of the top 80 highest rated online courses.
If you want inspiration or you want to do some learning yourself, this is one of the best resources online.
1. Ed X– The Science of Everyday Thinking
This course teaches you how to think better, argue better, and choose better. It is the most popular one because it has the broadest appeal and has direct applications in everyday life.
2. Udemy – Landing Page Design & Conversion Rate Optimization
If you are looking to improve your conversion rate on your online courses this is the course to look at it in Udemy. It is the top rated Udemy course amongst all categories.
3. Coursera – Learning How To Learn
I'm a nut for self improvement and if you want to make maximize your learning even after University this is the course for you. This is the highest rated Coursera course with the widest reception due to its broad applicability.
4. Treehouse – Front End Development Tech Degree
The most popular tech course in Treehouse – a platform that focuses on teaching the fundamentals of coding and web design.
5. Udacity – Data Engineer Nanodegree
The most popular course on Udacity – the Data Engineer Nanodegree takes you from being a novice data analyst to building production ready infrastructure in 5 months.
You don't need to compete with these courses to see success but hopefully it gives you a flavor for what courses resonate with students the most.
Some are broad with very general applications whilst others are more focussed with a clear intent of up-skilling in a narrow domain.
The one question you must answer is – what do I want my students to get out of it?

If you can answer this as precisely as possible, you are well on your way to creating a successful course.
Summary
Online courses are one of the best ways of making money online.
In fact in my article 20 Passive Income Ideas That Can Earn $1,500/Month – I show how Vannesa Lau managed to make $76,000/month by selling her Bossgram course.
When choosing your online course platform it's important to understand what your needs are. Ask yourself:
What is my monthly budget?
What marketing features do I want?
How much time do I have to produce this?
What equipment do I need to produce quality content?
A course platform is important.
But it's not the be all and end all.
In the end, it comes down to you.

You will need to find a subject and topic that resonates with your target audience. You will need to marry this with what you are passionate about as well. You also need to consider where your expertise is based on your experience.
I'd be joking if I said this was easy. But it definitely will be worth the effort.
So why not get started? Let me know in the comments what platform you ended up choosing.