TLDR: Wix is the best ecommerce platform overall. Founded in 2006, they now make around $1 billion in revenue a year. They also have over 180 million users on their platform and are continuously adding new features. Their website builder is intuitive to use and second to none.
If you've ever typed "Shopify Dropshipping" on YouTube you've probably heard gurus talking about how they made $10,000 in a single month with ecommerce.
It sounds scammy but the truth is – there really is money to be made in ecommerce. I was able to make an $800/day store after 6 months of studying the model.
Let's look at some facts.
In the past, it was difficult to start an ecommerce store.
Back in 2010, you had to be an expert in systems and database administration to get your store up and running.
Now there are so many ecommerce platforms that the real challenge becomes selecting which one is right for you.
In truth, there isn't really a best ecommerce platform – only one that fits your needs best.
For example, if you are already an established company with a physical presence then BigCommerce may be your best bet.
However, If you are starting out and just want to dip your feet in the water then Wix will be your go to solution.
Disclaimer: I may receive affiliate compensation for some of the links below. This is at no extra cost to you – you will be simply helping me put out more helpful content. Rest assured that I stand by recommendations and having run multiple ecommerce stores in the past, they are based on my personal experience with the platforms. You can read our full affiliate disclosure here in our privacy policy.
What are Ecommerce Platforms?
Ecommerce platforms are software as a service tools that help people build online stores to sell products.
In the past, it was difficult to set up your own storefront – you would have to buy on-premise, physically located, specialist hardware and software to set up your store and then manually link to payment providers.
Thanks to advances in technology, it is now possible to set up your own store without any technical or coding knowledge.
Most modern solutions feature what you see is what you get (WYSIWYG) editors and it's possible to spin up a storefront in less than a day.
These ecommerce platforms allow you to automatically integrate with leading payment providers, manage product listings and SKUs, design the storefront and communicate with your customers.
They give you the flexibility to add your own products, manage orders and track inventory from a single dashboard. Some even have developer ecosystems where you can add third party apps.
What Are The Best Ecommerce Platforms?
To determine the best ecommerce platforms, I've examined each platform based on the following characteristics:
Third party ecosystem support
Server stability
Ease of use
Integrations with payment providers
Pricing
Website design template quality
Fulfilment logistics
Post purchase customer management
Pre purchase customer engagement
Without further ado, here are my top picks for the best ecommerce platforms to try this year:
1. Wix – Best Overall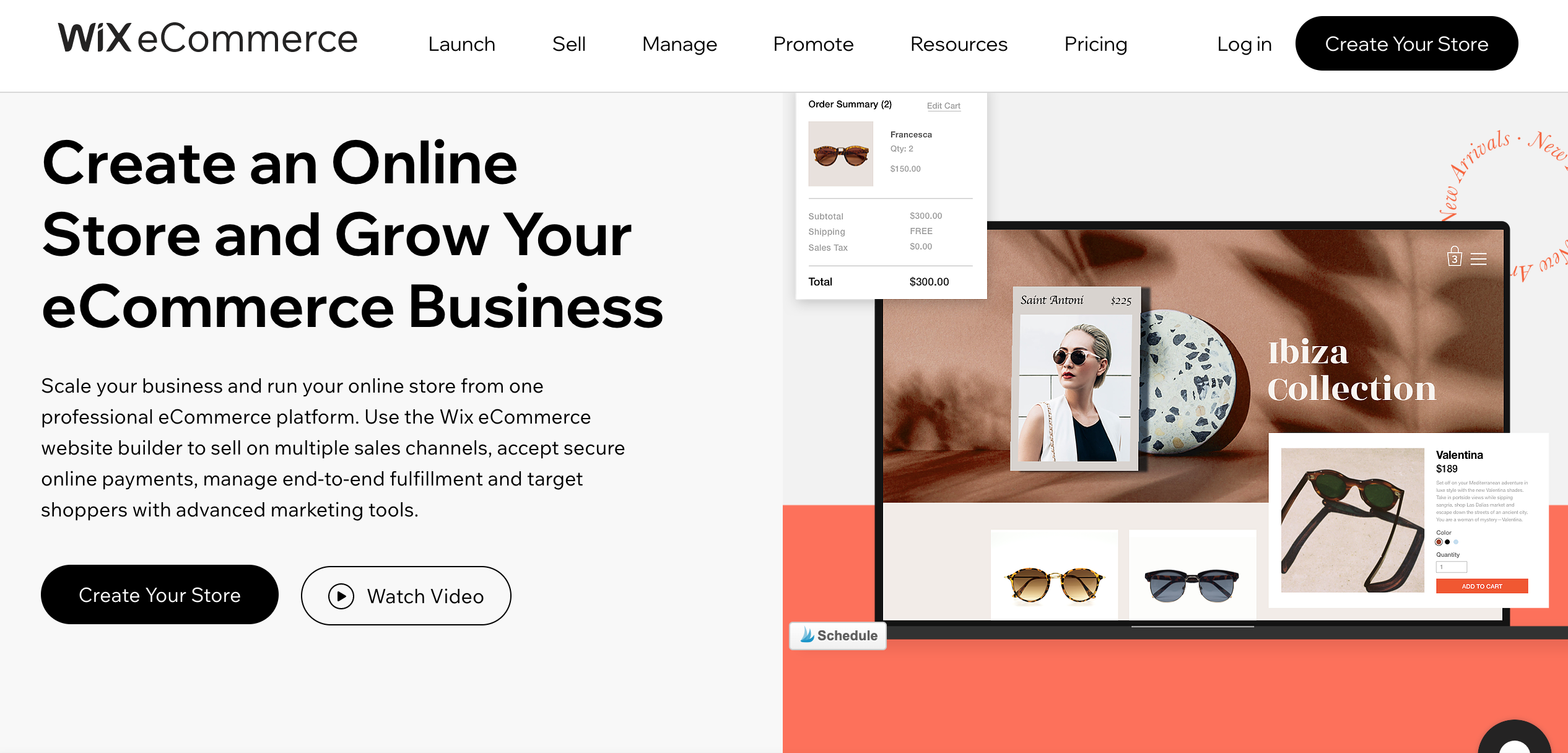 Wix is more commonly known as a very user friendly and more importantly free website builder that allows you to add up an ecommerce store by paying an extra $23/month on cheapest package.
Wix is at the top of the list because of how quickly you can get a site up and running with their designer made templates and library of stock photography.
With an intuitive drag and drop editor, it is easy to create a good looking and attractive website.
Beyond the graphics, Wix automatically makes your site compatible for mobile (currently 73% of ecommerce traffic).
Your website is automatically optimized to fit the user's screen whether it is on iPhone or Android.
With Wix, you don't need to have any knowledge of Javascript, HTML or CSS.
You don't even need to worry about the technical setup of the website since that is all done in the backend for you.
For those who want something reasonably priced and well designed – you can't go wrong with Wix.
Key Features
500+ professional templates
Extensive media library of stock photos
Automatic mobile optimization
Connect to fulfilment services via API
Multichannel selling (Facebook, Instagram ect.)
Pros
Blog platform allows you to engage audience whilst selling to them
Extremely user friendly interface
Custom domain name
Automated tax calculation based on region
Hassle free integration with 40+ secure payment gateways
Can set discount coupon rates for certain products
Cons
Not as customizable as other platforms due to push for simplicity
Pricing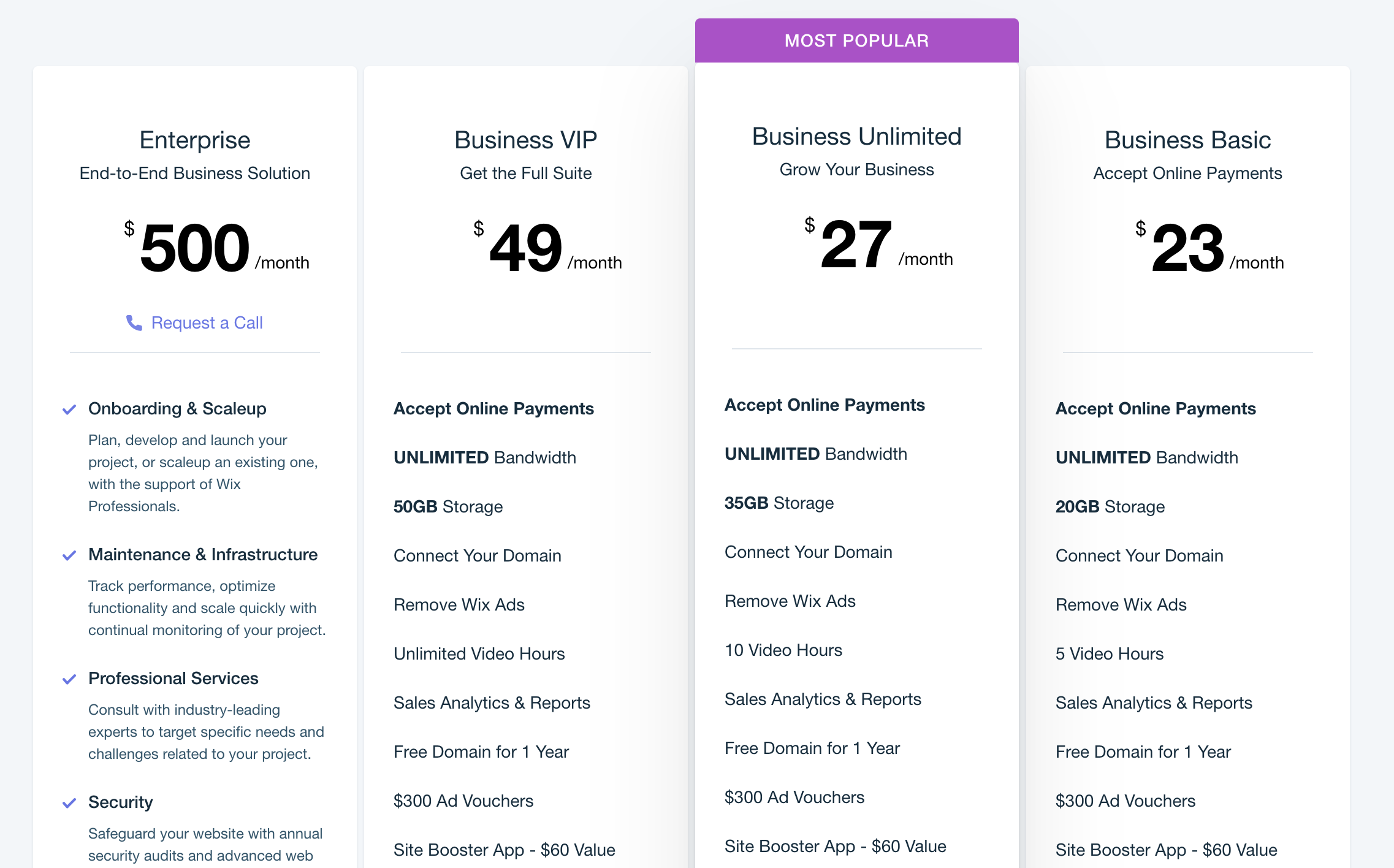 Wix offers four pricing tiers:
Business Basic: $23/month. Provides unlimited bandwidth, 20GB of storage and $300 of ad vouchers.
Business Unlimited: $27/month. Everything in basic but you get to use their professional logo maker and extra backend features such as automated sales tax and currency conversions.
Business VIP: $49/month. At this level you get priority support and 50GB of storage.
Enterprise: $500/month. This is for those who already have an established online brand and want bespoke services such as consulting with experts on specific needs. At this tier, you get a dedicated account manager to oversee your account.
2. BigCommerce – Best for Large Businesses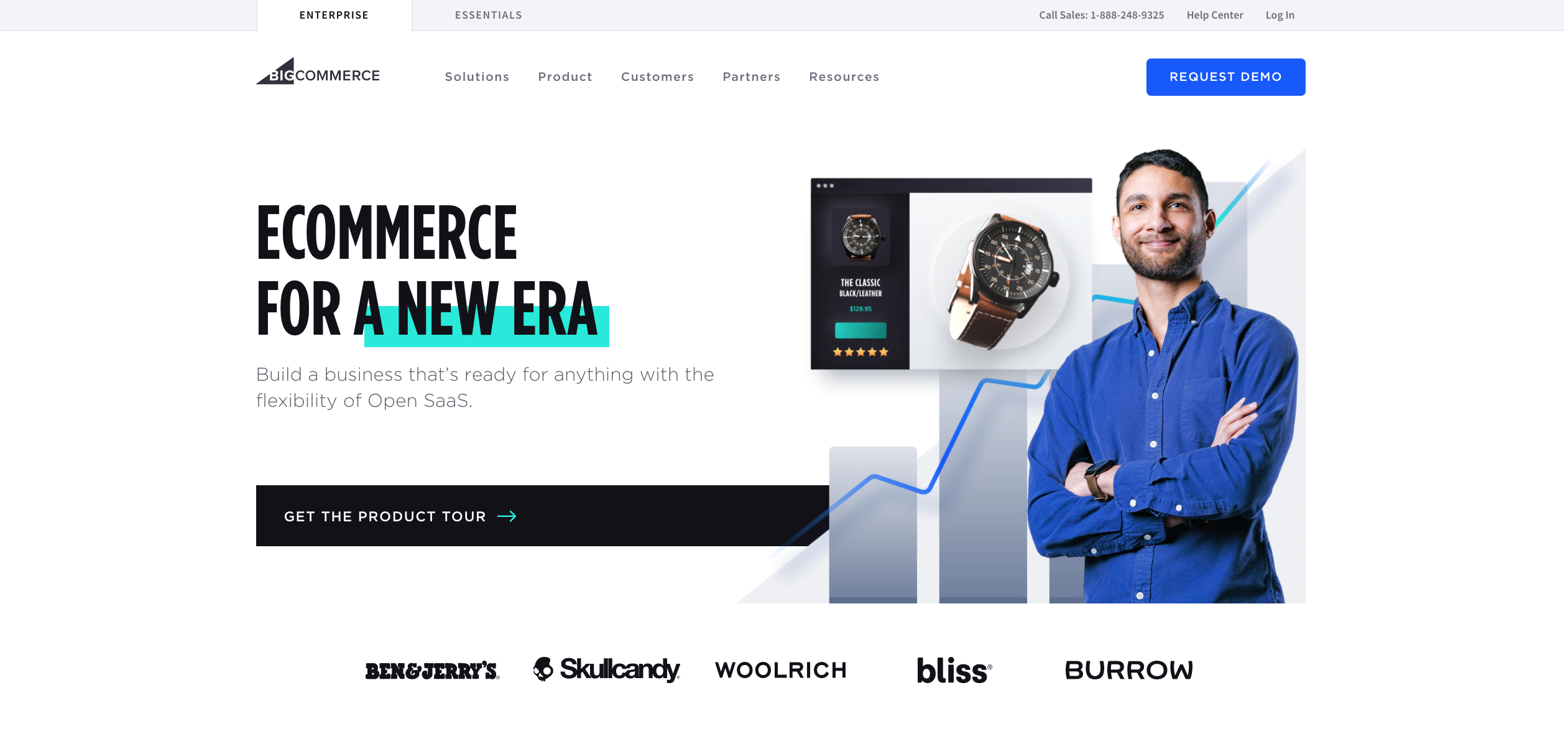 BigCommerce is a SaaS ecommerce platform that is best for established brands.
Large companies such as Ben & Jerry's and Skullcandy have put their faith and trust in the platform and for a good reason. BigCommerce has been built for scaling.
If there is one defining feature of BigCommerce it's that it charges no transaction fees for leading payment gateways.
I've yet to find another platform which offers something like this.
Business owners looking to start online typically go with more popular solutions such as Shopify only to realise that later down the line they need to pay more for extra add-ons as they scale.
With BigCommerce's open partner ecosystem it is much cheaper to add specific functionality to your website.
For example, their custom API allows for much faster page load speed on WordPress backed websites. Compared with other solutions such as WooCommerce, this difference in load time is substantial.
Getting every ounce of page speed is especially important for ecommerce as slow loading times are guaranteed to lower your conversion rates.
On the enterprise plan, you even get industry specific solutions such as apparel & fashion, manufacturing, automotive, health & beauty, food & beverage to name a few.
You get access to your own consultant who advises you on UI best practices related to your specific industry.
Key Features
Multi use case storefronts
Expert consultants to advise you on storefront design
Free trial
Simplified inventory management
Fulfil across different channels through API integrations (Amazon, eBay, Google Shopping, Instagram)
Pros
Proven solution that can grow with your business
Flexible, open SaaS architecture
Websites optimized for fast page load
Unified backend with third party apps
Global omni-channel commerce
Provides everything you need out of the box
Cons
On lower pricing tiers, support is not as responsive
Pricing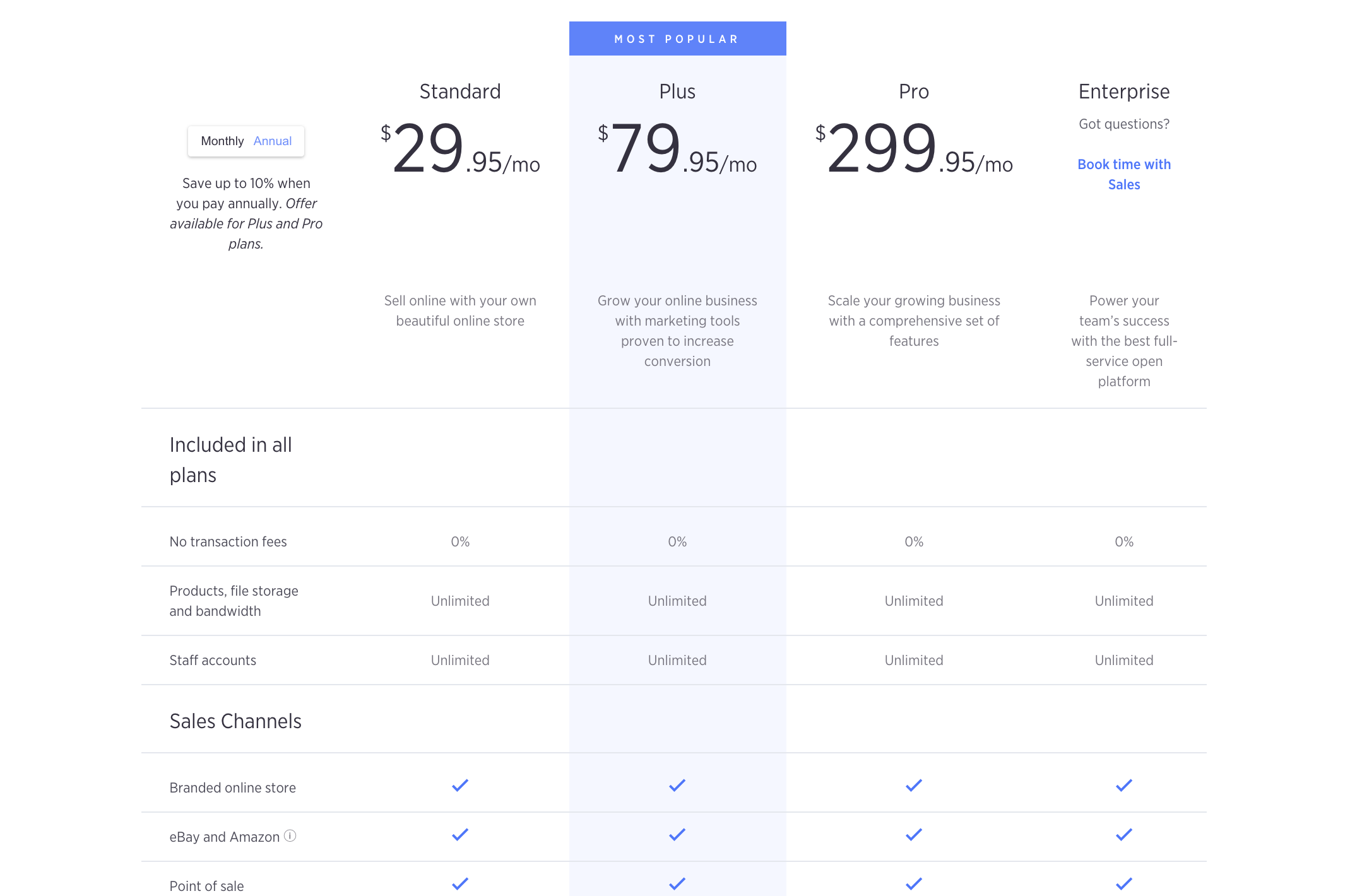 There are 4 different pricing tiers for BigCommerce. Even though they have no free tiers, the great thing is that there are no transaction fees across all plans – this makes it great for merchants with high volume.
Their Standard package is priced at $29.95/month paid annually and you get unlimited products and staff accounts.
Upgrading to their popular Plus package for $79.95/month unlocks extra features such as customer segmentation.
Their Pro package is best for growth stage companies and is priced at $299.95/month. This unlocks features such as custom SSL and Google customer reviews.
Finally, their Enterprise plan is best for established companies with revenues greater than $400,000 a year.
You would need to contact them for a quote but you get unlimited API calls and can advanced product filtering.
3. Shopify – Best For Dropshipping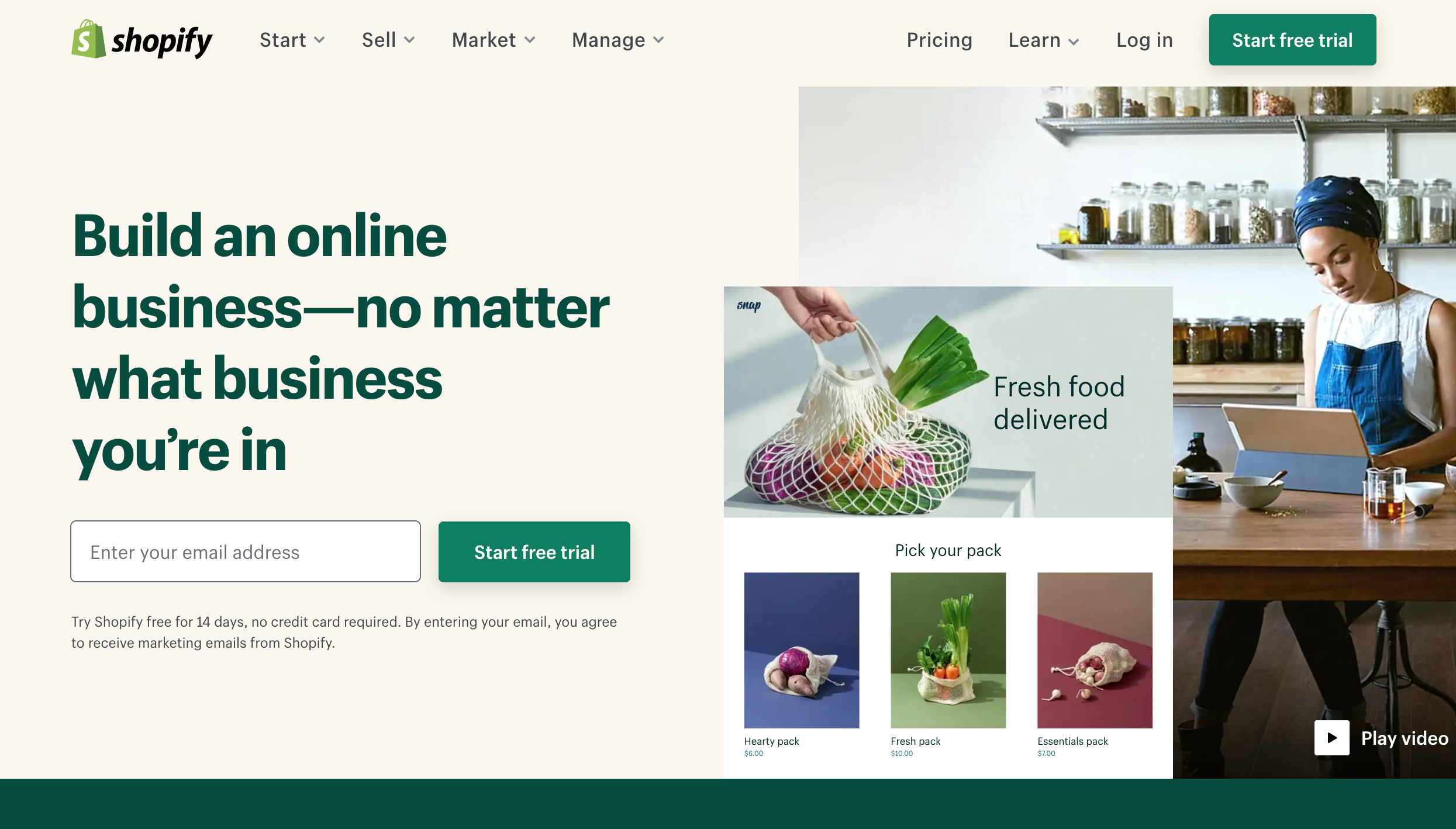 Shopify is probably the best known ecommerce platform but I've put it as #3 for two reasons.
It is difficult to do proper on-site SEO because you are forced into using suboptimal URL's for your site. For example, you cannot use www.myshop.com/glass you need to use www.myshop.com/category/glass. This is not ideal for search engines.
You are limited to 100 variants per product category – I've experienced this myself and I had to create a separate product for the other 50 variants. There are workarounds for this, but I'd much rather prefer a native solution.
Having said that, there is a reason why it is so popular – their platform is extremely user friendly and they have the most extensive ecosystem of third party apps.
If you are interested in the dropshipping model, Shopify is the best platform.
Many dropship site setup tutorials are centered around Shopify so it is very easy to get up and running with the platform even if you are a newbie. I've found their support to be very helpful and they have phone, email and live chat options as well.
Shopify earned $1.58B in revenue in 2019 and with 400,000 merchants
There is a very strong ecosystem of support and resources. If you are interested in setting up an online shop quickly, Shopify have nailed it down to a tee.
Key Features
Unlimited bandwidth
Excellent customer support
Automated fulfilment with 3rd party apps
Integrations with social networking sites such as Facebook
Dedicated expert support network
Pros
Very easy to set up a site
Extensive library of themes to choose from
Many video tutorials on how to set up sites
Can add third party payment providers via API
Easy domain setup
99.9% uptime
Cons
Limited to 100 product variants
URL structure not optimal for search engines
Pricing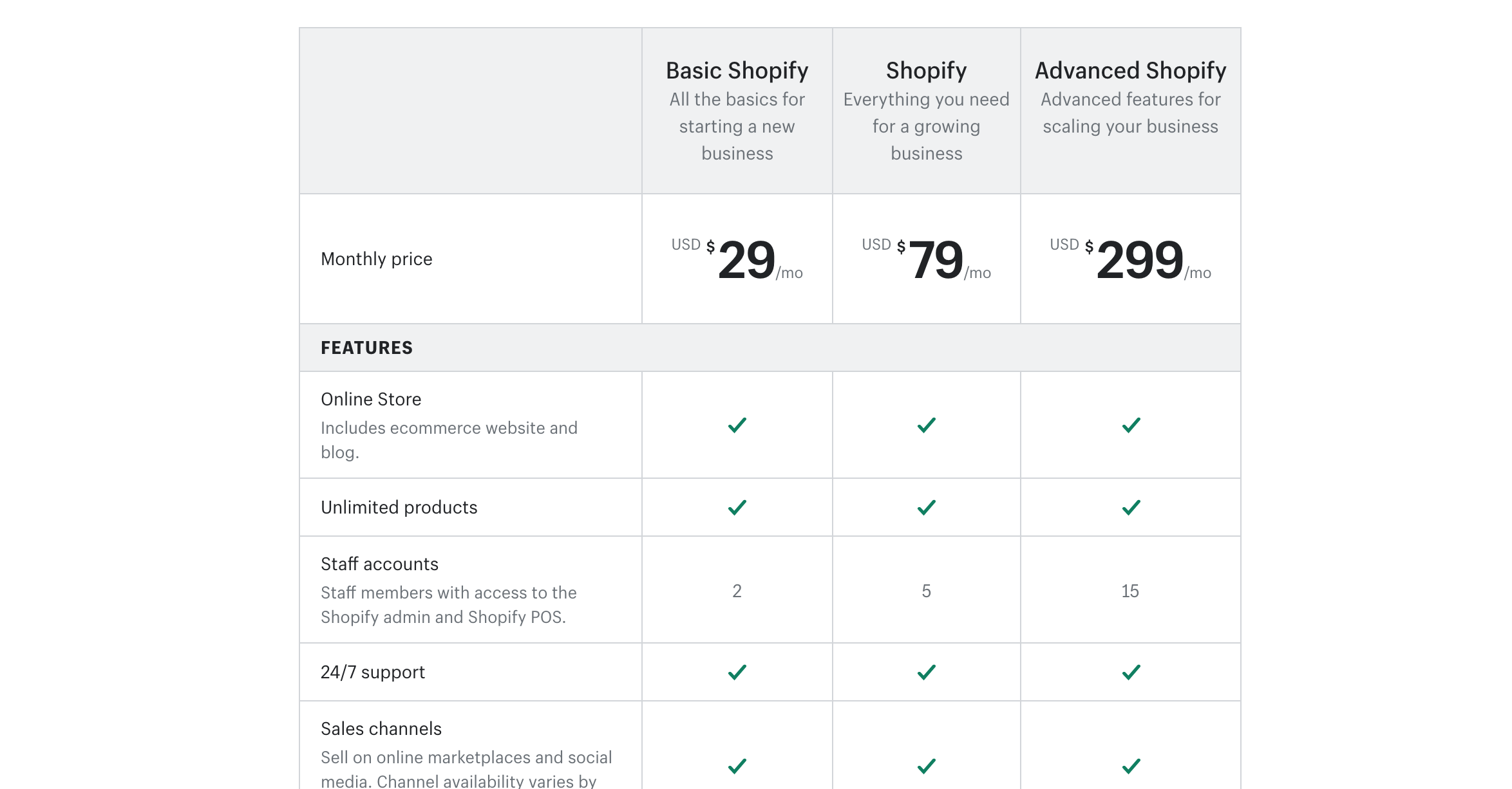 Shopify prices range from $29/month to $299/month. Each level provides you with more staff accounts and reduced payment fees.
On the Basic Shopify plan, it is 2.9% + 30¢.
On the Shopify plan, it is 2.6% + 30¢.
On the Advance Shopify plan it is 2.4% + 30¢.
So if you are doing high volume then definitely consider the higher end plans – you might end up saving more money. They also have an enterprise offering called Shopify Plus – though you will need to contact them for a custom quote.
4. Ecwid – Best For One Product Store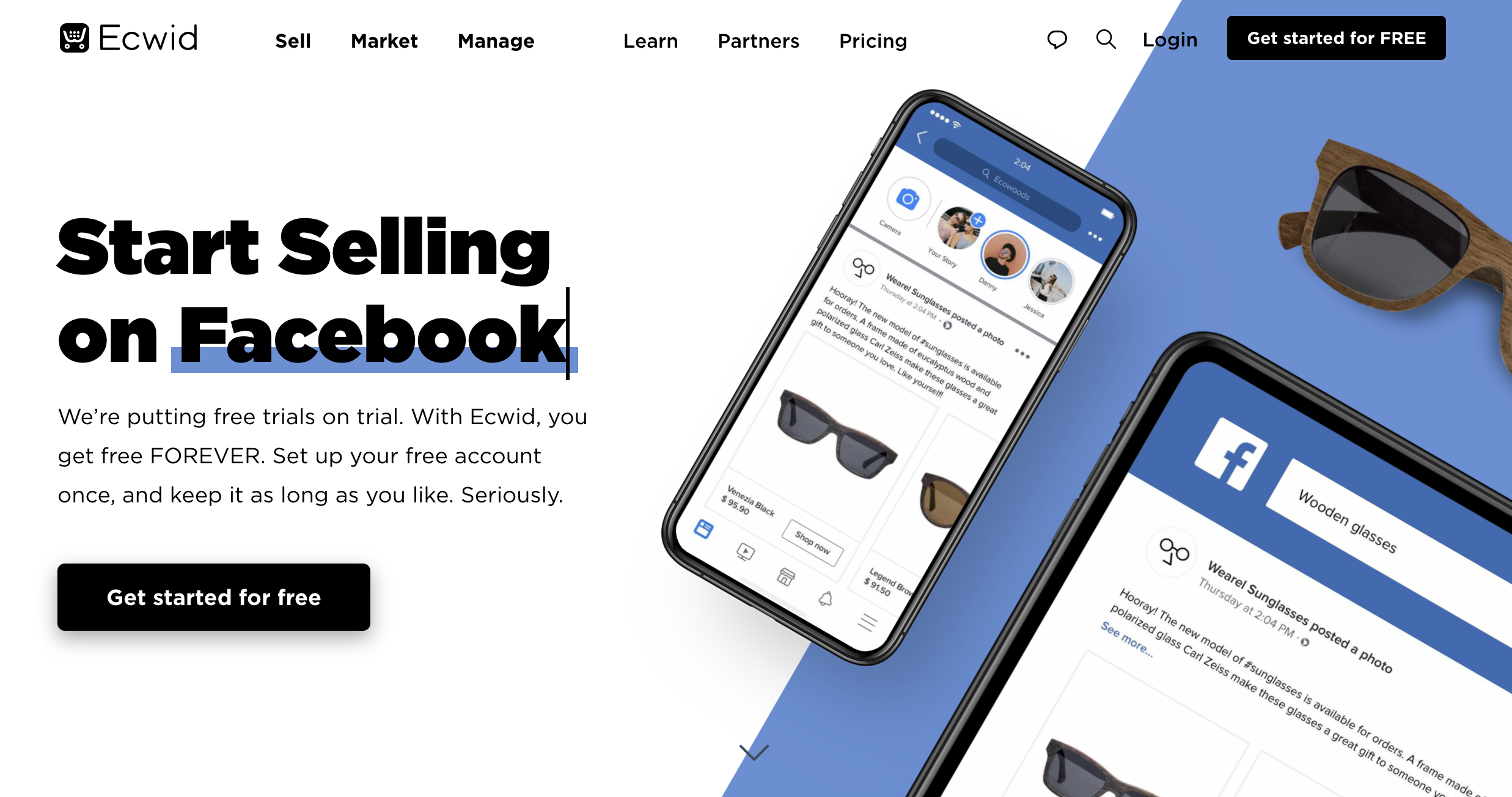 Ecwid is near the top of the list because they have a forever free plan which allows you to have a maximum of 10 products.
Even though this free plan doesn't have the usual bells and whistles such as support, discount coupon generation and inventory tracking, it's a great way to dip your feet in the water at no cost.
If you are thinking of starting a single product store then consider Ecwid. They have a large fanbase of 1.6 million and were even touted as the "fastest ecommerce platform" by G2.
It's great if you have an existing website but are looking to add some ecommerce functionality to it.
Ecwid integrates with multiple platforms social and ecommece websites such as Instagram, Facebook, eBay and Amazon so you can reach a broad audience of buyers from one platform on a unified dashboard.
Ecwid also has integrations with popular content management systems (CMS) such as Drupal, Joomla and WordPress.
Key Features
Manage advertisements in dashboard (e.g. Google and Facebook)
Easily brand storefront
Integrations with many third party apps
Mobile app to monitor website on the go
Supports 50 languages
Works with 40+ payment gateways
Pros
Forever free plan
Installs in just minutes
No need to worry about technical details (SSL, server configuration and hosting)
Smart shipping calculator
Sell digital goods as easily as physical goods
Cons
No stand-alone store builder
POS functionality is only available on most expensive plan
Pricing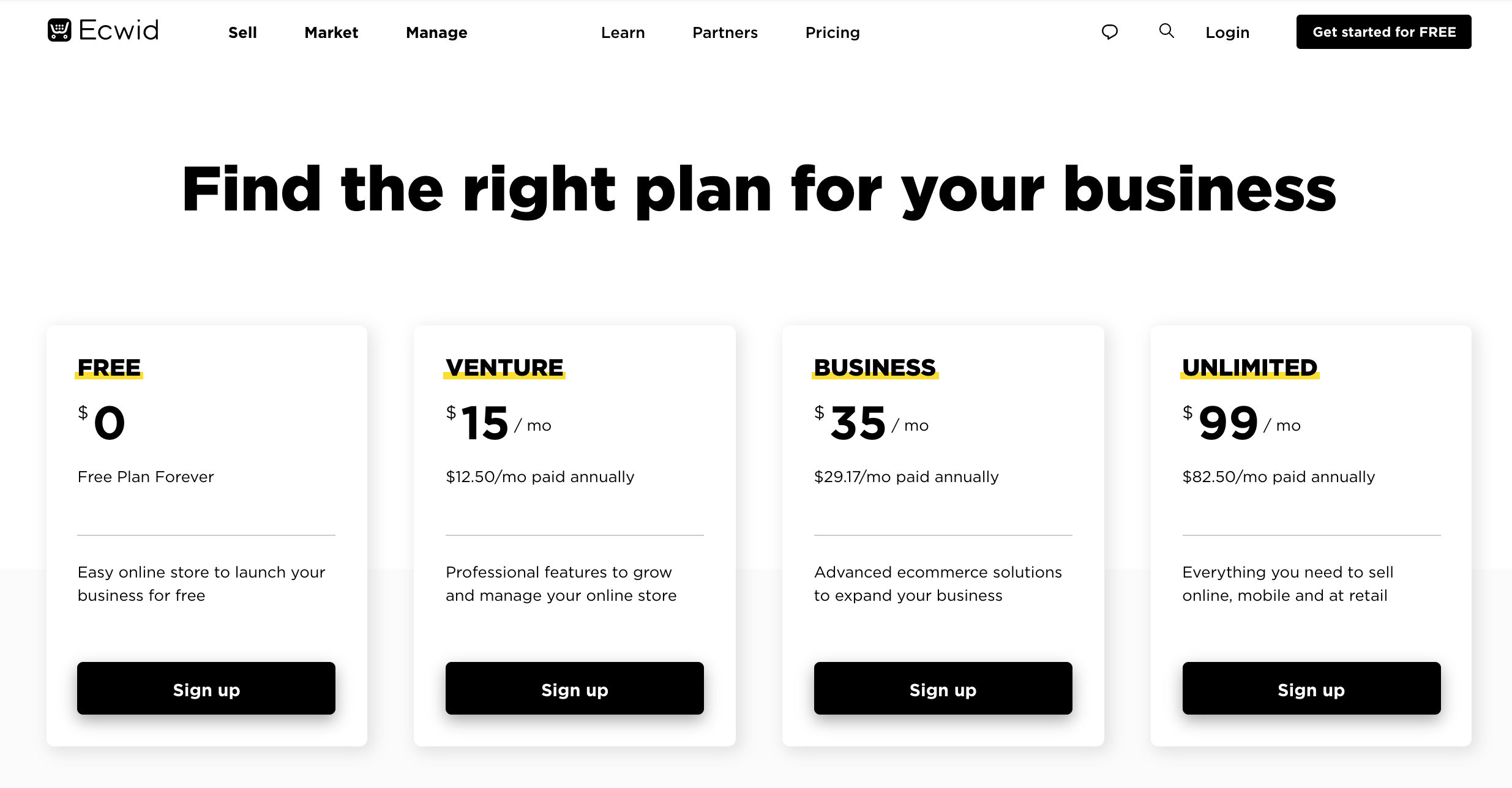 Ecwid has four different plans (each paid annually):
Free: Great for beginners who want to set up a one product store.
Venture: $15/month. On this plan you get Facebook Messenger live chat integrations as well as advanced SEO tools and inventory tracking.
Business: $35/month. If you are already profitable this is the plan for you then pick this, you have abandoned cart emails as well as staff accounts for VA's if you are looking to outsource.

Unlimited: $99/month. Great if you are established – you get priority support and free customization.
5. Zyro – Best for Multi-Channel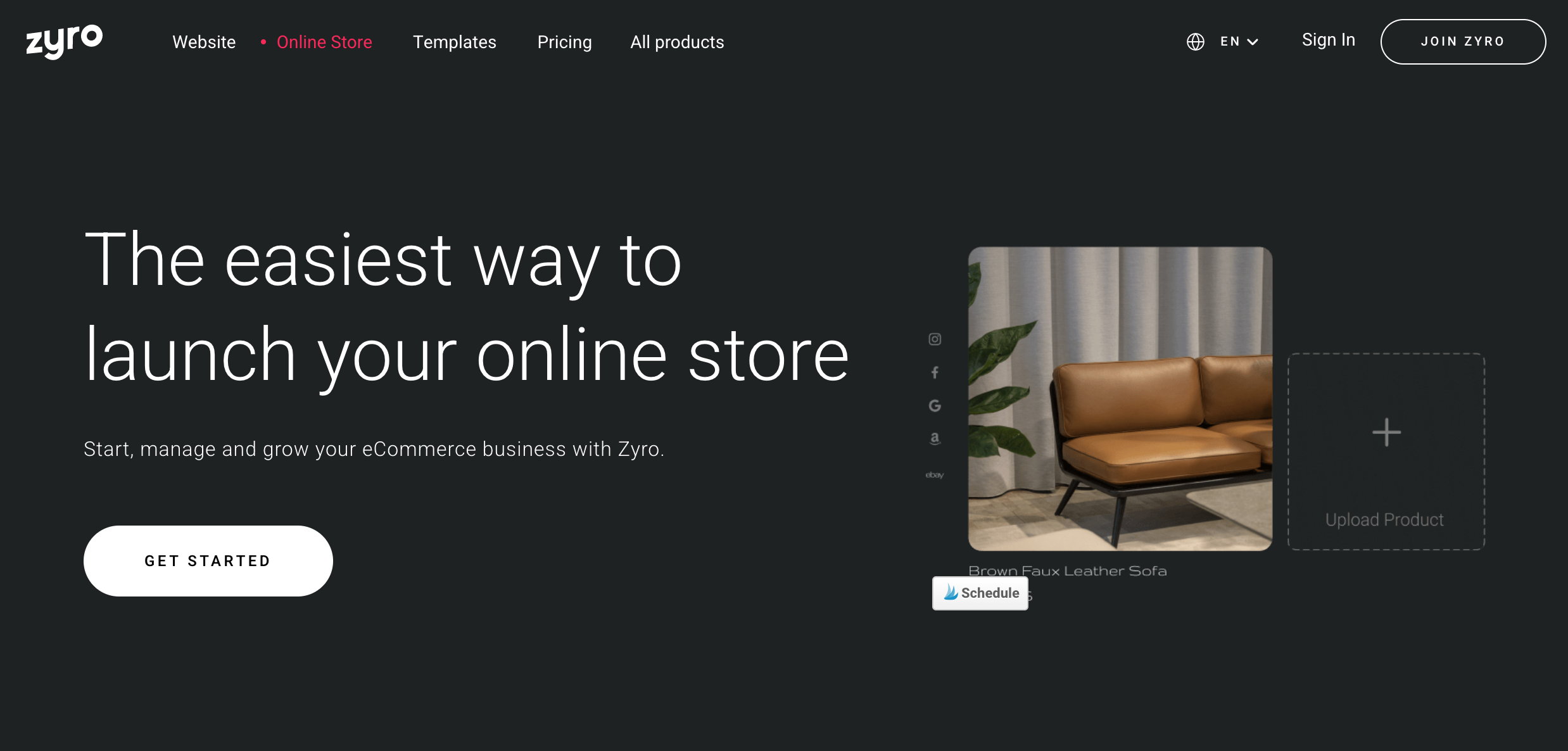 Zyro is one of the newer solutions out on the market. Launched in 2020, they branched out from a simple static website builder to add ecommerce functionality.
They are high on the list because of their intuitive user interface.
They have a code free drag and drop editor that allows you to set up a website in under an hour.
Even though they are new to the scene, there are already over 68 ecommerce themes to select from.
Similar to Ecwid, with Zyro you can also sell across multiple channels (e.g. Facebook, Instagram and Amazon).
You can easily manage and track inventory and use multiple payment options. Zyro even has automated tools to streamline paperwork and logistics.
Additionally, you have the option of using discount coupons to entice potential customers as well as issue gift cards.
Key Features
Sell across multiple channels
Automatic mobile compatibility
Manage and track inventory
Easy shipping and delivery
Email notifications
Paperwork done for you
Pros
Use templates to speed up storefront setup
Grid based layout builder
AI writer to help populate content
Integrations with stock photo sites such as Unsplash
Free SSL
Competitive pricing
Cons
Difficult to build more complex sites
Support not responsive
Ecommerce features only available on higher priced plans
Pricing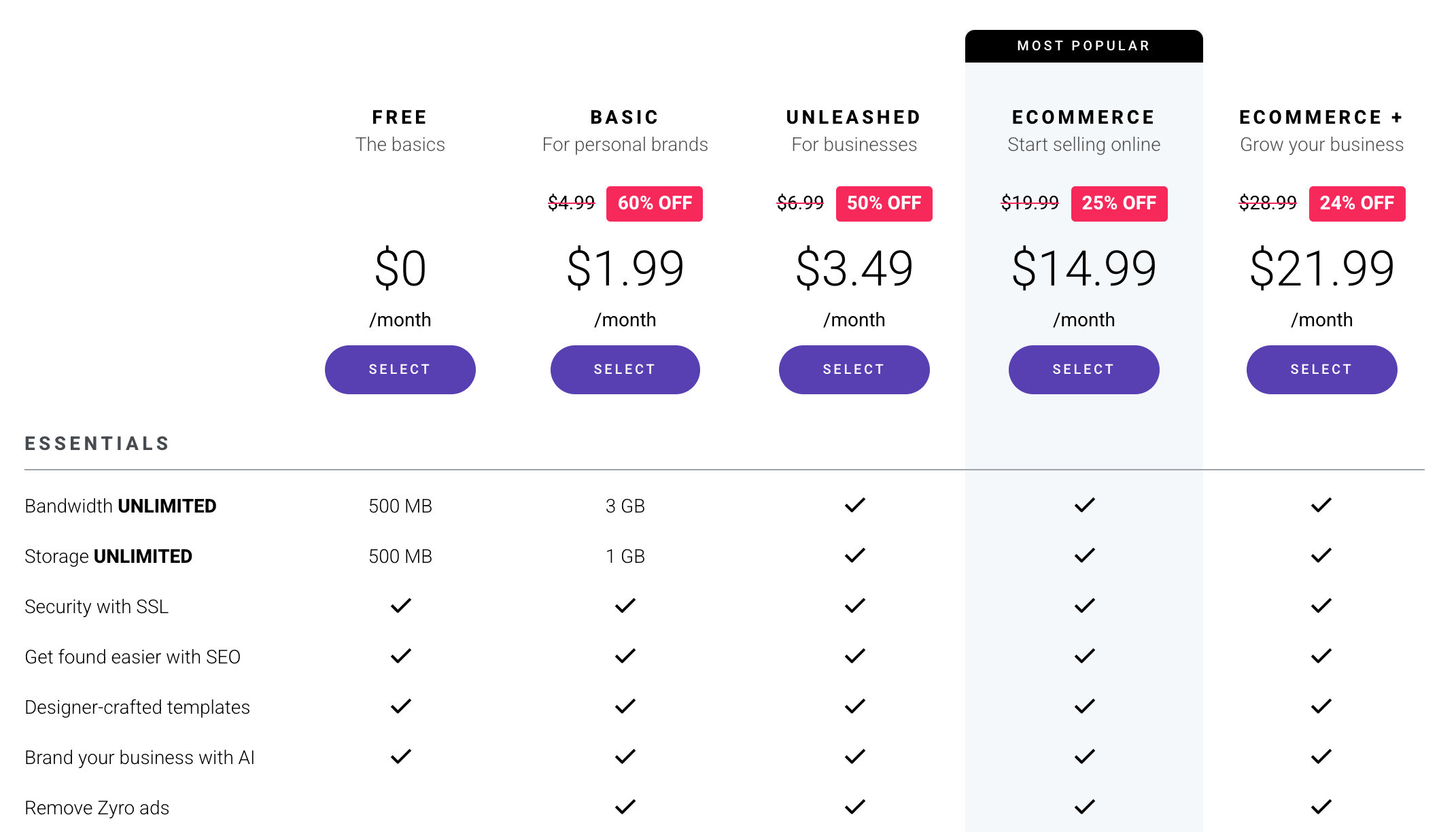 Zyro has five different tiers – Free, Basic, Unleashed, Ecommerce and Ecommerce+. They are priced at $0, $1.99, $3.49, $14.99, $21.99/month respectively.
Unfortunately, for the ecommerce plans only start at $14.99/month. Having said that their prices are much more competitive than other platforms such as Shopify and BigCommerce.
6. Selz – Best for Social Marketing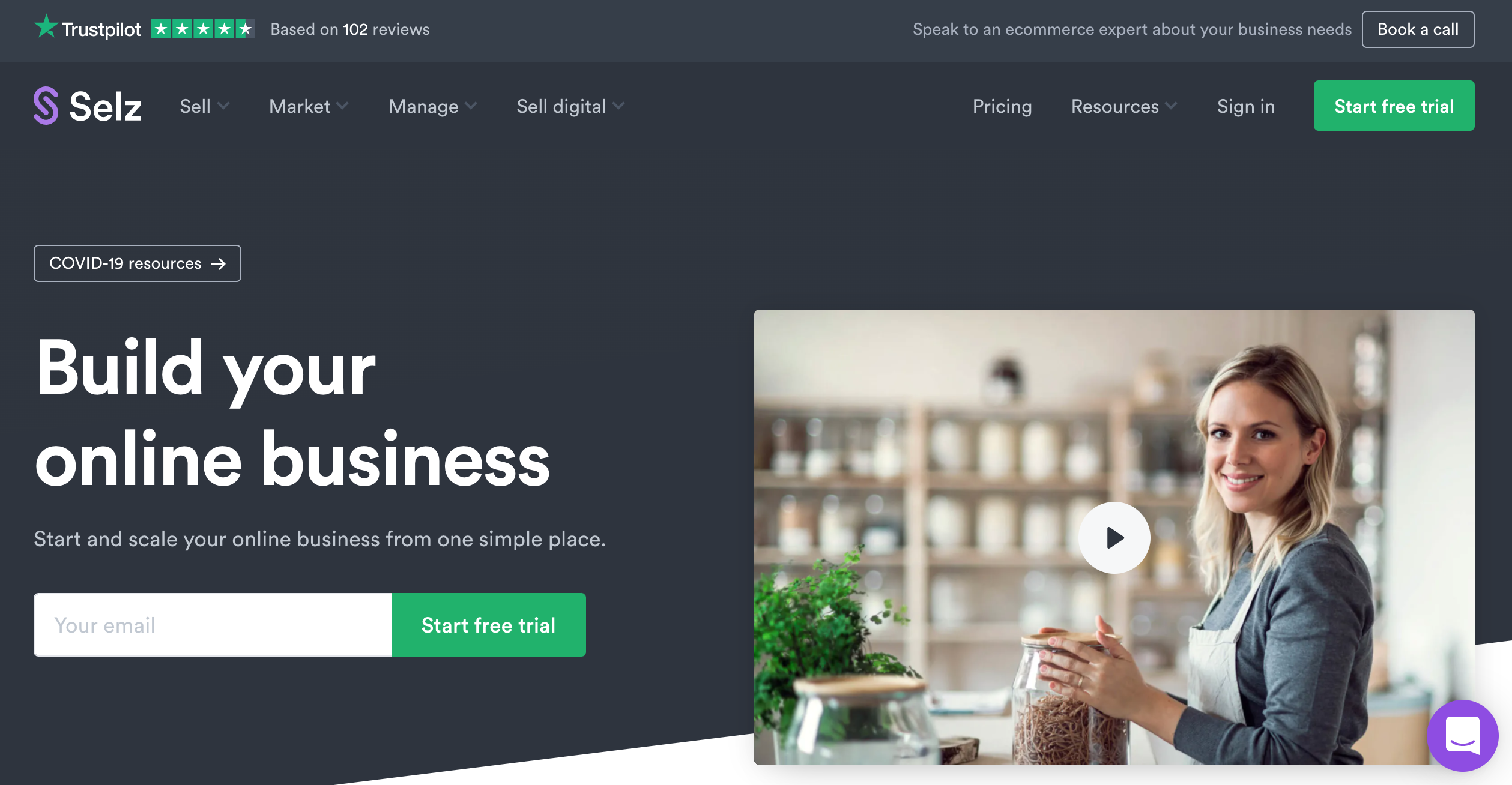 Selz is a multichannel ecommerce SaaS platform that allows you to manage marketing from a single dashboard.
You can run Google and Bing PPC ads as well as Facebook ads without logging in to separate portals. This makes it ideal for those who are using social channels to get acquire and convert traffic.
They provide the standard features common in most platforms – unlimited storage and bandwidth, discount codes, customer analytics.
With third party integrations, you can even add functionality that is non-native to the platform.
One of the great features of Selz is that their backend allows you to embed ecommerce functionality in any website.
It allows you to add widgets, buttons and products into your existing website. This means you don't need to start the site entirely from scratch – just integrate Selz into your current site, add products and begin selling.
Key Features
Integrate ecommerce into any website
Multi-channel marketing
Seamless inventory management
Shipping integrations with major carriers
24/7 phone and chat support
Pros
No need to set up a new website to sell products
Account manager on every pricing plan
Video tutorials for easy onboarding
Facebook, Instagram, Google Shopping, Square integration for all plans
Unlimited products
Cons
On the pricier end compared to other solutions
Not as scalable compared to other platforms such as BigCommerce
Pricing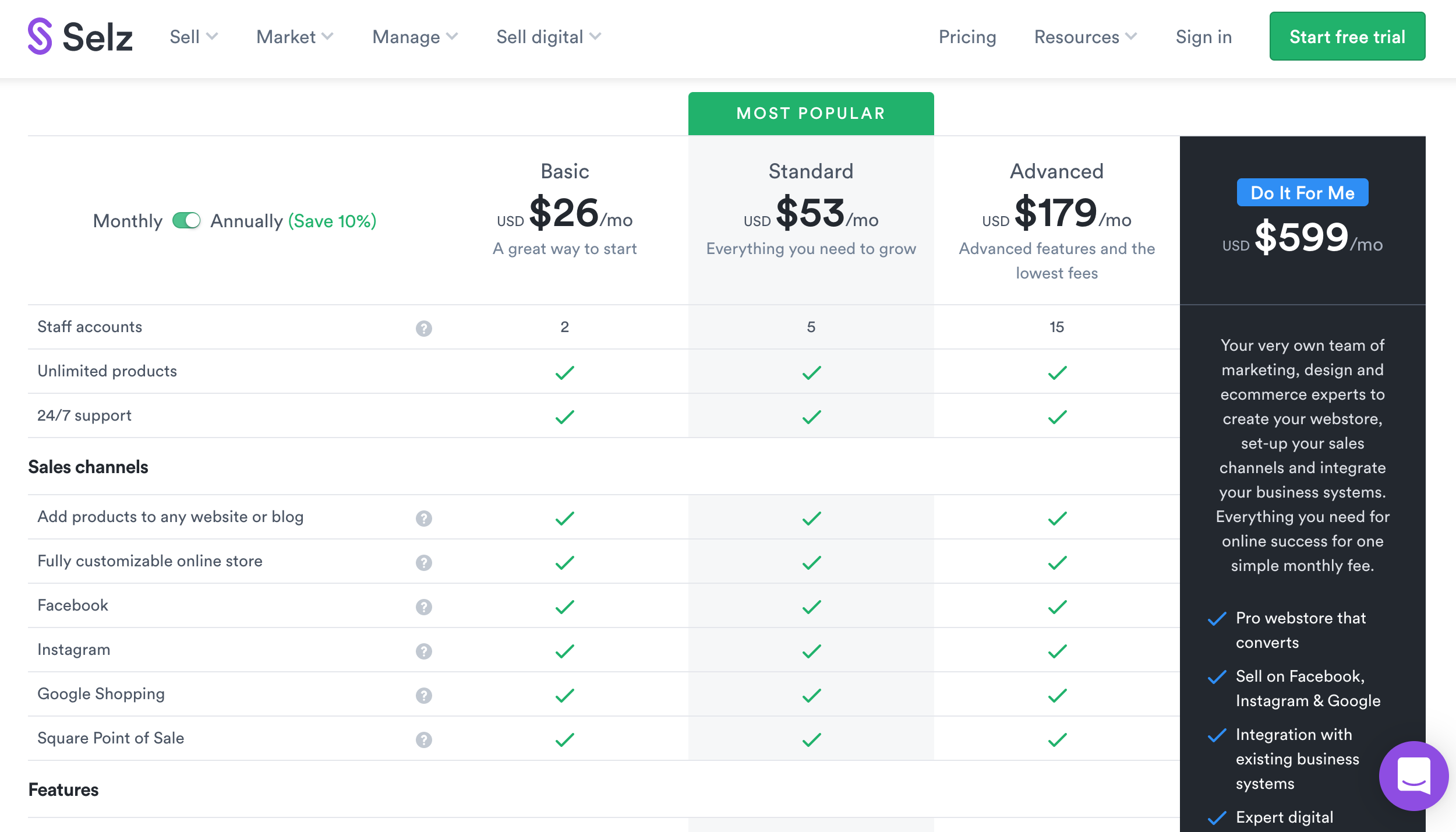 Selz offers four different pricing plans, each paid annually:
Basic: Starts at $26/month. At this level, you get 2 staff accounts and abandoned cart autoresponders.
Standard: $53/month – this provides higher levels of automation with tax invoicing and custom receipts.
Advanced: $179/month. Choose this plan if you want the best support possible and extra features such as real-time shipping rates.
Do It For Me: $599/month. If you want to outsource your store design, this is the plan for you. You get your own team of design, marketing and ecommerce experts to set up your store and integrate your business systems.
7. 3dCart – Best for SEO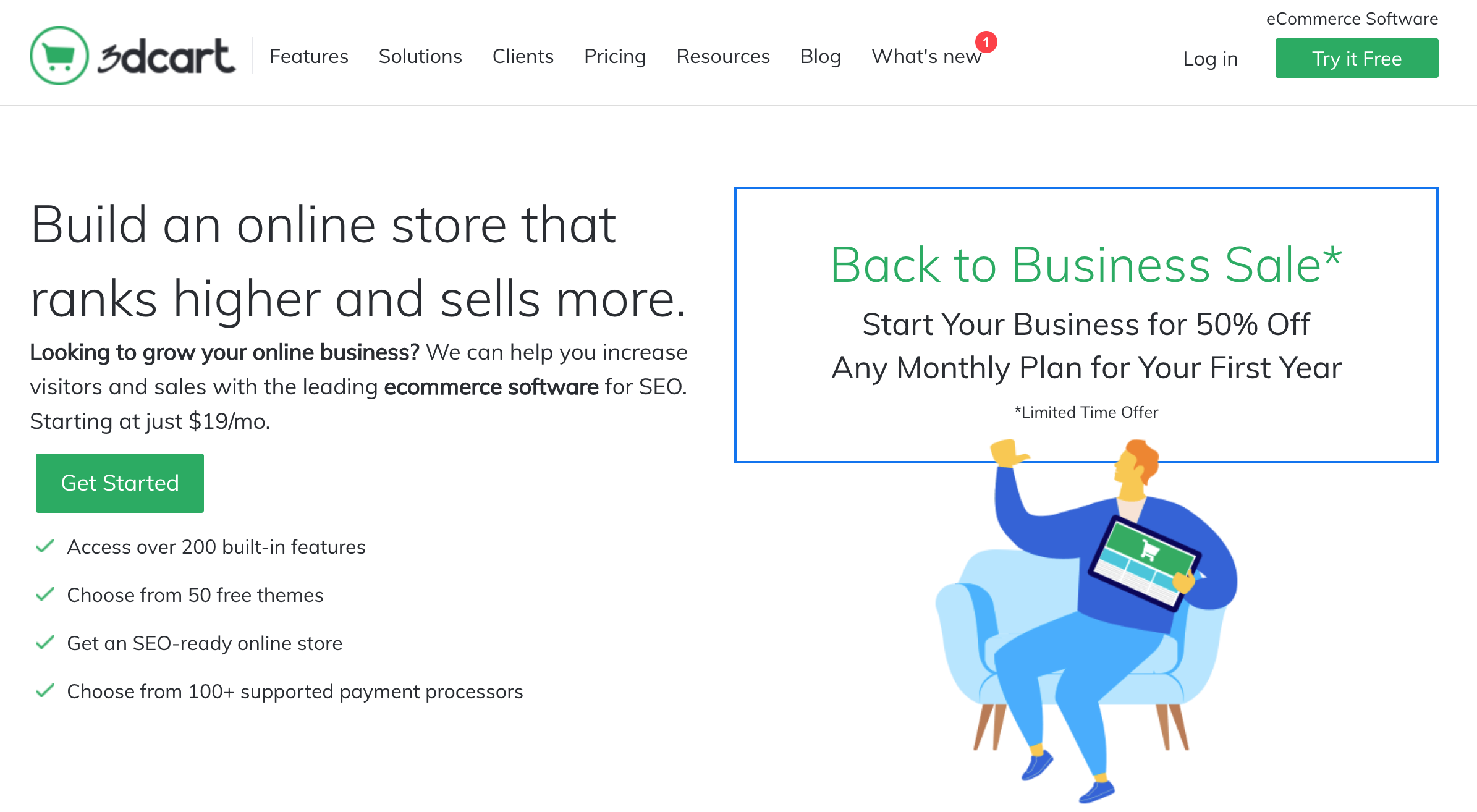 3DCart differentiates itself from the pack through it's fantastic SEO features.
Canonical URLs, customizable alt tags, control of Robot.txt, dynamic XML sitemap generation, 301 redirects, 404 autodetects, editable page titles, meta tags and H1 headings allow you to boost site visibility for search engines.
Aside from great SEO, it has integrations with over 200 payment processors and 50 plus free themes.
3DCart also has a very flexible page builder which is appropriate for industries such as apparel, furniture, books, hardware and non-profits to name a few.
The core themes of 3dCart use responsive design so that the storefronts are compatible with mobile right off the bat.
Code is also automatically optimized to ensure that important page elements load first – this means your customers don't have to wait.
Key Features
Easily view, edit and save carts
Variety of checkout pages – one page or three pages
Guest checkouts
Customer accounts
200+ payment partners
Easy ecommerce sales tax setup
Pros
Page design conventions that are favoured by Google
Free domain registration
Unlimited bandwidth
Blog built into platform
Dynamic shipping rates
No transaction fees
Cons
Paid templates can be pricey (>$149)
Need to be technical to customize features
Pricing

3DCart offers 5 different pricing tiers between $17.10 and $206.10/month paid annually.
All plans feature API access, Facebook Store integration, and zero transaction fees. They are also supported by a 30 day money back guarantee if you are not satisfied with the product.
8. WooCommerce – Most Customizable & Free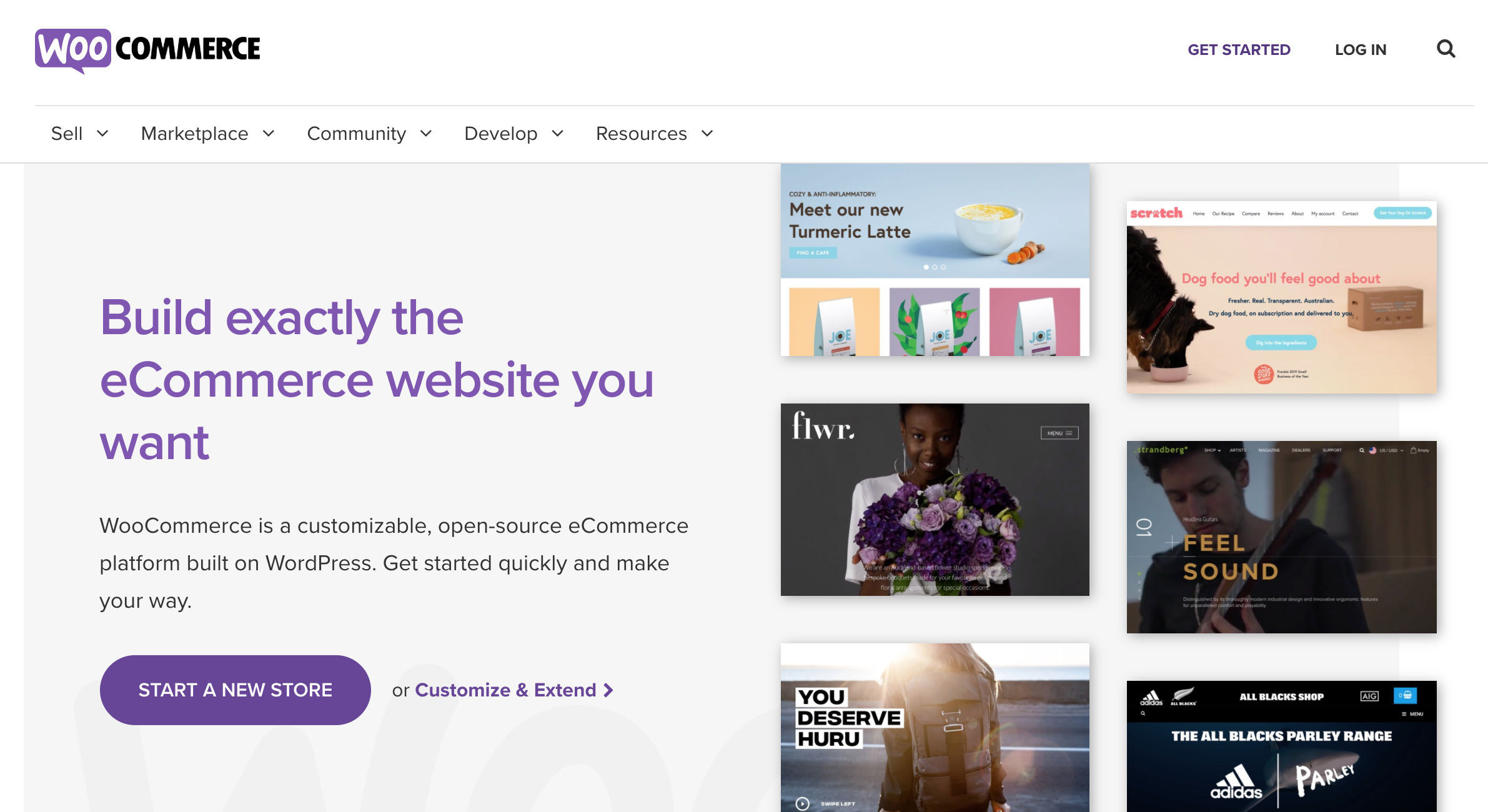 If you like tinkering with details and want a highly customizable store – WooCommerce is the right solution for you.
WooCommerce is one of the most popular ecommerce plugins for WordPress with over 74 million downloads and powering 25% of all online stores worldwide.
The reason for its popularity? It is completely free.
Developed in 2011, WooCommerce manages to leverage the inbuilt SEO capabilities of WordPress and combine it with an online storefront.
You get the best of both worlds – great SEO and high customizability.
Unfortunately, it is lower down on the list because of its scalability – as you get more traffic to your site, your page speed load time will increase.
If you have multiple plugins this problem is exacerbated.
If you are on WordPress and are not strapped for cash, I would opt for BigCommerce instead as it works via an API and ensures that your WordPress code base is not bloated.
Key Features
Integrations with software such as MailChimp, JetPack, TaxJar and Facebook
Compatible with any device
Multi language customer support
Safe and secure payment
Save up to 90% on USPS shipping
Pros
Highly customizable
Large open source community for support
WordPress is one of the best platforms for SEO
Easily sell both physical and digital products
Cons
Not scalable
Need to be technical to customize and best use platform
Pricing
WooCommerce is completely free.
9. Shopbase – Best for Print On Demand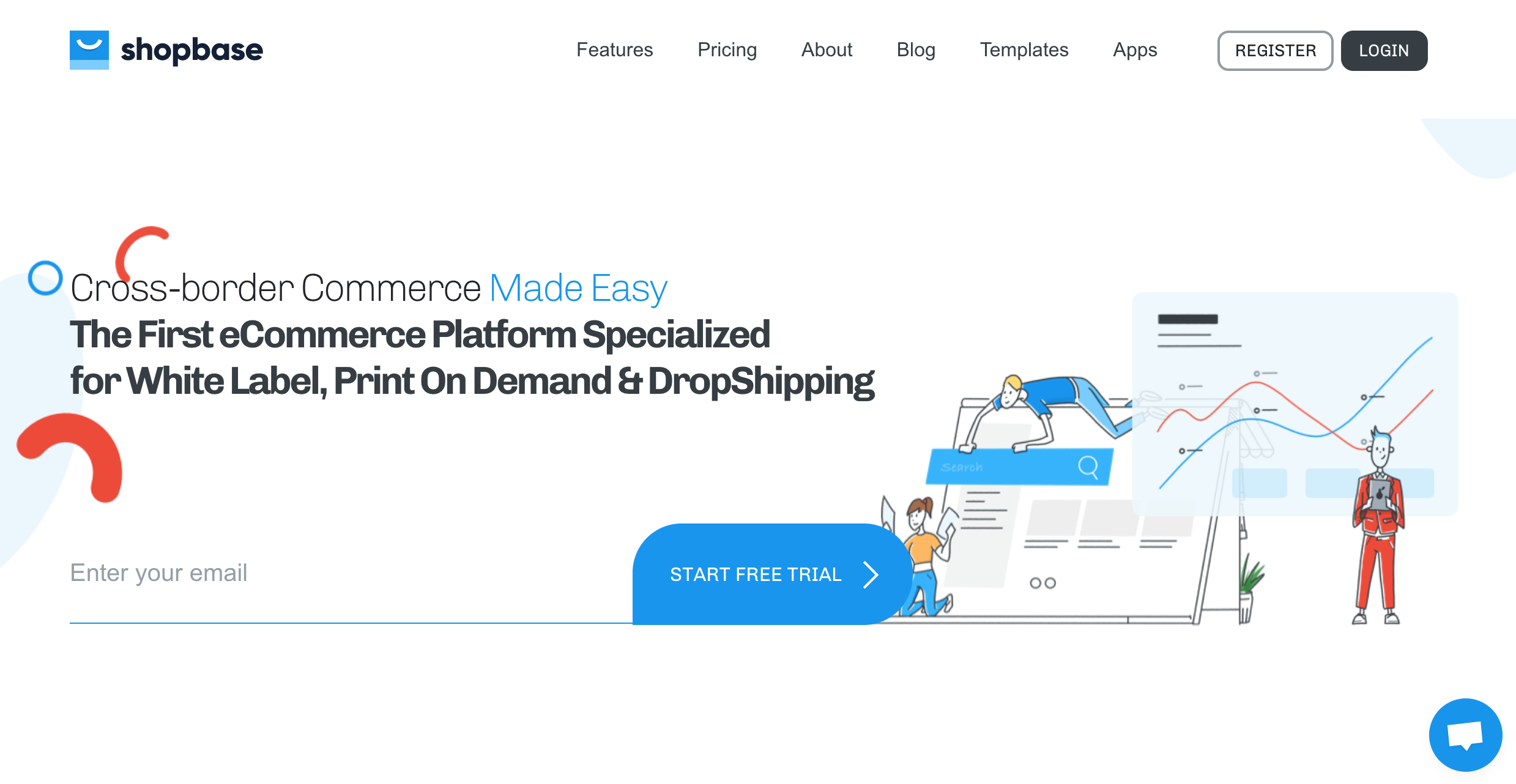 If you are looking for a SaaS solution that can do everything from dropshipping to white labelling to print on demand then check out Shopbase.
They have been around since 2019 and offer a mobile optimized, highly customizable storefront straight out of the box.
One great feature is that every single page is modifiable. Even if they are generated by templates, the CSS, Javascript and HTML of each page can be changed.
This provides the platform much more flexibility in comparison to other solutions such as Shopify where the checkout pages cannot be modified.
Shopbase connects automatically with POD services and dropshipping services – this allows you to automatically fulfil orders on the backend of the platform.
Built in payment gateways such as PayPal, Stripe, MasterCard and Visa allow you to scale your business much more quickly.
Key Features
Crossborder commerce solutions
High converting designer made themes
Mobile ready
Abandoned cart checkout recovery
Flexible shipping rates
Unlimited products
Pros
Multiple images for a single product
CSV import exiting products
Automatic order fulfilment with third party apps
Mobile dashboard
99.98% uptime
24/7 support
Cons
Very few online reviews so product may not be thoroughly tested
Pricing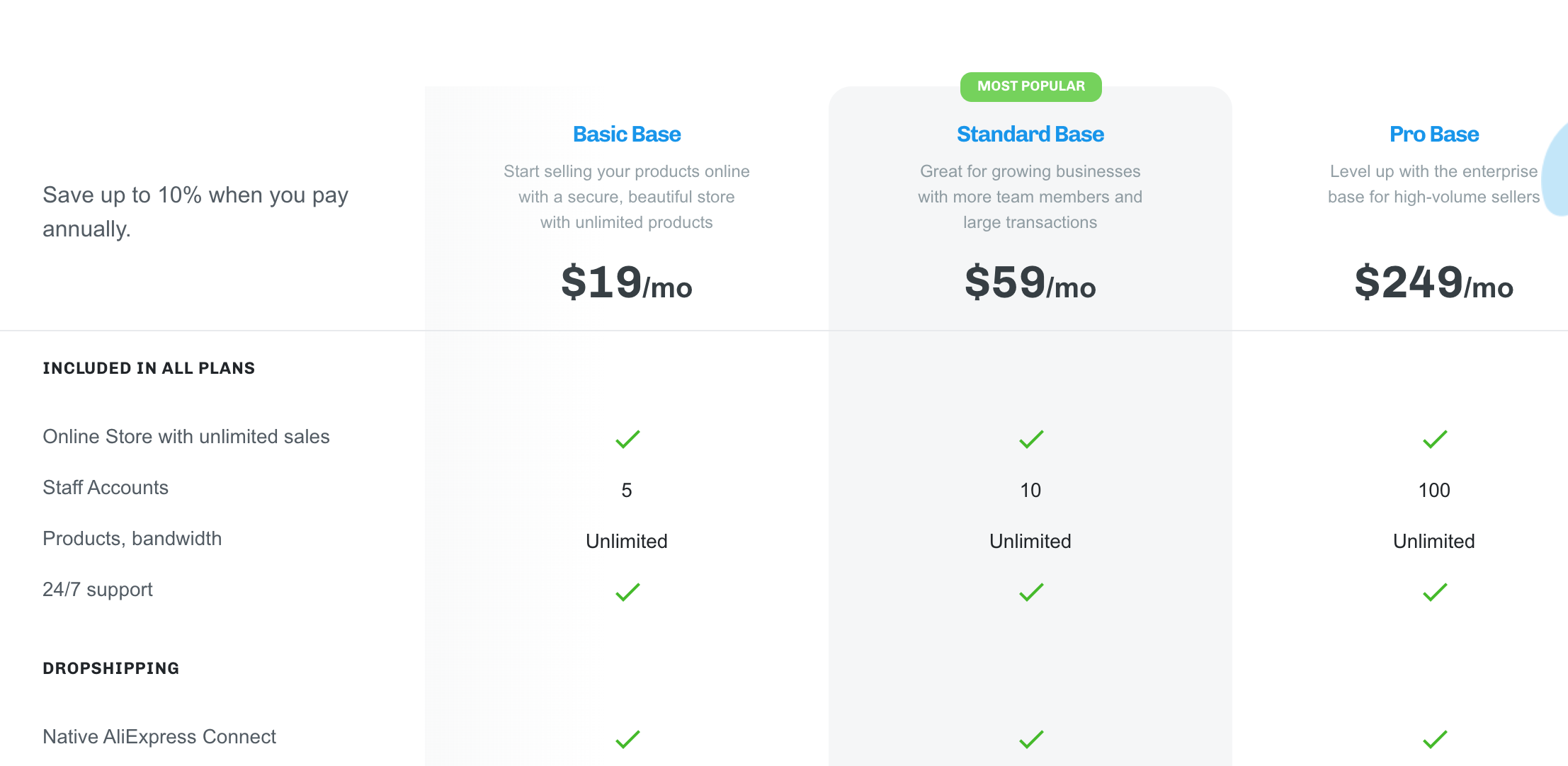 The pricing ranges between $19 – $249/month paid monthly.
All plans provide a 14 day free trial with no credit card required. If you sell a large volume of items then consider getting the more expensive plan since Pro Base has a 1% commission vs a 2% commission for Basic Base.
You might end up saving more money.
10. Volusion – Most User Friendly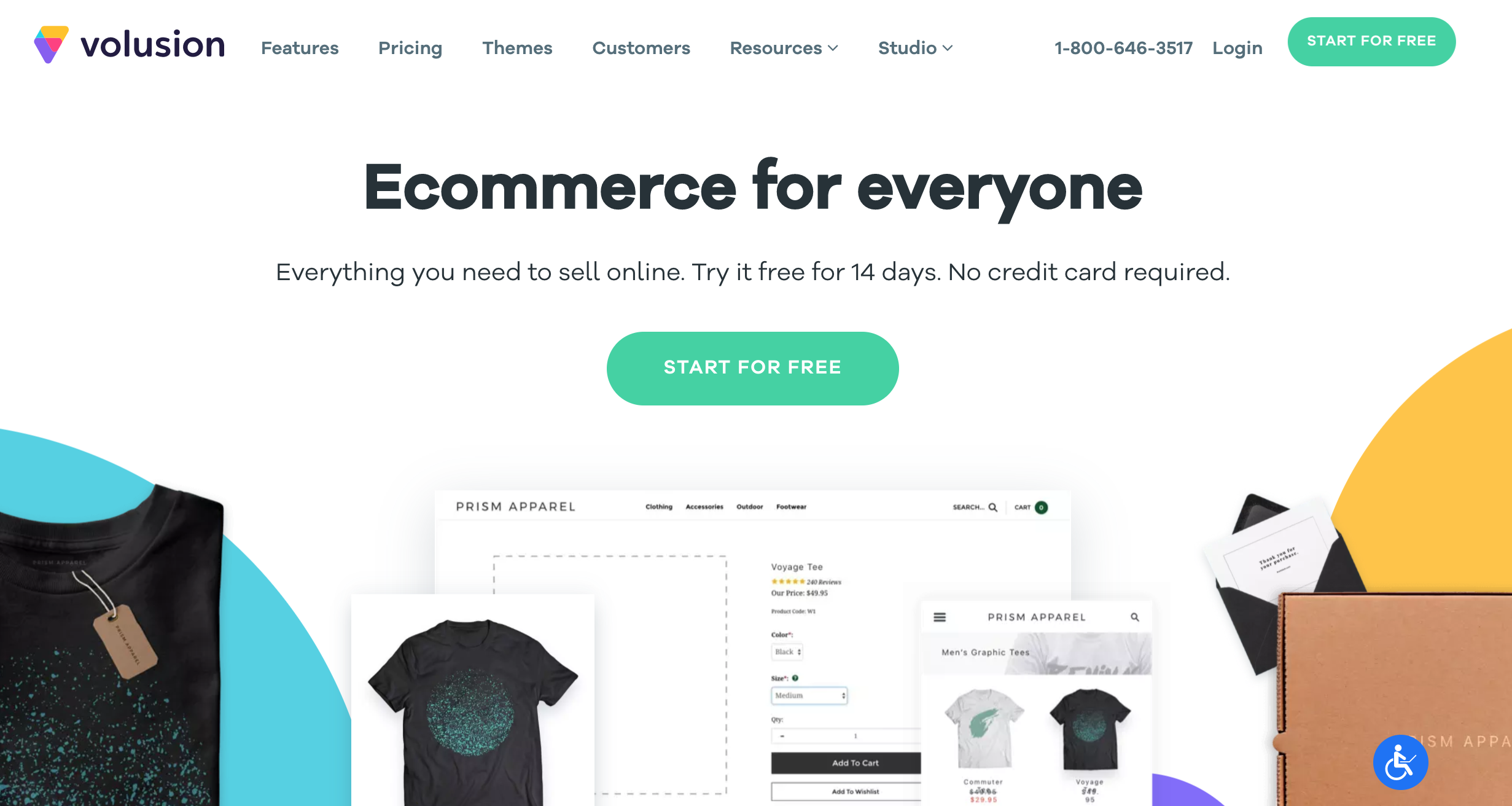 Over 180,000 entrepreneurs have trusted Volusion to help build their online stores and for a good reason.
The primary selling point is the very intuitive what you see is what you get (WYSIWYG) editor, that rivals dedicated page builders such as Elementor.
Volusion is designed to be fully responsive so that it works on all desktop, tablet and mobile devices.
It's rich content editor lets you make changes to your store on the fly without having to modify any code.
Search functionality allows users to easily find their favorite products without having to navigate through category pages.
One unique feature that they have is recurring pricing.
So if you are selling membership or subscription based products this is a useful feature.
Their platform also features machine learning algorithms that recommend other products to upsell the customer.
Key Features
Product variant pricing
Product import via CSV
Automatically create purchase orders when an item is sold
Built in return management system
Firewalls to block spam
Pros
Customer review management
Barcode generator
Secure site with SSL
Secure checkout
Custom domain for search engine visibility
Cons
Poor customer support
Subpar reporting tools
Pricing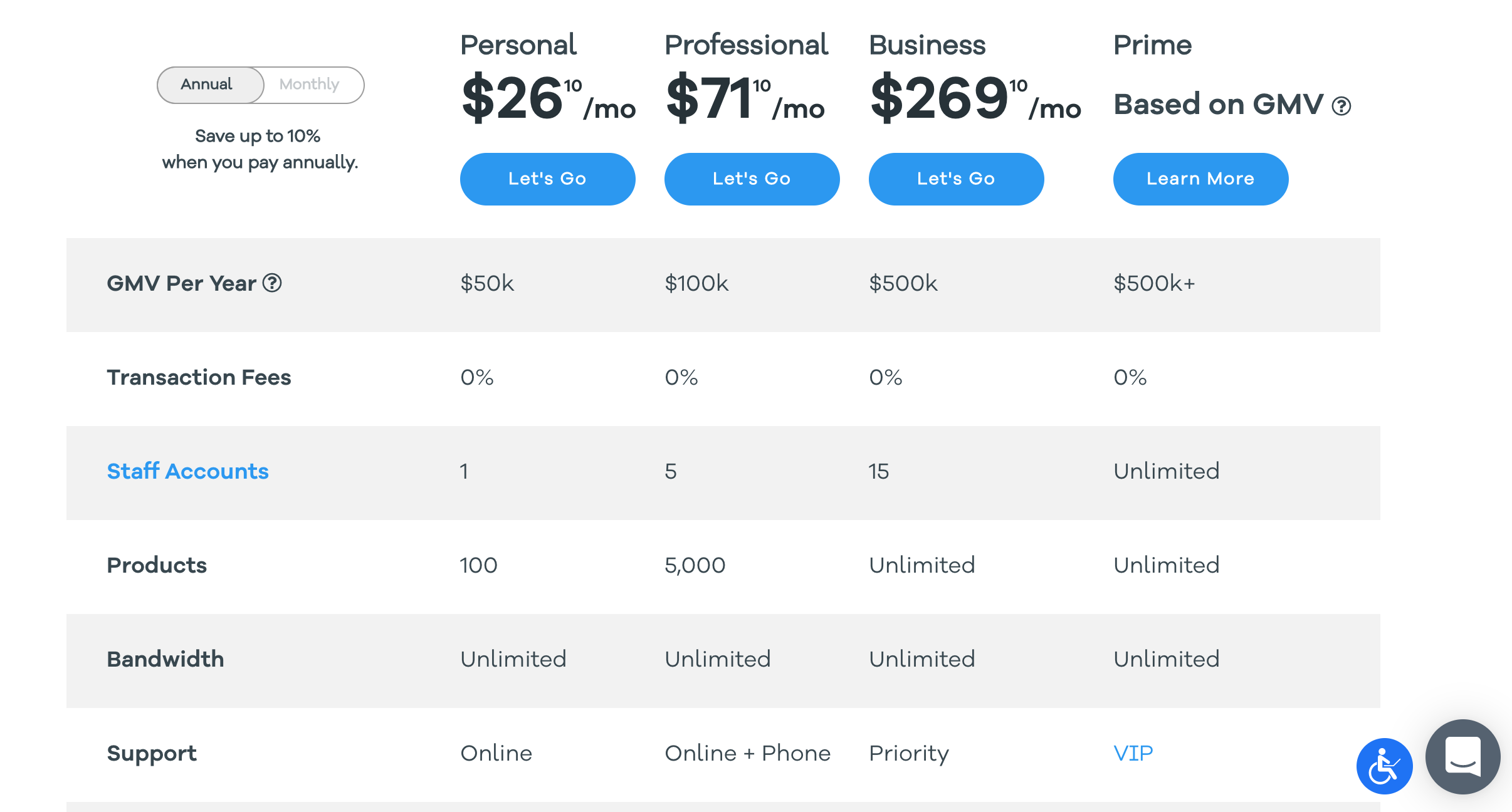 Luckily all transaction fees are zero across all packages.
They have packages ranging from $26.10 to $269.10/month paid annually.
The Personal, Professional and Business plans have a maximum of $50,000, $100,000 and $500,000 GMV per year so as you scale you will need to upgrade to a more expensive plan.
11. PinnacleCart – Best For Self Hosting
PinnacleCart is unique because it allows you to self host your own store.
Most other platforms require you to use their servers to host your store. It is highly customizable and allows you to edit the HTML/CSS/JS straight out of the box.
Like other leading ecommerce platforms, their premade themes are mobile optimized.
They even have advanced modules such as bulk quantity discounts and buy one get one free production promotions.
You can create unlimited category hierarchies and filter by brand/manufacturer.
They have a setting which allows you to split goods into "tangible" and "virtual" categories allowing you to effectively sell both physical and digital products.
Integrations with accounting software such as Quickbooks also makes filing your tax return easy and seamless.
Key Features
Send special order notes to customers
Excel spreadsheet export
Flat URL's used by default
Autogenerate meta information on products to boost SEO
XML Sitemap submission for Google Search Console
Pros
Easily generate gift certificates
Integrate Google Keywords and Google Analytics
PCI and PA-DSS compliant
Payment failure handling
Inhouse professionals to help design your store at higher tier
Cons
Confusing backend
Free templates dated so may need some custom design work
Pricing

If you choose to host on their servers, pricing ranges from $79.95 – $199.95/month – there is even an Enterprise level for high volume merchants but you would need to call to get an exact quote.
For self hosted plans, you would purchase a Perpetual License – the price is undisclosed on their website, but after buying this you can use it for life.
12. Weebly – Best Pricing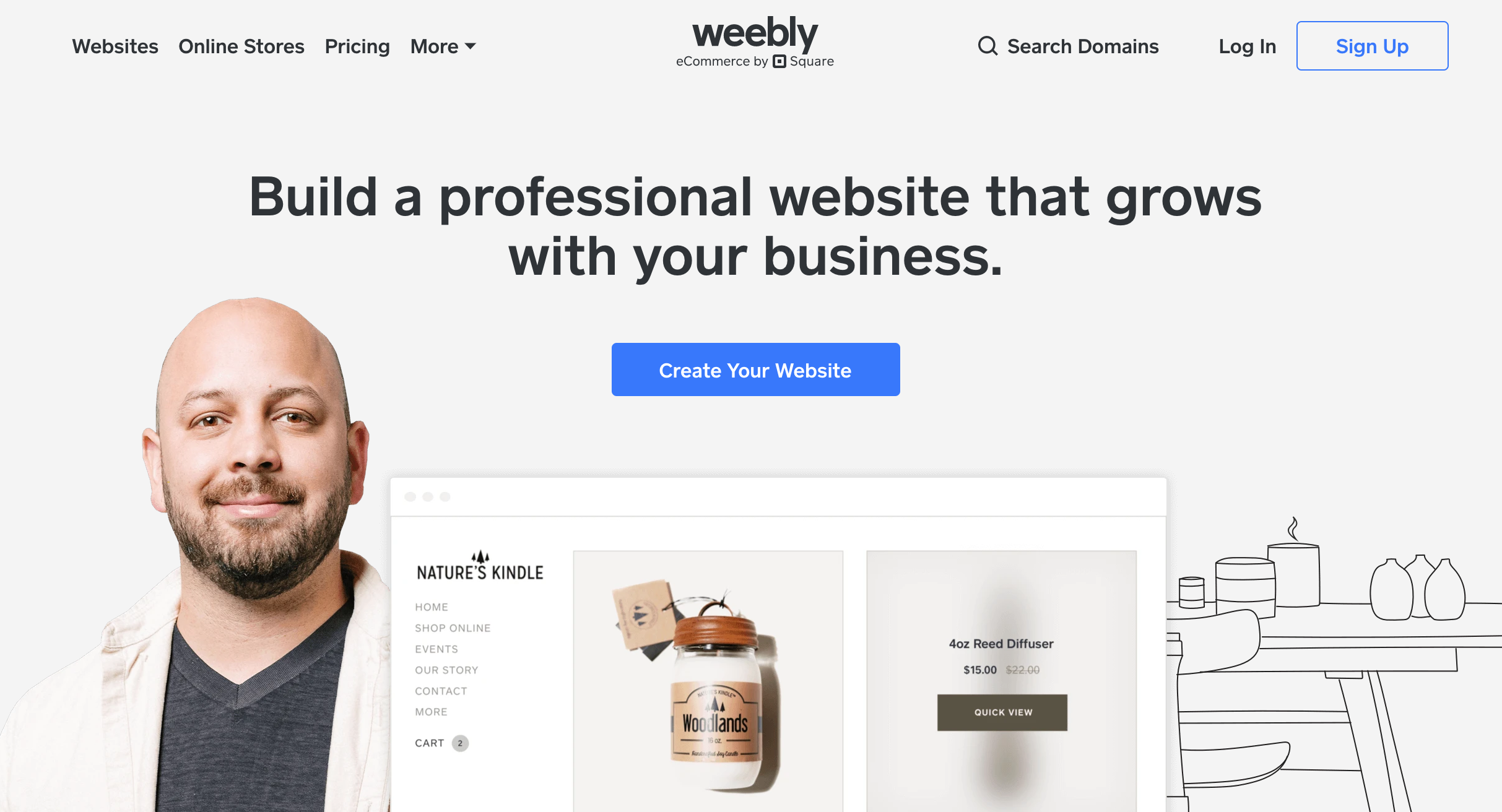 Weebly started in 2006 and was eventually bought out by payments giant Square for $365M in 2018. Weebly now acts as Square's official ecommerce partner.
Their platform is most suited for small businesses who do not need deep web presence.
Their backend features a suite of tools such as customizable email templates and automatic SEO optimization to help the store rank on search engines.
They have highly rated iOS and Android apps so you can monitor the progress of your store and watch your sales in real time.
Managing inventory is easy with the platform – bulk import and export features allow you to upload multiple SKUs at once.
Weebly has partnered with premium carriers such as USPS and DHL to provide dynamic real time shipping rates – something not found in other platforms.
Key Features
Beautiful themes crafted by top designers
Site search bar
Custom fonts
Inbuilt image editor
Integrated analytics
Pros
Social media marketing
Blogging platform included
24/7 email and chat support
Competitive pricing
Cons
No personal site restore option – if your site goes down you will need to contact support to retrieve it
No ADI (Artificial Design Intelligence) option – this is a bot that auto-creates your site
Pricing

Compared with other solutions, Weebly has competitive pricing. They have a free version with unlimited products and inventory management.
Their Personal, Professional and Performance plans cost $6, $12, and $26/month respectively billed on an annual basis. For all these versions you have chat and email support in case anything goes wrong.
13. Squarespace – Best Premade Themes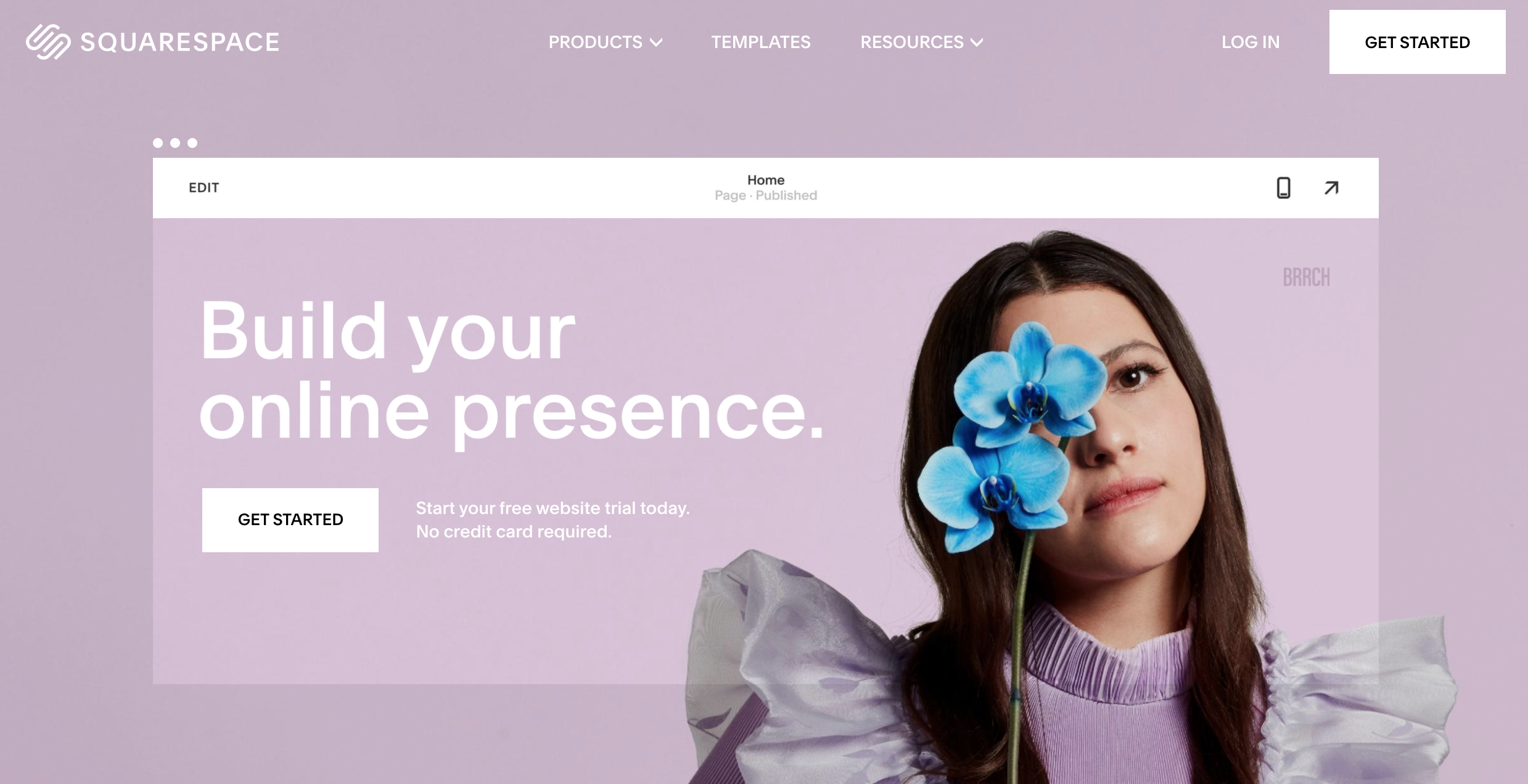 If you are on the market for the best looking themes, look no further than Squarespace.
My first website was built with Squarespace but what you gain in aesthetics and design you lose in SEO and scalability.
It was difficult to get my website indexed on search engines because of XML sitemap issues.
It does look very good straight out of the box and has one of the easiest interfaces to use.
Unfortunately, this means that it also makes it difficult to customize and edit. I was often frustrated by how difficult it was to create basic components such as FAQ accordions.
So if you are looking to build a complex site, this may not be the best solution.
However, if you already have an existing Squarespace site, it just takes a few clicks to set up an ecommerce store.
All their templates are mobile friendly and they have partnered with shipping solutions such as Shipstation and Shipbob to make fulfillment easy.
Key Features
Partnerships with FedEx, USPS and UPS
Mobile optimized websites
SSL security
Unlimited products
Pros
Probably the easiest website editor you can find
Free custom domain
0% transaction fees on their Basic and Advanced Commerce packages
Abandoned card recovery emails
Customer accounts
Cons
Difficult to customize store beyond stock template
Poor SEO (XML sitemap issues)
Ecommerce is only available in more expensive pricing plans
Pricing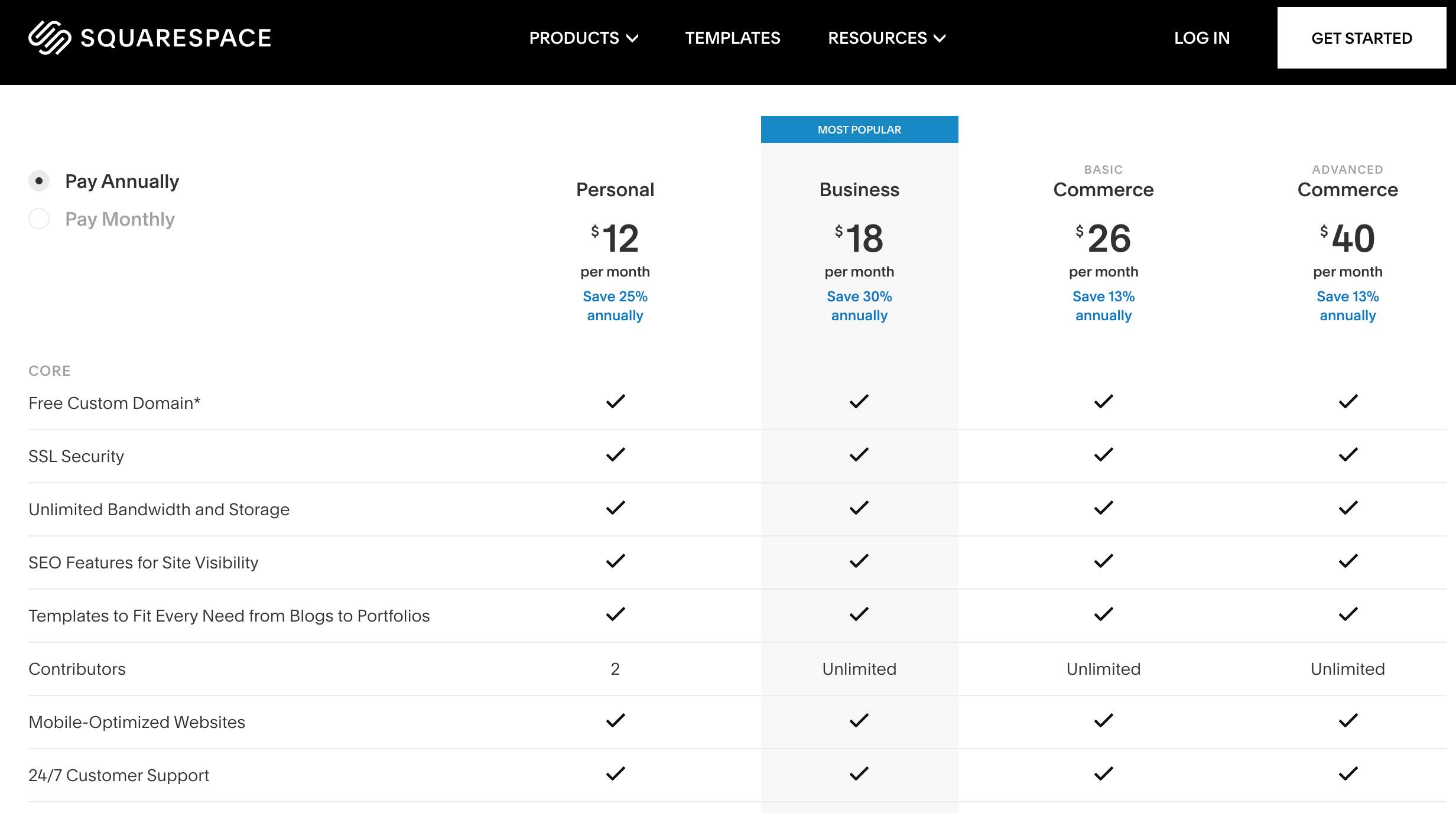 Squarespace offers two pricing tiers for basic websites:
Personal and Business priced at $12/month and $18/month billed annually.
Their ecommerce offerings are priced at $26/month and $40/month billed annually.
14. PrestaShop – Best Free Open Source Platform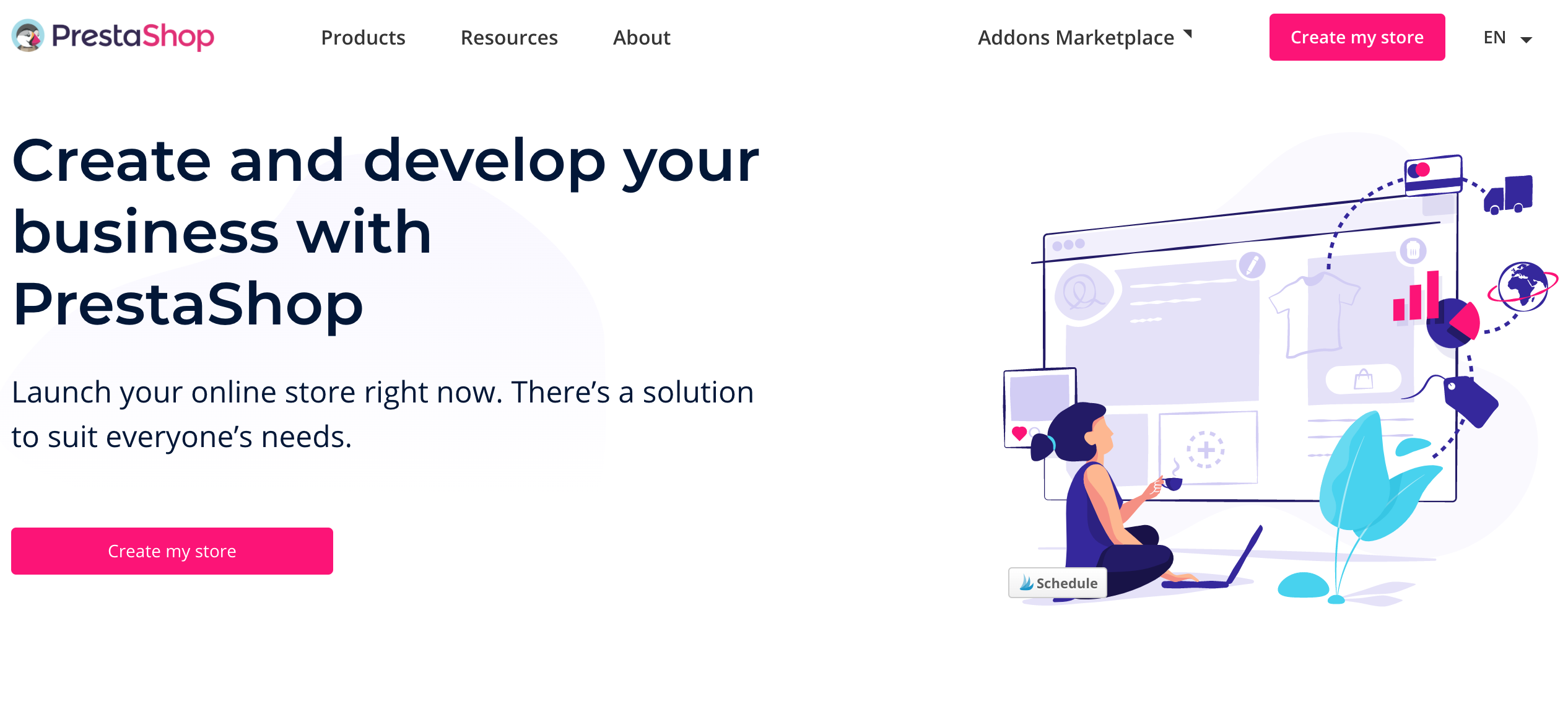 Trusted by over over 300,000 merchants with support for 75 different languages, the freemium ecommerce platform PrestaShop has garnered a large following.
It is a free to download platform and you only pay for premium plugins such as their Amazon Marketplace addon (which costs $230).
PrestaShop is the ideal solution for someone who wants to build a unique, personalized and easily customizable ecommerce store.
If you are a PHP developer, this is perfect for you as PrestaShop is written in PHP and has support for MySQL.
Their free plugin list is extensive – as of now they have 33 plugins offered. These include Mailchimp, Google Ads, PayPal checkout, Review Stars add ons to name a few. Their paid market place is much larger with over 5,000 modules you can choose from.
Key Features
Multiple payment methods to choose from
Organization of products through catalogues and categories
Newsletter signup plugins
SEO tools
Wishlist feature for customers
Open source code base
Pros
Highly customizable storefront due to flexible code base
Extensive marketplace with 5,000+ free and paid addons
Engaged community to get help from
250+ agency partners to help build your site
24/7 technical support
Cons
Can be tricky to set up if you are not technical
Self hosted so you will need access to your own server
Pricing
Free. Though you need to pay for more premium modules. This is ideal if you have time and experience setting up your own sites but also want extra features later in the future.
15. nopCommerce – Best For Multi Store Setups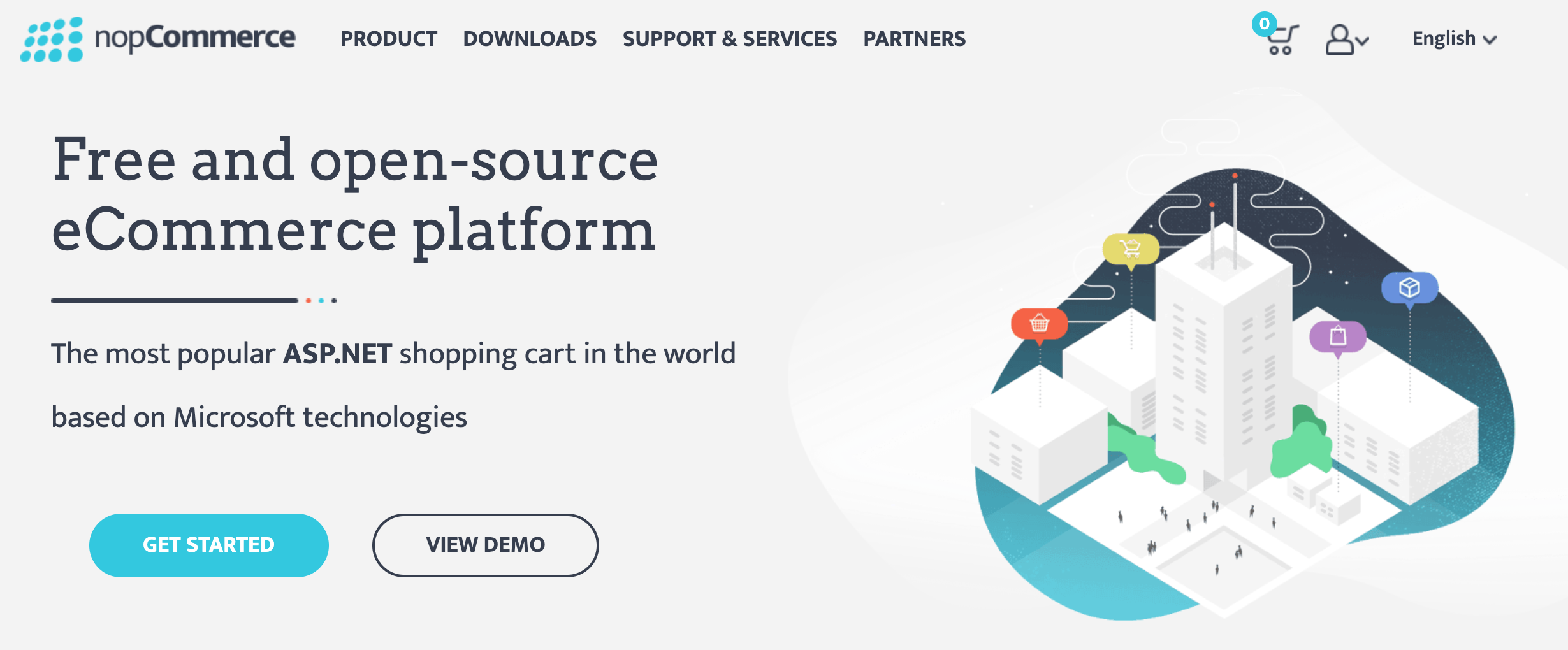 nopCommerce runs on the popular Microsoft ASP.net framework.
This allows you to create complex apps without too much code and has inbuilt native optimization, auto caching and just in time code complication technology.
If you want to create the fastest loading store then nopCommerce is an easy platform to recommend.
One caveat is that you will need a full stack developer who is well versed in the backend (Javascript) as well as the frontend (HTML and CSS) to create a mobile responsive and high quality storefront.
This makes it less approachable for newbies who just want to get something up and running. However, you get a flexible platform that hosts unlimited products, manage multiple stores and set up custom shipping rates.
Trusted by companies such as BMW, The North Face and Microsoft – nopCommerce is great if you are at a more advanced stage in your ecommerce journey.
Key Features
PCI DDS compliant
Unlimited customization
Great support
Mobile compatible
Pros
Run multiple stores from a single installation
Dropshipping friendly and can integrate with multiple vendors
Sitemap and microdata
Localizable URLs for improved SEO
Single page checkout available
Cons
Need to be technical to setup
Cost for certain templates and plugins are high
Pricing
Free, plus no transaction or monthly fees.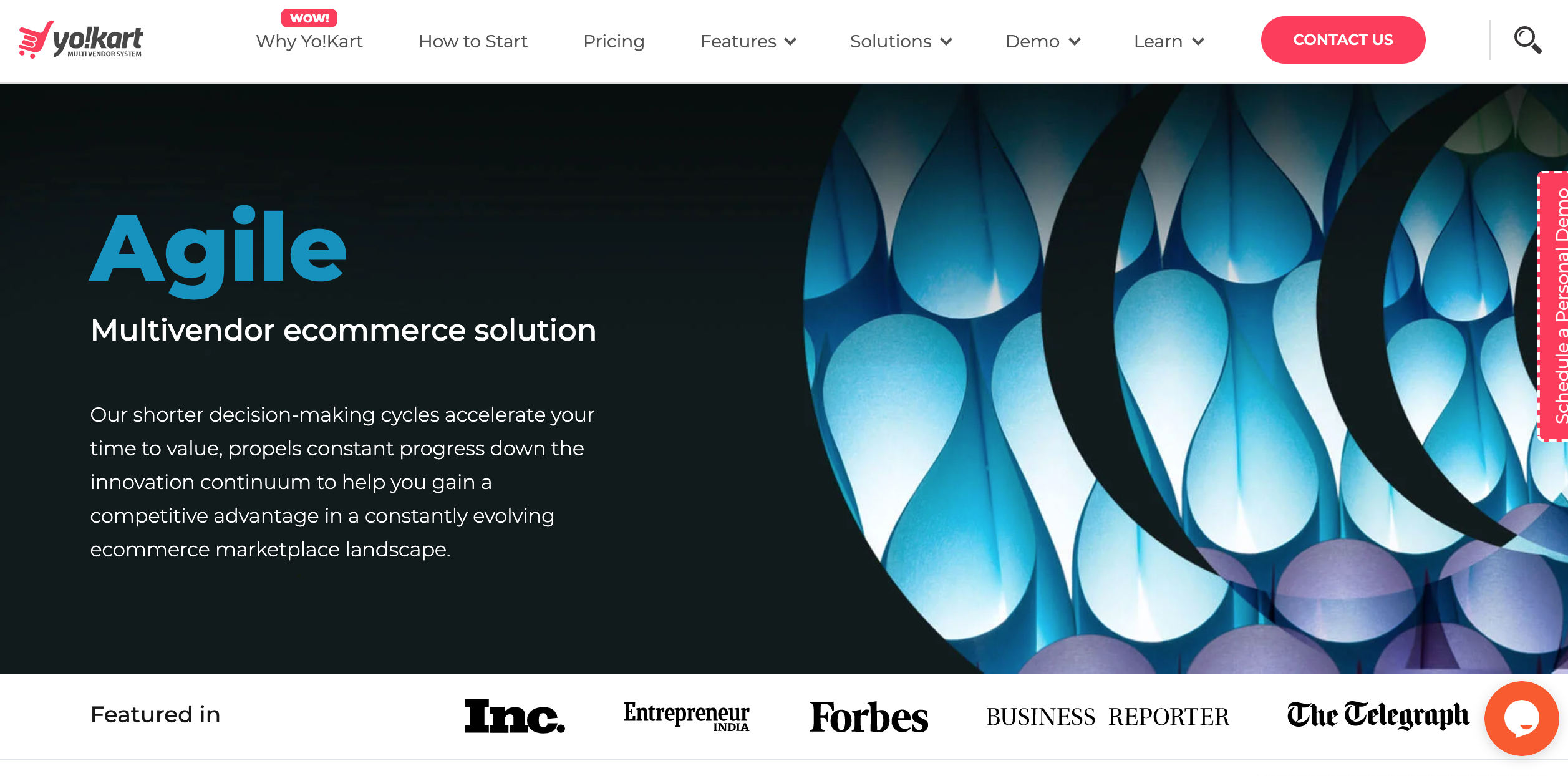 Yo!Kart is a scalable ecommerce marketplace platform that is feature rich.
Engineered for high scalability and extensive customization, their pricing model differs from the other contenders on our list. Instead of charging a recurring monthly fee, you pay for a one off lifetime license.
If you are looking to sell a large variety of products, consider Yo!Kart.
The platform uses an advanced caching mechanism and resource utilization algorithm to accommodate over 1 million products.
They provide a seamless user experience across all devices.
Beyond standard features such as omni channel inventory management. It also has integration with popular accounting software such as Quickbooks makes filing taxes much easier.
It's also possible to generate mobile apps for both buyers and sellers.
Key Features
Easy product comparison
SMS notifications
PPC module for sellers
Platform migration tool
Multilingual capabilities
Pros
Zero processing fees
Pay for the platform just once and use it for life
Upload products effortlessly with bulk export and import
Commission based and affiliate revenue models available
Sell monthly subscription to other vendors on platform
Voice support
Flexible platform architecture
1 year support agreement on purchase
Cons
Will need time to learn the ins and outs of the system
No product upgrade options after you purchase
Adjustments to the code terminate 1 year support agreement
Pricing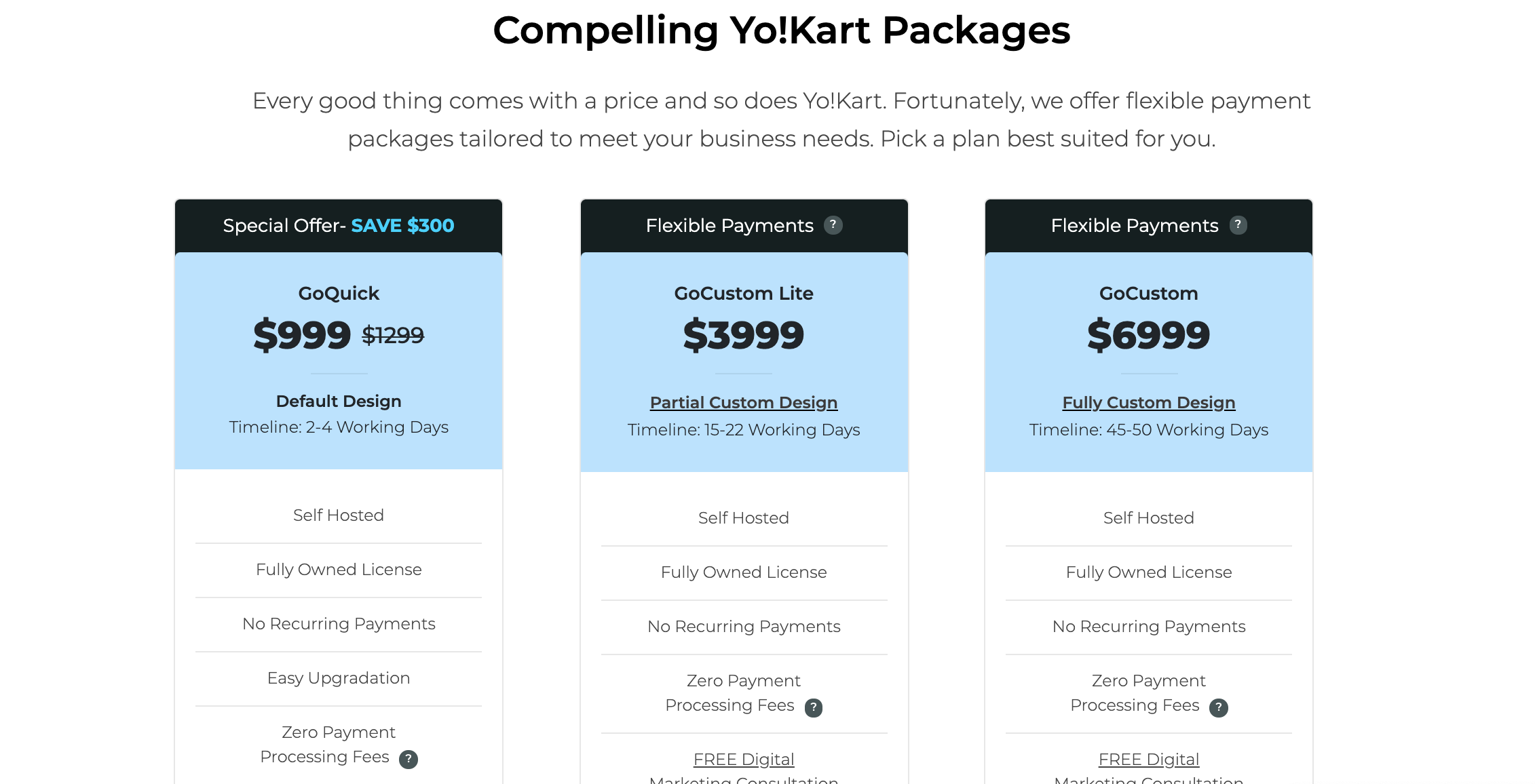 Yo!Kart offers 3 self hosted pricing models – GoQuick, GOCustomLite and GoCustom. These are priced at $999, $3,999 and $6,999 respectively. The technical features are the same but on the higher end packages you get their in house team to customize the store the design to your liking.
Sellfy was originally made for selling digital products (online courses, eBooks, music and videos), but have branched out to physical products as well.
Compared to other platforms on our list, it caters to a much smaller crowd – 32,000 online merchants.
This isn't necessarily a bad thing as their platform is more tailored towards the creative market (e.g. musicians, music producers, photographers and film makers).
They can be much more deliberate in the features they want to introduce.
With a 14 day free trial requiring no credit card, it's easy to get up and running with the platform.
They have built in integrations with 1,000 third party apps such as Zapier and Mailchimp. You can even embed YouTube videos and Instagram posts on your product pages to increase conversion rate.
One great feature is that you don't need to install separate plugins for features such as discount codes, upsell popups and email marketing – Sellfy has all these features natively.
It was also designed with cross platform functionality in mind so it can be seen on multiple devices.
Key Features
Easily set up a custom domain
Design customizations (change logo and color)
Mobile-optimized from the get go
SSL security
Digital focus with advanced features like PDF stamping
Pros
14 day free trial to test out functionality
Set up a store in 5 minutes or less
Multi channel selling (on social media sites)
Built-in marketing tools
Well organized, straightforward and with an easy interface
Cons
Only one storefront template
Only two payment processors available – Stripe and PayPal
Pricing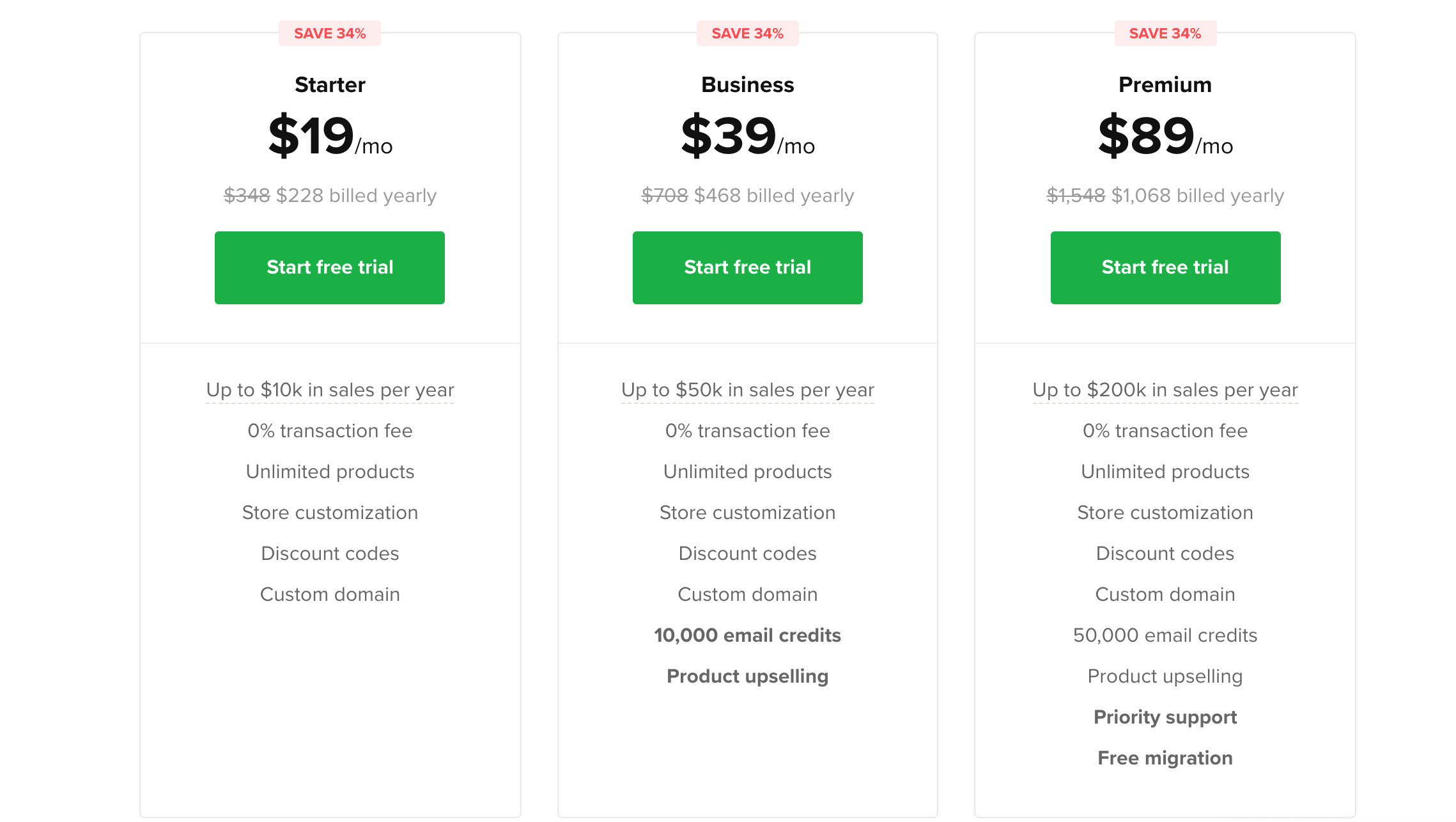 There are three tiers – Starter, Business and Premium. These are each priced at $19, $39 and $89/month with yearly transaction volume caps of $10,000, $50,000 and $200,000 respectively. The highest tier gives you access to free migration and priority support.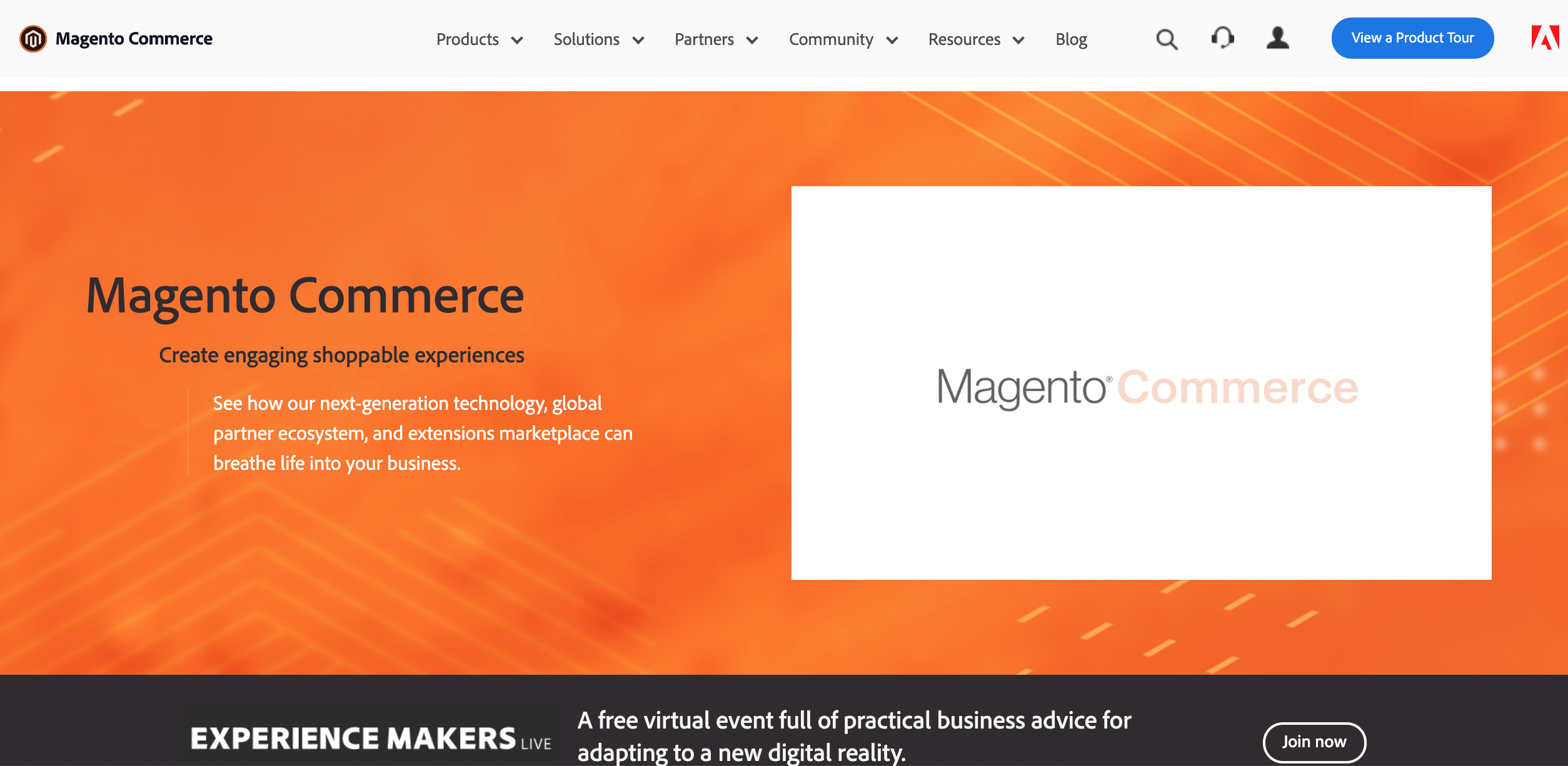 Magento differs from the other competitors on this list. Instead of being a SaaS, it acts as an on-premise solution.
This can be good if you want a customized solution but if you are just dabbling in ecommerce you want to have the flexibility to cancel the contract in case your store does not do well.
Due to the fact that a high degree of configuration is required, I would not recommend this for a beginner. However, should you choose Magento, there are a host of benefits.
You get integrations with commonly used tools such as Google Analytics as well as a detailed admin dashboard.
You can also use their customer segmentation feature to do targeted upselling and have access to their persistent shopping cookie which preserves a users shopping cart in the browser.
They also have a WYSIWYG editor that supports rich content
Key Features
Import and export date via remote FTP servers
Customer attribute management
Order archiving
Industry grade data encryption protocols
Catalog management
Customer accounts
Pros
Automatic backup and rollback in case your store crashes
Full page caching for maximum speed
International support with multiple languages
Mobile commerce
Sales invoicing
Cons
Expensive to maintain
Not SaaS based
Large backlog of unanswered bug request fixes
Pricing
Unfortunately, Magento does not disclosed their official prices on their website so you will need to obtain a custom quote. Based on third party sources, you would be looking to spend a minimum of $10,000 for an installation.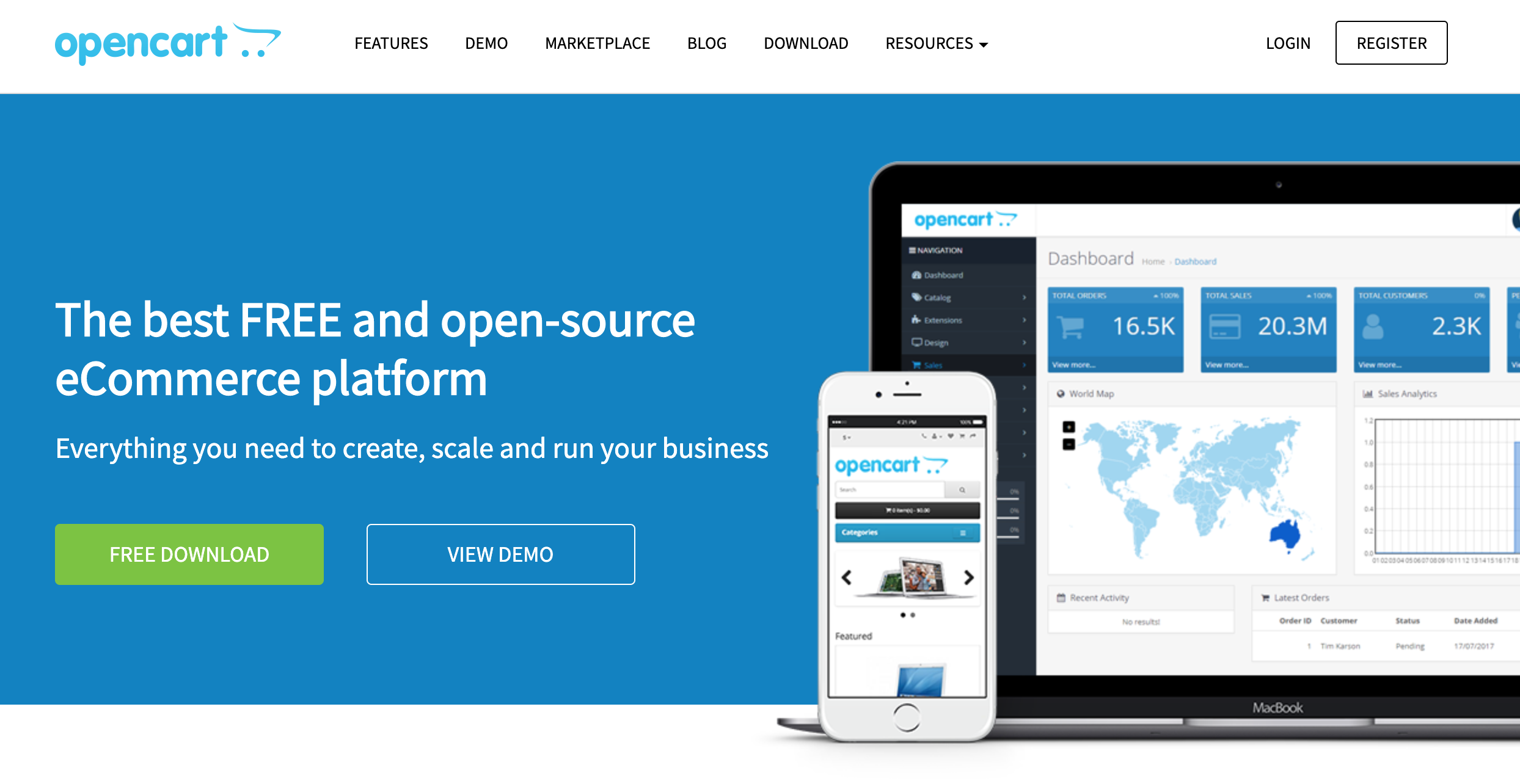 Opencart is another one of the free, open-source platforms. It is lower down on this list because of a dated user interface and the technical skill needed to get up and running with the platform.
Compared with other solutions such as BigCommerce and Shopify, in terms of out of the box features, Opencart doesn't really stack up.
SEO wise, Opencart offers limited customizations and other platforms such as 3DCart take the cake in this domain. To it's defence, it has a large library of themes available and over 13,000 different plug ins and extensions you can make use of.
Combined with its low (free!) startup cost, Opencart can be a good alternative for beginners who don't want to commit to a monthly contract.
If free is what you are going for, in my opinion, WooCommerce would be be the better choice.
Key Features
No limit on number of products
Rewards point system to boost customer lifetime value
Affiliate marketing system
In person selling through Square
Pros
Large library of 13,000 plugins
Low startup costs
36 payment gateways to choose from
Host of marketing modules
Cons
May need to be a developer to customize your store to your liking
SEO is not as strong as other alternatives
Other better free ecommerce platforms on the market
Slow loading speeds
Pricing


Free but if you are looking to spend on paid templates it would cost $20 to $100.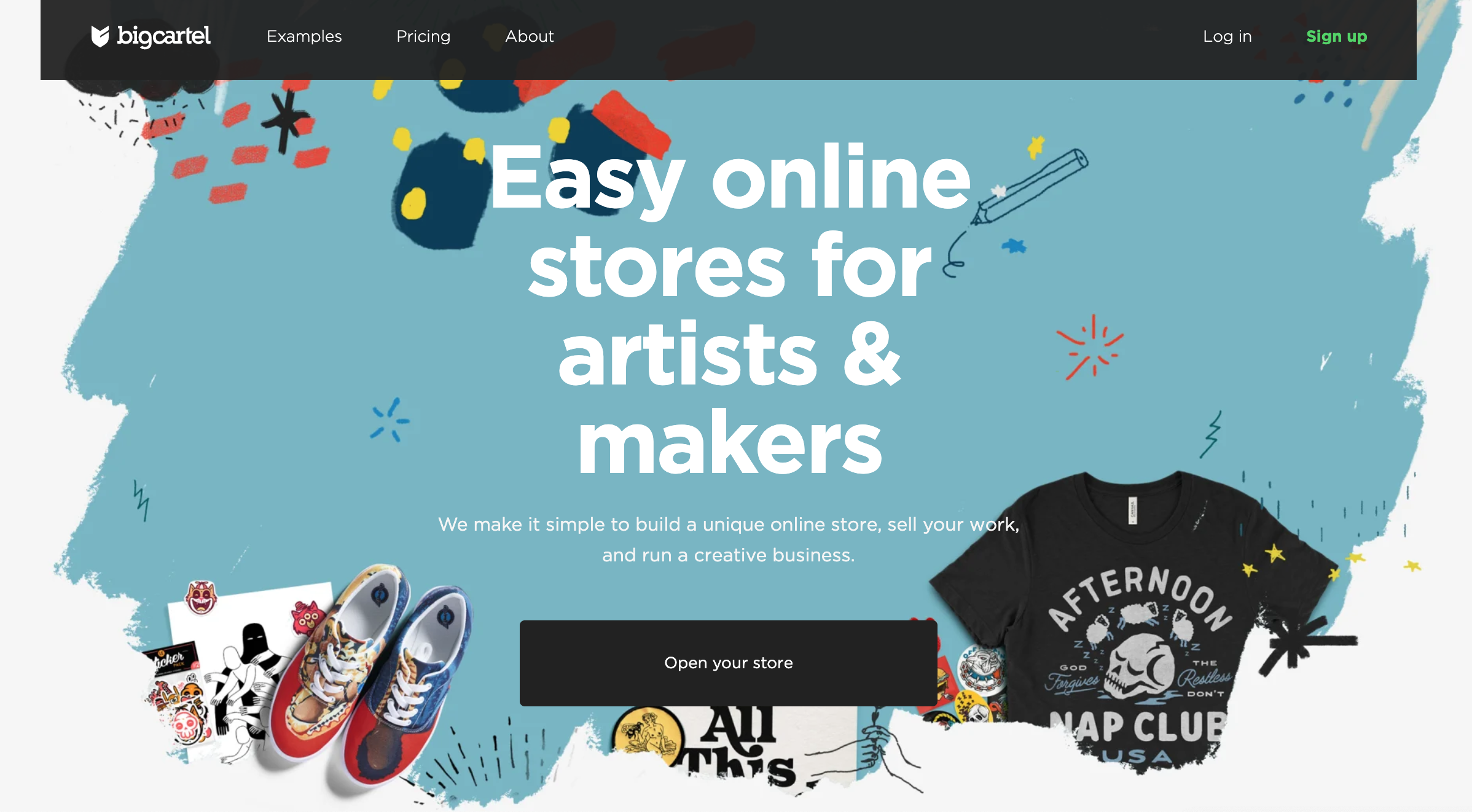 Big Cartel is a platform designed for artists and makers.
They are not a big name in the ecommerce platform space but have actually been around since 2005.
In fact, over 1 million creators have sold clothing, art, jewelry, merch, prints and t-shirts. They give you the ability to customize your own free theme on their platform.
As a company that is 100% independent, their mission is to help artists, small brands and makers open a store and provide them with a living.
Their founders and core team are also artists so they understand what it takes and the nuances needed to sell creative content effectively. They have incorporated this into the design of BigCartel.
Big Cartel was listed by Forbes as one of America's Best Small Companies to work for in 2018.
They have managed to stay true to their initial vision whilst helping artists generate over $2.5 billion in sales.
Key Features
Onboarding process is very smooth
Payment processors
Inbuilt pop ups
Can be used for dropshipping
Pros
One of the few non-open source ecommerce builders with a completely free plan
Clean navigation
Tailor made for artists
No transaction fees
Cons
Themes are difficult to customize
Coding is often needed to enhance design
Pricing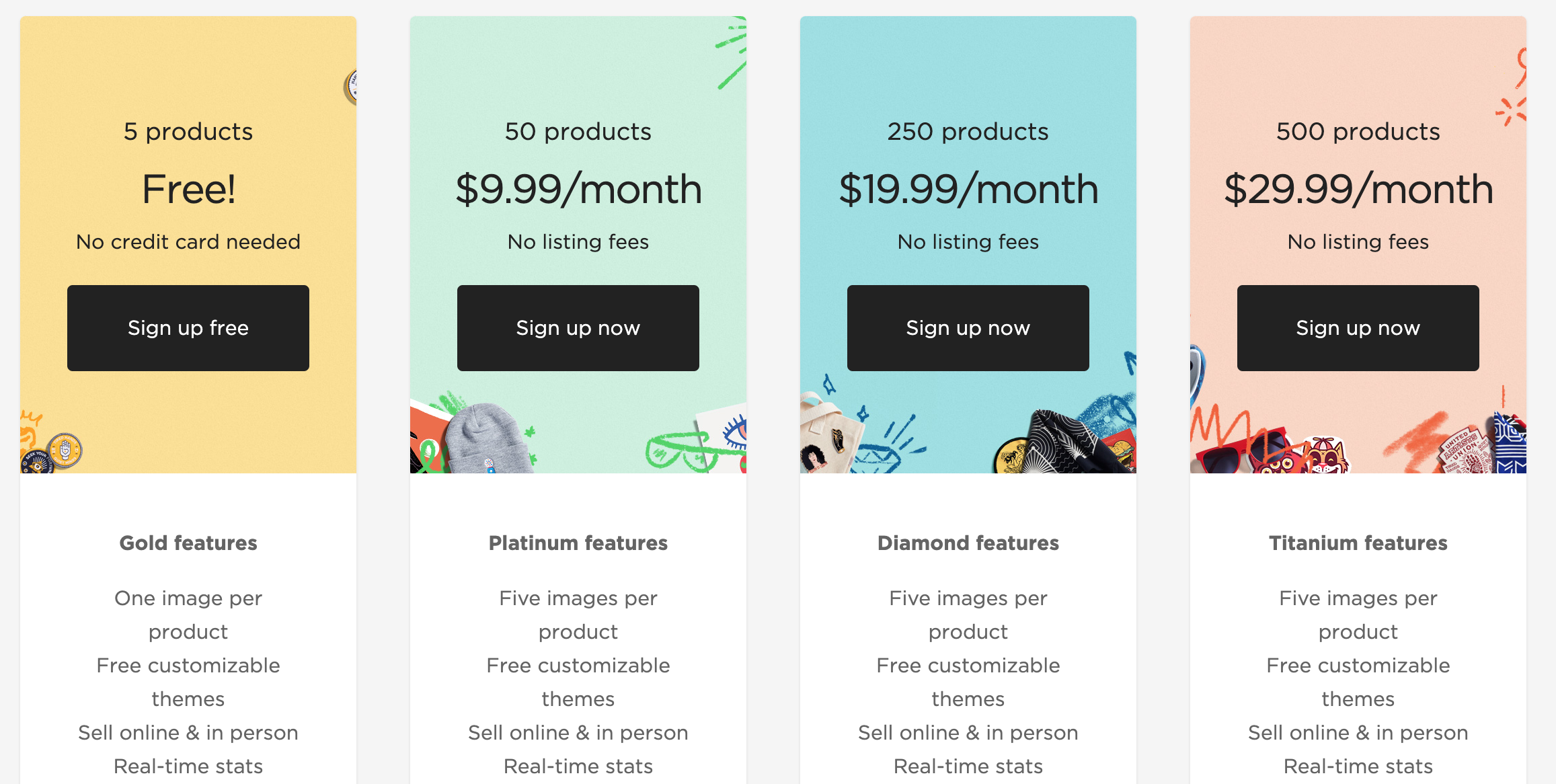 You'll be glad to know BIgCartel has a free theme which has 5 products. From there, it goes up to $9.99/month, $19.99/month and $29.99/month. Each tier gives you access to more products that you can list and higher levels of support.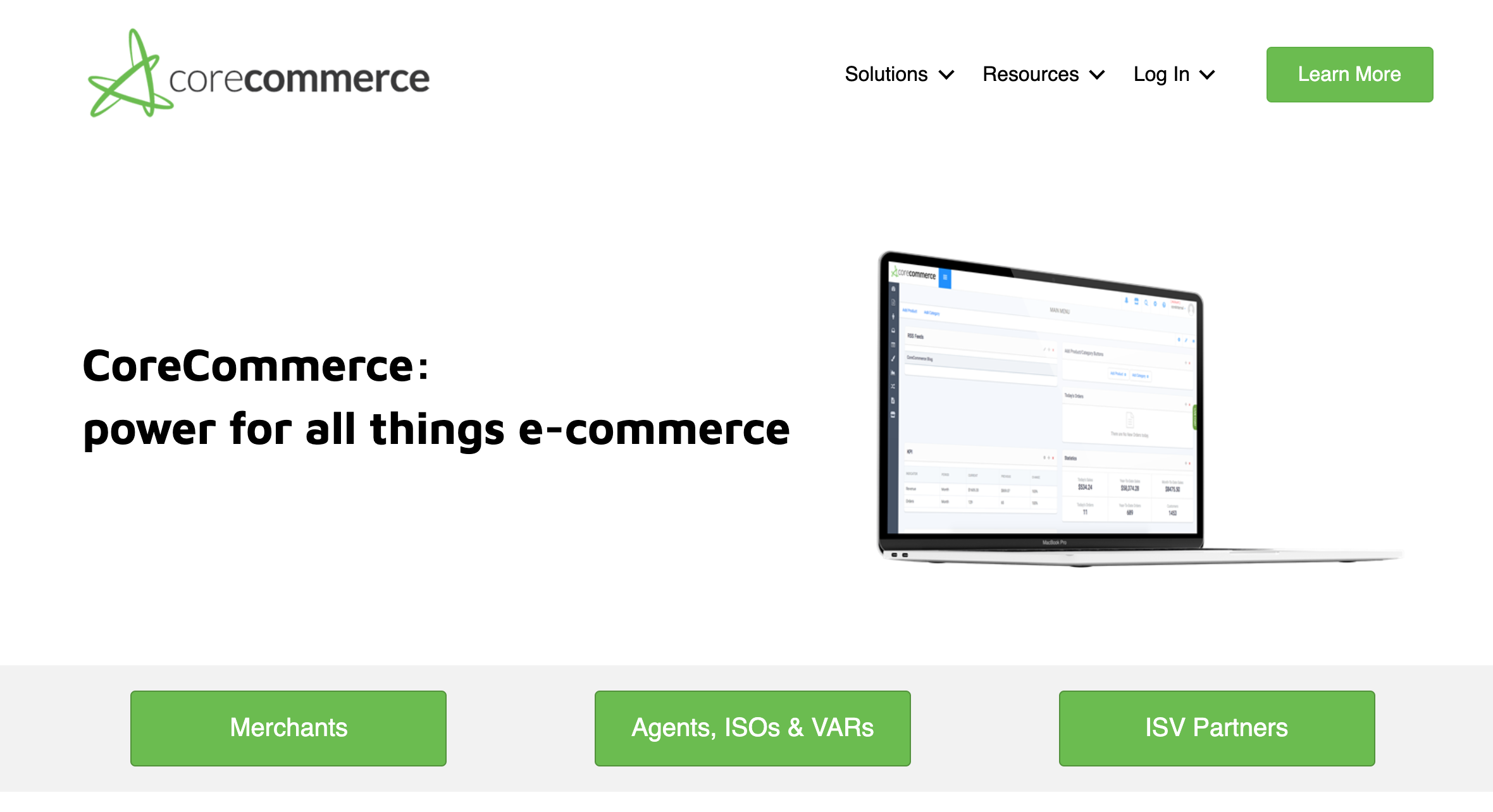 CoreCommerce is last on this list because compared with solutions such as BigCommerce and Shopify, for the price you pay – their features are not that attractive.
For example, their basic plan which is priced at $29/month gives you access to only 10 products.
They are still worth mentioning because their customer service is very good and many users have had a long legacy of using it (one user I spoke to had been using the platform for 10 years). There are many raving reviews online about it.
It's a platform definitely worth considering if you are a small time business owner – this is because their IT support is excellent (probably due to the smaller user base they serve).
Key Features
Can set up complex pricing tiers with ease
Email marketing
Simple, template based platform
Pros
Excellent support
System is easy to use
Cons
No integration with POS systems
Limited 3rd party integrations
Listings sometimes do not appear correctly
Quite pricey for the features it offers
Pricing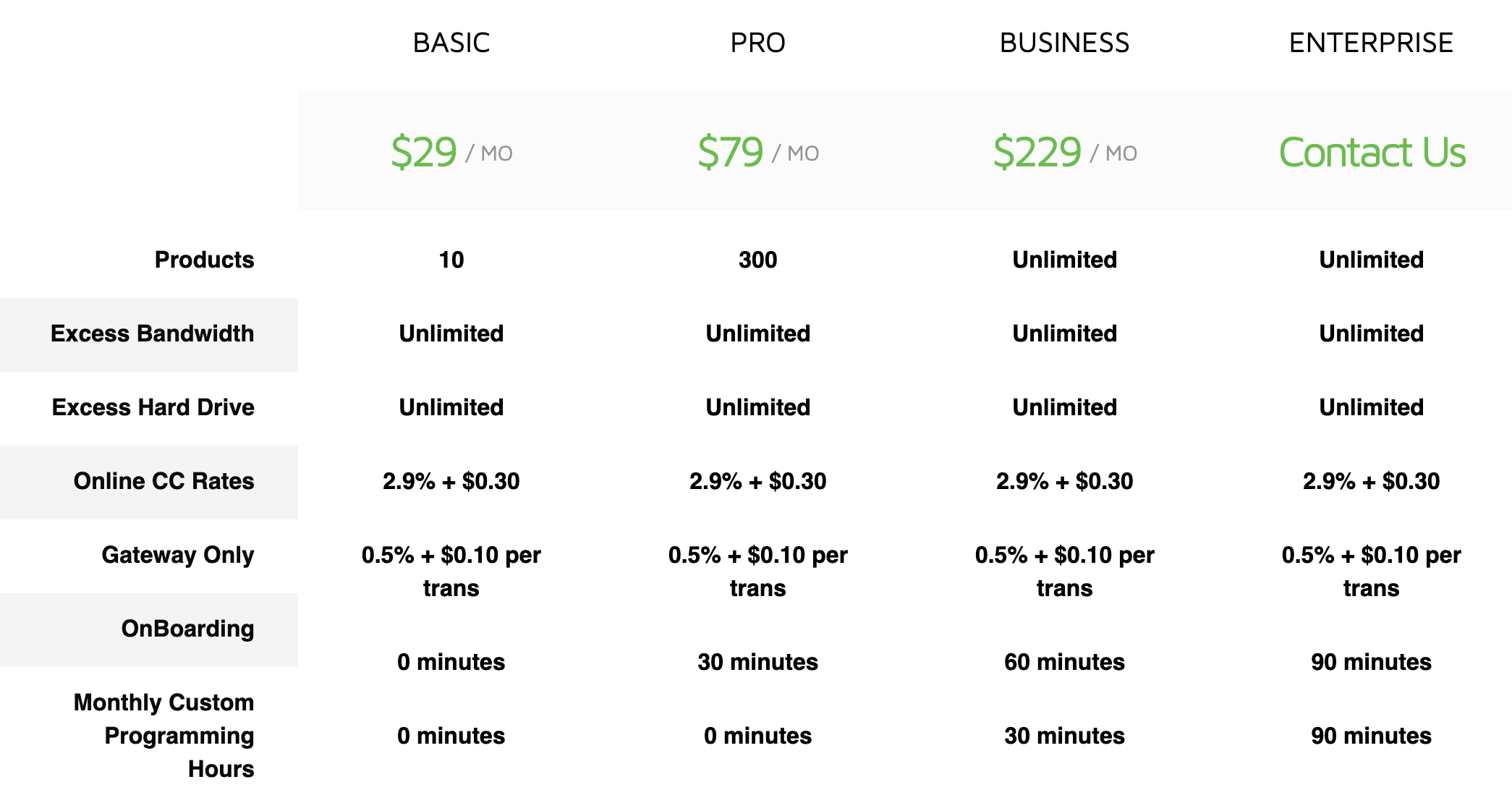 CoreCommerce has four pricing tiers – basic, pro, business and enterprise. You would be looking to pay $29, $79 and $229/month respectively. For the enterprise tier, you would need to contact them for a custom quote.
What Are The Benefits Of Ecommerce Platforms?
Some of the largest companies in the world thrive on the ecommerce business model. In China, it's Alibaba and in the US it's Amazon.
In fact, Amazon has surpassed the brick and mortar store Walmart in terms of market cap.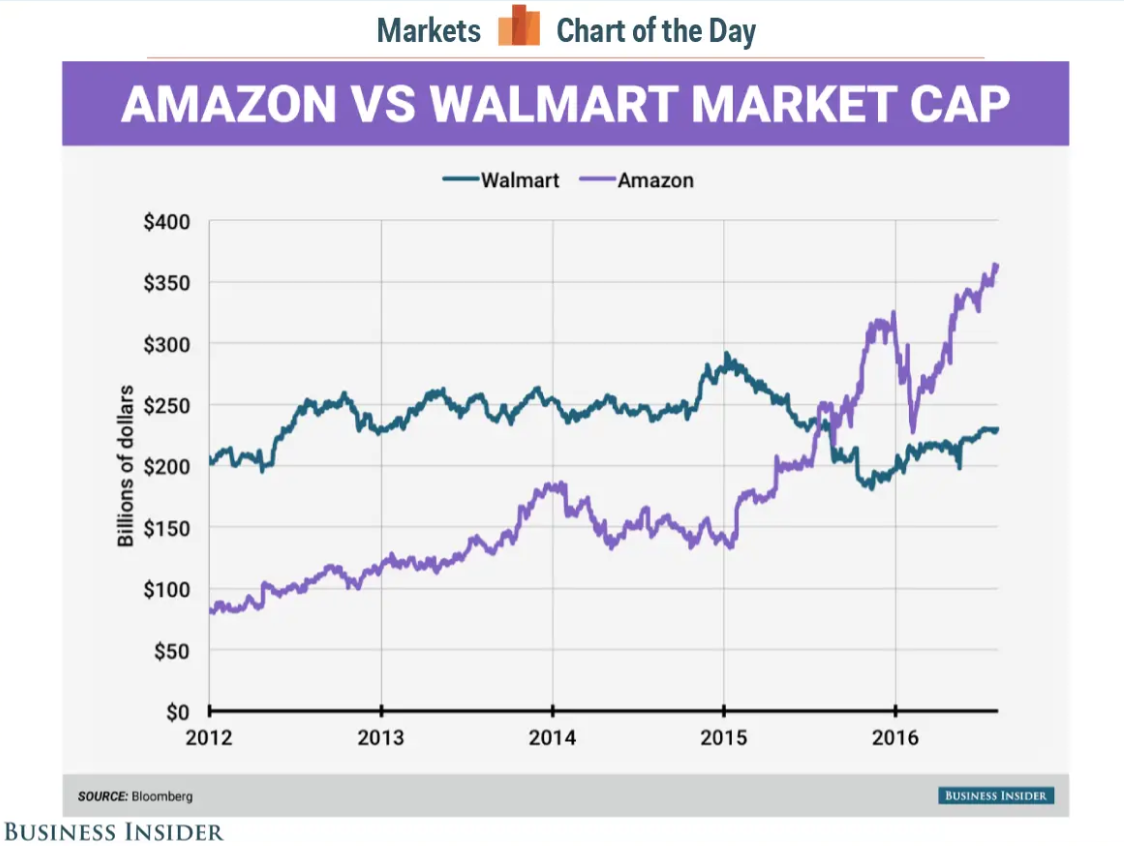 This shows that there is a big opportunity in ecommerce and with more people going online, the trend isn't slowing down anytime soon.
The good thing is you don't have to be an Amazon to participate in this market.
If you have an idea for a product, you can pick one of the ecommerce platforms on this list to create a store and then start selling.
The barriers to entry are low and with the current technology you don't need to be a coding expert to create a beautiful storefront.
Let's go through some of the benefits of using ecommerce platforms.
1. No Technical Skills Needed
Some of the biggest stores that you see are running on SaaS ecommerce platforms.
They probably have custom themes and coders but starting out, you don't need to be an HTML, Javascript or CSS expert to get the site up.
In fact, most of the solutions I've mentioned have what you see is what you get (WYSIWYG) editors.
This allows you to drag and drop content blocks where you see fit. You can even toggle between mobile and desktop views to ensure consistency acrossdevices.
As you scale your store up, most platforms have a community of developers that you can tap into if you want custom designs or plugins.
This way you don't need to touch a single line of code. The multitude of online tutorials also make it easy to set up the site.
2. Highly Scalable Business Model
Compared with traditional retail shops, online ecommerce shops do not need to worry about warehousing or staff issues.
Their potential audience is also much larger since they aren't inhibited by geographical restrictions.
With an online store, you could sell globally and if you work with suppliers on platforms such as AliExpress, they can manage the shipping and fulfilment aspect.
You don't even need to buy stock in bulk if you leverage the dropshipping model – this allows you to test out product ideas and then scale them if they work out.
Typical brick and mortar stores can costs hundreds of thousands of dollars just to set up.
With an online store, the only cost is the subscription fee for the ecommerce platform.
You may need to also pay for inventory, but you could even choose to forego this by dropshipping.

Instead of splashing out hundreds of thousands you could just spend a few hundred at most.
3. Easily Leverage Social Media
45% of the population uses social media – it is becoming one of the best ways to engage an audience at scale.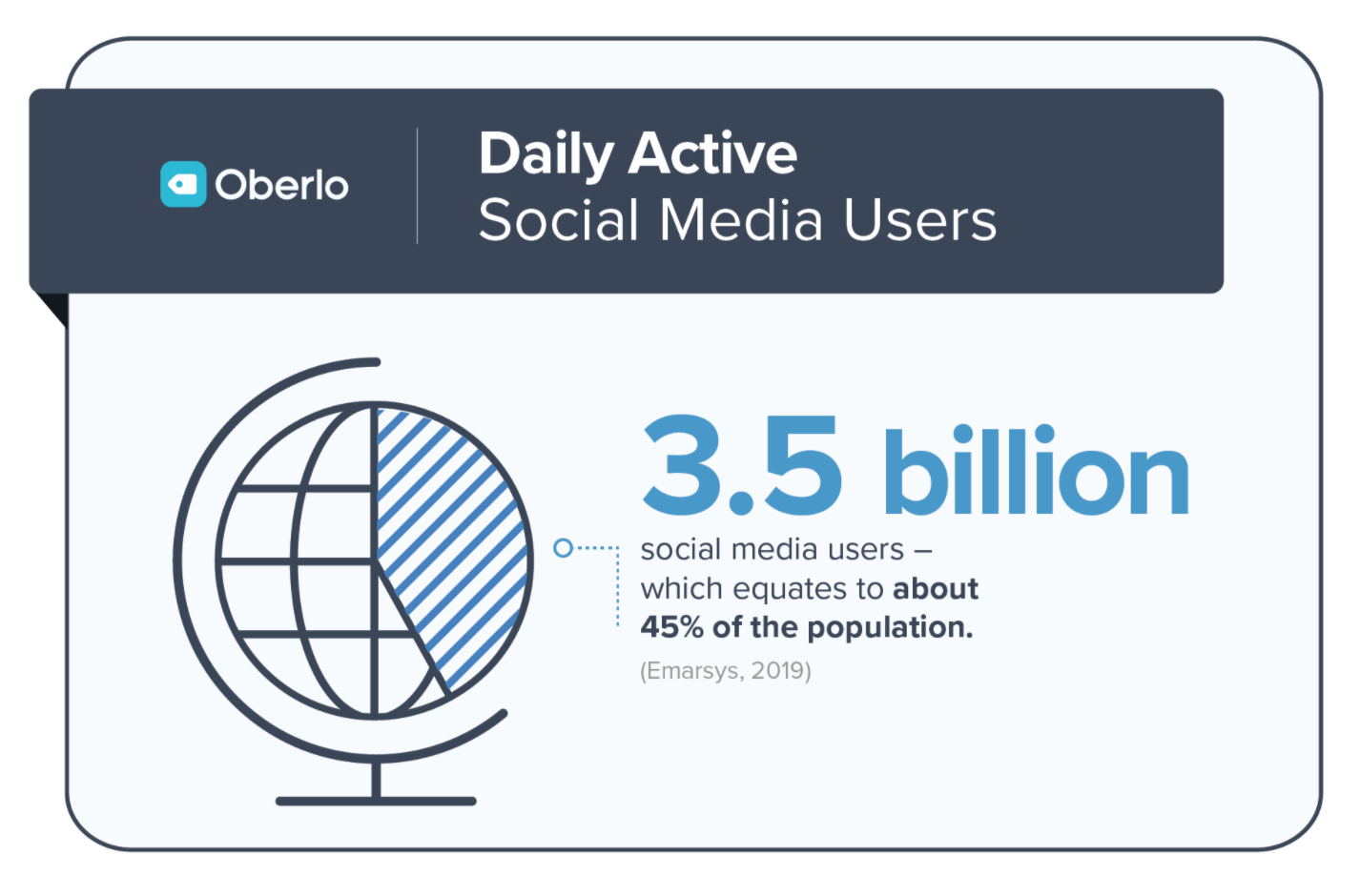 The great thing is – most of the ecommerce platforms have native support for social media marketing.
If not, there are third party apps that can integrate directly with the backend to provide this functionality.
For example, both Shopify and BigCommerce have their own integrations with Facebook, Pinterest and Instagram.
This allows you to go beyond search and tap into new markets. This way you really aren't limited by search volume.
Facebook uses interruption marketing and if you leverage tools like lookalike audiences – you can get your product in front of people who aren't even searching it but who are likely to buy.
This means that if you find a winning product you can really scale your traffic with social. That's how I managed to make $800/day on my previous dropshipping store.
4. Passive Traffic With SEO
If social channels are not your cup of tea, you can always choose to go down the SEO route by creating products with high keyword search and volume.
Platforms such as WooCommerce are fantastic for this since they are built on top of the WordPress framework which is made to rank websites quickly on Google.
Good ecommerce platforms will give you the ability to improve search engine visibility by modifying your page title, meta descriptions and keywords to match buyer intent.
You can also provide Google with an XML sitemap to ensure that your website is searchable.
The great thing about organic traffic is that once you start ranking for certain keywords, the traffic comes to you at no additional cost.
It may take some time to rank but the effort can definitely be worth it if you are looking to build a more passive model.
5. Fantastic Customer Support
Most of the solutions I've mentioned are SaaS based – this means that you need to pay a monthly fee to continue using the software.
It also means that the SaaS company needs to keep you happy in order to keep you as a client.
Generally, most SaaS based ecommerce platforms have very good customer support.
Often there are multiple ways to reach them – via phone, email and even live chat. For example, BigCommerce provides full phone, chat and email support 24/7. So if you do have an issue with the site, you won't be left hanging.
The more you pay – the more premium support you get.
At higher tiers (usually enterprise level), you even get your own account manager who can troubleshoot and fix any issues.
At the enterprise level, BigCommerce even provides you with expert design consultants that can advise on best practice design based on your industry.
Ecommerce Strategies and Tips
I've reiterated the point that ecommerce is the next big thing, but let me throw you another statistic. Did you know that Black Friday online sales increased by almost 4x between 2013 and 2019?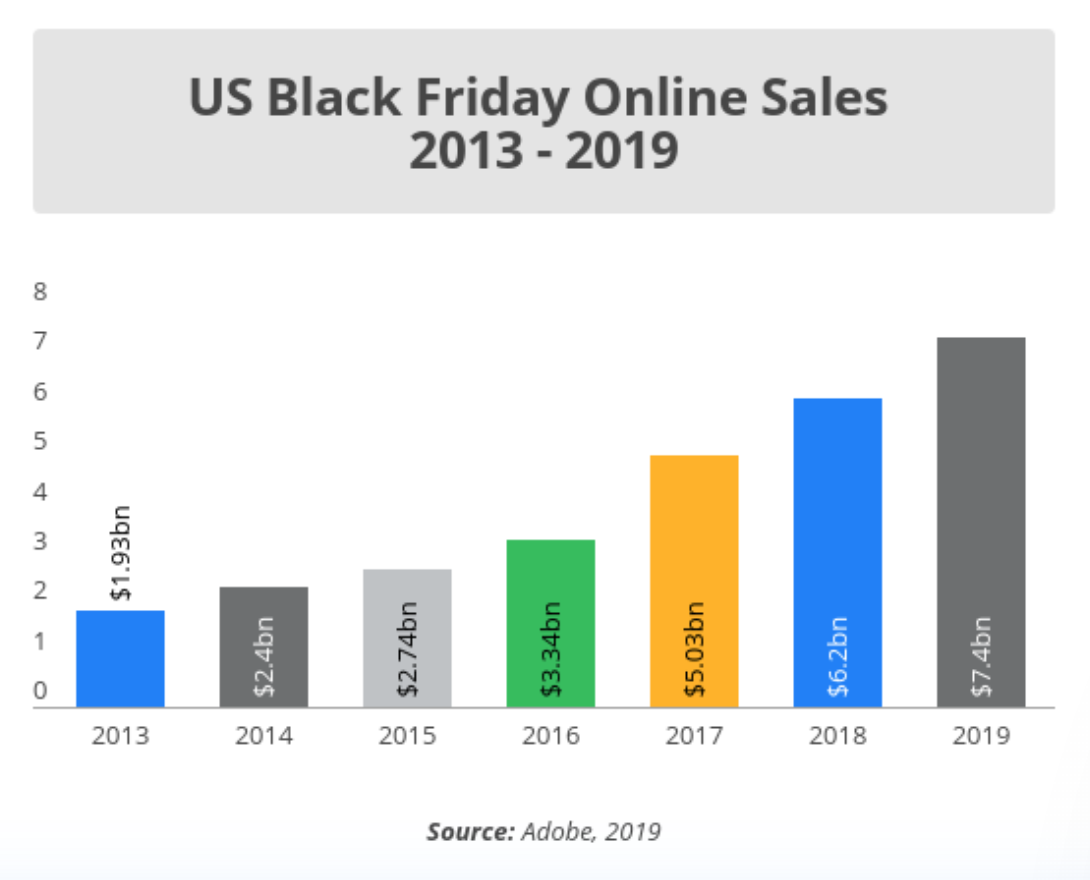 This shows that there is opportunity but also competition within the market. The larger the ecommerce market becomes, the more sophisticated online shops become. Not just in terms of their site design but also in their marketing methods.
For example, Jefree Star and Shane Dawson broke Shopify by selling over 1 million products in a single day.
How did they do this?
They launched a reality TV series on YouTube about their process of designing their cosmetics products – drawing and engaging viewers in for 3 months before a massive launch.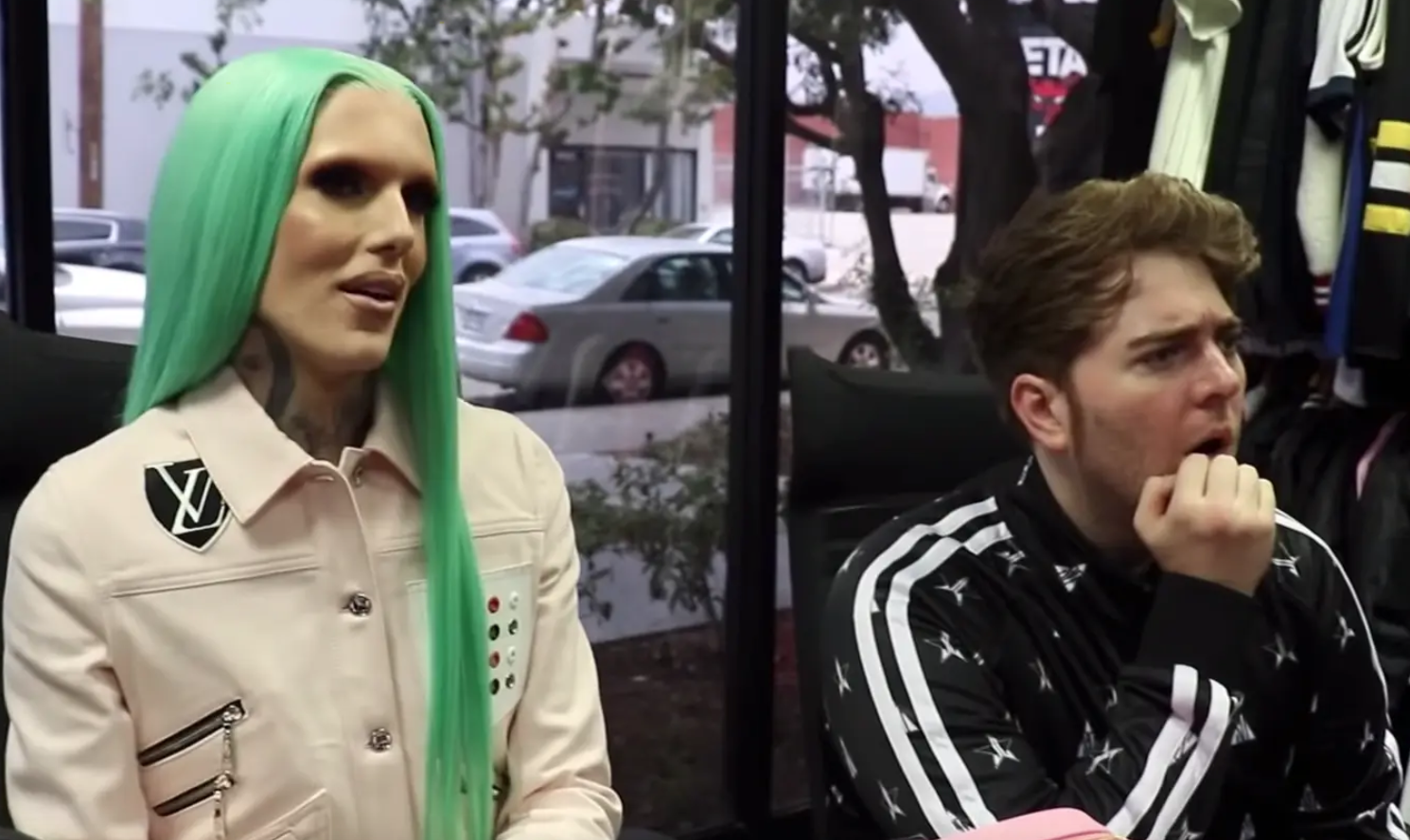 You don't need to use marketing tactics like these to see initial success. But there are some best practice principles you can follow.
1. Make Sure Your Website Is Attractive
Statistics show that it takes roughly 0.05 seconds for a user to form an opinion about your website and decide whether or not they will stay.
This means that you need to capture your visitors attention instantly. This is done with excellent design and consistent branding.
Have a look at this website: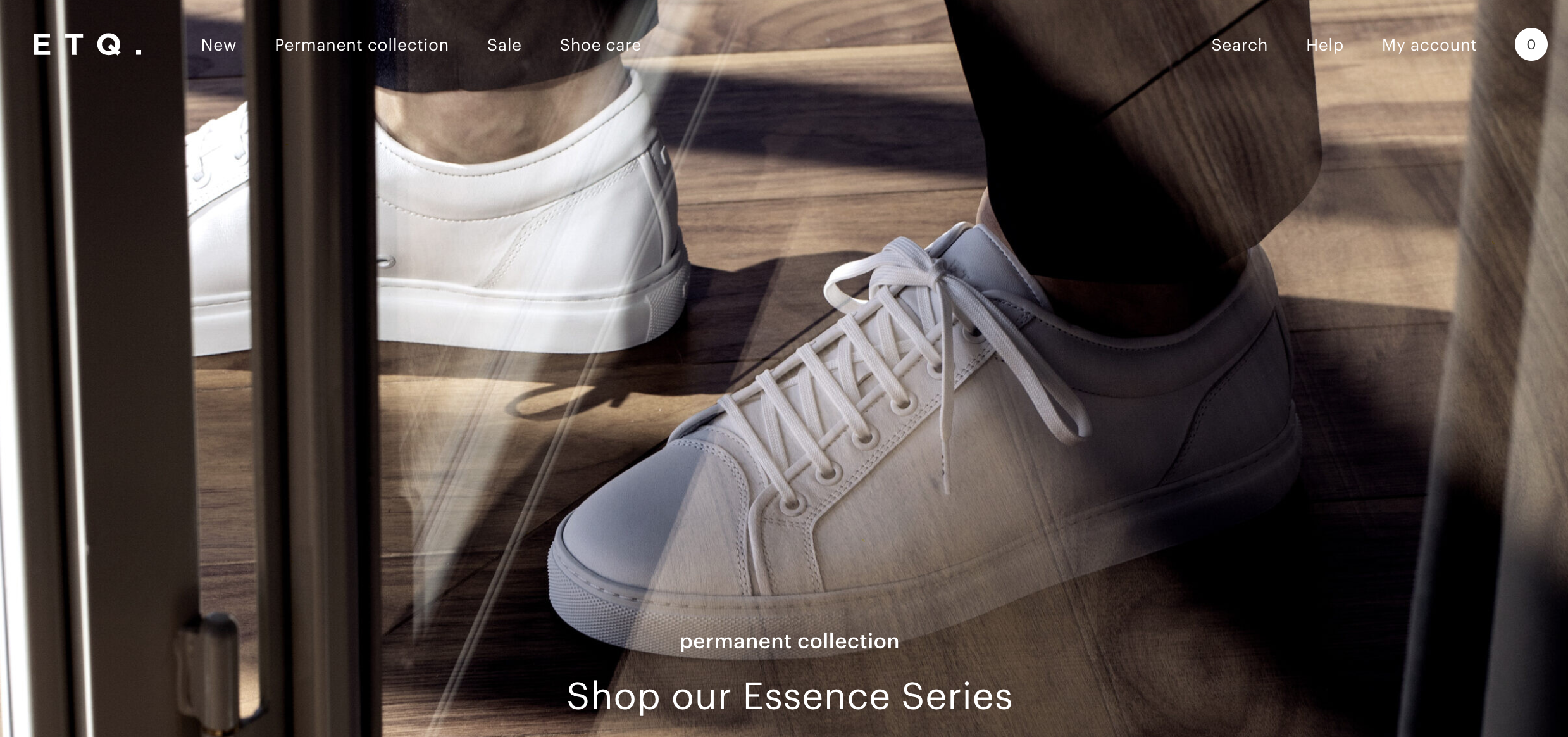 They use a minimalist design and clear, beautiful, high resolution pictures and it is immediately clear what they do – sell premium shoes.
When thinking about designing your site, imagine that you are showing it to a friend.
How would you design your front page so that your friend understands exactly what your website sells? What colors should you use? What pictures?
You don't need to be a design expert but following best principles such as simplicity, a maximum of 3 different colors and a clean logo you can really differentiate your site from the pack.
As your site grows in size and scale, you can always hire an external designer to spruce it up.
2. Don't Ignore Mobile Traffic
With the ubiquity of smartphones, it's no surprise that mobile traffic is constituting a larger and larger portion of ecommerce sales.
In fact, in 2020, 3 trillion USD of product was sold via mobile.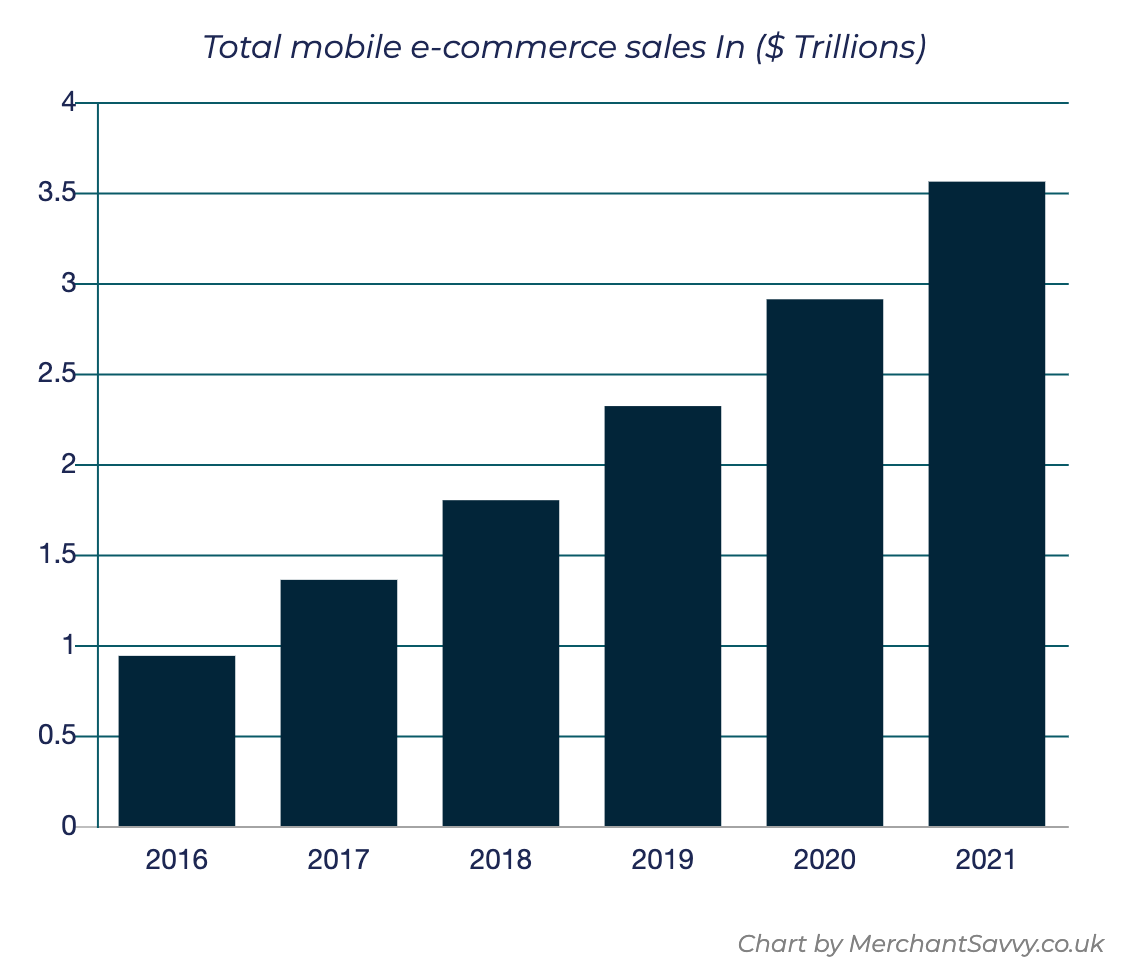 Beyond just ecommerce sales, search engines are also taking heed of this trend as mobile-first indexing has become a ranking factor for Google in 2019.
So if you are trying to increase and improve your SEO, having a site that is mobile compatible is a must.
Luckily, many of the ecommerce platforms suggested here are mobile friendly by design. The market leader would for this probably be Shopify. They are used by large companies such as The Economist, Hasbro, Heinz and Penguin Books to name a few.
When designing your site, it's important to toggle to mobile view before publishing. You may need to make a few tweaks such as resizing the logo, adjusting margins and changing font size. It's also important to ensure that your checkout process is seamless on mobile.
3. Make Sure Your Page Loads Under 3 Seconds
Did you know that only 45% of millennials on desktop and 26% of millennials on mobile will exit a website if it takes longer than 3 seconds to load?

Most ecommerce builder templates are optimized for speed, but if you use too many images it can increase page load time.
One solution is to use image compression software before uploading the images. Another solution is to use third party plugins that automatically do this.
You might also want to hire a site speed optimization freelancer on Fiverr to make sure your site is up to scratch.
It will be well worth the money especially if your site is bloated and slow.
The final step you should take is to check your site speed on tools such as GTMetrix to see how fast your site loads.
4. Leverage Data And Analytics
Data is the new currency of the digital era. It's how Facebook and Google manage to monetize without charging their users.
Luckily, when you are using ecommerce platforms you can take advantage of all this data to target users who are most likely to buy your products.
Your strategy should be to integrate as many data sources (Facebook Pixel, Google Analytics, Pinterest Pixel) on your website as early a possible to understand your users.
With platforms such as Facebook, you can even retarget visitors who have visited your site via another channel such as Google.
This is extremely powerful and has a much higher ROI (almost 10x conversion rate) than cold traffic.
Most ecommerce platforms have their own analytics apps as well.
Take Wix.
They have a Visitor Analytics module which allows you to extract a visitors location, the time spent on site and conversion statistics.
It also gives you information such as the number of visitors on your website so you can track how your site is growing.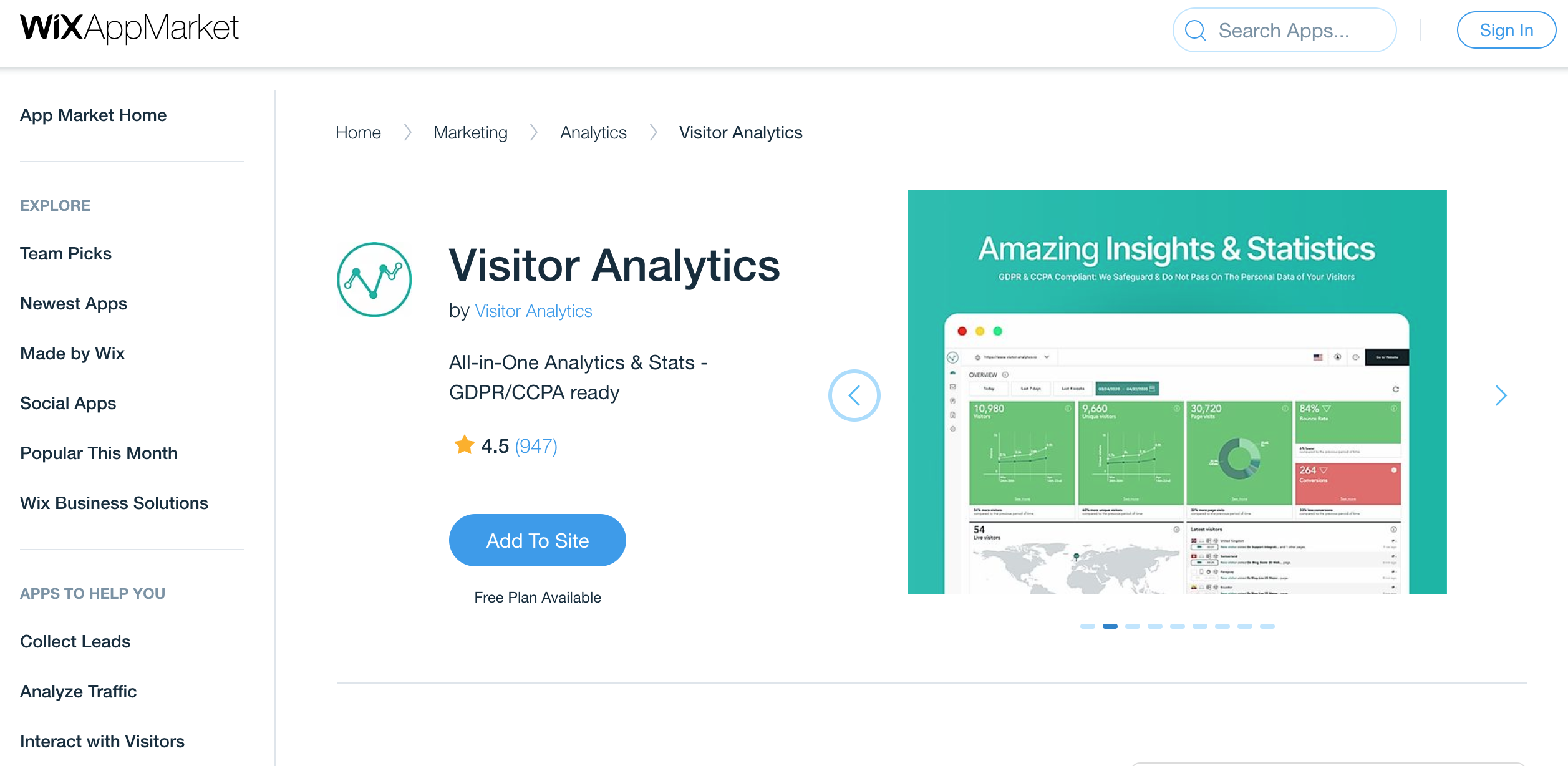 You can use these to make decisions on what products you should promote and to which people.
5. Don't Ignore Email Marketing
Email can be the highest revenue generating traffic source. In fact,
For every $1 you spend you could generate $40 in potential revenue.
Not all ecommerce platforms have email marketing inbuilt but many of them can integrate with third party solutions.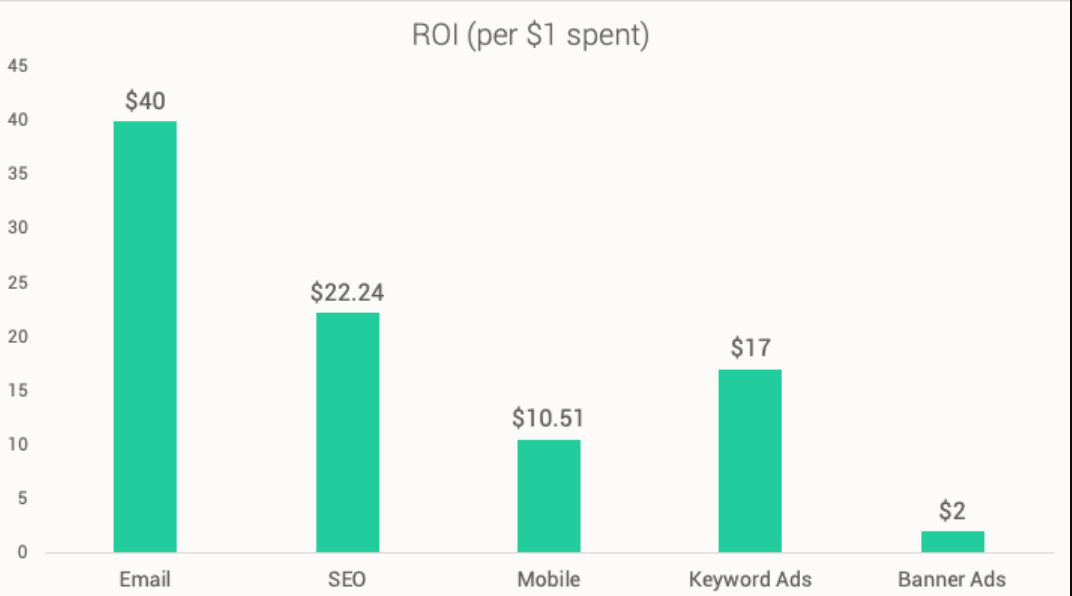 Because it is such a lucrative opportunity, I've made a guide on the best email marketing software in case you want to do any deeper research.
There is even specific software such as Omnisend tailored towards ecommerce.
To implement this, you would want to create a popup on your website and provide a freebie to the visitor on email submit.
This could be a free ebook or better still an exclusive 10% discount on all your products on the store.
When I was running my previous store, almost 20% of my revenue came from email marketing.
After capturing their email, you could upsell them on other offers to increase customer lifetime value.
You need to strike a balance with this – being too pushy could make your visitors unsubscribe.
6. Include Reviews On All Your Products
Social validation is very important, especially when selling online – I'm sure that before we buy something on Amazon we also take a quick glance at the reviews.
In fact, according to Econsultancy, reviews are expected to generate an 18% uplift in sales.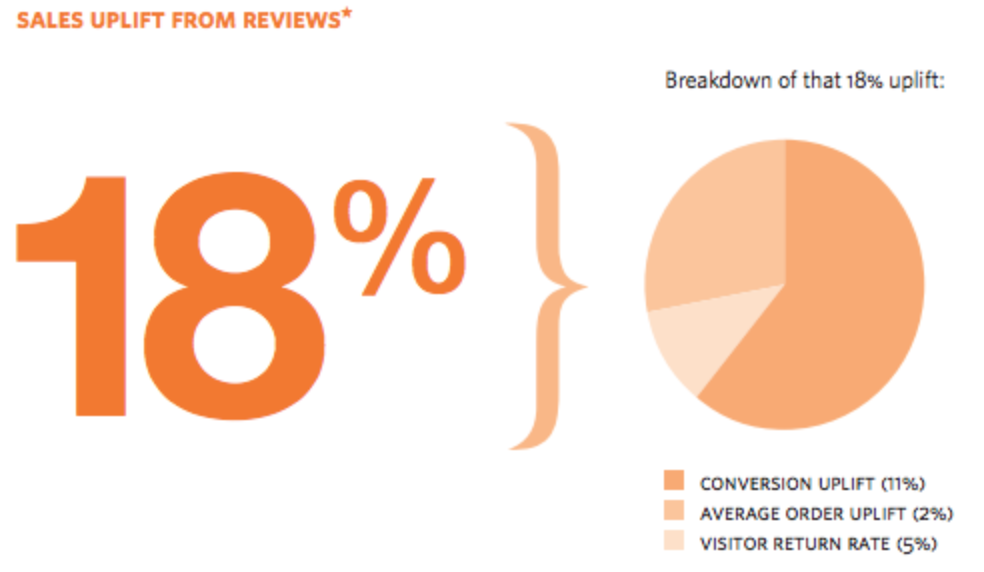 With Shopify, it is very easy to add these reviews. Apps such as as Loox allow you to collect and automatically import reviews from platforms such as Aliexpress.
This is perfect if you are using the dropshipping model as you can use existing user feedback to socially validate the quality of your product.
As you get sales, you can ask existing buyers for a review of the product.
You don't even need to do this manually as most plugins allow you to create automated emails. This way as your store grows, you get even more social proof.
FAQ
Can I Sell Online For Free?
Yes.
Solutions such as eBid, Geebo, Facebook Marketplace, LetsGo and Craigslist allow you to sell one off products online.
The main limitation with these platforms is that it is hard to sell at scale due to their lack of integrations with logistics and fulfilment providers making the process highly manual.
What Is Better For Ecommerce Shopify Or WordPress?
Shopify is better if you want to build a dedicated ecommerce store as quickly as possible – it has plugins with suppliers such as Aliexpress through Oberlo. This makes product sourcing and fulfilment much easier.
However, if you prioritize blogging and SEO, WordPress and BigCommece in combination could be the better solution.
What Is The Easiest Ecommerce Platform To Use?
Most ecommerce platforms are very user friendly and have drag and drop editors that do not require any coding knowledge. However, there are three standout platforms that take the cream in terms of simplicity.
Wix is especially easy since it was originally conceived as a website builder aimed at non-techies.
How Hard Is It To Be Successful In Ecommerce?
As easy as the gurus make it sound online, ecommerce in my experience is not easy.
Even with the tools that allow you to create stores in a matter of hours. It takes creativity and diligence to find the right product, the right angle and the right marketing channel.
It took me 6 failed stores before I experienced my first breakout success.
If you have diligence, it is definitely possible to be successful in this space. The rewards can be massive because of the high scalability of the business model.
Just don't expect to get rich overnight.
Do I Need A Website To Sell On Facebook?
No – you do not need a website to sell on Facebook, though it is highly advised you have one especially if you will be driving traffic through Facebook ads. If you don't have a website you can use
Facebook Marketplace and sell products through there. I was able to sell a computer monitor second hand through this.
Just note that you will need to manage the logistics as you will be communicating directly with the buyer so it is a very manual process.
What Is Better Amazon FBA Or Shopify Dropshipping?
Shopify Dropshipping is better if you have access to little capital and want the flexibility of testing multiple products at a small budget.
Amazon FBA is better if you have access to more capital and want something more long term and passive. This is because for Amazon FBA you will typically need to buy product in bulk. It is inherently riskier since you don't even know if the product will sell.
What Is The Best Way To Learn Ecommerce?
The best way to learn is by doing.
Watch tutorials online of how different people make money and come up with your own product idea and angle.
Commit some money and budget.
My recommendation is to spend your money setting your site up and marketing it with free videos vs buying courses. In general, real life experience always trumps.
Summary
If you've reached the end of this post – congratulations. You must be serious about starting your ecommerce business model. The next step is to select your preferred platform. To reiterate, my top picks are:
Wix – the best overall platform – they have the easiest site builder to use, fantastic support and a great community.
BigCommerce – the best for large stores – their Enterprise plans allow you access to custom designers to create the highest converting storefronts.
Shopify – the best for dropshipping – they can integrate directly with dropship suppliers AliExpress through Oberlo, so if you are looking to go down this route – definitely check out Shopify.
Do you think I've missed anything? Let me know in the comments below.