TLDR: Hubspot is the best CRM Software. They are listed on the NYSE, are used by 78,700 customers in 120 countries and made revenues of $675M (2019) – so they aren't going anywhere anytime soon.
As markets across the globe become more and more competitive, the companies that stand out are the ones who can capture the most leads and convert them into clients.
However, the more potential leads you have, the more difficult it is to do this – this is where CRM software helps.
What Is CRM Software?
CRM software CRM (Customer Relationship Management) software is a system that allows you to capture leads and nurture them into paying clients in a systematised way.
Good CRM software can be pre-configured to your specific sales funnel and provide potential customers the best experience possible.
CRM software can identify where exactly the lead is in the pipeline and can send personalised messages to customers at the right point in time.
The more sophisticated platforms also allow you to integrate with a variety of apps and also automate workflow.
Using CRM software is proven to improve bottom line to the business, but with so many options in the market – I'm sure you're wondering – what is the best CRM software solution for my needs?
What Is The Best CRM Software?
I have reviewed and ranked the best CRM software based on:
Ease of use
Breadth and depth of integrations
Pricing
Quality of support
Sophistication of marketing tools
By the end of this article, you should have a good understanding of what CRM software is best for you / your company.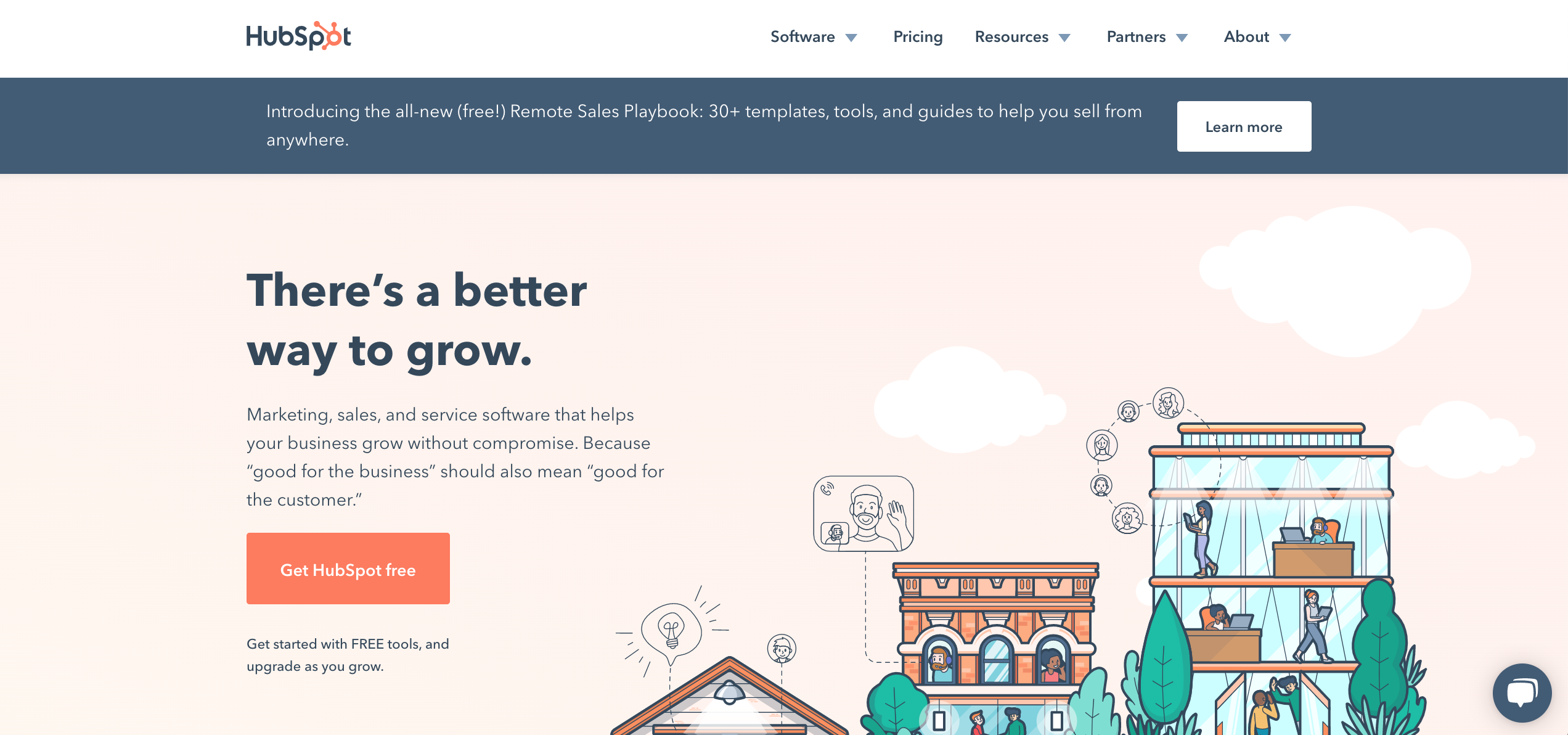 On top of the list is HubSpot. It's been quite popular over the years and it should come as no surprise why I put it on top of the list.
This is an excellent CRM that is rich with awesome features and makes automation a breeze.

If you have a team of marketers who are serious about helping you capture high-quality leads and eventually converting them into your customers, this is the software you might end up using.
HubSpot is compatible with hundreds of tools and will also perform tasks for you like sending email campaigns out to your subscribers.
They have a free version with plenty of features to get you by if you are on a budget.
Hubspot is used in many large corporates – as a matter of fact, the consultancy I am working in right now is using Hubspot.

We recently converted from PipeDrive and for us, Hubspot is a big step up in terms of customizability and functionality.
Key Features
Integration for more than 300 different apps
Automate your nurturing process by sending emails and keeping in touch with leads
Keep all of your data on your customers and leads all in one place
Communicate with your customers via live chat or chatbot
Compatible with email CRMs so you can send emails with more efficiency
Pros
Includes a free plan with a handful of features
Provides email marketing and segmentation for free
Has an extensive form builder to help you collect emails
Easy for marketing teams to nurture your leads
Cons
Prices of higher end packages are quite high
Pricing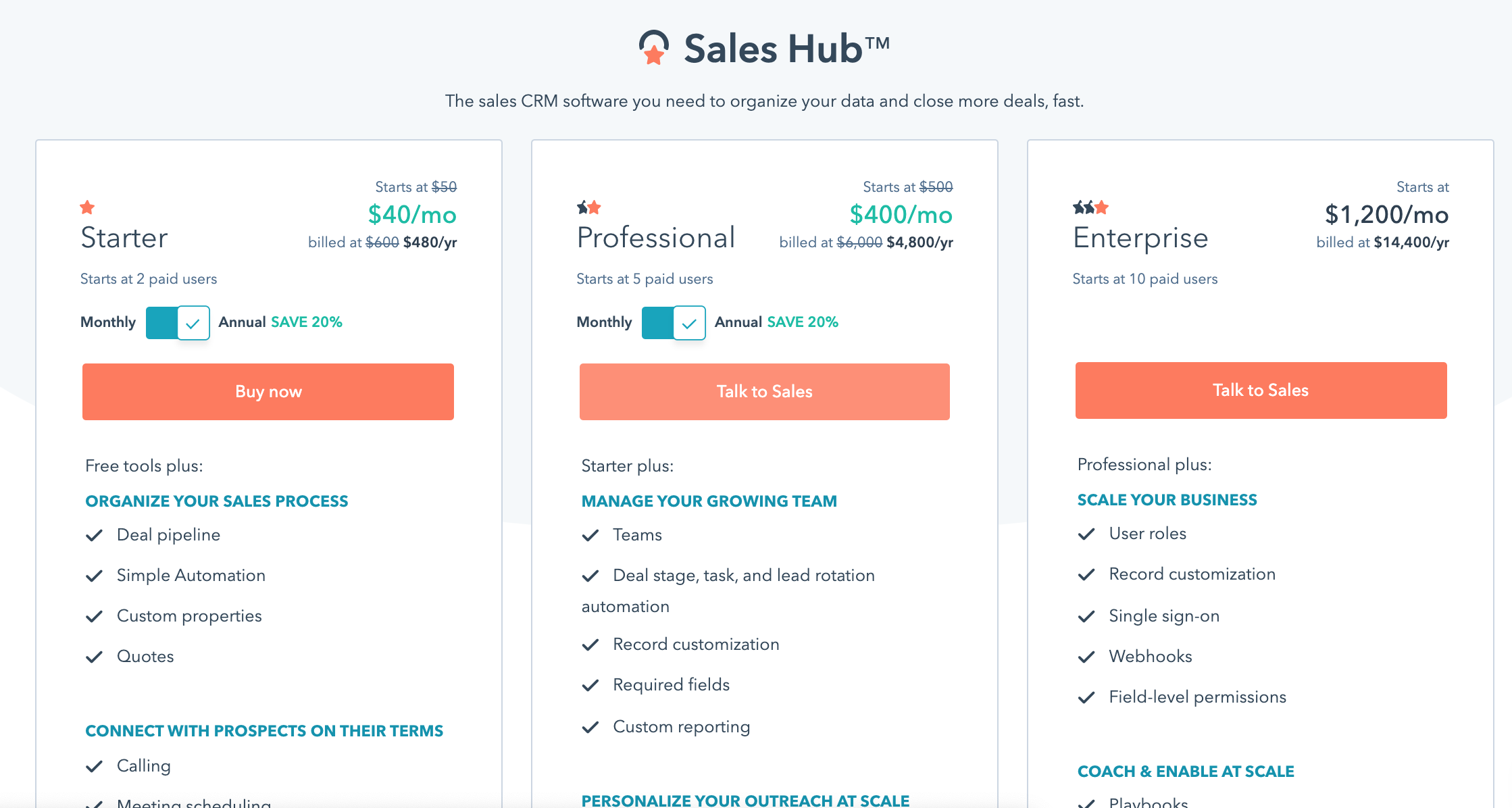 HubSpot has four packaging tiers at the following prices:
Free: They have a free tier which still has great features such as contact management, reporting dashboard and email tracking notifications.

Starter: $40/month. You get all the features that come with the free plan. Other than that, you have up to 50 email segmentation, up to $1k in ad management, 10 new reporting dashboards, and more.

Professional: $800/month. The second step up. Includes the features from both the free and starter packages. Plus, you get a whole lot more in terms of ad management and segmentations. Not to mention, you get to unlock the full features of its chatbot.

Enterprise: $1,200/month. This will unlock all the features within the entire suite. You get plenty of cool extras like webhooks, API calls to name a few.

Try Hubspot CRM For Free
2. Nimble – Best for Customer Prospecting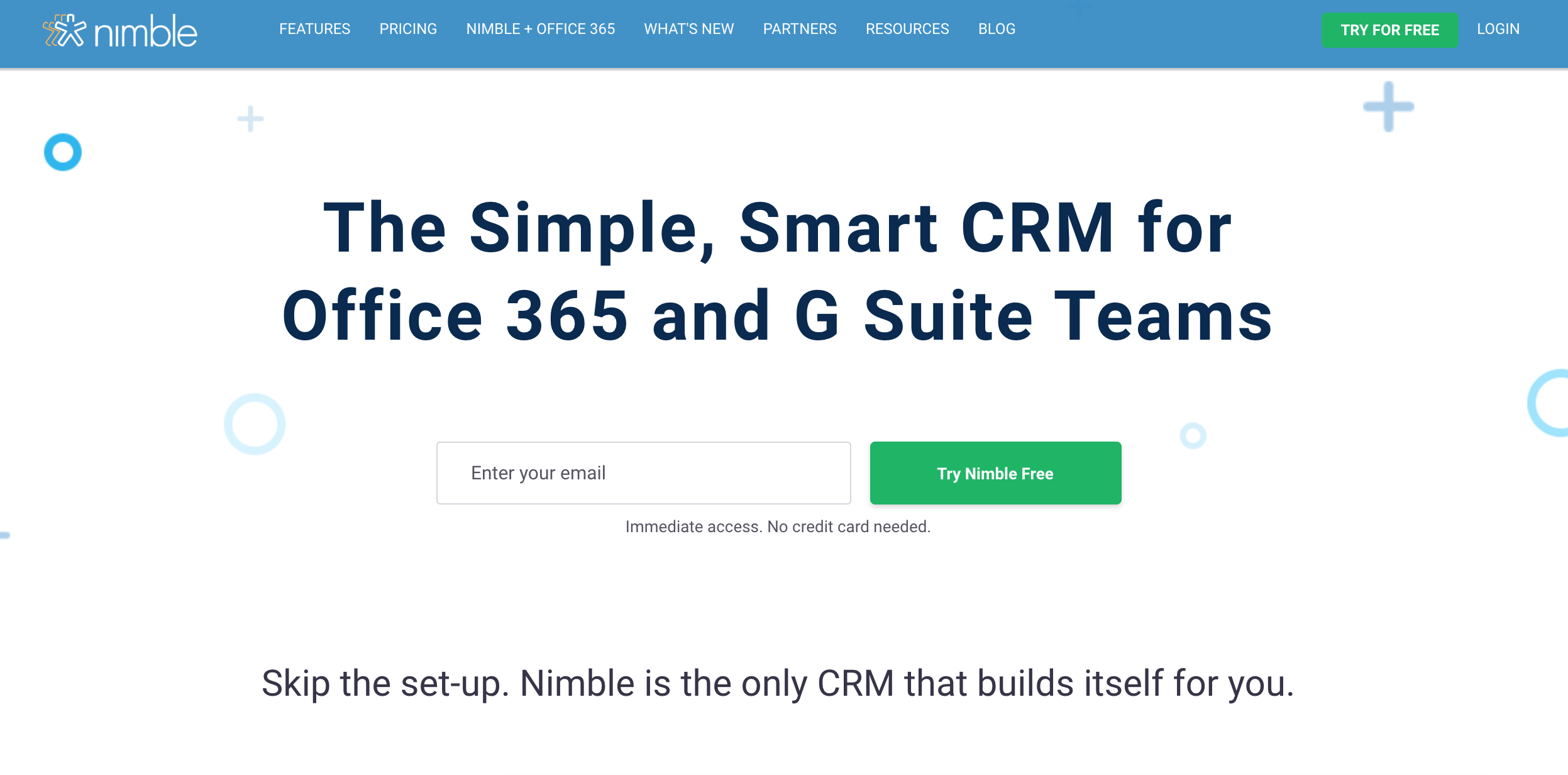 Next up, we have Nimble. This is my choice for those who want a reliable software that will make prospecting for customers easy. It can also save you plenty of time in so many ways.
A trademark feature is that the Nimble CRM software literally sets itself up for you.
You'll still need to key in the relevant info if and when needed. But you don't need to do all that complex heavy lifting that you see from other CRM setups.

You can gather all of your contacts, track the activities of your team, see where you are with your leads in terms of communication, and so much more.

In fact, more than 10 million deals were made by the hundred thousands of users who relied on Nimble.
Key Features
Integrate contact data through plenty of communication apps like Gmail, Mailchimp, and more
Easily access the contact information of your team, leads, clients, and more
A reminder system that will keep you on task and in line for all the day's (and week's) important events
Schedule everything for the week or well in advance with the calendar feature
Manage the to-do lists of all your team members
Pros
Sets itself up automatically
Easily organizes a lot of your lists, contacts, etc.
Perfect for small and large-sized businesses
Reasonably priced
Easy to use pipeline features
Cons
No autoresponder function
Most integrations may be a bit complicated to set up than others
Data segmentation can be a pain at times
Pricing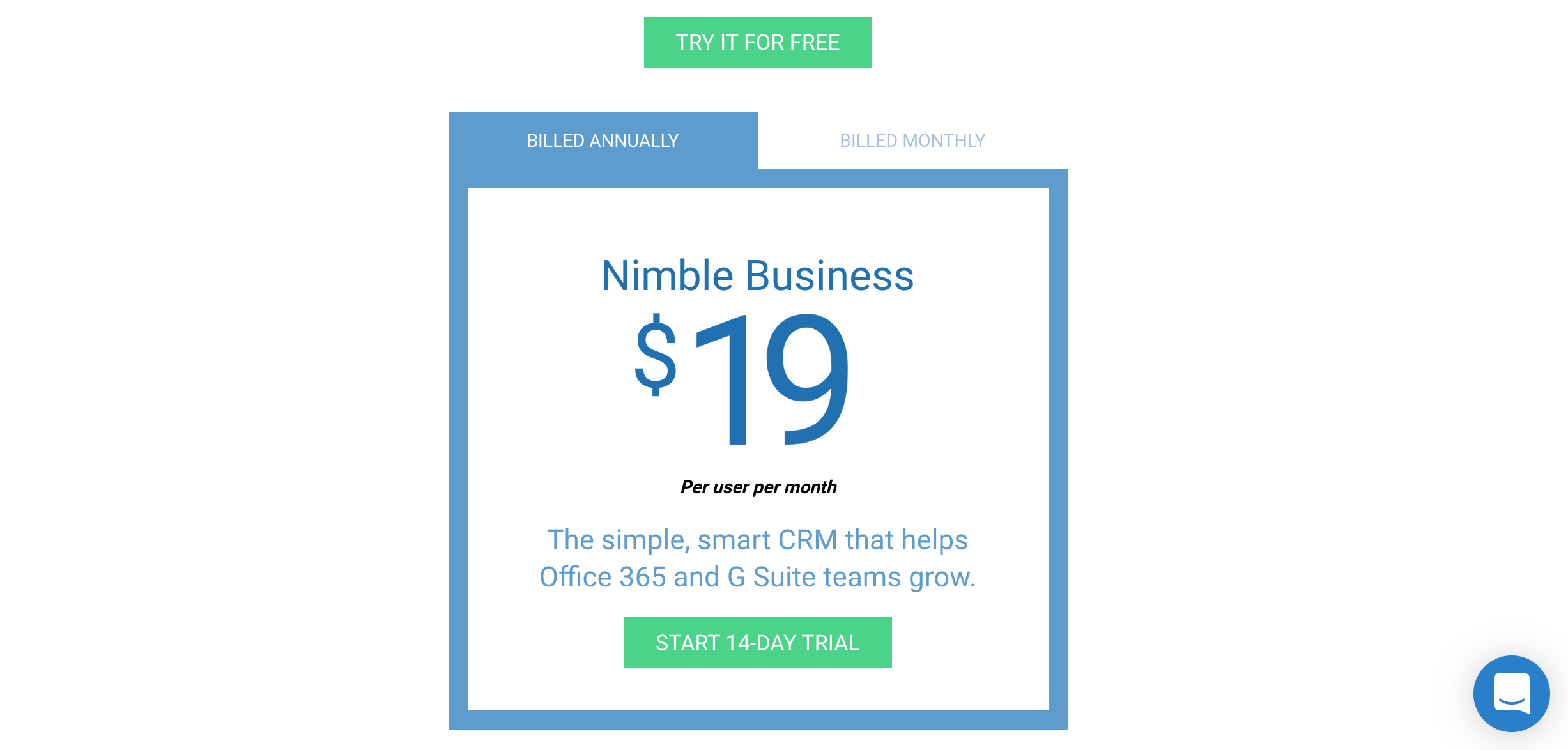 There is only one pricing tier. You can pay $19 a month if you want to be billed annually or pay $25 per month every month. Either way, you get all the excellent features that Nimble has to offer.

Try Nimble
3. SalesForce – Best for Customizability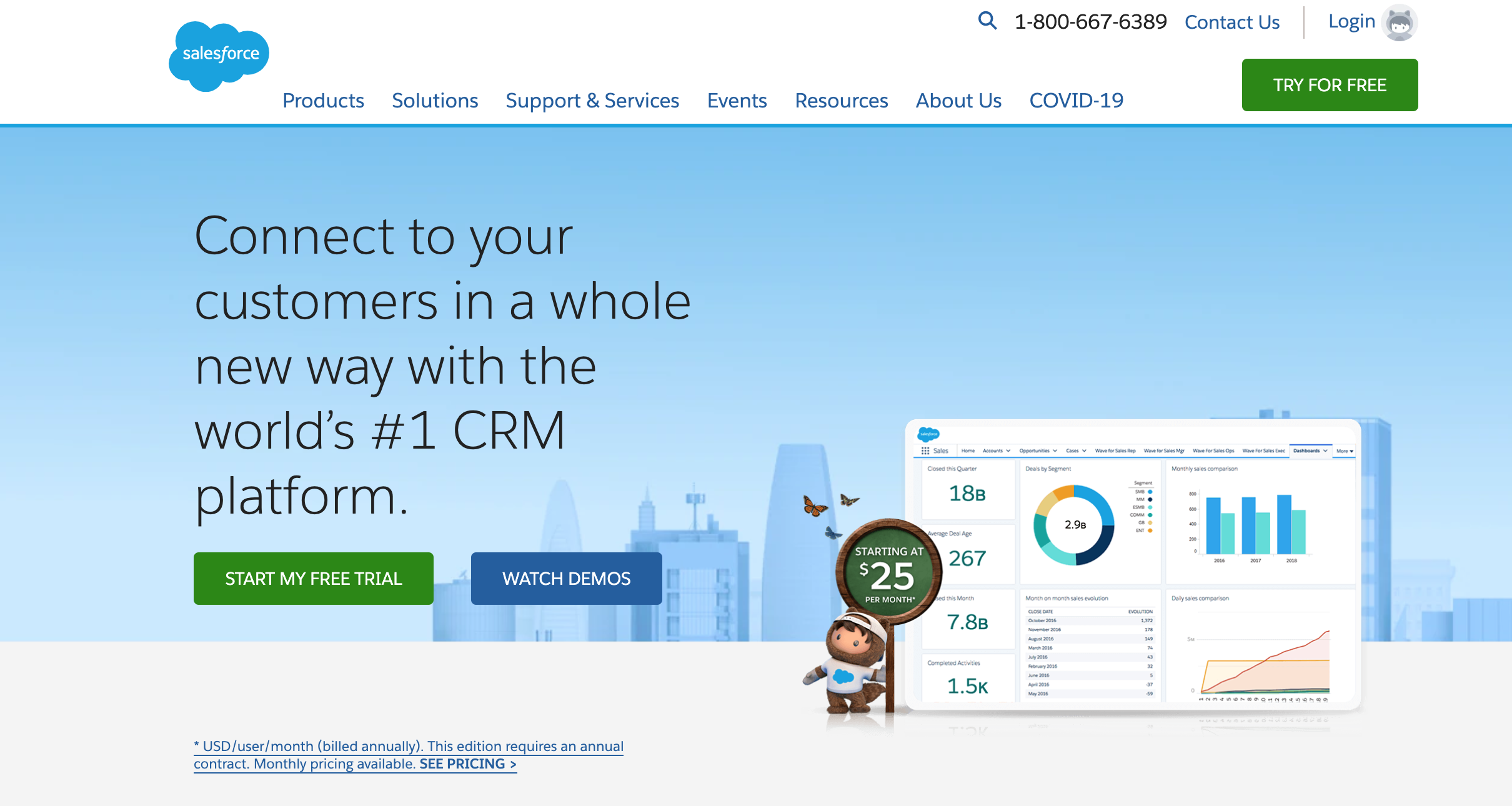 SalesForce is clearly one of the heavy hitters in all things CRM. And it's one of the most recognized names in the business.
This is the program that almost every entrepreneur you cross paths with will mention if you were to ask them to suggest a CRM for you and your team.

With over one million users worldwide, it's clearly obvious why it's one of the best.

Salesforce has the ability to integrate with any business in any industry you can think of.
For a platform that targets larger companies vs small businesses, Salesforce is surprisingly easy to use. You can use drag and drops whernever you want to build out a form or a complete workflow so everything runs smoothly.
This is no doubt the go-to option for any internet or brick and mortar business looking for a reliable and robust CRM software.
Key Features
Easy to build workflows
Opportunity and contact management
Customize your feed with "first feed feature" so you see the most important stuff first
Easily set up sales goals and meet them with sales performance management
Pros
Includes 24/7 customer service
30-day trial period included
Open API
Supports multiple languages and currencies
Mass emailing option included
Cons
Pricing
There are four pricing tiers:

Essentials: $25/month (annually). You get plenty of awesome features that will keep a small business like yours easily functional, automation and all.

Professional: $75/month (annually). If you have a larger team, then this plan will allow you to scale your engagement as there is no cap on team size.

Enterprise: $150/month (annually). You get most of the same features as the sales professional but with a more customized version of the CRM system that is tailor made to your business needs.

Unlimited: $300/month (annually). Unlock the whole suite of tools so you can harness the full power of SalesForce.

Try SalesForce
4. Nutshell CRM – Best If You Manage A Sales Team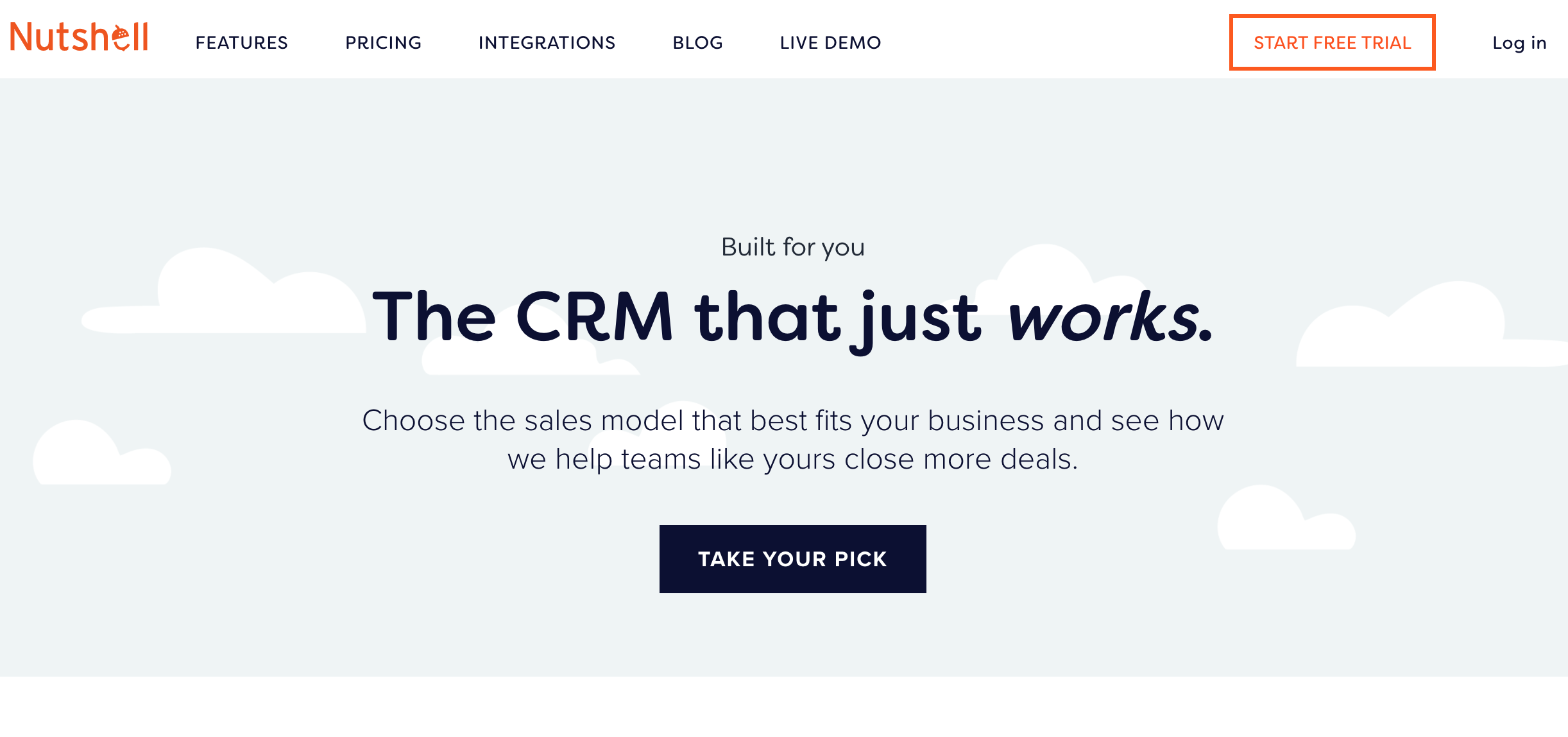 Next, we have Nutshell CRM. Nutshell is a cloud-based CRM that is powered by Amazon Web Services (AWS).
Nutshell CRM has a host of features such as sales automation, reporting and performance tracking, team collaboration, pipeline and contact management.
It is a solid CRM that can handle all of your sales processes so you can nurture leads and strike the deal when the iron gets hot.

Aside from simplifying the sales process, it can also keep track of all your contacts in a central database.
By storing all vital information all in one place, it's easy to retrieve the information of your sales team, leads, or customers with just one click of the mouse. That's the true beauty of this CRM.
Plus, this has the ability to integrate with plenty of apps. So if you want to link up your Outlook email inbox with this CRM, you can do it with no snags at all.
Key Features
Easy contact management
Seamless sales automation
Integrates with plenty of apps
Report and performance tracking so you know what the stats are every time
Pros
Has the ability to send bulk emails
Includes a 14-day free trial
Cloud-hosted
Fast operation
GDPR compliant for those with European customers
Cons
No multi-language support
No on-premise deployment
Does not have a freemium plan
Pricing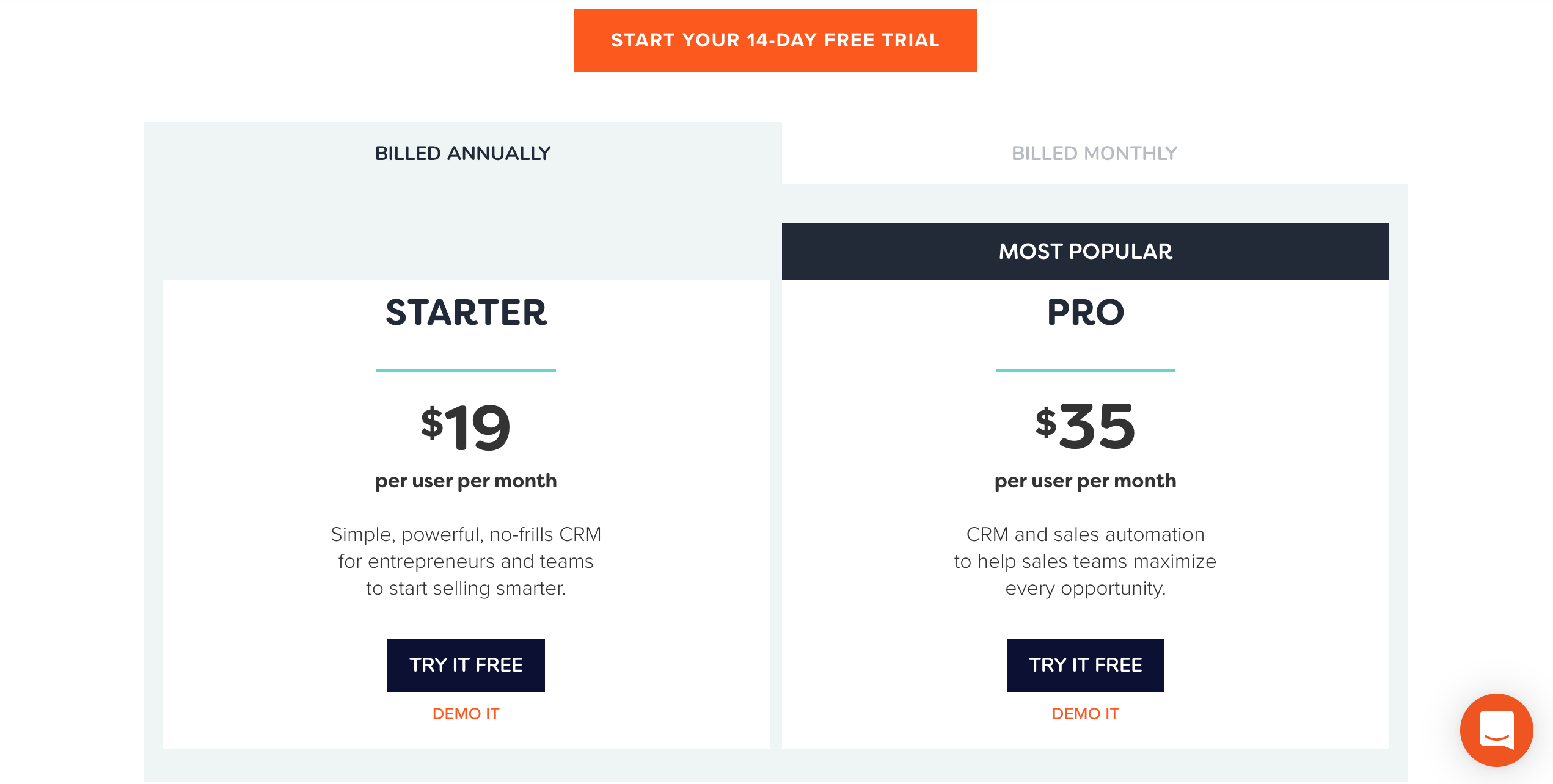 There are two plans available:

Starter: $19/month (billed annually). Bare bones CRM – the perfect plan if you are on a budget.

Pro: $35/month (billed annually). Everything in Starter plan plus automation tools. Take this plan if you have a team.

Try Nutshell CRM
5. FreshWorks – Most User Friendly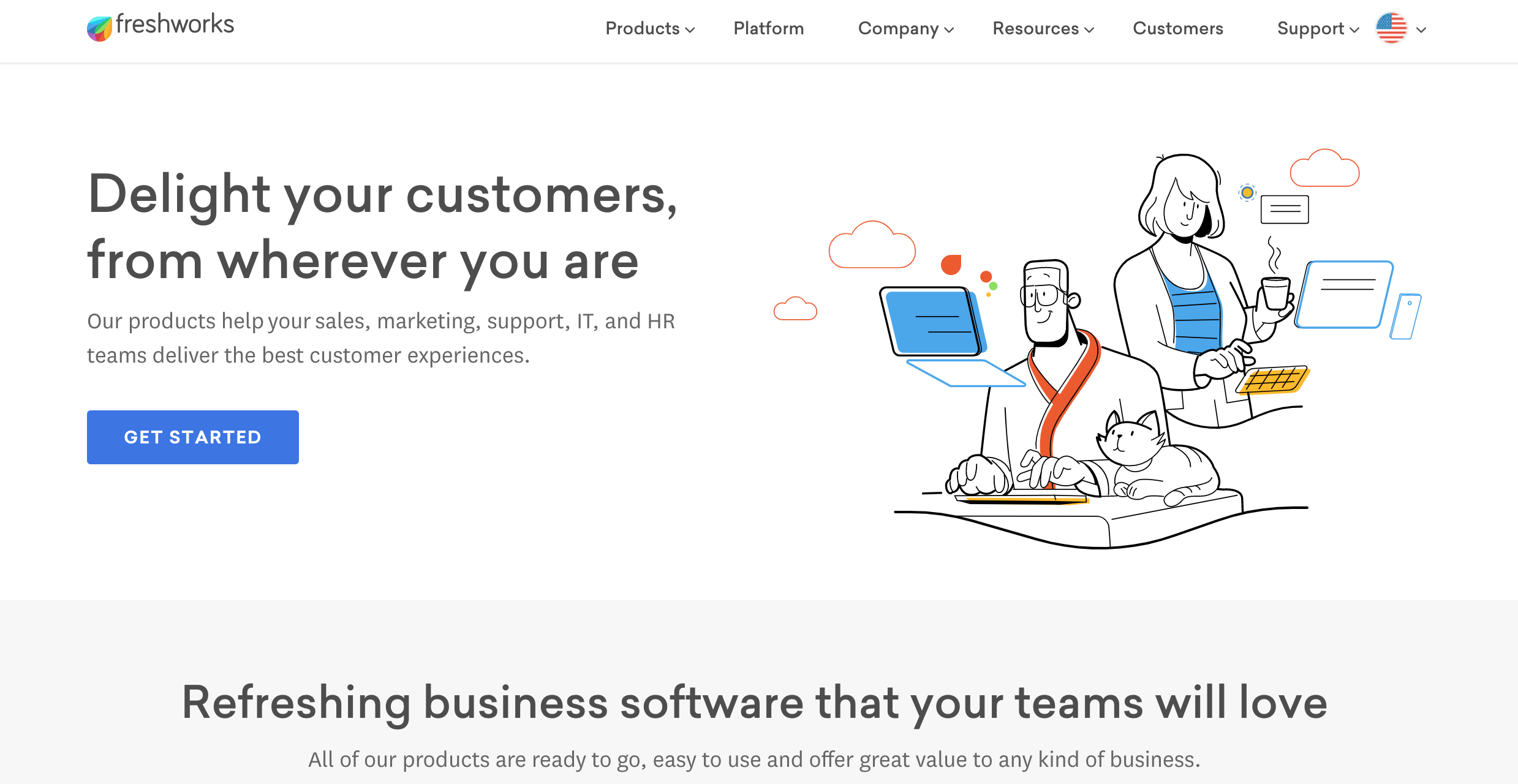 The next CRM that we'll be looking at is FreshWorks.
When it comes to user-friendliness, this takes the cake (frosting and all).
If you are looking for something that is so simple a newbie can use it, then take a closer look at this program.

What you'll get is plenty of automation features.
This includes sales pipeline features that will help you nurture your leads and close them at any given point when a deal is set in place.
What separates FreshWorks from the rest of the CRM is the built-in communication features. It has its own phone and email platform.
You can connect with team members, leads, and customers all in one place.

There is no need to multi-task with a million apps all at once. It's all there in one software and can make "multi-tasking" easier than ever before.

If ease of use is what you're looking for, look no further than FreshWorks.
Key Features
Built-in email and phone platforms
Automated lead and sales pipeline
Team features for seamless communication
Event and email tracking
Automated lead assignments
Pros
Easy to assign team members the tasks you want done
Easy to track workflow
Friendly for beginner users
Communication features are all in one place without having to rely on other apps
Easily keep track of the sales process
Cons
Ticket merging can be a bit complex
Integration for some apps can be a bit difficult (i.e. — Quickbooks)
Some tasks can't be performed with the API
Pricing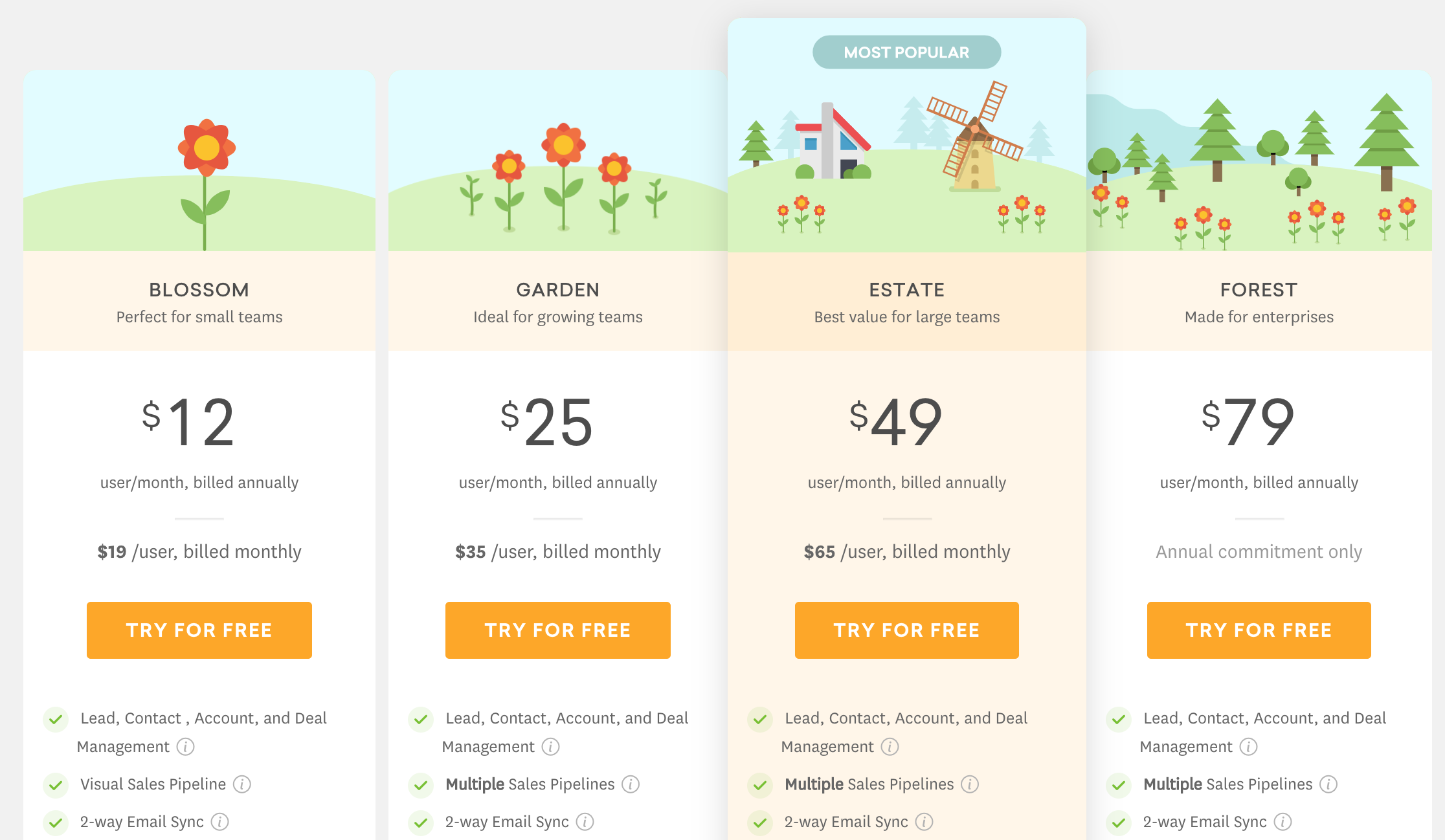 There are four pricing tiers. Their names are quite amusing. Here's what you need to choose from:

Blossom: $12/month (annually) or $19/month (monthly). Great for small businesses who want quick and seamless communication, but don't need to automate a lot of things.

Garden: $25/month (annually) or $35/month (monthly). Is your team growing by the day? Then you have a package that will handle all kinds of team-based tasks. Also added are the features you get from the "Blossom" package.

Estate: $49/month (annually) or $65/month (monthly). Great for teams that are already established and running like a well-oiled machine. Plus, it can support such multiple currencies when working with customers around the world.

Forest: $79/month (annually). The one package that large scale businesses can depend on. You unlock the full suite and have all the powerful features in one generous package.

Try FreshWorks
6. Zoho CRM – Best Social Media Integrations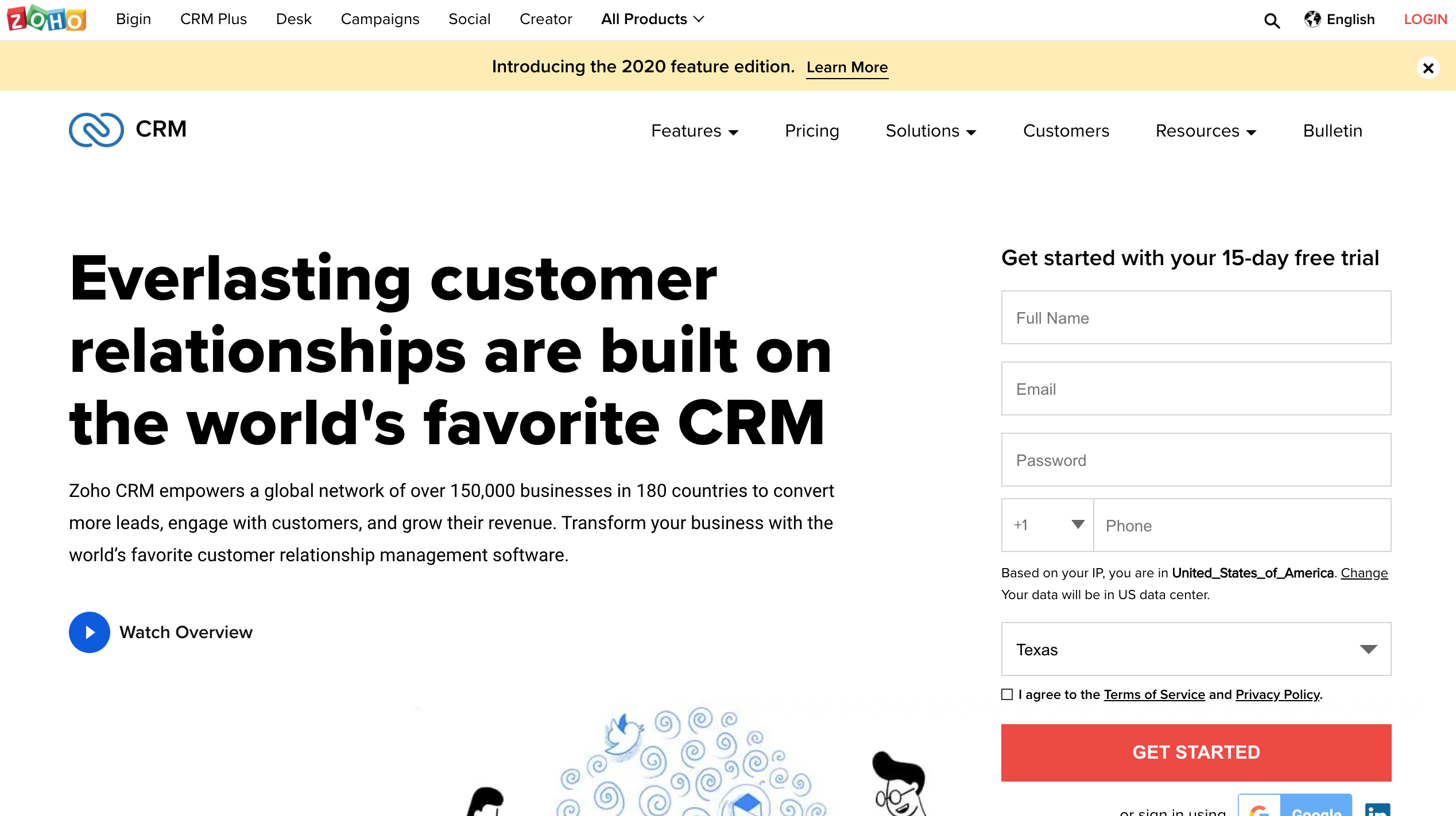 Zoho CRM has a solid track record – there are over 150,000 businesses using it in over 180 countries.
If we take a look at its feature list – it's easy to see why.

It can integrate with most of the major apps and social media networks like LinkedIn, Google, and more. This means you can reach out directly via these networks instead of just using email.

It has an AI-powered sales assistant that will help you and your team through every step of the sales process. This AI can even make decisions for you based on specific customer characteristics.

You can generate price quotes and can upload your own sales scripts whenever you want to communicate with your leads from start to finish.
It's the perfect CRM for those who have a sales team that are good at closing the deals each time they have the opportunity.

You can access reports like sales forecasting, sales made to get a birds eye view of how effective your team is.

With Zoho CRM, you can completely customize the process for you and your team.
Key Features
App integration with over 100 compatible apps
AI sales assistant
Sales management that can help you generate price quotes and keeps your sales scripts stored for future access
Data integration that can be easily accessed by your team
Pros
Can easily integrate with plenty of must-use apps
Easy to customize and scale
Mobile version available for paid customers
Supports multiple languages
Excellent data security
Cons
May not be newbie-friendly
No polling service provided
Lack of importing options
Pricing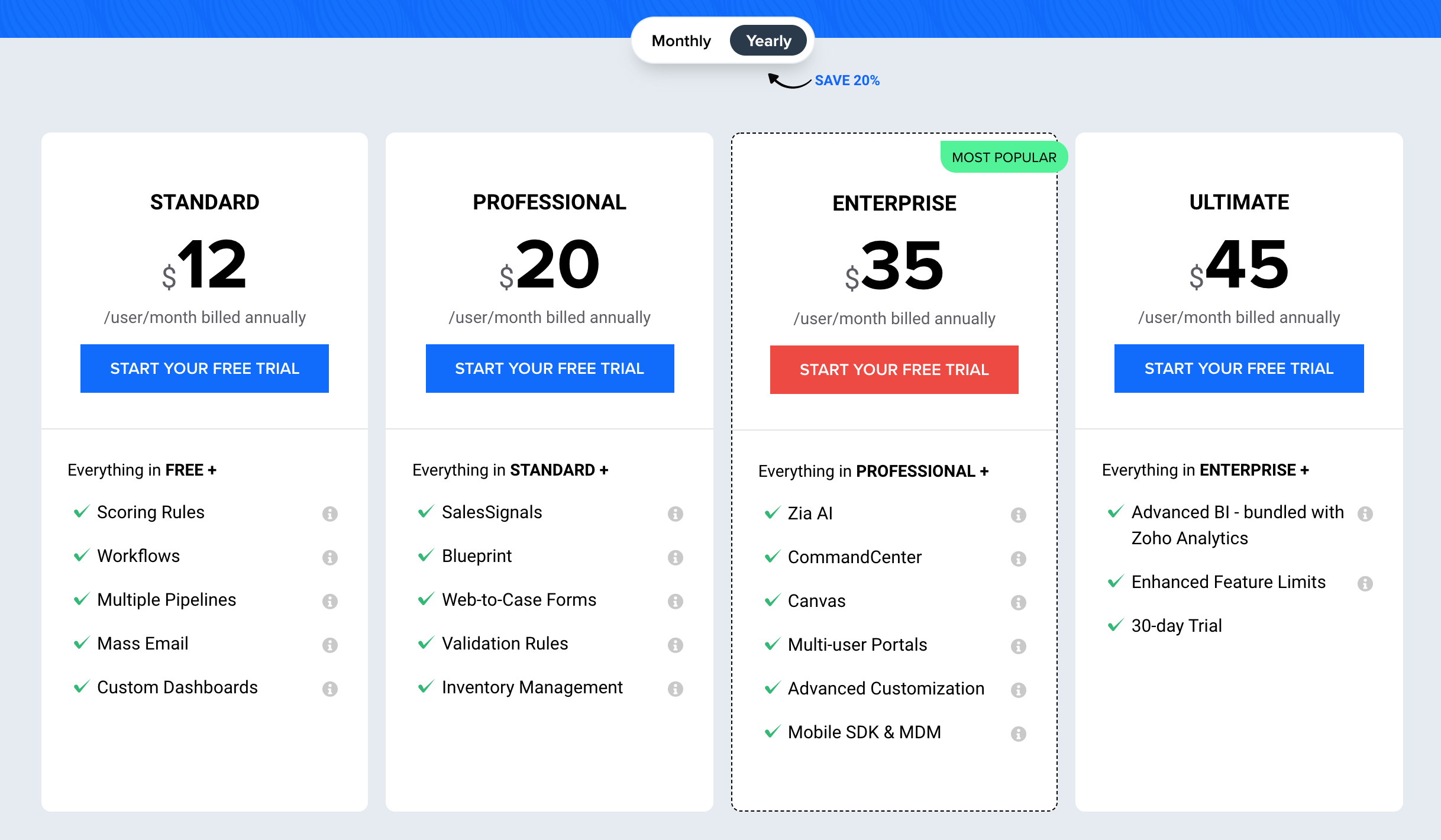 There are four priced tiers:

Standard: $12/month (annually) or $18/month (monthly). You get plenty of features including those from the "free package". You can create multiple workflows and send bulk emails.

Professional: $20/month (annually) or $30/month (monthly). Among some of its best features includes real-time customer notifications. You can keep in touch with them in case they may have questions or concerns.

Enterprise: $35/month (annually) or $45/month (monthly). More features including an AI assistant that will help you with the sales process.

Ultimate: $45/month (annually) or $55/month (monthly). The total package. Plus, you get a lot of enhanced features that will be suitable for large teams.

Try Zoho CRM
7. NetHunt CRM – Best Gmail Integration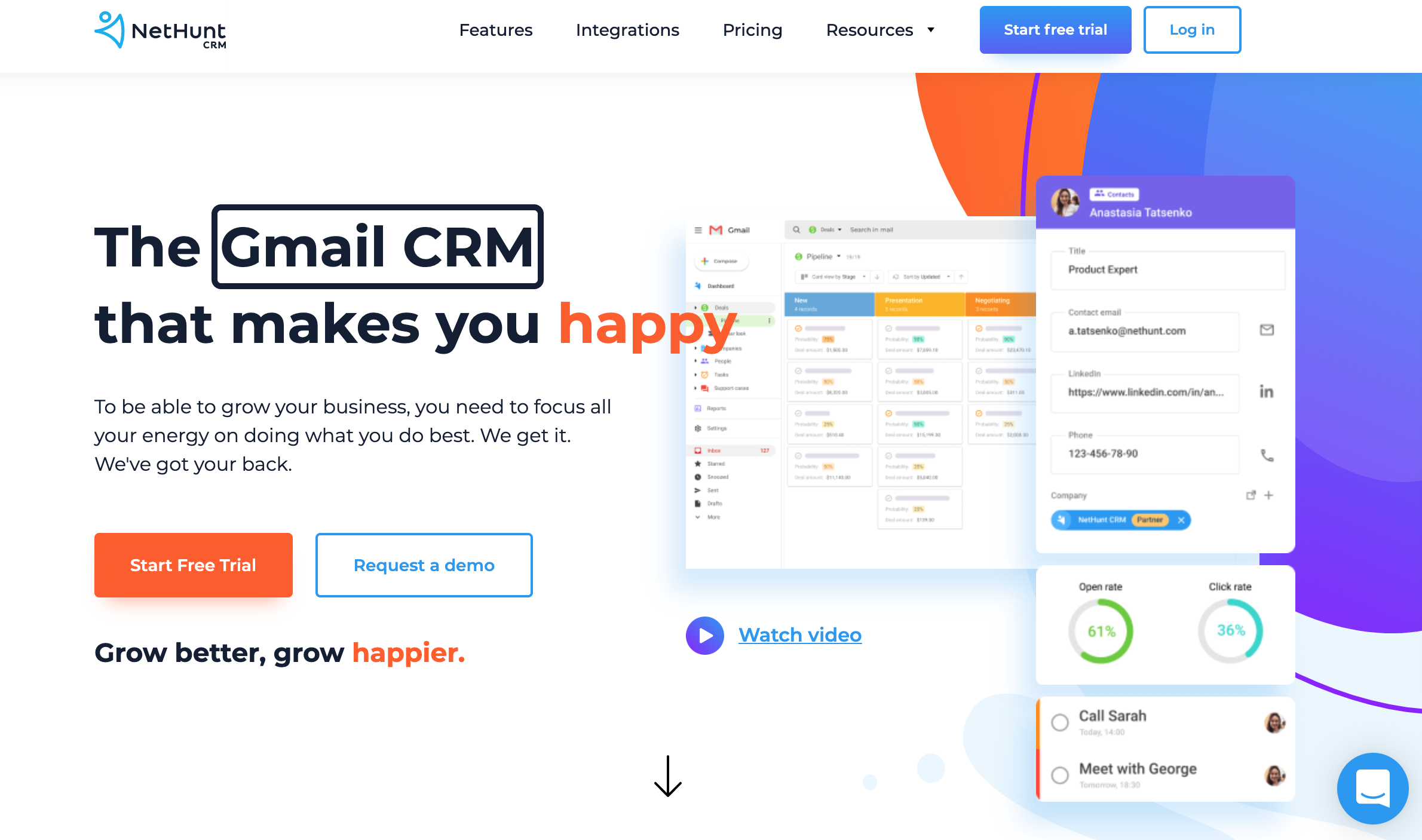 If you have a Google account and need a CRM that can easily integrate with it, NetHunt is the CRM of choice for you.
Once you integrate it, you'll be able to beef up your Gmail and communicate with team members, leads, and customers.
Whether it's following up with leads, delivering quotes to close the deal, or checking in with your sales team this is the CRM that will make tasks simple.

You can track the leads based on the stage of the sales process. That way, you'll determine whether or not you need to warm them up a bit more or pitch them an offer.
Sometimes, there are leads that will need more time to warm up compared to other prospective customers.

This CRM can be scaled and customized to work in your favor.
I am always a fan of sending personalized emails whether it's to my team members or to leads and customers.
Key Features
Full integration with G-Suite
Sales and pipeline management
Customer relationship management that goes more in-depth than others
Pros
14-day trial period
Can be easily scaled and customized
Can support many languages
Import and export of data is quick and easy
Easy, one-click lead capture
Cons
Not Linux compatible
No free plan (other than the trial)
No on-premise deployment
No ticket customer support available
Pricing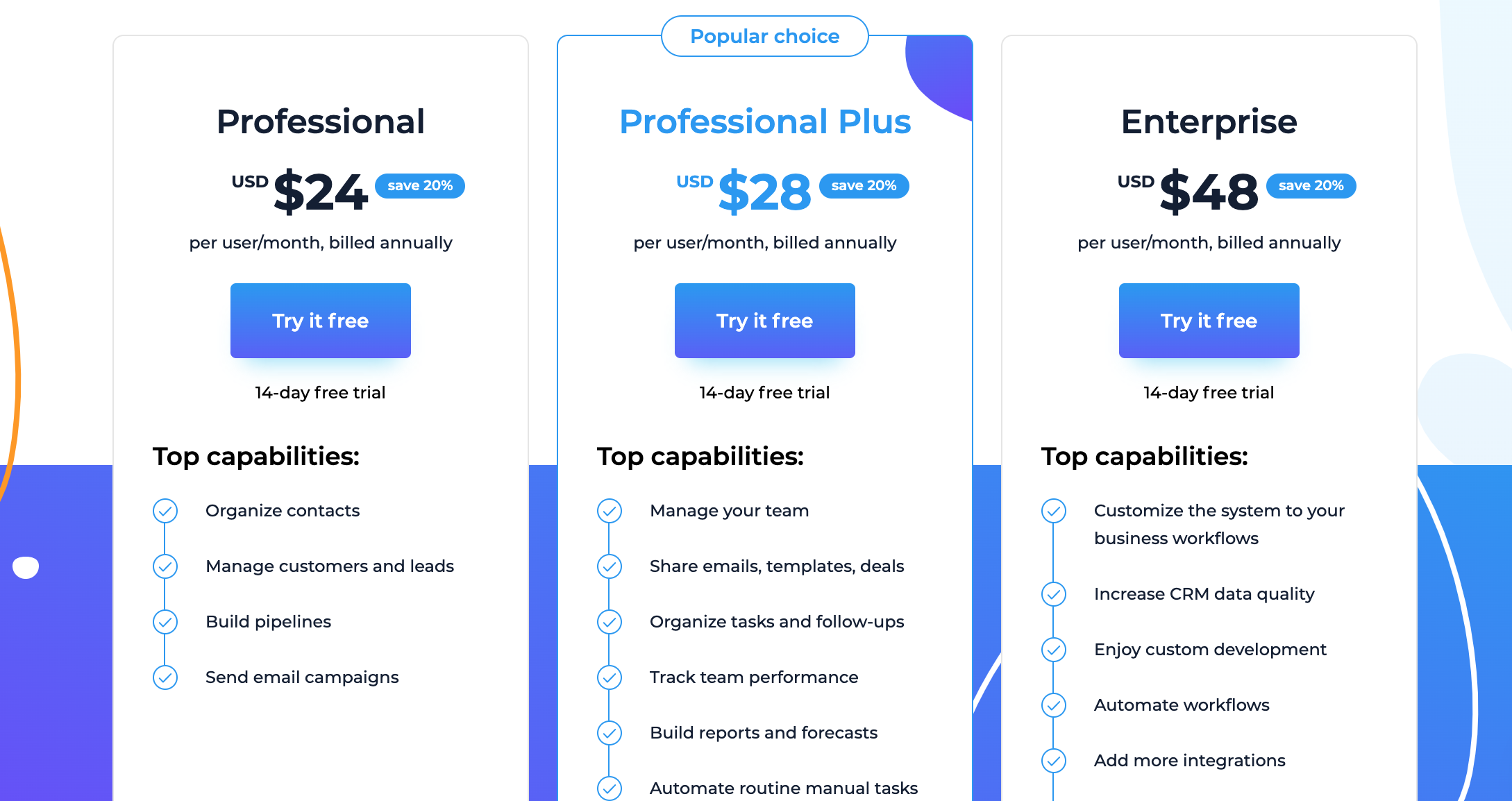 Professional: $24/month (annually) or $30/month (monthly). You get some of the best features like sales and pipeline management. Even if it's limited compared to the other packages, it's still good enough for smaller teams.

Professional Plus: $28/month (annually) or $34/month (monthly). Great for growing sales teams. Plus, you have the features that will keep the sales pipelines flowing when you don't need to.

Enterprise: $48/month (annually) or $60/month (monthly). If your business is already well established then this package will definitely be useful for your large sales team.

Try NetHunt CRM
8. Insightly – Best for Mobile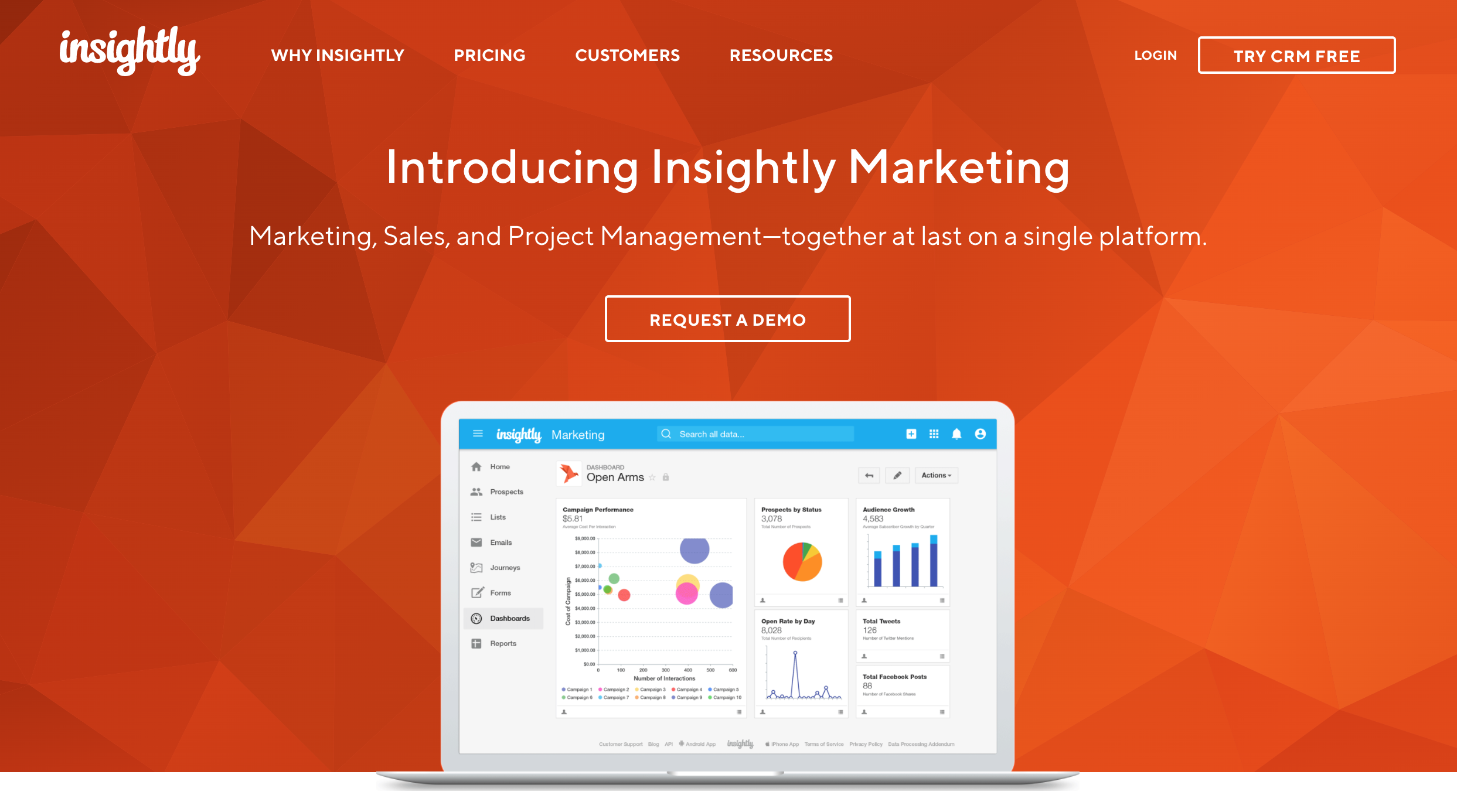 One of the things I like about Insightly is that it can integrate with plenty of email platforms.
Whether it's communicating with your sales team or emailing your subscribers with another email from a promotional campaign, it's never been easy to send them (be it manually or automated).
Another great feature of Insightly is the software's ability to work on mobile devices. You can access the data anywhere on your iPhone or Android.
This can integrate with plenty of other apps like DropBox, which comes in handy whenever you need to transport any kind of mission-critical documents to your team members or customers.

You can effectively communicate with team members, leads, and customers with peace of mind knowing that it's all secure.
That's because it comes with 256-bit AES encryption. It's arguably the strongest, most secure of its kind. And it's guaranteed that your data will be protected in the event if someone tries to break into the system.
Key Features
Includes mobile compatibility
Secure encryption for data protection
Easy pipeline management
Integrate with plenty of third-party apps
Lead routing that you can accomplish by phone, email, etc.
Pros
Easy to access on your phone or iPad
Includes a 14-day trial
Simple to scale and customize
User-friendly
Affordable for most budgets
Cons
No live chat support
No on-premise deployment
Only supports the English language
Pricing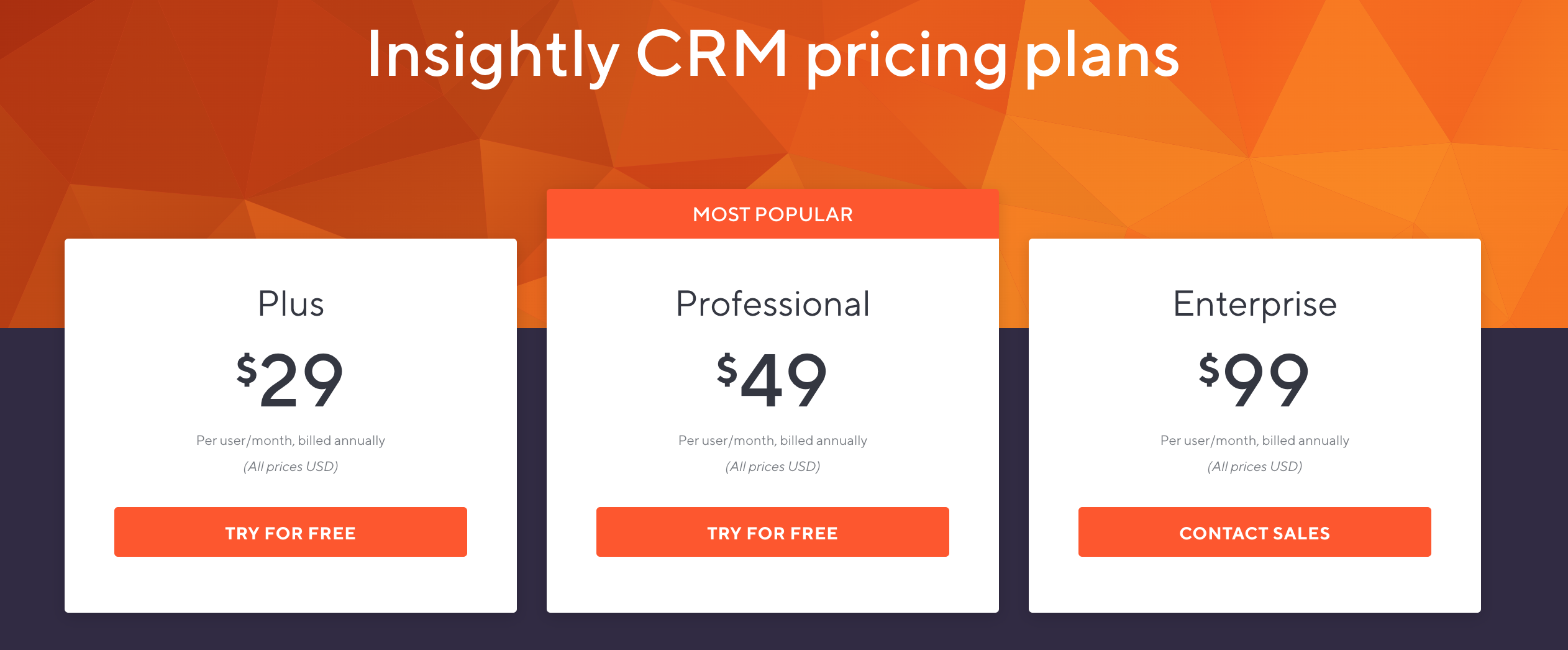 There are three pricing tiers:

Plus: $29/month (annually). Excellent for small agencies. You can still leverage features that can keep a small team running.

Professional: $49/month (annually). If you have a growing team that can help you generate leads on a regular basis, this package gets the job done.

Enterprise: $99/month (annually). Great for large teams. You can truly unleash the true power of Insightly.

Try Insightly
9. Apptivo – Best for Business Management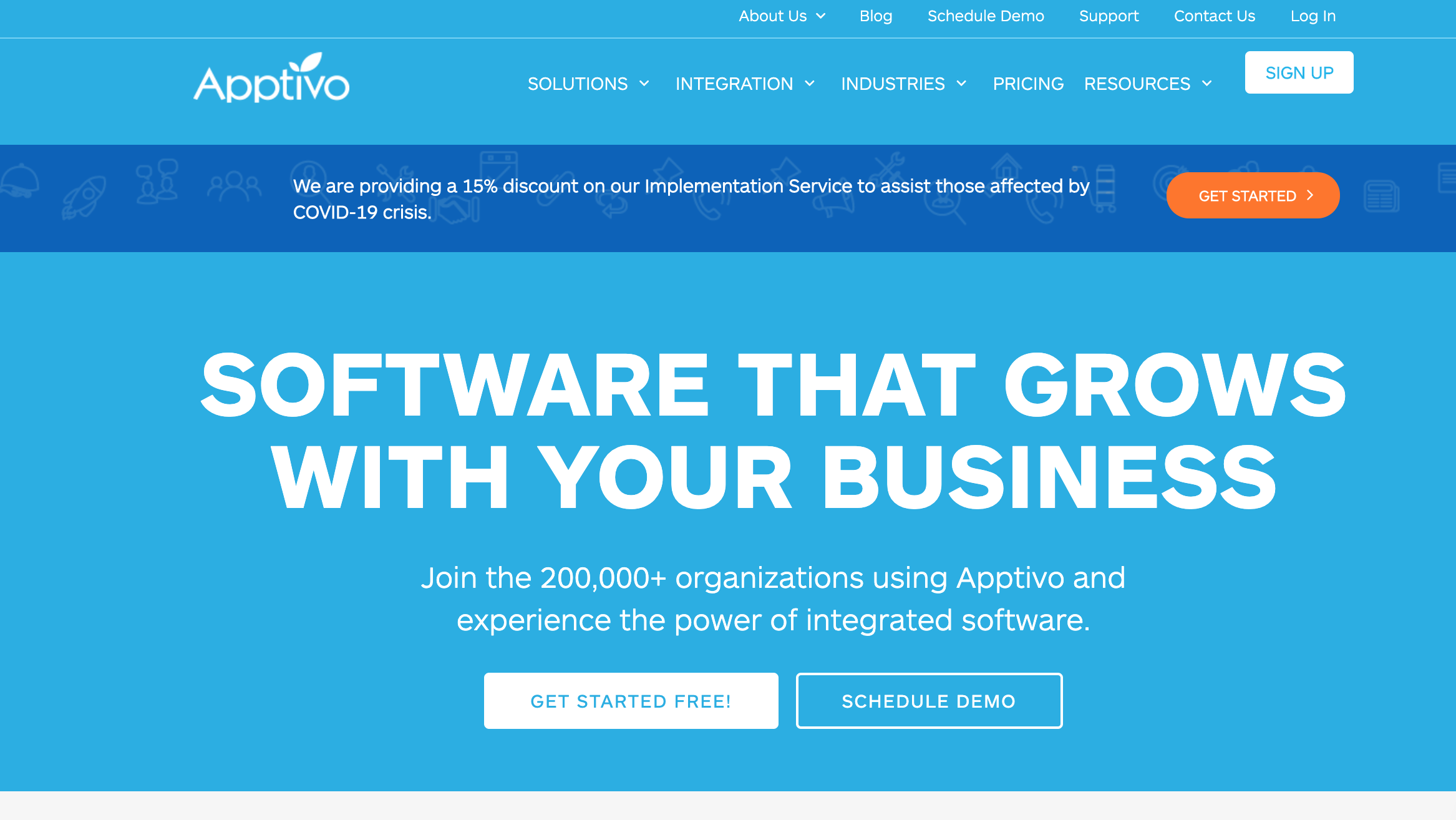 Apptivo is our next CRM on the list. If you are looking for a CRM that will scale along with your business, check out Apptivo. It is used by over 200,000 organizations so it has been tried and tested by many.
Apptivo has all kinds of apps that you can access in one platform. No need to jump back and forth from one app to the next and waste time doing so.
If you need to send an email to a member of your sales team or if you need to send a client an invoice, you can do it all in one place.

Apptivo is the perfect CRM for almost any business. If you need to keep a close eye on the supply chain of your eCommerce arm of the business, you can do that.
If you need to keep in contact with your customers with email marketing, you can do that too.

Plus, you can access your Swiss army knife of CRM tools on either a desktop or a mobile device. If the convenience of having complete access to all of your CRMs features are what you are looking for, what's stopping you from getting this for your business?
Key Features
Online invoicing
Email marketing automation
All your apps in one place
Project management tools to keep your team busy
Pros
Easy to import contact information
Quick and responsive
Excellent customer service team
Perfect for businesses big and small
Easy to scale and customize
Cons
Pre-built integrations could use some minor improvements
Pricing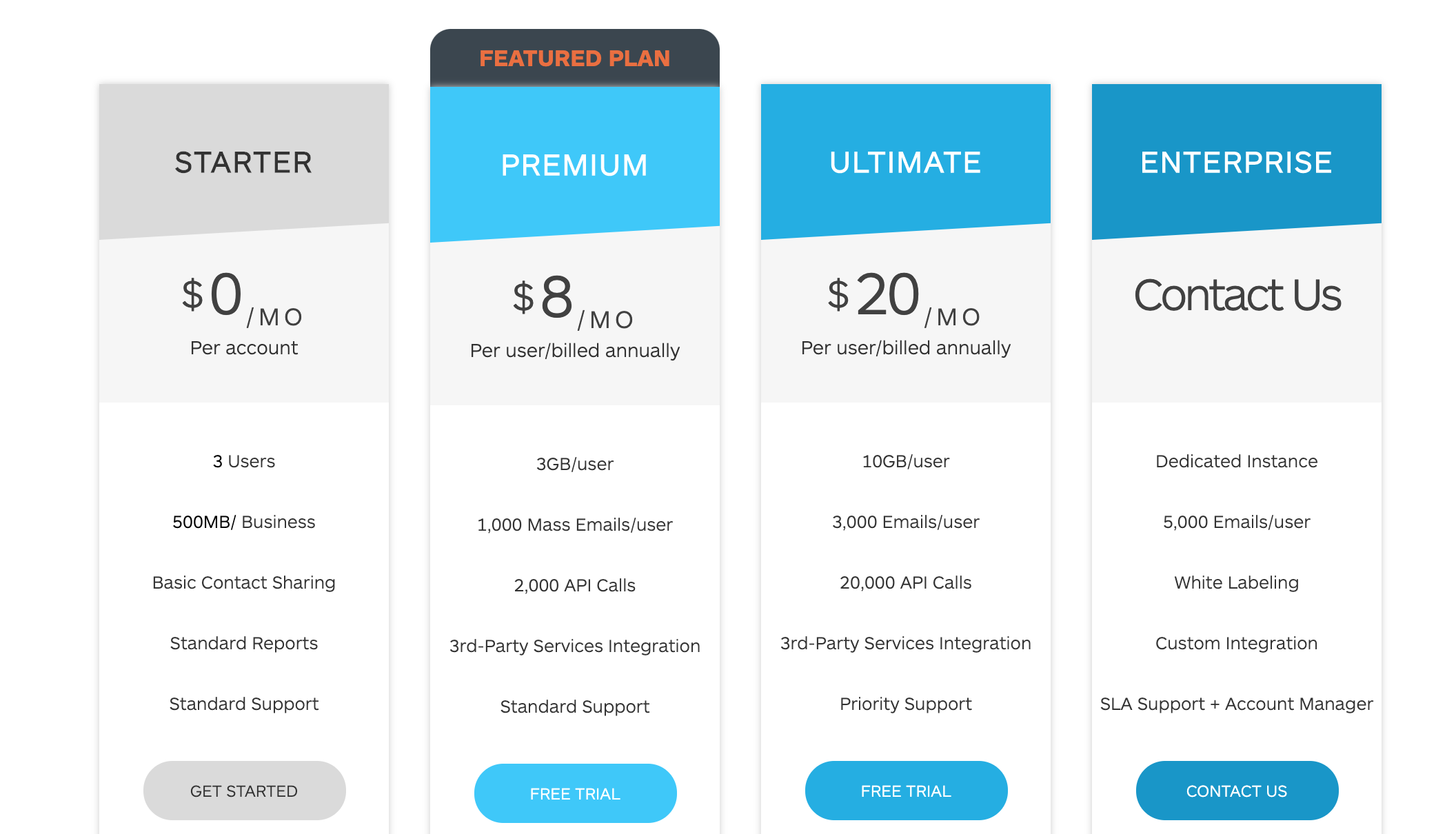 Starter: Free. Perfect for those on a shoestring budget. You can assign three users including yourself to handle all the tasks that can be automated or performed manually.

Premium: $8/month (annually) or $10/month (monthly). Includes third party integration and 2000 API calls.

Ultimate: $20/month (annually) or $25/month (monthly). 3000 emails per user, plenty of storage space for each user. The best choice for large sales teams and businesses.

Enterprise: Price undisclosed. Perfect for those who want that white-label touch for their brand.

Try Apptivo
10. Agile CRM – Best for Marketing

Agile CRM is the next one on our list. You can automate your marketing and sales process among many other tasks.
Not to mention, it's one of the best affordable options for those who don't want to spend an arm and a leg.
Agile CRM is great for project managers – you can drag and drop tasks so you can assign what you want done by your team members.
Plus, you can schedule appointments with customers and clients (if you take them by appointment, that is).

As always, no CRM is complete without some good old-fashioned email marketing automation.

It's got some pretty awesome features and it's user friendly.
If there is one thing I like about CRMs that are user friendly, it's that I can navigate from one place to the next without it feeling like I'm jumping through hoops.
Key Features
Schedule appointments with clients and customers
Sales management to help guide your leads through the process
Cloud-based storage so you can access your data anyplace, any time
Automated email marketing
Pros
Offers up to 10 users on the free plan
Cloud-based setup
Automatic autoresponders
Easy to scale and customize
Excellent customer support through so many channels
Cons
No on-premise deployment provided
English-only support
Customer service is 24/5, not 24/7
Pricing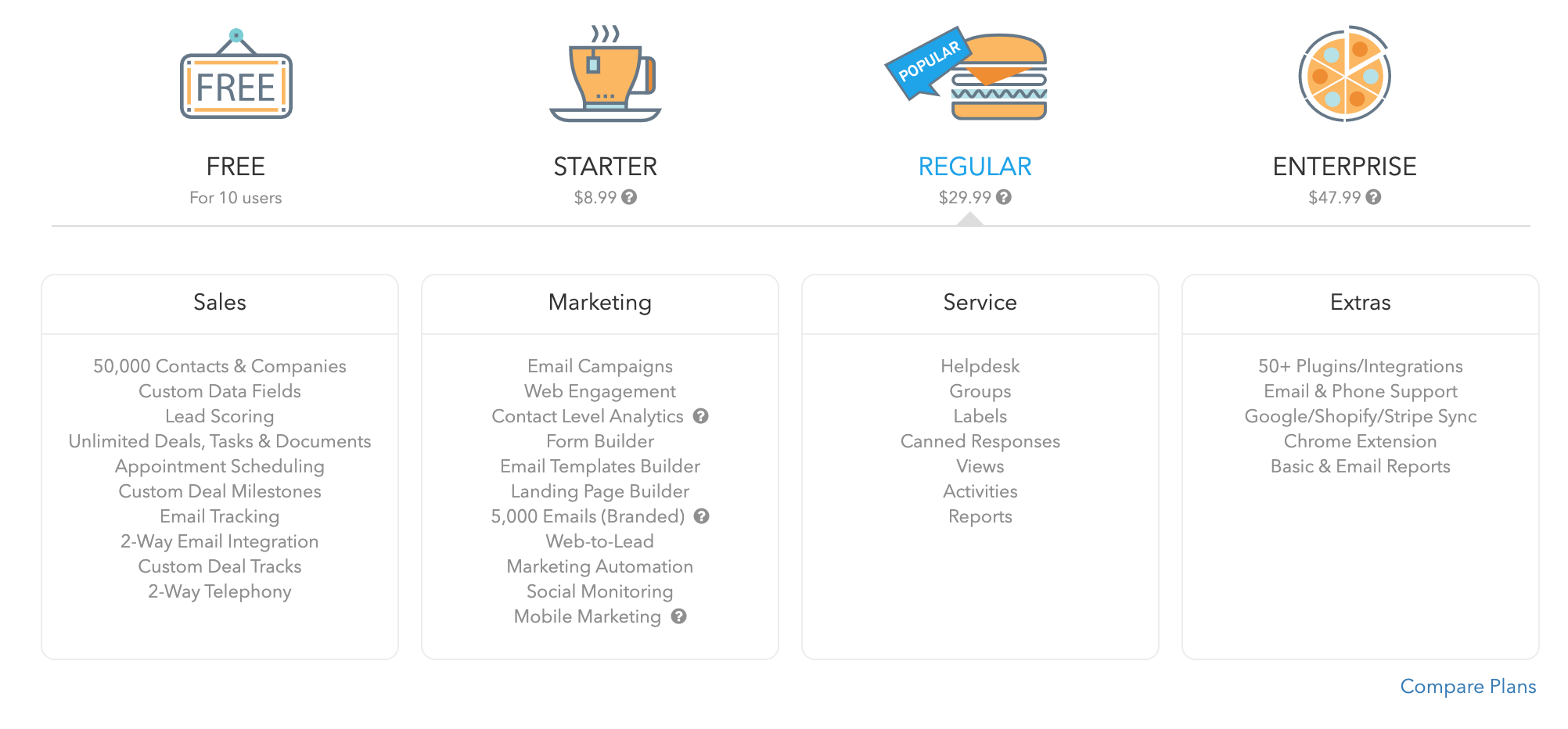 There are four pricing tiers to choose from:

Free: Self-explanatory. You are able to add 10 users so you can work together as a small, shoestring business.

Starter: $8.99/month (bi-annually), $9.99/monthly (annually), or $14.99/month (monthly). Plenty of rich features that will work for your marketing and sales teams.

Regular: $29.99/month (bi-annually), $39.99/month (annually), or $49.99/month (monthly). The same features as the starter pack, but you'll also have the ability to integrate with 50 or more third-party apps.

Enterprise: $47.99/month (bi-annually), $64.99/month (annually), or $79.99/month (monthly). A lot of awesome features and integrations. Also, you are able to access everything with a dedicated Chrome app.

Try AgileCRM
11. Bitrix 24 – Best for Multichannel Communication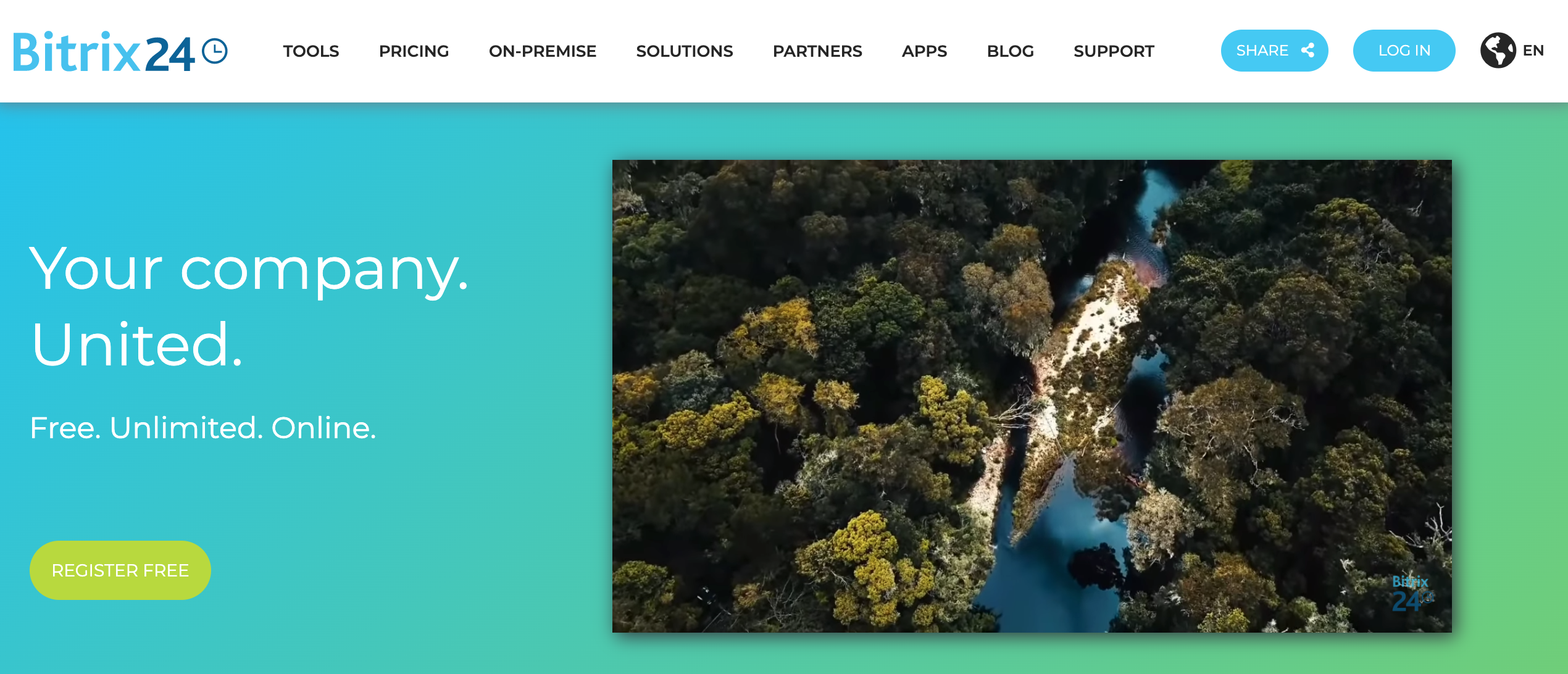 Bitrix24 is by far one of the best CRMs if you are looking for multi-channel communications between you, your team, and your customers.
I've been seriously impressed with what they are able to offer in terms of communications.
With Bitrix24, you can communicate with team members, leads, and clients via video chat. It's great when a CRM has a communication feature that has a personal touch.
Plus, it will also give your business that boost in credibility that your leads and customers are dealing with real people on the other end (and vise versa).

You will also upload and transfer mission-critical documents if and when needed.

The calendar feature will help you easily schedule meetings and events like its second nature.
If you want to keep track of what's going on day after day, week after week, then Bitrix 24 is by far your best choice.
Key Features
Document management
Multiple lines of communications between team members, customers, and leads
Includes user groups
Calendar mode for scheduling
Email marketing for leads and customers
Pros
User-friendly
Video feature is fast, convenient, and provides an excellent communication option
Has plenty of features
Easy to manage projects and sales pipelines
Easy to navigate
Cons
Multi-language support could be improved
No sync for mobile apps
The number of tools available can even overwhelm new users
Pricing


There are six tiers of pricing. Though bi-annual packages are available, let's focus on the annual and monthly prices:

Free: Offers 5GB of storage and some functionalities of its major features. Great for small teams.

Start+: $18.24/month (annually) or $24/month (monthly).

CRM+: $52.44/month (annually) or $69/month (monthly). 50 GB of online storage. Plus, the perfect package for those on your sales team.

Project+: $52.44/month (annually) or $69/month (monthly). Same amount of storage as CRM+. Except this will work well with your project management team.

Standard: $75.24/month (annually) or $99/month (monthly). If you want advanced features, you got them. Perfect for growing or large businesses.

Professional: $151.24/month (annually) or $199/mo. (monthly). All the features unlocked with unlimited users that can operate the platform when you need to focus on other things.

Try Bitrix 24

Does Less Annoying CRM actually live up to its name? Personally, I like to think so. But what makes CRMs so annoying, anyway?

The answer is useability. There are some CRMs out there that are so frustrating to use that it can annoy even myself. Sure enough, the user-friendliness is perhaps one of the best in the business.

This is a CRM that will work wonders for small-scale businesses. You get all sorts of features like gathering all of your contacts in one place, scheduling your tasks and meetings, sales pipelines that will help you guide your leads through the process, and more.

Not only that, you can easily customize this to where it can work to your advantage. If you are looking for something that will give you fewer headaches and more peace of mind, the Less Annoying CRM is definitely worth the time and investment.

Here's something that you might be happy with, it's affordable for most small businesses.
You get to pay a low monthly price per user every single month.
Less Annoying CRM does live up to its name. If you are looking for something that is simple to use and will work perfectly with a skeleton crew or a small, established business this can be worth the investment.

I dare say that no CRM can do simplicity like Less Annoying CRM.
Key Features
Works with multiple users
Calendar and scheduling features
Mobile access across various devices
Easy customization
Pros
Very user friendly
Affordable for most budgets
Easy to keep your contacts in place
Great for small sales teams
Perfect for newbie users
Cons
Lack of social media integrations
Pricing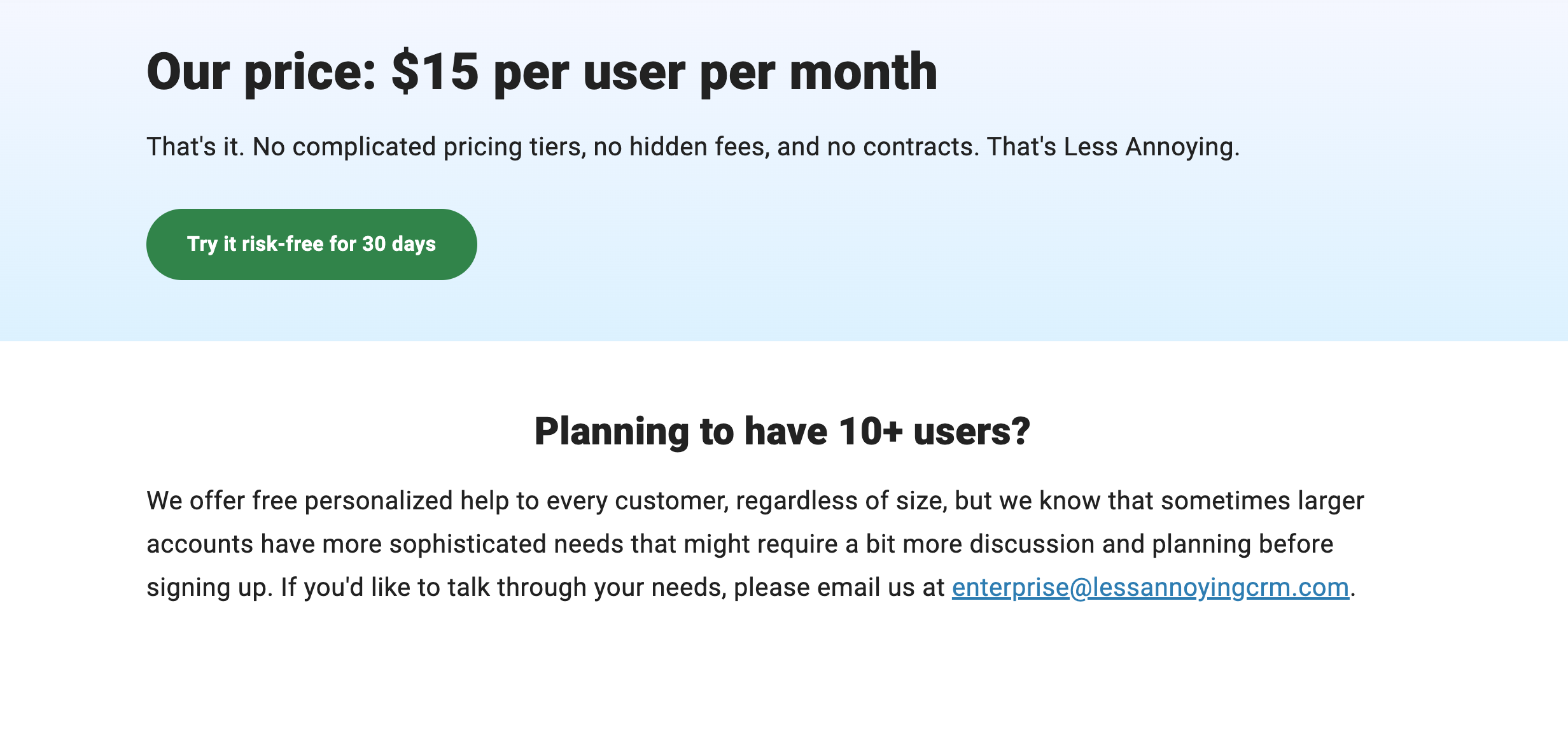 There is only one pricing package. It's $15 per month for each user. A 30-day trial is available.

Try Less Annoying CRM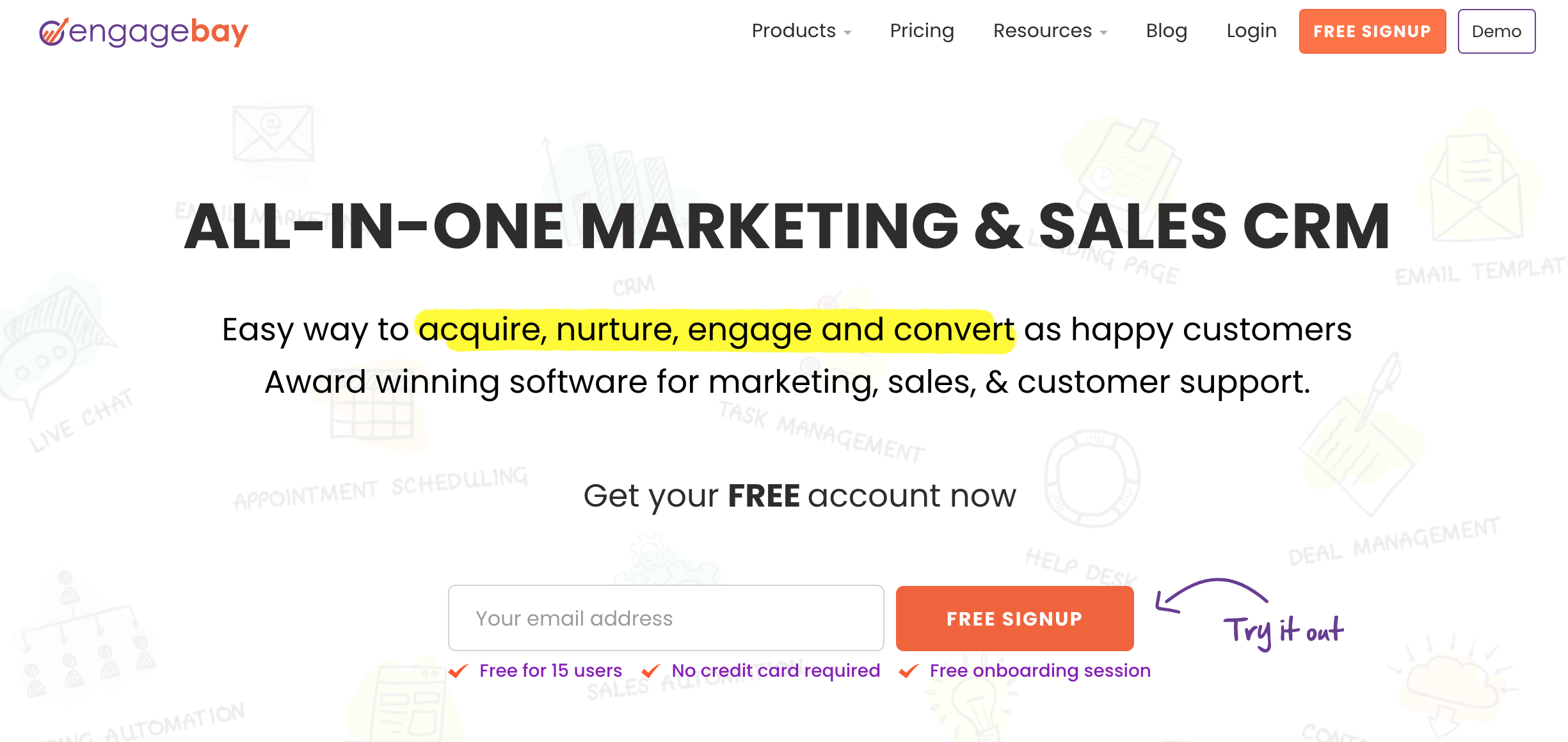 Next up is Engagebay.
Even though there are plenty of CRMs that are newbie-friendly, this one is another that I recommend to those starting out.
It's got quite a lot of features that you can take advantage of for free.
If you want something that will make email marketing automation fairly easy, then consider Engagebay.
You can build out a form and place it in your funnel so your leads can enter your email, get their lead magnet, and become loyal subscribers.

From there, it's up to you whether or not you want to warm them up.

Of course, a reliable CRM will also give you the ability to keep track of your leads and how far down the sales process they are.
It will give you and your team an indication that now could be a good time to close or not. Remember, some leads will be warmer than others through the process.

You can keep the channels of communication open with features like live chat so you can keep customers happy with your responsiveness.
After all, communication is one of the main building blocks of a business's success. Especially when it's in real-time.
Key Features
Email marketing automation
Sales pipeline management
Customer ticket system
Live chat feature that you can implement for your customers as a way to communicate with you
Social media marketing features so you can leverage your online presence
Pros
Easily integrates with plenty of third-party apps
Useful for those who want to use social media as a way to market their business
Simple to set up
GDPR-compliant
Free plan has plenty of features
Cons
No on-premise deployment available
English-only support
Pricing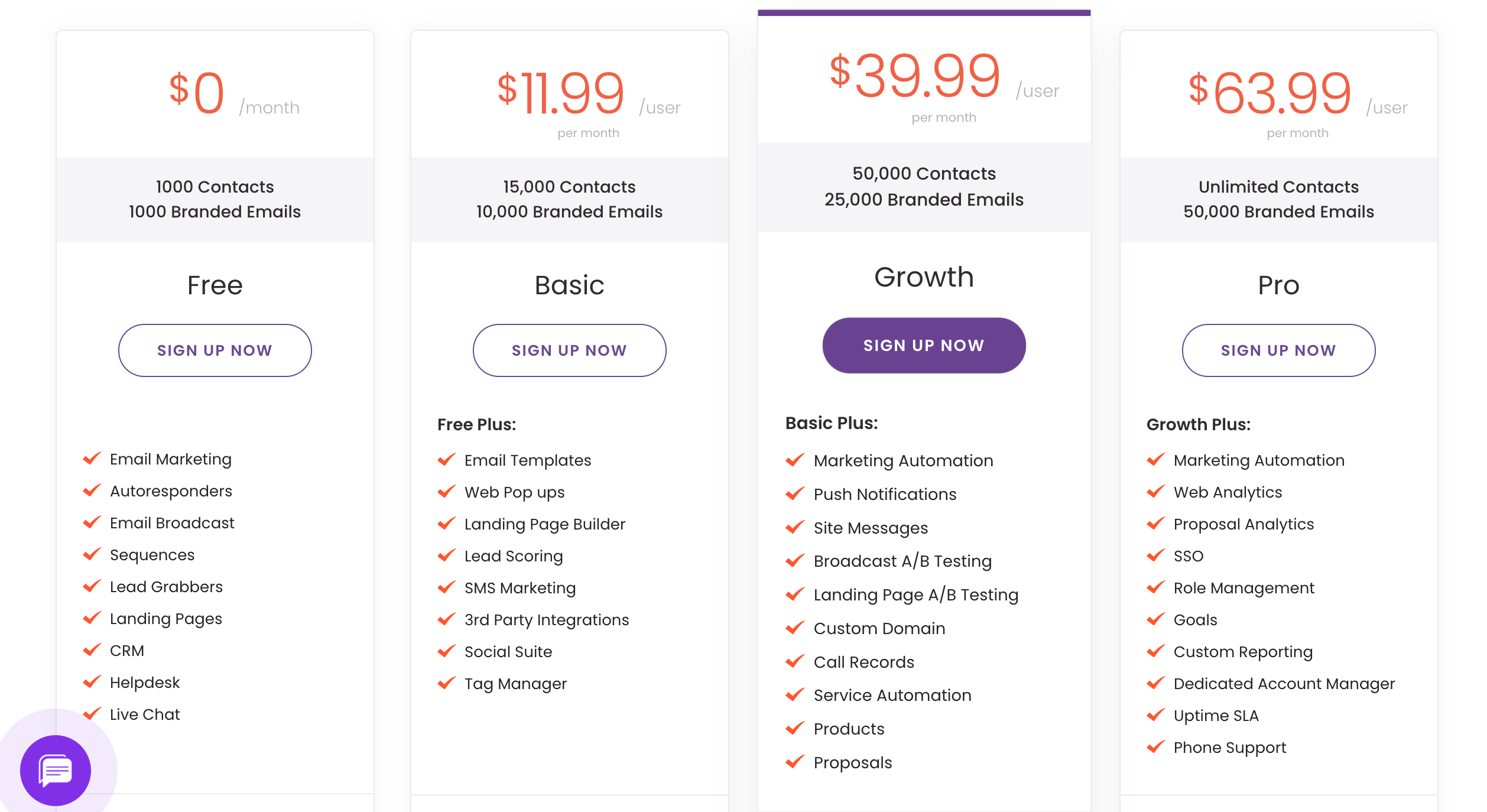 There are four major segments if Engagebay.

They include the All-in-One CRM, Marketing, CRM & Sales Bay, and Service bay. The prices are available in biannual, annual, or monthly.

Going by the annual rates, you can spend anywhere between $11.99 to $63.99 a month. Of course, these prices will change should you go the bi-annual or monthly routes.

If you want a better deal, biannual could be the way to go.

Try Engagebay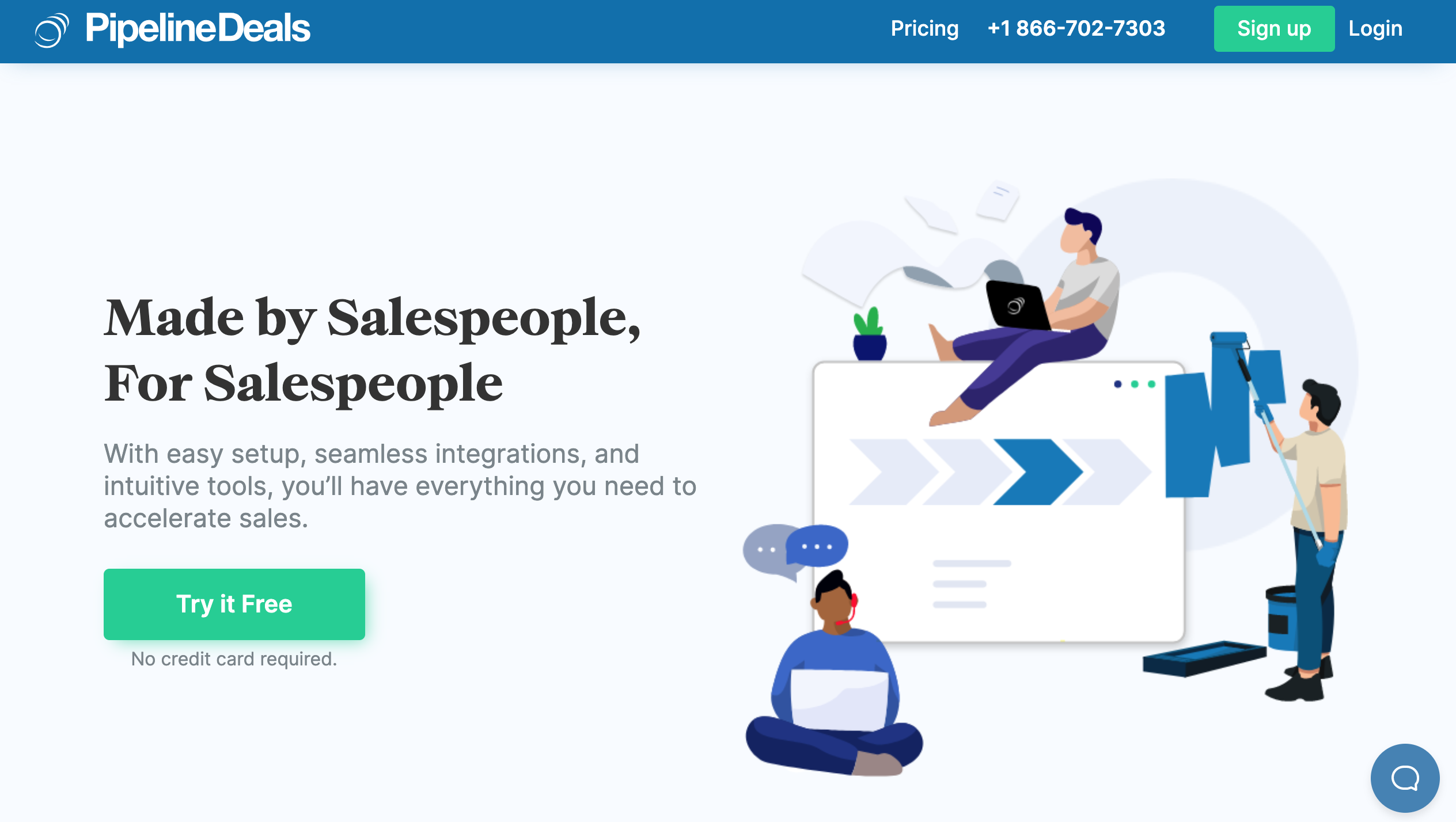 Next up, we have PipelineDeals. This is yet another all-in-one CRM that can get the job done for any small business.
If you have about 100 employees or less, I see this CRM doing just fine.

As usual, it has the features that you'll find.
You can automate your email marketing, manage your leads so you can close the deal, and keep in contact with them before, during, and after the sales process.
With Pipeline Deals, you can easily import and export customer data, transfer files between team members and keep things smooth and on course.
It's an easy day at the office when you have PipelineDeals in your arsenal.
If you are building new customer relationships or keeping up with new ones, this CRM is anything but complex when it comes to using it.
Key Features
Manage your contacts on the entire platform
Lead management so you can lead them through the process
Manage your sales team and check on their overall progress
Pros
Includes a 14-day trial period
Unlimited file upload and storage
Compatible with mobile devices
Includes foreign currency tracking
Excellent multi-channel customer support
Cons
No freemium plan available
No multi-language support
On-premise deployment unavailable
Pricing


There are three pricing tiers available:

Start: $25/month (annually) or $29/month (monthly). This is a great package if your team consists only of a few people.

Develop: $33/month (annually) or $39/month (monthly). When the business is growing, the way you handle the sales process changes. If you are adding more team members and gaining leads, upgrading to this is a no brainer.

Grow: $49/month (annually) or $59/month (monthly). If you're a sucker for email marketing automation and advanced analytics, this package is the best that any small or medium business can do.

Try Pipeline Deals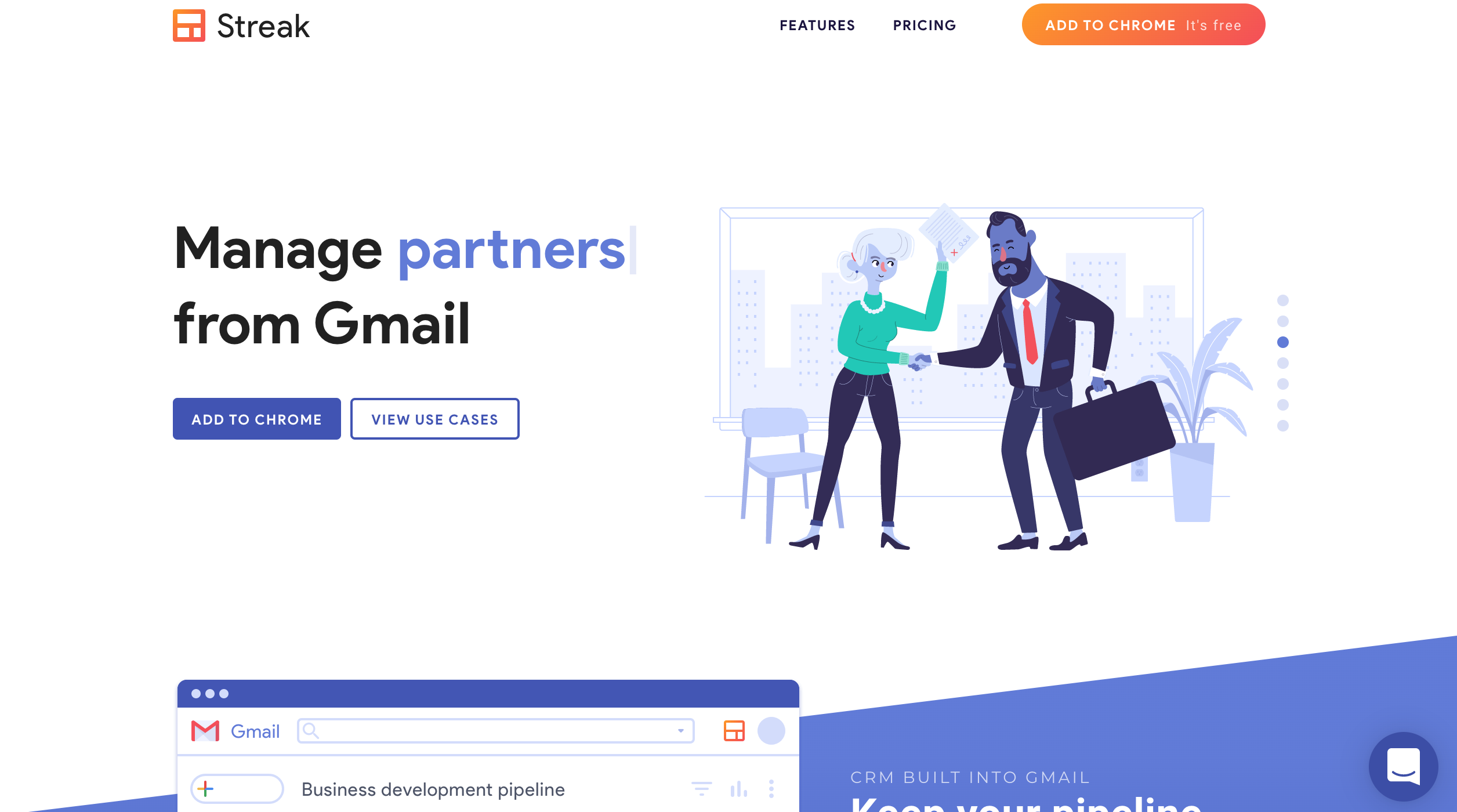 Streak is one of the staples among Gmail acolytes.
I will admit, I have used this quite extensively in the past.
With this software you can keep track of who received your emails whenever you generate leads and follow up with them.

One way of using it is installing the Google Chrome extension. After you have it activated, you'll be able to send emails and keep track of who opened them.
From there, you are able to follow up with those who may have viewed your emails (and also those who haven't).

You can also schedule emails to be sent later so you can focus on other things. Writing out an email and sending it in seconds is one thing.
But sending one and scheduling it for a future time is even better when you're going to have less time on your hands.
Key Features
Keep track of sales and leads
To-do list feature to help you keep track of what to do next
Chrome extension so you are able to do everything all in one web browser
Pros
Easy tracking
Simple to install
Perfect for the sales and recruiting process
Easily import and export data
Accessible on mobile devices
Cons
Pricing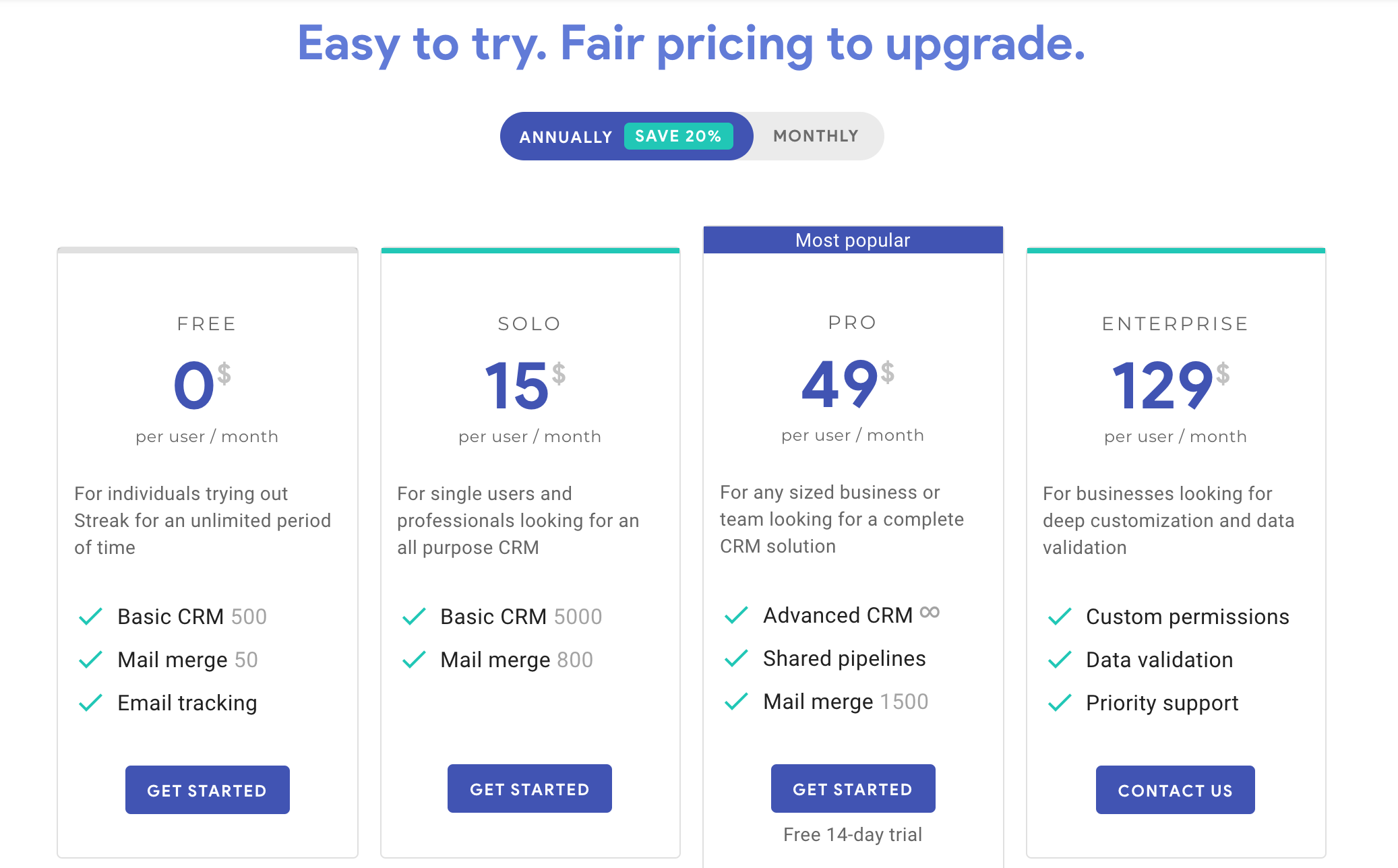 Streak CRM has four pricing tiers:

Free: Free. You can keep track of your emails if you have sent them via Gmail. It can also do basic tasks that your small business can automate.

Solo: $15/month (annually) or $19/monthly. Allows for more data and inbox merges.

Pro: $49/month (annually) or $59/monthly. Gives you upgraded numbers in terms of data and merges. Allows shared pipelines.

Enterprise: $129/month (Annually) or $159/month (Monthly). You can create custom permissions so your team members can see the entire pipeline process.

Try Streak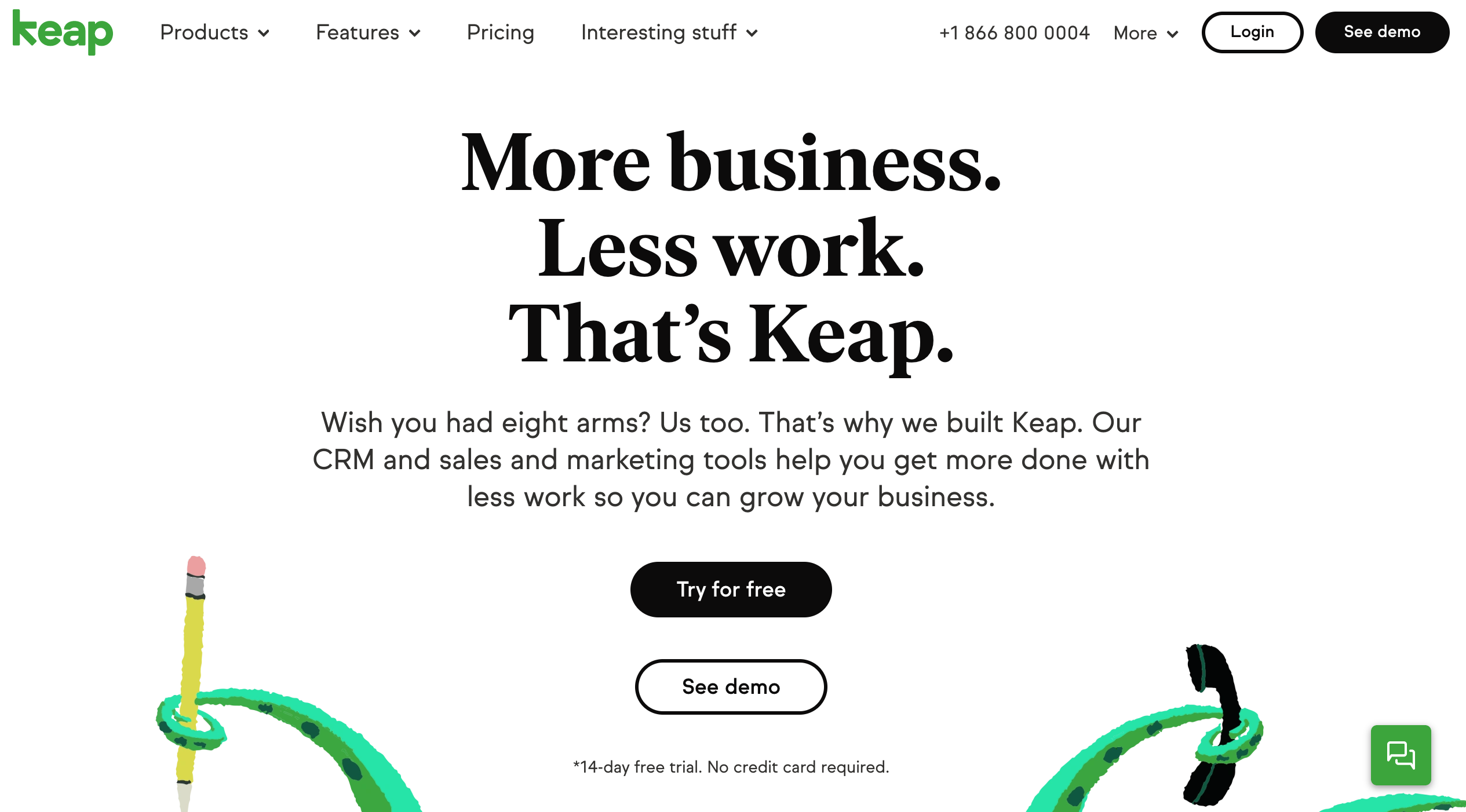 Keap is the next CRM we'll be looking at. I've been seriously impressed with their suite of features.
Not only is it a well-organized CRM, but it also has great content on their website to educate you on lead nurturing and generation.
With Keap you can schedule appointments with your leads, customers, or anyone on your team.
You can keep track of everything through email. Oh, and if you hate spreadsheets, good news … you don't need them.

One of my favorite features is the pre-written emails. You can embed custom tags so that they sound more personalized. With this feature you can construct targeted email sequences that are more likely to convert the customer.

Keap centralizes all the data you need on your customers and leads all in one place. Plus, you can share files, documents to makes your business run as efficiently as possible.

Who says that you need more paperwork to make your business run properly?
Key Features
Invoice issuing so your clients and customers pay on time
Sales management so you can keep track of your leads
Integration with plenty of third-party apps
Pre-written emails that you can send out automatically
Pros
Compatible with many apps
Easy to track sales process
User friendly
Automated email marketing is quick and seamless
Easily keep your data in one place
Cons
Learning curve is a bit steep
Pricing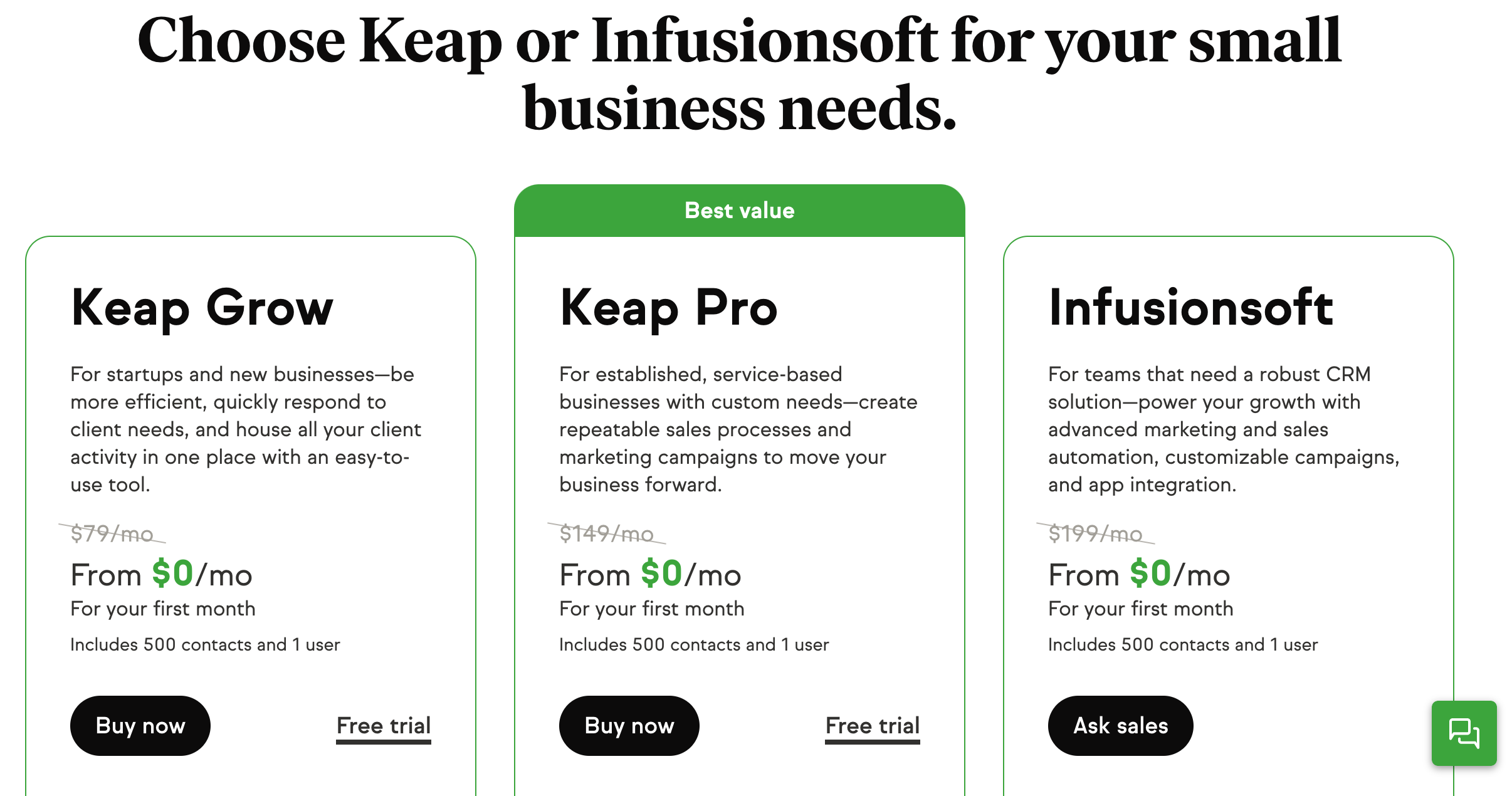 There are three pricing tiers:

Keap Grow: $79/month. Send automatic emails, keep track of the sales process, and set appointments among other tasks.

Keap Pro: $149/month. Keep all of the other features. You can also set up automated payments.

InfusionSoft: $199/month. For the larger teams and agencies that want it all.

Try Keap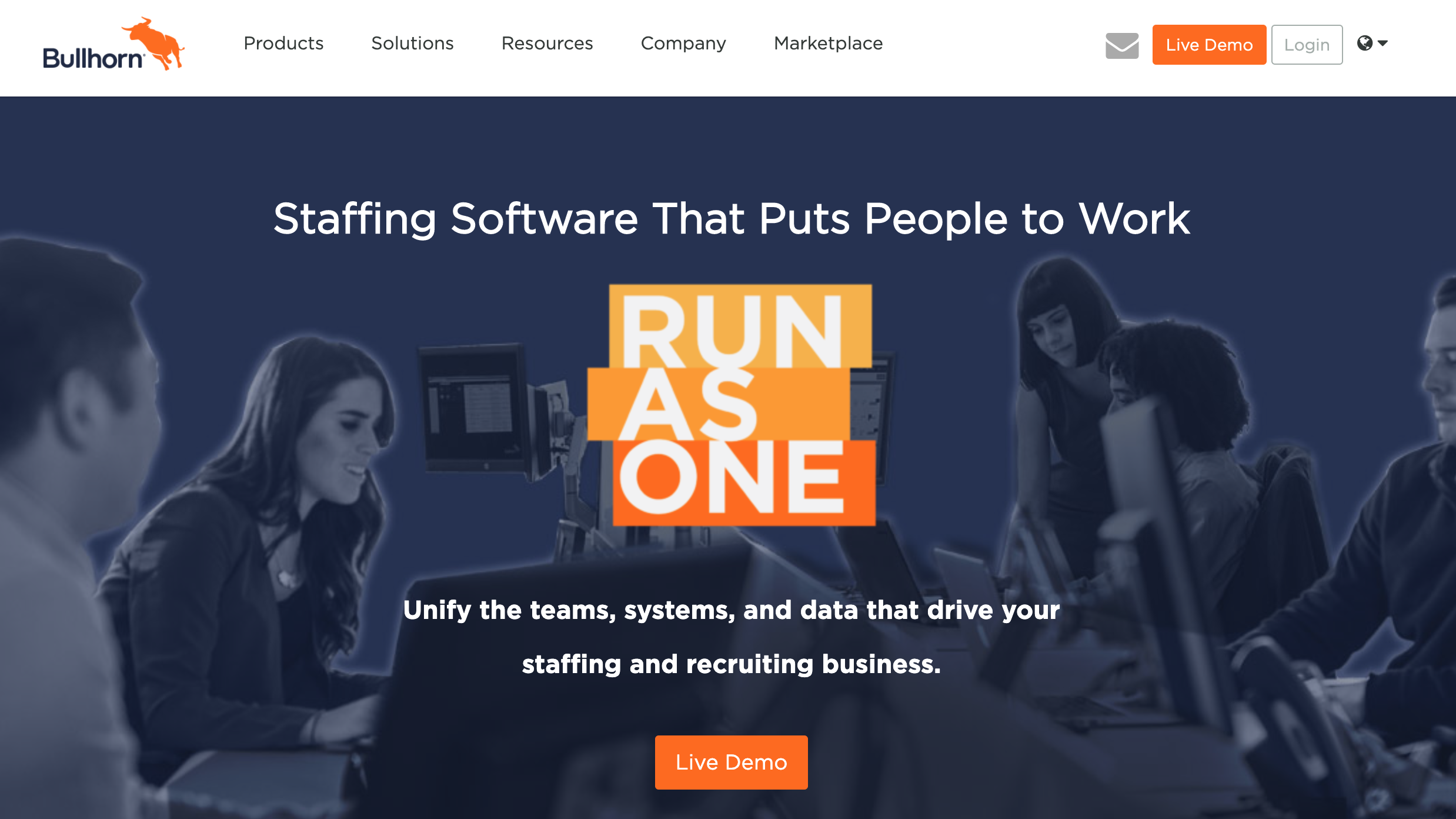 Lastly, we'll be taking a look at Bullhorn. This is a feature-rich CRM that is a cloud-based software that will simplify the sales process.

It can handle billing and invoicing. So if you need to make sure that your clients are paid on time and every time, this could do you some good. Especially when you are dealing with those who might not be paying up at the right time.

It also has the ability to integrate with a many third-party apps like Mailchimp, Gmail, and much more.
If you are serious about running your business but need a CRM that is rich with automation functionality, Bullhorn might be the perfect option for you.
Emailing, billing, and the sales process are just a few things this CRM can do.
Key Features
Email marketing automation and bulk sending
Third-party app integration
SMS texting
Standard reporting
Pros
Easy app integration
User friendly
Easy to track the sales process
Send emails automatically and with ease
Simple to navigate
Cons
Customer support could use some improvement
Some complain about it being a bit clunky
Some of the features are redundant
Pricing
There was no pricing information that I could find.

But it does come in four tiered packages: Team, Cooperate, Enterprise, and Enterprise Plus. You can find the package that fits you best depending on your needs, preferences, and the size of your business.

However, you need to request a quote in order to know what the price is.
What Are The Advantages Of Using CRM Software?
Here is a non-exhaustive list of the advantages of CRM Software:
1. Discover New Customers
CRM software allows you to create your own landing pages and web forms to capture the information of new customers and leads.
Good offerings often have optimised templates that are ready to use straight out of the box.
2. Easily Up-Sell and Cross-Sell
It is much easier to cross sell and up sell current clients if you know what they have bought and where exactly in the pipeline they are.
CRM software provides a detailed understanding of each customer so sales representatives know what exact products and services to push.
3. Increased Efficiency
Client's don't like spending time explaining their requirements. If a key sales person leaves and someone new takes over – he/she will have to talk with the client to clarify requirements.
Having a CRM system solves this problem since all information is captured in a single source.
This makes it much easier to understand the client and hence much easier to keep them happy.
4. Reduces Costs
It can be costly to setup a new CRM system and train existing employees. However, over the long run your business will enjoy increased operational efficiency and productivity.
5. Enhances Employee Engagement
Employees can take more ownership and accountability in their day to day work when a CRM is used.
This is because it makes it much easier to monitor metrics automatically.
For example, CRM's can inform a sales representative when a client has not responded for 7 days and prompt them to send an email.
This gives them the opportunities to engage more.
How Can You Use CRM Software?
Most CRM software providers come with their own detailed onboarding guides. But I've listed some of the key steps you need to take at a high level to set it up within your organisation:
1. Add Sales People
The first thing you need to do is get your sales people onboarded and familiarized with the system.
Your sales team will be the ones closing the deals and bringing the clients in so it's important that they understand the CRM system inside and out.
Hence, it is important to find a system that is user friendly.
2. Import Existing Contacts & Leads
Importing existing contacts and leads is the next step. Almost all CRM systems allow you to bulk upload CSV files.
You may need to do some data cleaning to make sure the fields align but this can save hours of work.
It's much better to have a single CRM system where all data lives.
3. Segment Audience
Next up is segmenting your audience based on which part of the sales funnel they are in.
An example funnel could be something along the lines of "cold outreach", "warm lead", "qualified opportunity", "negotiation", "closed", "contract signed".
This would defer depending on the business but a good CRM system allows you to customise this to your liking.
4. Plugin Third Party Integrations
CRM systems act as a central source of truth where your data lives.
The goal should be to push and pull this data from as many channels as possible.
So after segmentation, plug in any third party integrations that are being used to extract data.
Some examples are Mailchimp, Zapier, Twitter, Facebook, Instagram among others.
5. Visualise Dashboard
The power of CRM software comes in visualising data and providing decision makers a high level overview of the health of a business.
Creating dashboards allows you to see the data that you want in an elegant and intuitive way so you can make the right decisions in tour business.

It acts as a control panel that gives you a birds-eye view of all functions of the business over a period of time.

This is an example of a typical CRM dashboard: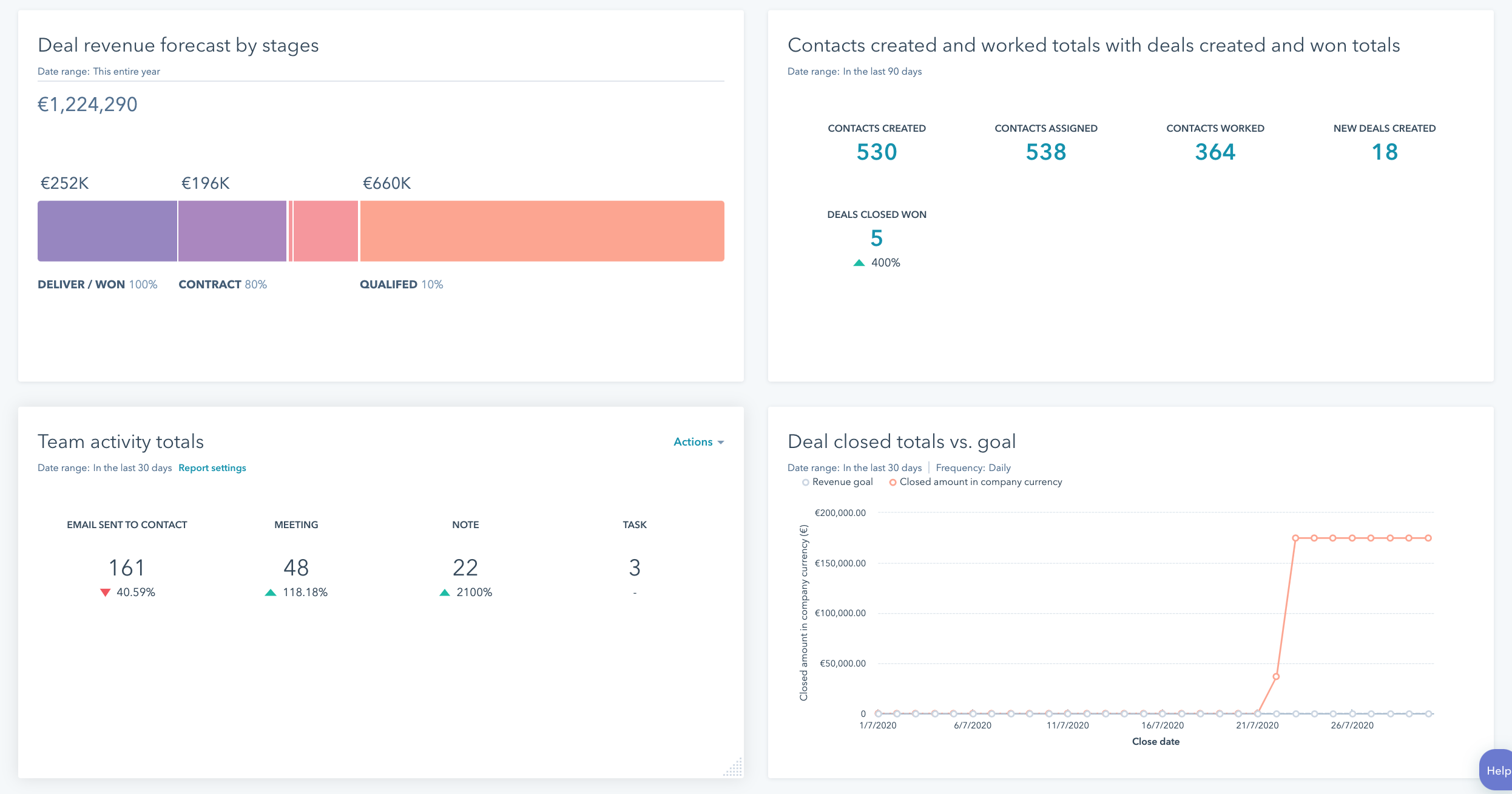 You can add your own graphs, project updates, statistics, visualizations and charts.
6. Generate Reports
Creating reports at regular intervals (weekly, monthly, quarterly) is best practice in business.
It provides business owners a pulse of how the sales team is performing and allows them to drill down and assist individual members in case there are issues.
The reports assist the sales representatives in:
Evaluating their own performance
Checking how their performance compares to the team
Sense check how close they are to their targets
Compare performance against other individuals for bonus and raises
Conclusion
CRM software is a must-have for all sales and business companies and is essential for every company looking to scale and grow.
It helps increase efficiency, develop a professional and accountable workforce, and align the company strategy to client requirements.

It's important to look beyond just the price tag of the software and understand what your business really needs.
If you are very tech savvy and looking to heavily customize the solution then Salesforce would be best.
If you want something that works out of the box then Hubspot is a great choice.

Regardless, you know your business best and even if you are on the fence – most solutions have a 14-day or 30-day free trial period.

What CRM system will you use for your business? Let me know in the comments below.